National Park Service History Electronic Library
The NPS History Electronic Library is a portal to thousands of electronic publications and videos, covering the history of the National Park Service and the cultural and natural history of the national parks, monuments, and historic sites of the U.S. National Park System.

The information contained in this Website is historical in scope and is not meant as an aid for travel planning; please refer to the official National Park Service Website for current information. While not affiliated with the National Park Service, we gratefully acknowledge the contributions by park employees, along with park advocates, which has enabled us to create this digital repository.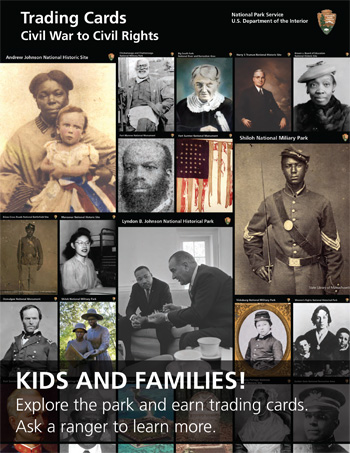 This month we debut a series of NPS trading cards. The Jefferson National Expansion Historical Association produced the 1st edition of their National Parks Collection in 1995 (consisting of 100 cards) followed by a second edition in 1998. The National Park Service's Civil War series was launched in 2011 at Richmond National Battlefield Park to commemorate the 150th anniversary of the Civil War. Additional cards were produced in 2012, expanding to parks beyond the Northeast and National Capital Regions. In 2014, additional cards were released to mark the 50th anniversary of the Civil Rights Act of 1964, with the collection being rebranded as Civil War to Civil Rights. A total of 550 different cards have been produced for that series. A set was produced by the National Park Foundation as a fundraiser for the Latino Heritage Fund and the NPS Arizona office released cards to commemorate the NPS Centennial in 2016, featuring parks from the Desert Southwest.
New eLibrary Additions
NPS Trading cards: A-F • G-M • N-S • T-Z • Assorted
Boundary Modifications, Bears Ears National Monument (2017)
Boundary Modifications, Grand Staircase-Escalante National Monument (2017)
Agency History
The Interpretive Challenge (various issues, 1988-1994)
Glimpses of our National Parks (Robert Sterling Yard, 1916)
Centennial Strategies (sorted by park)
Construction of Relief Models Civilian Conservation Corps Project Training Series No. 10 (December 1937)
Chief Ranger's Handbook: A Guide to Chief Ranger's Responsibilities (Version 1, July 2011)
The Landscape of Conservation Stewardship: The Report of the Stewardship Initiative Feasibility Study (Jacquelyn L. Tuxill, ed., July 2000)
Development of the Energy Conservation Theme for Use in National Parks (William J. Lewis, June 30, 1976)
Firearms in National Parks: Fact Sheet (February 19, 2010)
Resource Stewardship for the 21st Century — Interim Policy (June 9, 2016)
NEPA Overview and NPS Mandates (August 2004)
Gobbledygook Has Gotta Go (John O'Hayre, Bureau of Land Management, 1964)
The NPS General Management Plan Program: The Existing Program and Development of the Program for FY 1978-1983 (January 1977)
Travelers Information Station Planning Handbook (Ralph R. McFadden and John H. Shoaf, December 1979)
Visitor Center Design Evaluation (Ervin H. Zube, Joseph H. Crystal and James F. Palmer, April 1976)
Visitor Center Planning Notes on Discussion Held in EODC November 18-22, 1957 and WODC February 4-6, 1958 (March 24, 1958)
Inspector General's Statement Summarizing the Major Management and Performance Challenges Facing the U.S. Department of the Interior Office of Inspector General Report No. 2017-ER-050 (November 2017)
Curation
A Digest of Curatorial Policy (February 1983)
A Proposed Plan for National Park Service Policy and Program for the Care and Development of Natural History Collections: Display, Interpretive and Research Collections (Christine Schonewald-Cox and Marie Zack, August 1981)
A System of Photography for the Alaska Task Force (undated)
Curatorial Methods (C. Schonewald-Cox)
Curatorial Requirements for Researchers Intending to Collect, Denali National Park and Preserve (October 28, 2008)
Curatorial Strategy for 1984-1990 (1984)
Draft Taxonomy for Museum Collections to be used in the Computerized Catalog (undated)
Guide to NPS Regulations, Policies, and Guidelines Affecting Collections Management and Curatorial Operations (undated)
Guidelines for the Use of NPS Natural History Museum Labels (Jonathan Bayless, March 1, 1983)
Guidelines for the Use of NPS Natural History Museum Labels Curatoral Bulletin #16 (Jonathan Bayless, 1984)
Museum Management Plan, Lassen Volcanic National Park (Kent Bush, Jonathan Bayless, Scott Isaacson, Lynn Marie Mitchell, James O'Barr and Brigid Sullivan-Lopez, 2000)
Museum Management Strategy, 1998-2002 (1998)
National Park Service Biological Collections Forum (August 5, 2008)
National Park Service Plan for Museum Collections Management (1987)
Natural History Collections Committee (June 1987)
NPS Clearinghouse, Functional Statement (undated)
NPS Museum Collections and MAB (undated)
Preservation of Objects in Museum Exhibits (John E. Hunter, 1974)
Preserving Park Collections: Fact Sheet (undated)
Report on Critical Issues: Museum Security and Fire Protection (January 14-18, 1991)
Results of the 1997 Museum Management Strategy, Redwood National & State Parks (c1998)
The Museum Collection of the National Park Service (Arthur C. Allen, undated)
The Museum Collection of the National Park Service (undated)
Uniform Use of Common and Scientific Names of Flowering Plants and Vertebrate Animals (December 15, 1959)
Uniform Use of Common and Scientific Names of Flowering Plants and Vertebrate Animals (April 1963)
Pro-Cite© in the National Park Service (Diane Mallos Woods, May 1994)
The Management and Disposition of Permanent Audiovisual Records in the National Park Service (undated)
Interpretation and Education
Interpretation for Handicapped Persons (Jacque Beechel, July 1975)
Directory of Acid Rain and Air Quality Materials for Interpreters and Educators (Kimberly S. Tassier, 1988)
Acid Rain: What is it and How is it Measured? A Series of Five Lesson Plans for Grades 6-8 (Andy McRae and John Peine, May 31, 1983)
Comprehensive Interpretive Planning: Interpretation and Education Guideline (Fall 2000)
The Effectiveness of Nonpersonal Media Used in Interpretation and Informal Education: An Annotated Bibliography (Marcella Wells and Lisa Smith, comp., undated)
Interpretive Solutions: Harnessing the Power of Interpretation to Help Resolve Critical Resource Issues NPS Natural Resource Report NPS/NRPC/NRR-2011/290 (Michael E. Whatley, January 2011)
Science Communication Framework (c2016)
HFC on Media (2004-2009)
National Park Service Preservation and Skills Training Program: A Kirkpatrick Level-4 Evaluation (Cari Goetcheus and Brett A. Wright, 2008)
Information Please In-Service Training Series (Ralph H. Anderson, 1955)
Conducted Trips In-Service Training Series (Howard R. Stagner, 1954)
The Bioevolutionary Ethic© (Donald W. Murphy, address to National Park Service, Napa, CA, undated)
National Center for Preservation Technology and Training
Rock-art image in Fern Cave, Lava Beds National Monument, California: not the AD 1054 (Crab Nebula) supernova (R.A. Armitage, M. Hyman, J. Southon, C. Barat and M.W. Rowe, extract from Antiquity, v71, 1997)
HIPPROTECT at Joshua Tree National Park (September 1997)
"Keeping the Boys Busy:" The Revival of Incremental, On-Site Design by National Park Service Designers During the Great Depression (Linda Jewell and Steve Rasmussen Cancian, 2002)
Recommendations to the National Center for Preservation Technology and Training, National Park Service for a Five-Year Plan (NPCTT Board, December 1995)
Annual Reports: 1994-1998 • 1994-1999 • 2003 • 2004 • 2011
Board Reports: 1994-1995 • 2011 • 2013
PTT Products: Catalog of Publications and Products (undated, c2004)
Program Briefs: NCPTT Overview (undated)
PPTGrants — Call for Proposals: Spring 1997 • Fall 1998 • 1999 • 2000 • 2001 • 2002 • 2006 (postcard) • 2007 (flyer) • 2009 (postcard)
Videos: Secret of Lake Meade: America's Cultural Heritage Underwater • Biscayne: America's Cultural Heritage Underwater • Fire and Ice: America's Cultural Heritage Underwater • Ferry of Hope: Ellis Island and US Immigration (complete video not available) • Dry Tortugas: Searching for the Windjammer Avanti • USS Arizona: Preserving a War Memorial MP4 format (2004)
Public Health/Employee Safety
Commensal Rodents IPM Training Manual (1993)
Users of COMMON PEST module (1990)
PESTS User's Guide (October 1986)
Visitor and Resource Protection, FY2004 Year-in-Review (c2004)
National Emergency Response Plan (July 2004)
Park Histories
From Controversy to Compromise to Cooperation: The Administrative History of Canyonlands National Park (Samuel J. Schmieding, 2008)
Dwelling in the Dunes: Traditional Use of the Dune Shacks of the Peaked Hill Bars Historic District, Cape Cod (Robert J. Wolfe, August 2005)
Dune Shacks of the Peaked Hill Bars Historic District, Cape Cod National Seashore: Traditional Cultural Property Assessment (Robert J. Wolfe and T.J.Ferguson, May 3, 2006)
Long-Range Interpretive Plan, Petrified Forest National Park (September 2000)
Rehabilitate Painted Desert Inn and Cabins Environmental Assessment/Assessment of Effect (November 2003)
The History of Ranching at Organ Pipe Cactus National Monument: Thematic Context Study (R. Brooks Jeffery and Robin Pinto, September 2009)
Fiery Dawn: The Civil War Battle at Monroe's Crossroads (Sharyn Kane and Richard Keeton, 1999)
Aztec Ruins National Monument: Administrative History of an Archeological Preserve (PDF) (HTML edition) (Robert H. Lister and Florence C. Lister, 1990)
A Special Place, A Sacred Trust: Preserving the Fort Davis Story (PDF) (HTML edition) Intermountain Cultural Resources Center Professional Paper No. 58 (Michael Welsh, 1996)
Natural history of El Malpais National Monument New Mexico Bureau of Mines & Mineral Resources Bulletin 156 (Ken Mabery, ed., 1997)
The El Malpais Archeological Survey, Phase I Intermountain Cultural Resources Management Professional Paper No. 70 (Robert P. Powers and Janet D. Orcutt, eds., 2005)
A General Index to Grand Canyon Nature Notes, 1926-1935 (Hazel Hunt Voth, 1938)
Effects of Livestock Grazing on Grassland Birds in Capitol Reef National Park, Utah NPS Technical Report NPS/NAUCARE/NRTR-94/05 (David W. Willey, June 1994)
Plant Communities of Capitol Reef National Park, Utah NPS Technical Report NPS/NAUCARE/NRTR-93/02 (William H. Romme, Kenneth D. Heil, J. Mark Porter and Rich Fleming, September 1993)
Vascular Flora and Vegetation of Capitol Reef National Park, Utah NPS Technical Report NPS/NAUCARE/NRTR-93/01 (Kenneth D. Heil, J. Mark Porter, Rich Fleming and William H. Romme, September 1993)
Science at Denali (February 2003)
Visibility Trends at Grand Canyon (undated)
Field Guide to the Capture, Drug Immobilization and Transportation of Wildlife (William J. Cook, April 1, 1979)
Are the Ruins Deteriorating Because of Air Pollution? Mesa Verde National Park, Colorado (undated)
Measuring Visibility From Far View, Mesa Verde National Park, Colorado (undated)
A Natural Resource Assessment for Shenandoah National Park NPS Technical Report NPS/NER/NRTR-2006/071 (Carolyn G. Mahan, December 2006)
Management Program: An Addendum to the Natural Resources Management Plan for Yosemite National Park (May 1977)
Historic Resource Study: Williamsport, Maryland — Historical Data (Edward Smith, July 25, 1979)
Historic Structure Report: The Cushwa Warehouse on the Chesapeake & Ohio Canal, Williamsport, Maryland — Historical Data (Harlan D. Unrau, October 1977)
A History of Johnstown and the Great Flood of 1889: A Story of Destruction and Rehabilitation (Nathan D. Shappee, 1940)
Cultural Landscape Inventory, Johnstown Flood National Memorial (J. Killion and D. Friday, 2016)
Geologic Resource Evaluation Report, Johnstown Flood National Memorial NPS Natural Resource Report NPS/NRPC/GRD/NRR-2008/049 (September 2008)
Cultural Resources
Accommodation of Handicapped Visitors at Historic Sites, Volume 1: Guide (Harold Russell Associates, Inc., October 1979)
Accommodation of Handicapped Visitors at Historic Sites, Volume 2: Technical Manual (Harold Russell Associates, Inc., October 1979)
National Park Service Guide to Transportation Enhancements Program Funds in Partnership with State & Local Governments (undated)
Natural Resources
Visibility Research at Bryce Canyon (undated)
Capitol Reef Visibility Monitoring Site (undated)
Air Quality Studies at Capulin Mountain (undated)
Air Quality Monitoring at Chaco Culture National Historical Park (undated)
Clearing the Air Series: Interpreting Critical Resource Issues in National Parks (Ohio State University, 1988)
Emerging stress and relative resiliency of Giant Sequoia groves experiencing multi-year dry periods in a warming climate (Yanjun Su, Roger C. Bales, Qin Ma, Koren Nydick, Ram L. Ray, Wenkai Li and Qinghua Guo, extract from Journal of Geophysical Research, v122, November 7, 2017)
Wetland Regulatory Compliance: A Guidance Manual for the National Park Service, Mid-Atlantic Region (Joel Wagner, October 1989)
Heartland Network Inventory & Monitoring Program Communication Plan (July 2007)
Interagency Aviation User Pocket Guide NFES 1373 (October 2008)
Summary of Geologic Resource Inventories for the NPS Networks (August 13, 2003)
Particulate Monitoring Program (undated)
Methods Development for Environmental Control Benefits Assessment, Volume I: Measuring the Benefits of Clean Air and Water includes Chapter 13: The Value of Visibility in the National Parks (Allen V> Kneese, September 1985)
Intermountain Messenger (October 14, 2011)
Training Manual for Protected Area Personnel (Alan Moore, ed., 1995)
Resources Management Plan Guideline (1994)
A Review and Bibliography of Resource Management Policy Recommendations for the U.S. National Park Service (1988-1997) (Charles C. Chester, February 5, 1998)
Resource Management Plan Database: 1999 (1999)
Learning Centers: Connecting the Public, Scientists, and Resources (undated)
Research Learning Center Strategic Plan (Draft, November 2008)
Natural Resources Assessment and Action Program Report (March 1988)
Maintaining the Quality of Park Resources and Visitor Experiences: A Handbook for Managers (Dorothy H. Anderson, David W. Line and Theresa L. Wang, September 1998)
Summary: Collecting Public Use Data by the Field Observation Method (Ken Hornback, undated)
A Method for Surveying the State of the Parks CPSU/UI SB84-4 (Gary E. Machlis and R. Gerald Wright, c1984)
Coastal Scrub and Prairie Wildlife Inventory, Golden Gate National Recreation Area, California (Judd A. Howell, undated)
Wildlife Habitat Analysis for Alcatraz Island, Golden Gate National Recreation Area, California (Judd A. Howell and Tania Pollak, undated)
GIS and Data Management
A Manager's Guide to Resource Information Systems, Volume 1: Mapped Information (Harvey Fleet and William P. Gregg, Jr., June 1984)
GIS: Standard Operating Procedures on Incidents National Wildfire Coordinating Group PMS 936 / NFES 2809 (June 2006)
Natural Resource Applications of the NPS COMMON Data Base (1986)
National Park Service COMMON Data Base Users Manual (July 1988)
Specification for Geospatial and Other Data Deliverables of GIS and Resource Mapping, Inventories, and Studies (March 2, 2007)
Summary List of GIS Data from the Natural Resource Inventories, Natural Resource Information Needs Workshop (September 19-21, 2000)
Application of Remote Sensing to Barrier Island Research (Paul Godfrey, November 5, 1971)
Applications of High-Altitude and Satellite Photography to Coastal Marine Ecological Research (Daniel S. Stetka, December 1971)
Data Management Protocols Draft (May 1997)
Synthesis Reference Manual (undated)
National Park Service TEX User's Guide (August 1986)
Remote Sensing Application Program Overview (Maurice O. Nyquist, undated)
Handbook for Remote Sensing, Mid-Atlantic Coast National Seashores NPS Natural Resources Report No. 10 (Robert Dolan, Bruce Hayden, Jeffrey Heywood and Paul Alfonsi, 1977)
National Park Service COMMON Data Base NPS Natural Resources Report Series 87-1 (Anne Frondorf, January 1986)
Remote Sensing in the NPS (undated)
Integration of Resource Management Applications (IRMA) and the Natural Resource Information Portal (NRInfo) (November 5, 2009)
IRMA: Integrated Resource Management Applications (September 2011)
IRMA: Integrated Resource Management Applications (May 19, 2014)
GIS in the National Park Service: Fact Sheet Fact Sheet 00-7 (Leslie Armstrong, August 2000)
Geographic Information Systems Field Unit (undated)
An Issue Paper on Classification of GIS and Remote Sensing Positions (undated)
GIS News: Vol. 1 No. 3, Winter 1993 • Vol. 2 No. 1, Summer 1993
Geographic Information System (GIS) Park Plan Guidelines (Draft, 1992)
GIS Plans (August 1988)
Geographic Information System Employees in the National Park Service: Early Signs of a Brain Drain (Ralph R. Root, November 1991)
Geographic Information Systems Sourcebook (1993-1994)
The Role and Function of the Geographic Information System for the Management of Natural Resources in the National Park Service (Dirk Wascher, 1989)

Search Park Histories


by Park Name or Region





| | |
| --- | --- |
| Join us on Facebook | Please visit our companion Website |




Publications Search