National Park Service History Electronic Library
The NPS History Electronic Library is a portal to thousands of electronic publications and videos, covering the history of the National Park Service and the cultural and natural history of the national parks, monuments, and historic sites of the U.S. National Park System.

The information contained in this Website is historical in scope and is not meant as an aid for travel planning; please refer to the official National Park Service Website for current information. While not affiliated with the National Park Service, we gratefully acknowledge the contributions by park employees, along with park advocates, which has enabled us to create this digital repository.

National Wild and Scenic River System ⋄ 50th Anniversary (1968-2018)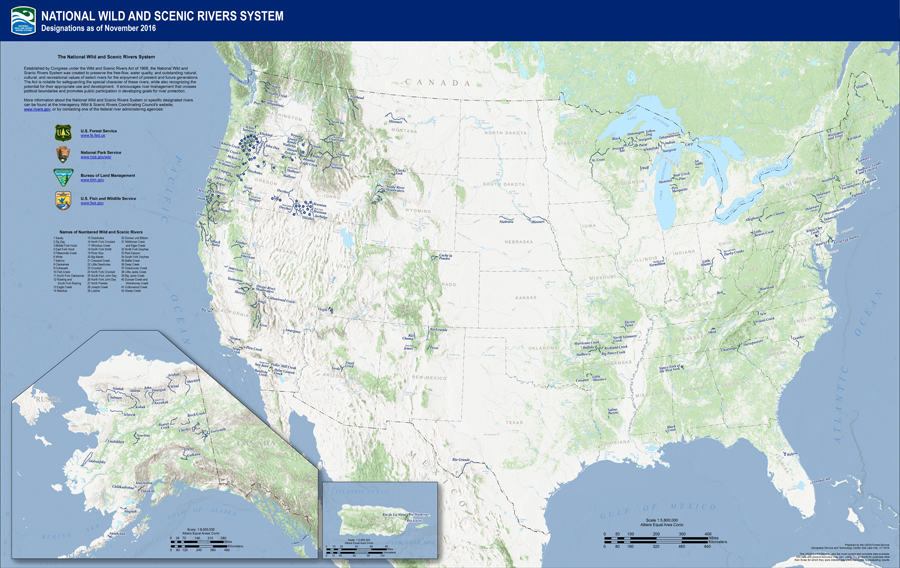 National Wild and Scenic Rivers System
(Designations as of November 2016)
"It is hereby declared to be the policy of the United States that certain selected rivers of the Nation which, with their immediate environments, possess outstandingly remarkable scenic, recreational, geologic, fish and wildlife, historic, cultural or other similar values, shall be preserved in free-flowing condition, and that they and their immediate environments shall be protected for the benefit and enjoyment of present and future generations. The Congress declares that the established national policy of dams and other construction at appropriate sections of the rivers of the United States needs to be complemented by a policy that would preserve other selected rivers or sections thereof in their free-flowing condition to protect the water quality of such rivers and to fulfill other vital national conservation purposes."

(Wild & Scenic Rivers Act, October 2, 1968)

As of August 2018, the National Wild and Scenic River System protects 12,754 miles of 209 rivers in 40 states and the Commonwealth of Puerto Rico; this is a little more than one-quarter of one percent of the nation's rivers. By comparison, more than 75,000 large dams across the country (for example, photo at top of page of Diablo Dam & Lake on the Skagit River in Washington State) have modified at least 600,000 miles, or about 17% (possibly more than 20% — figures are best estimates) of American rivers.
National Wild and Scenic River System
An Introduction to Wild and Scenic Rivers (November 1998)
Wild & Scenic Rivers Act (Public Law 90-542, October 2, 1968)
Evolution of the Wild and Scenic Rivers Act: A History of Substantive Amendments 1968-2013 (November 2014)
Brochure: Wild and Scenic Rivers (1973)
National Wild and Scenic Rivers System (Designations as of November 2016)
Pemigewasset Wild and Scenic River Study Draft Report (March 1996)
Pemigewasset Wild and Scenic River Study Final Report (June 1997)
Wekiva River, Rock Spring Run & Seminole Creek Wild and Scenic River Study Final Report (June 1999)
White Clay Creek & Its Tributaries Wild and Scenic River Study Draft Report (September 1999)
Black Warrior River, Alabama Inventory Form (September 13, 1963)
Final General Management Plan / Environmental Impact Statement, Ozark National Scenic Riverways, Missouri (December 2014)
Management Plan, Alagnak Wild River, Alaska (November 1983)
Designating Rivers Through Section 2(a)(ii) of the Wild & Scenic Rivers Act (February 2000, rev June 2007)
Selected Bibliography of Publications Related to Wild & Scenic Rivers (August 1998)
Wild and Scenic Rivers — Policy and Program Direction for Identification, Evaluation, Planning, and Management (Bureau of Land Management, July 13, 2012)
Establishment of Wild and Scenic River Boundaries (August 1998)
Questions & Answers on the Interagency Council (April 1997)
Newly Designated Wild and Scenic River: Interim Management and Steps to Develop a Comprehensive River Management Plan (March 31, 2010)
The Wild and Scenic Rivers Act and Federal Water Rights (Cynthia Brougher, January 14, 2008)
The Wild and Scenic Rivers Act and Federal Water Rights (Cynthia Brougher, January 9, 2009)
Wild and Scenic Rivers and the Use of Eminent Domain (November 1998)
Implementing the Wild & Scenic Rivers Act: Authorities and Roles of Key Federal Agencies (January 1999)
Acronyms & Abbreviations, Interagency Wild & Scenic Rivers Coordinating Council (August 2007)
National Wild and Scenic Rivers System: Final Revised Guidelines for Eligibility, Classification and Management of River Areas (Federal Register, Vol. 47 No. 173, Tuesday, September 7, 1962 Notices)
Wild & Scenic River Management Responsibilities (March 2002)
Mileage of National Wild and Scenic River System Excel Spreadsheet (undated)
Protecting Resource Values on Non-Federal Lands (October 1996)
The River Partnership Paradigm: Legal Authorities & Case Studies (June 2004)
A Compendium of Questions & Answers Relating to Wild & Scenic Rivers (January 2017)
River Mileage Classifications for Components of the National Wild and Scenic Rivers System (August 2018)
Why Wild & Scenic Rivers are Important / Por qué los ríos salvajes y escénicos son importantes (2018)
Wild & Scenic Rivers Act: Section 7 (October 2004)
The Wild & Scenic River Study Process (December 1999)
Steps to Address User Capacities for Wild and Scenic Rivers (February 2018)
Water Quantity and Quality as Related to the Management of Wild & Scenic Rivers (October 2003)
Wild and Scenic Rivers Guide For Riverfront Property Owners (November 2005)
New eLibrary Additions
Park Service Bulletin: Vol. X No. 2 — March-April 1940 • Vol. X No. 4 — July-August 1940
Homestead National Monument of America: An Administrative History, 1962-1981 (Robert Tecklenberg, 1982)
Disproportionate magnitude of climate change in United States national parks (Patrick Gonzalez, Fuyao Wang, Michael Notaro,, Daniel J. Vimont and John W. Williams, extract from Environmental Research Letters, Volume 13, Number 10, September 24, 2018)
Daily Pressure Regime for Lower Hidden Valley (TR 6), Rocky Mountain National Park: Jan-May-1974 (D.E. Glidden, September 2018)
Volunteer Handbook, C&O Canal (undated)
National Recreation Trails Guide (April 1984)
Mission 66 for Casa Grande National Monument (c1956)
The Evolution of the National Park System of the United States (Paul Herman Buck, 1946)
Painting and Sculpture Theme Study Workshop, Workshop Findings and Recommendations (May 1992)
Revision of the National Park Service's Thematic Framework (1996)
Wise Sanitarium/Lillian Carter Health and Rehabilitation Historic American Buildings Survey (Elizabeth Barthold, Summer 1989, rev. 1995)
The Hoonah Tlingit Cultural Landscape in Glacier Bay National Park and Preserve: An Archaeological and Geological Study (Aron L. Crowell, Wayne K. Howell, Daniel H. Mann and Gregory P. Streveler, 2013)
A Maritime Resource Survey for Washington's Saltwater Shores (Washington State Department of Archaeology and Historic Preservation, Jun 27, 2011)
The nature of the beast: examining climate adaptation options in forests with stand-replacing fire regimes (Joshua S. Halofsky, Daniel C. Donato, Jerry F. Franklin, Jessica E. Halofsky, David L. Peterson and Brian J. Harvey, extract from Ecosphere, Vol. 9(3), March 2018, ©The Authors)
Fire and Other Disturbances of the Forests in Mount Rainier National Park (Miles A. Hemstrom and Jerry F. Franklin, extract from Quaternary Research, 18, 1982, ©University of Washington)
Archaeological Test Excavations in Fryingpan Rockshelter, Mount Rainier National Park Washington State University Laboratory of Anthropology Report of Investigations No. 33 (David G. Rice, 1965)
Biodiversity of the Schoodic Peninsula: Results of the Insect and Arachnid Bioblitzes at the Schoodic District of Acadia National Park, Maine Maine Agricultural and Forest Experiment Station Technical Bulletin 206 (Donald S. Chandler, David Manski, Charlene Donahue and Andrei Alyokhin, September 2012)
Forest Vegetation Monitoring in Acadia National Park Maine Agricultural and Forest Experiment Station Technical Bulletin 187 (J.D. Eckhoff, G.B. Wiersma and J.A. Elvir, August 2003)
A City, Asleep: Revisiting and Reevaluating History and Interpretation at Mesa Verde National Park (Andrew Maziarski, 2012)
Historic Furnishings Report: Fort Christiansvaern, Christiansted National Historic Site, Virgin Islands (Jerome A. Greene and William F. Cissel, 1988)
Cultural Landscape Report, Christiansted National Historic Site, St. Croix, Virgin Islands (Robert Bradley, January 5, 1985)
Military and Indian Affairs (sub-theme), Westward Expansion and Extension of the National Boundaries, 1830-1898 (Theme XV) — National Survey of Historic Sites and Buildings (August 1959)
Commerce and Industry (Theme XVII-b) Vol. II: Survey of Historic Sites and Buildings in States Located West of the Mississippi — National Survey of Historic Sites and Buildings (1966)
Commerce and Industry (Theme XVII-b) Vol. III: Survey of Historic Sites and Buildings in States Located East of the Mississippi — National Survey of Historic Sites and Buildings (1966)
Buck Island Fish and Shellfish Populations Biosphere Reserve Research Report No. 26 (William Tobias, Eric Telemaque and Michael Davis, 1988)
Accessibility Self-Evaluation and Transition Plan, Joshua Tree National Park, California Draft (August 2018)
Comments on Department of the Interior Memorandum of September 20, 1985 Entitled "Protection of National Park System Units from the Adverse Effects of Air Pollution" (Congressional Research Service, November 19, 1985)
Park Rangers and Law Enforcement (Denzil Verardo, extract from PORAC News, May 1980)
Foundation Plan for New River Gorge National River, West Virginia (2011)
Natural Resource Condition Assessment, Bryce Canyon National Park NPS Natural Resource Report NPS/NCPN/NRR-2018/1690 (Lisa Baril, Kimberly Struthers and Patricia Valentine-Darby, August 2018)
Links to the Past: A Historic Resource Study of National Park Service Golf Courses in the District of Columbia (Patricia Kuhn Babin, 2017)
The Chilkoot Trail: Cultural Landscape Report for the Chilkoot Trail Historic Corridor — Part 1: History, Existing Conditions, & Analysis (2011)
Ethnographic Overview and Assessment, Klondike Gold Rush National Historical Park Final Report (Thomas F. Thornton, August 2004)
Documenting Over a Century of Natural Resource Change with Repeat Photography in Klondike Gold Rush National Historial Park, Alaska NPS Natural Resource Report NPS/KLGO/NRR-2015/1017 (Ronald D. Karpilo, Jr. and Sarah C. Venator, September 2015)
A Wild Discouraging Mess: A History of the White Pass Unit of the Klondike Gold Rush National Historical Park (Julie Johnson, 2003)
National Park System Advisory Board Amended Charter (2018)
National Park Service Uniform Catalogs (1980-2016)
National Park Week News in Review (July 1994)
Destinations (Issue 3, Winter 2000)
Superintendent's 2008 Report on Natural Resource Vital Signs, Yellowstone National Park Yellowstone Center for Resources YCR-2009-04 (2009)
The State of Yellowstone Vital Signs and Select Park Resources 2017 Yellowstone Center for Resources YCR-2018-01 (2018)
Financial, Ethical, and Exclusive Use Concerns About the NPS' Agreement With the Wolf Trap Foundation for the Performing Arts Office of Inspector General, U.S. Department of the Interior Report No. 2017-WR-037-A (September 2018)
Fitness and Work Capacity NFES 1596/PMS 304-2 (2nd edition, April 1997)
Imagine...Pacific West Region (undated)
Yellowstone Resources and Issues Handbook 2018
Virgin Islands National Park
The Danish Colonization of St. John, 1718-1733 (Lief Calundann Larsen, 1986)
Historic Resource Study: St. John Island ("the quiet place"), Virgin Islands National Park with Special Reference to Annaberg Estate, Cinnamon Bay Estate (Charles E. Hatch, Jr., January 1972)
Historic Structures Report (Part I) / History Data Section: Reef Bay ("Par Force") Estate Great House and Reef Bay Sugar Factory, Virgin Islands National Park (Charles E. Hartch, Jr., June 1, 1970)
Historic Structures Report (Part I) Architectural Data Section: Reef Bay Great House, Reef Bay Estate, Virgin Island National Park (Frederik C. Gjessing, November 1968)
Coral Reefs in the U.S. National Parks: A Snapshot of Status and Trends in Eight Parks NPS Natural Resource Report NPS/NRPC/NRR-2009/091 (Nash C. V. Doan, K. Kageyama, A. Atkinson, A. Davis, J. Miller, J. Patterson, M. Patterson, B. Ruttenberg, R. Waara, L. Basch, S. Beavers, E. Brown, P. Brown, M. Capone, P. Craig, T. Jones and G. Kudray, April 2009)
Preliminary Report on the Architecture of Par Force Great House, Reef Bay, Virgin Islands National Park as Revealed by Archeological Testing (Roy W. Reaves III, 1988)
Geology of St. John, U.S. Virgin Islands USGS Professional Paper 1631 (Douglas W. Rankin, 2002)
Resource Briefs (Coral Reef Monitoring in the Virgin Islands National Park): September 2013 • October 2017
Observations of the Architecture at Reef Bay Estate and Fortberg Hill, St. John, Virgin Islands (F.C. Gjessing, November 3, 1954)
The Historic Resources of the U.S. Virgin Islands: A Review and Assessment and Forms for Public Comment (The Cultural Resource Group, May 1988)
Proceedings of the Workshop on Biosphere Reserves and Other Protected Areas for Sustainable Development of Small Caribbean Islands Caneel Bay, St. John, U.S. Virgin Islands, May 10-12, 1983 (Jim Wood, ed., 1984)
Management of Natural Resource Information for the Virgin Islands National Park and Biosphere Reserve Special Biosphere Reserve Report (Island Resources Foundation, 1988)
Recreational Uses of Marine Resources in the Virgin Islands National Park and Biosphere Reserve: Trends and Consequences Biosphere Reserve Research Report No. 24 (Caroline S. Rogers, Larry McLain and Evonne S. Zullo, 1988)
Initial Inventory of Three Permanent Forest Plots in the Virgin Islands National Park Biosphere Reserve Research Report No. 27 (John E. Earhart, Anne E. Reilly an Matt Davis, 1988)
Marine and Terrestrial Ecosystems of the Virgin Islands National Park and Biosphere Reserve Biosphere Reserve Report No. 29 (Caroline S. Rogers and Robert Teytaud, September 1988)
Lake Roosevelt National Recreation Area
Currents and Undercurrents: An Administrative History of Lake Roosevelt National Recreation Area (PDF) (HTML edition) (Kathryn L. McKay and Nancy F. Renk, January 2002)
Geology of the Franklin D. Roosevelt Reservoir Shoreline: Glacial Geology, Terraces, Landslides, and Lineaments (Eugene P. Kiver and Dale F. Stradling, U.S. Bureau of Reclamation, April 1995)
Sagebrush Steppe Vegetation Monitoring in Lake Roosevelt National Recreation Area: 2011 Annual Report NPS Natural Resource Data Series NPS/UCBN/NRDS-2012/231 (Jeffrey J. Yeo and Thomas J. Rodhouse, January 2012)
Sagebrush Steppe Vegetation Monitoring in Lake Roosevelt National Recreation Area: 2014 Annual Report NPS Natural Resource Data Series NPS/UCBN/NRDS-2015/803 (Daniel M. Esposito and Thomas J. Rodhouse, June 2015)
Natural Resource Condition Assessment, Lake Roosevelt National Recreation Area NPS Natural Resource Report NPS/UCBN/NRR-2009/106 (Jack Bell and Dustin Hinson, May 2009)
Upper Columbia Basin Network Sagebrush Steppe Vegetation Monitoring Protocol: Narrative Version 1.0 NPS Natural Resource Report NPS/UCBN/NRR-2009/142 (Jeffrey J. Yeo, Thomas J. Rodhouse, Gordon H. Dicus, Kathryn M. Irvine and Lisa K. Garrett, August 2009)
Upper Columbia Basin Network Sagebrush Steppe Vegetation Monitoring Protocol: Standard Operating Procedures Version 1.0 NPS Natural Resource Report NPS/UCBN/NRR-2009/142 (Jeffrey J. Yeo, Thomas J. Rodhouse, Gordon H. Dicus, Kathryn M. Irvine and Lisa K. Garrett, August 2009)
Vertebrate Inventory of Lake Roosevelt National Recreation Area 2003 NPS Natural Resource Technical Report NPS/UCBN/NRTR-2010/283 (Maureen McCaffrey, Thomas J. Rodhouse and Lisa Garrett, January 2010)
Sagebrush Steppe Vegetation Monitoring in Craters of the Moon National Monument and Preserve, Hagerman Fossil Beds National Monument, John Day Fossil Beds National Monument, and Lake Roosevelt National Recreation Area: 2009 Annual Report NPS Natural Resource Technical Report NPS/UCBN/NRTR-2010/302 (Thomas J. Rodhouse, March 2010)
Analysis of the Kettle Falls Culture Chronology Temporal Gaps (John Oliver Pouley, extract from Archaeology in Washington, Vol. 14, 2008)
Excavations at Spokane House-Fort Spokane Historic Site 1962-1963 Washington State University Report of Investigations No. 29 (John D Coombs, 1964)
Archaeological Survey of Grand Coulee Dam National Recreation Area — Part 1: Lincoln County Above Normal Pool Washington State University Laboratory of Anthropology Report of Investigations No. 38 (Edward McM. Larrabee and Susan Kardas, 1966)
Archaeological Survey of Coulee Dam National Recreation Area — Part 2: Spring Draw-Down of 1967 Washington State University Laboratory of Anthropology Report of Investigations No. 42 (David H. Chance, 1967)
Archaeological Investigations in the Coulee Dam National Recreation Area, Spring 1968 Washington State University Laboratory of Anthropology Report of Investigations No. 45 (David G. Rice, 1968)
State of the Park Reports
Program Brief: State of the Park Reporting (May 2014)
Abraham Lincoln Birthplace National Historical Park, Kentucky State of the Park Series No. 16 (2014)
Andersonville National Historic Site, Georgia State of the Park Series No. 15 (2014)
Bering Land Bridge National Preserve, Alaska State of the Park Series No. 40 (2016)
Big Hole National Battlefield, Montana State of the Park Series No. 1 (April 2013)
Black Canyon of the Gunnison National Park, Colorado State of the Park Series No. 12 (2014)
Cabrillo National Monument, California State of the Park Series No. 2 (April 2013)
Cape Hatteras National Seashore, North Carolina State of the Park Series No. 33 (2016)
Cape Krusenstern National Monument, Alaska State of the Park Series No. 44 (2017)
Cape Lookout National Seashore, North Carolina State of the Park Series No. 14 (2014)
Catoctin Mountain Park, Maryland State of the Park Series No. 10 (2014)
Craters of the Moon National Monument and Preserve, Idaho State of the Park Series No. 24 (2016)
Curecanti National Recreation Area, Colorado State of the Park Series No. 13 (2014)
Denali National Park and Preserve, Alaska State of the Park Series No. 27 (2016)
Devils Postpile National Monument, California State of the Park Series No. 26 (2016)
De Soto National Memorial, Florida State of the Park Series No. 29 (2016)
Fort Raleigh National Historic Site, North Carolina State of the Park Series No. 34 (2016)
Fort Union Trading Post National Historic Site, North Dakota-Montana State of the Park Series No. 43 (2017)
Gates of the Arctic National Park and Preserve, Alaska State of the Park Series No. 49 (2017)
Glacier Bay National Park and Preserve, Alaska State of the Park Series No. 52 (2017)
Guilford Courthouse National Military Park, North Carolina State of the Park Series No. 22 (2015)
Horseshoe Bend National Military Park, Alabama State of the Park Series No. 17 (2014)
John Day Fossil Beds National Monument, Oregon State of the Park Series No. 9 (December 2013)
Kalaupapa National Historical Park,, Hawaii State of the Park Series No. 21 (2015)
Kenai Fjords National Park, Alaska State of the Park Series No. 42 (2017)
Kennesaw Mountain National Battlefield Park, Georgia State of the Park Series No. 8 (November 2013)
Kings Mountain National Military Park, South Carolina State of the Park Series No. 47 (2017)
Klondike Gold Rush National Historical Park, Alaska State of the Park Series No. 5 (April 2013)
Kobuk Valley National Park, Alaska State of the Park Series No. 45 (2017)
Lake Clark National Park and Preserve, Alaska State of the Park Series No. 28 (2016)
Little River Canyon National Preserve, Alabama State of the Park Series No. 38 (2016)
Martin Van Buren National Historic Site, New York State of the Park Series No. 32 (2016)
Maggie Walker National Historic Site, Virginia State of the Park Series No. 20 (February 2015)
Mississippi National River and Recreation Area, Minnesota State of the Park Series No. 4 (April 2013)
Natchez Trace Parkway (incl. Natchez Trace National Scenic Trail, Brices Cross Roads National Battlefield Site and Tupelo National Battlefield), Alabama-Mississippi-Tennessee State of the Park Series No. 31 (2016)
Noatak National Preserve, Alaska State of the Park Series No. 46 (2017)
Ocmulgee National Monument, Georgia State of the Park Series No. 11 (2014)
Organ Pipe Cactus National Monument, Arizona State of the Park Series No. 3 (April 2013)
Palo Alto Battlefield National Historical Park, Texas State of the Park Series No. 30 (2016)
Richmond National Battlefield Park, Virginia State of the Park Series No. 19 (2015)
Rocky Mountain National Park, Colorado State of the Park Series No. 50 (December 2017)
Sand Creek Massacre National Historic Site, Colorado State of the Park Series No. 51 (2017)
Saugus Iron Works National Historic Site, Massachusetts State of the Park Series No. 6 (April 2013)
Salem Maritime National Historic Site, Massachusetts State of the Park Series No. 7 (April 2013)
Shiloh National Military Park, Tennessee-Mississippi State of the Park Series No. 25 (2016)
Sitka National Historical Park, Alaska State of the Park Series No. 36 (2016)
Stones River National Battlefield, Tennessee State of the Park Series No. 41 (2017)
Timucuan Ecological and Historic Preserve and Fort Caroline National Memorial, Florida State of the Park Series No. 39 (2016)
Valley Forge National Historical Park, Pennsylvania State of the Park Series No. 18 (2015)
Wright Brothers National Memorial, North Carolina State of the Park Series No. 35 (2016)
Wrangell-St. Elias National Park and Preserve, Alaska State of the Park Series No. 37 (2016)
Yukon-Charley Rivers National Preserve, Alaska State of the Park Series No. 48 (2017)
Zion National Park, Utah State of the Park Series No. 23 (2016)
Foundation Documents
Bandelier National Monument, New Mexico (June 2015)
Belmont-Paul Women's Equality National Monument, Washington, D.C., Overview (Date Unknown)
Big South Fork National River and Recreation Area, Kentucky-Tennessee (October 2017) Overview (Date Unknown)
Blue Ridge Parkway, North Carolina-Virginia, Overview (Date Unknown)
Castillo de San Marcos National Monument, Florida, Overview (Date Unknown)
Chamizal National Memorial, Texas (April 2016) Overview (Date Unknown)
Channel Islands National Park, California (February 2017) Overview (Date Unknown)
Crater Lake National Park, Oregon (August 2015)
Cuyahoga Valley National Park, Ohio (July 2013) Overview (July 2013)
Dayton Aviation Heritage National Historical Park, Ohio (January 2017)
Eugene O'Neill National Historic Site, California, Overview (Date Unknown)
Fort Matanzas National Monument, Florida, Overview (Date Unknown)
Fort Pulaski National Monument, Georgia, Overview (Date Unknown)
Fort Smith National Historic Site, Arkansas-Oklahoma, Overview (Date Unknown)
George Rogers Clark National Historical Park, Indiana (July 2014) Overview (Date Unknown)
Glacier National Park, Montana (October 2016) Overview (October 2016)
Grand Portage National Monument, Minnesota (December 2016) Overview (Date Unknown)
Independence National Historical Park, Pennsylvania (September 2017)
Lake Mead National Recreation Area, Arizona-Nevada, Overview (Date Unknown)
Lake Roosevelt National Recreation Area, Washington (August 2015)
Lewis and Clark National Historic Trail, IL-MO-KS-NE-IA-SD-ND-MT-ID-WA-OR (September 2012) Overview (Date Unknown)
Longfellow House-Washington's Headquarters National Historic Site, Massachusetts (October 2017)
Minuteman Missile National Historic Site, South Dakota, Overview (Date Unknown)
Morristown National Historical Park, New Jersey (June 2018) Overview (June 2018)
Mount Rainier National Park, Washington (April 2015) Overview (Date Unknown)
Padre Island National Seashore, Texas (January 2016)
Petroglyph National Monument, New Mexico (August 2017) Overview (Date Unknown)
Prince William Forest Park, Virginia (December 2013) Overview (Date Unknown)
Rosie the Riveter/World War II Home Front National Historical Park, California, Overview (Date Unknown)
Saint Croix Island International Historic Site, Maine, Overview (Date Unknown)
Saguaro National Park, Arizonia (April 2014) Overview (January 2015)
Shenandoah National Park, Virginia (April 2015)
Sunset Crater Volcano National Monument, Arizona (May 2015) Overview (Date Unknown)
World War II Valor in the Pacific National Monument, Tule Lake Unit, California (January 2015) Overview (July 2014)
Virgin Islands National Park/Virgin Islands Coral Reef National Monument, U.S. Virgin Islands (December 2016) Overview (Date Unknown)
Walnut Canyon National Monument, Arizona (May 2015) Overview (Date Unknown)
The White House and President's Park, Washington, D.C. (September 2014) Overview (April 2015)
White Sands National Monument, New Mexico, Overview (January 2016)
Yosemite National Park, California, Overview (Date Unknown)
Zion National Park, Utah (October 2013) Overview (Date Unknown)

Search Park Histories


by Park Name or Region





| | |
| --- | --- |
| Join us on Facebook | Please visit our companion Website |




Publications Search