NPS REFLECTIONS
by Monte Later and Alan Mebane
Founding of the Yellowstone Institute
Yellowstone National Park Centennial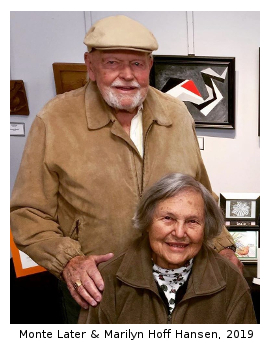 You had to look up to see it, head back so far you may tip backward. It snowed last night but just up high. Yosemite's soaring walls, the top third, were plastered with wet, late April snow. The early morning sun was just beginning to touch the highest places. Except where a few wispy fragments of last night's clouds cast shadows as they drifted to oblivion, the new snow was the white of a snowy egret. Below snow line the towering walls, usually a somber gray, now something between heavy dew and light mist. Now the first light, glorious sun, breathed life into the dampness while mists freshened both air and light.
Others were converging now, toward the same doorway I approached. None of us knew what experience, new for each of us, lay behond the door. Three steps up, on each side, there was a bed of freshly tilled soil surrounded by fragile twine supported on flimsy twelve inch wooden sticks. On the small wooden sign, just inside the twine, the expected words would be; "KEEP OFF", "STAY OUT", "NO ENTRY" or some other negative message Instead, the sign said "NEW PLANTINGS, PLEASE". I hoped this surprising sign foretold the nature of the discussions we would have here.
We are here, one hundred and fifty of us, to creatively gaze into the next one hundred year future of the idea of National Parks. Beyond that there is no pre-written agenda. No idea will be considered too outside the box for consideration because that's where fresh, unique ideas are likely to be found. This, 1972, is the centennial anniversary of the National Parks idea and of the establishment of Yellowstone National Park, the world's first. Later this year, a Russian delegate to the World Conference on National Parks at Old Faithful, would congratulate Yellowstone on being America's first National Park, implying that the USSR was first for that too.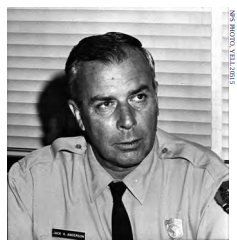 Here in Yosemite, the one hundred and fifty delegates were selected from across the nation and each had some interest or connection to the Parks idea. Jack Anderson (at right), Yellowstone Superintendent, has invited me to represent Yellowstone. Randomly divided, we met in discussion, think tank groups of twenty five or so for four hours then we were re-mixed to be with a new group. An impressive array of recording equipment was installed in each room. After the three days of sessions, information gathered would be transcribed, edited and published in book form.
A man, unfamiliar to me, stood just outside the door as I exited the first morning session. His eyes immediately riveted on mine and he trapped me with the surest of any bait, a compliment. By the arm, he led me to the nearest corner. Friendly and a bit stocky, the man was impeccably dressed in a crisp business suit, a novelty in Yosemite. He was one of those people on whom your eyes lock when you are speaking to a group.
He spoke politely but earnestly, "We're all here to envision what our Parks should be as we begin the second one hundred years. You and the others living here in the west are blessed. You live on the doorsteps of our country's most beautiful and numerous National Parks. Those Parks are in your lives. You have access."
"Your point is well taken," I said. "This is a blessing and one of which we should be reminded lest we begin to take it for granted. Have you ever visited Yellowstone?"
Without answering the question he said, "My home is in Philadelphia." Then, becoming more serious, "My people are born, live and die, often without ever going more than six city blocks from their beginning and ending. What shall we tell them of our great National Parks? What is their right of access?"
My new friend was a black man but it was clear that when he spoke of "My People' it was not of a state of race but of a state of conditions and opportunities.
This man, whose name I can't recall, was giving me a special gift, the rare gift of seeing my own comments through his eyes, more important, through the eyes of 'His People'.
After our conversation in the corner, I never did see the man from Philadelphia again, but the conversation stayed with me. Of the copious notes in a folder I brought here there may be no more than one or two I now felt may be relevant. Though I didn't see it, this man must have talked to some others at the event because the dominant topic for each of my discussion groups was access, access for everyone. Interesting ideas popped up. A novel one was to issue 'Park Stamps' like 'Food Stamps' to leverage funds for those with limited resources. Virtual experiences were discussed at length. Could a virtual experience be created for specific Parks that could be taken to the people? For those who can't come to the Parks, bring the Parks to them. Virtual technologies were considered and seemed doable, but remember, this was 1972, before today's amazing virtual technologies were available.
Expanding volume of automobile traffic at the time seemed to be taking over the Parks. Novel ideas were considered, most of which involved enhanced public transportation. Think about a monorail system in Yellowstone! Yosemite was a leader. They had already closed the upper end of the narrow valley to auto traffic. A quiet natural gas powered multi-car, rubber tired trolley ran every ten minutes accessing the upper part of the valley. Before, that beautiful section was riotous with noise and congestion. Everyone was angry as they competed for scarce parking. Yosemite was giving us a graphic view into the future.
"Wow, look over here." An excited voice beckoned as we entered the room assigned for this first day's afternoon session. Large windows framed a spectacular view of Yosemite Falls draped with this morning's new snow, vaporous clouds and patches of brilliant sunlight. Impossible to look away. Impossible to get to our work.
"Give us fifteen minutes. We're moving the recording equipment out onto the patio," said our sound tech.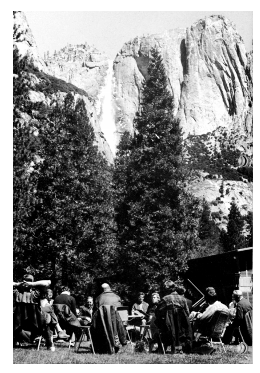 An adjacent outdoor stone patio was right under the otherworldly scene. If our group didn't come up with something good it wasn't for lack of inspiration.
The provided ID badge was both blessing and curse. In bold letters it read "YELLOWSTONE'. While it may have attracted more attention than sought or desired, it did help meet some remarkable people and led to the one idea that was to make this entire experience worth the trip.
I am writing this forty one years later, nearly halfway into the second century of National Parks we were trying to envision. Were any ideas generated here that have made a difference? Difficult to say for certain. Once scattered, which of the seeds germinated and took root? Our National Parks are significantly different than they were in 1972. Many of the troubling problems of that year have been dealt with. New technologies have opened new opportunities. Projected rates of demand and visitor numbers have not grown as rapidly as frightening straight line projections foretold then.
What of the man from Philadelphia and 'His People'? Do we have greater right of access for all of America's people? Unfortunately, I see no improvement or movement in that direction. Is there an answer? I'm optimistic. What about sponsored tours for less privileged young people? That's doable. What finer contribution to their education. Things like that could happen. Why does it take so long? I wonder if the man from Philadelphia is still living.
Had I been allowed to select but one idea here at Yosemite to take back to Yellowstone it would, without a doubt, be 'The Yellowstone Institute'. The Yosemite Institute hosted a reception on an outdoor patio. That Institute's Director told me how the Park and surrounding communities were interfacing for education. Primary grades through junior colleges were cooperating with Yosemite and it's staff to offer special learning opportunities.
Why not a Yellowstone Institute? Yellowstone is remote and has seasonal difficulties but it is world famous and has visitors who want to learn. A Yellowstone Institute should be a natural that would take off immediately. Not so! Today the Yellowstone Institute has blossomed beyond the wildest dreams we had back then, but the road was long and rocky. But that's another story.
Yellowstone Institute
Yellowstone Park was born seventeen million years ago when an asteroid may have struck earth near what is now the Oregon – Idaho border. The distance between Jordan Valley, Oregon and Yellowstone National Park marks progress of the North American Plate, our continent, in it's movement west during that seventeen million years.
The Yellowstone Institute was born in 1972 during a conversation on an outdoor balcony where the air was cooled by mists wafted down from a towering Yosemite Falls. What the Yellowstone Institute is today marks its progress from a humble seed sown that day in 1972 in Yosemite National Park.
A volcanic plume or hot spot deep under Yellowstone is the wound in the earth possibly caused by the asteroid impact so long ago. That wound, now beneath Yellowstone, created a huge volcanic caldera that was the mother of all that Yellowstone is. The caldera crater, in time, evolved into a bowl filled with wonder. Geysers, then creeks and rivers emerged followed by plants and woodlands providing habitat for a rich variety of life large and small. Each life form found its unique niche of dependent interrelationship with the other. Late to the scene was a history of human visitors. Though at first exploiters, humans' greatest contribution to the scene was protection. Yellowstone, with its unique geology and vast area protected in it's natural state, was quickly recognized as an ideal laboratory for scientific research and learning. Research projects of all kinds are ongoing here year round. Well designed visitor center, campfire programs and naturalist walks are popular with the Park's casual visitors but are, of necessity, superficial. As it is a natural laboratory, it was a natural classroom, a classroom crying for some kind of structured access for in depth learning about the limitless wonders of the place.
Approaching with a warm smile and right hand extended, tall and lean, the man looked 50ish. Nattily dress for the event, he was wearing a light colored cotton summer jacket and trousers. Thought it was early April, Yosemite, boxed in with high walls, can be warm and humid in late afternoon. Balancing a napkin and drink in his left hand as we shook hands he said, "I noticed your name tag. What's going on in Yellowstone?"
"Well, you can still find enough snow for a good snowball fight and the bison are showing off their new calves."
We were guests at the reception on an outdoor natural stone patio with an awesome view of the two stage Yosemite Falls. Attendees were members of a "think tank" event titled National Parks for the Future celebrating the 1972 centennial of the National Parks idea and establishment of Yellowstone. Now close enough to read, his name tag indicated that he was Executive Director of The Yosemite Institute (Don Rees, pictured at right).
"Please tell me about the Yosemite Institute," I said.
His spontaneous enthusiastic response indicated that I had provided precisely the opening he sought. "We're obviously an organization for learning, learning about this remarkable place, Yosemite, and all of its natural and historic values. The disciplines we teach range widely, including all of the natural sciences, history of discovery and establishment of the Park, including the John Muir story. We even explore the relationship of the Park with communities in the surrounding area."
"Are all of your classes taught here within the Park?" I asked.
"Not at all," the Director responded pleasantly. "The greatest part of our operation is our outreach program. Our instructors regularly visit schools, kindergarten up through junior college, with specialized educational programs in the fields we cover."
"Sounds like a great program, but an expensive one. How are you funded?"
"Tuitions from participants including those with scholarships carry the 'in Park' courses. We wouldn't have an outreach program in the schools without strong support from the local business community. Corporations and businesses, even from the Bay Area are significant contributors to our school program. "
Wheels were turning in my head as I asked the Director "Do you think this idea would work in Yellowstone?"
After a thoughtful pause, he said "I don't know. We're heavily dependent on nearby surrounding populations and our revenue from the school involvement. Yellowstone is remote from a large population base and has a short season. We function year round. I just don't know."
"On the other hand, Yellowstone," I said, "has a world famous name and a high volume of visitors, many of whom should be interested in in-depth learning. I wonder if a Yellowstone Institute could be feasible supported only by in Park courses?"
"That's an interesting idea," said the Director as we parted.
The Yellowstone Institute - Beginnings
Yellowstone National Park, in 1972, was a frantically busy place. Superintendent Jack Anderson and his staff were pressed to work on overload. Visitor numbers in National Parks were at an all time high and showed no sign of abating. Demands for services and facilities seriously stressed availability and staff time. Add to this the fact that Yellowstone staff and concessioners must be prepared to receive delegates from the world over. Yellowstone, the world's first National Park, will host a global conference celebrating one hundred years of the National Park idea.
Superintendent Jack Anderson and his Chief Biologist, Glen Cole, were deeply embroiled in a highly controversial change in the Park's bear management program. It had evolved into a hot national issue.
Freshly back from Yosemite and the National Parks for the Future symposium and full of excitement about the possibility of a Yellowstone Institute, I naively thought this would be a good time to present the idea. Neither Superintendent Anderson nor his Chief Naturalist, Bill Dunmire, given the existing environment, had time or interest for considering another new program.
The idea of a Yellowstone Institute would wait for a better day.
Superintendent Anderson was always cordial and courteous each time, in the following two years, that I presented the topic of an Institute, but was not inclined to pursue the topic further.
It was 1975 when Superintendent Anderson retired, having capably and professionally handled some very difficult issues in Yellowstone during his tenure. He and his wife, Dusty, deservedly retired to Ashland, Oregon.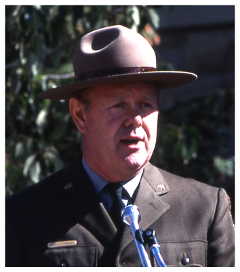 Since 1971 I had been a Board member of the Yellowstone Library and Museum Association (YLMA), a long time predecessor to the present organization, The Yellowstone Association. The only members of YLMA were people on the Board. There was no paid national membership as there is now. The new Superintendent, John Townsley (at right), stated, as had Superintendent Anderson, that the YLMA Board was important as his only lay advisory board.
John Townsley was a big man, about six foot, four inches tall with a heavy build. He could be intimidating and to many Park Staff he was. It was important to John to be fully in control of everything in his purview. Not popular with some staff, he was determined to break up homesteading. To many National Park professionals Yellowstone was the ultimate assignment. They would decline promotions or transfers to stay in Yellowstone. John was determined to see homesteaders achieve their full potential wherever they may be.
Each Yellowstone Superintendent, it seems, had a dominate, thorny and difficult issue with which to deal. For John McLaughlin, preceding Anderson, it was overwhelming elk populations. Mutual of Omaha's Wild Kingdom TV show gave him ulcers. Jack Anderson had the tough issue of bear management. Bob Barbee, following John Townsley, had the 1988 Yellowstone fires. John Townsley's largest difficult issue was concessioners. Because concessioners owned their own improvements, Park Service had little or no control over quality of services offered. Concessioners could just say, "Buy us out!" Eventually, Townsley convinced Congress to do just that, enabling Park Service to select the bets concession operators.
Approaching Townsley several times about the Yellowstone Institute idea, he always refused to discuss the issue. That was IT!!!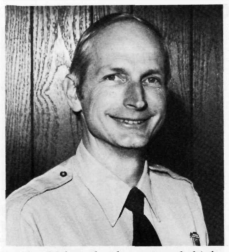 Suddenly and unexpectedly, one day in 1976, I received a call in my office from Al Mebane (at right), the Chief Naturalist. Mebane said that Townsley had instructed him to bring the YLMA Manager, Gerri Hape, to my home in St. Anthony, Idaho to see what this Institute business was all about. By that time I had elected YLMA Board Chair and had the Boards support to pursue the issue.
When Al and Gerri arrived at my house I had invited a neighbor, Dr. Glen Holm, to sit in on the discussion. Glen was a former Dean at the University of Oklahoma and had spent many years with the State Department both in Columbia and in India. He had a valuable academic perspective. We began, understanding that an institute, in Yellowstone, would have to be supported by in Park courses. Remoteness from population centers and long, severe winters made an outreach program, which was the strength of the Yosemite Institute improbable. We agreed that courses offered should be about the sciences, history, current use and future of Yellowstone. There should be a strong orientation to teachers and, in time, we would plan to offer credit for classes taken.
Yellowstone's fame should attract the nation's finest instructors for the fields offered and we should seek them out. We deferred the problem of where and how to house the instructors. Summer brings a severe housing problem all over the Park to both Park Staff and concessioners.
We all agreed that the Institute should be not for profit and that if any profits were ever realized they should go to scholarships and tuition reductions.
Finally, there was discussion of the director. It was my feeling that the first director, for a period not to exceed three years, should be a person strong in organization and promotional skills. After that period the director should be more oriented to academics.
Al and Gerri carried the report back to Superintendent Townsley. He approved start up explorations provided the YLMA was willing to come up with the start up financing. He offered no direct Park Service support other than assistance from the Chief Naturalist.
Now the heavy lifting fell to Chief Naturalist, Al Mebane. I secured YLMA Board approval and Al began the search for a Director.
Hugh Crandall, an ex navy pilot, had authored several colorful booklets about specific National Parks titled, "The Story Behind the Scenery." Colorful photos, brief, but interesting, text and a reasonable price made the booklets popular at park visitor centers. He had done a good job marketing the booklets.
Hugh became The Yellowstone Institute's first Director. He had no office, no staff, no equipment or detailed budget, only an Idea! An apartment he had managed to secure above the Post Office at Mammoth for him and his wife became Institute Headquarters.
Volumes of mail went out and the first courses offered (six or eight as I remember) were determined by which instructors Hugh could interest in taking a gamble. Two of the activity offerings were Fly Fishing and Horse Packing. Attendance was meager but Hugh pressed on with determination. Because we had no housing to offer, instructors without a camper of their own had to be tent campers, and some were. We struggled.
A very large chunk of YLMA's budget was being spent on start up expenses for the Yellowstone Institute. After the second year with some, but minimal, growth it seemed time to test the Board's commitment. Playing Devil's Advocate and standing where they could not see fingers crossed behind my back, I suggested that the amount of money we were spending could be used to reach many more visitors through traditional interpretive programs thatn through the Institute. "It may be," I said, "that the Institute was not a good idea or was a good idea whose time had not yet come."
The Board responded emphatically, "No, we're going to stay the course and do whatever it takes."
It may be that crossed fingers do work.
Some Institute courses were in the field but some required a classroom, and there were rainy days. We had no classrooms but Al Mebane found, here and there, a trailer house that was temporarily unoccupied. Crowded conditions in the Park were a problem for course attendees. If they were lucky enough to secure a campsite at all, some would return to their camp after classes to find their gear thrown aside and someone else in the campsite.
We needed a PLACE! The nearest thing the Institute had to an official PLACE was Hugh's apartment over the Post Office. His wife must have been an awfully good sport.
Lamar Valley, in the Northern part of Yellowstone, is, to me, one of the most beautiful, fascinating areas in the Park. An early trapper, Osborne Russell, called the Larmar "Secluded Valley" and in 1835 wrote of it in his journal: "I almost wished I could spend the remainder of my days in a place like this where happiness and contentment seemed to reign in wild romantic splendor surrounded by majestic battlements which seemed to support the heavens ad shut out all hostile intruders."
Bison were corralled and raised much like cattle in Lamar Valley from 1907 until 1952. Hay, raised in flat lands along the Lamar River, was fed to the animals. The place came to be known as the Buffalo Ranch.
Several log buildings at the site had various uses after cessation of bison ranching in 1952. Park Rangers, for example, sometimes had trained workshops or retreats there. The Buffalo Ranch looked, to me, like the perfect place for a headquarters for the new Yellowstone Institute.
Superintendent Townsley told me he would not even discuss the idea. "Do not even mention that matter to me!"
He had taken the same stance about the idea of an institute but finally yielded, so I persisted. Each time the topic was suggested, I was immediately cut off. Now, with hindsight, it is clear I was poking, with a stick, at a hornet's nest because other important entities also coveted the Buffalo Ranch. The case, apparently, was closed.
Board members of YLMA traditionally got together for some pleasant social time the evening before the official Board meeting. This particular evening we were gathered in one of the larger rooms of the Flamingo Motel in Gardner, Montana. (Can you believe a Flamingo Motel on the North edge of Yellowstone Park? It was later named "Western" with appropriate change of décor.) Conversation was light hearted and happy when Superintendent Townsley, who always met with us, turned to me and said, "What's on the agenda for tomorrow, Monte?"
"Well, John," I said, "I've learned that there is a campground loop at the new Grant Village that is not likely to be developed even though water and sewer improvements are already in place. I planned to float the idea of that as a place for the Yellowstone Institute."
John's face was deeply flushed as he spoke to me sternly, "May I please see you outside?"
Refreshments still in hand, we stepped out to the parking area away from the room.
Standing so close my head tilted back to look into the tall man's still red face, he poked a finger into my chest. "If you have any idea of trying to embarrass The National Park Service – or ME about the million dollars of unused improvements at Grant Village I will absolutely not tolerate it. This matter is permanently closed. Do you understand?"
"Yes, John."
Board meetings were held in the Administration Building's conference room. Next morning, as usual, I arrived about twenty minutes early. There, leaning back in my chair, at head of the table, sat Yellowstone Park Superintendent John Townsley!
"Just sit down, Monte, and listen to me," he said.
I did.
"I'm going to give you the Buffalo Ranch for one year! That's all I'm committing is one year!"
"That's all we need, John!"
"Further," he said, "I have discretionary Superintendent's funds. I'm giving you $10,000 to get the place in shape for the Yellowstone Institute Headquarters. Now, the Board should be arriving in a few minutes. Let's get a cup of coffee then get on with the meeting."
Still a bit aghast, I finally spoke, "I'd like to call on you to make the announcement to the Board, John."
He made the announcement to an amazed Board.
************************
Near the end of year three of the new Institute growth was modest but steady, though it was still far from being self sufficient.
Beginning his three year appointment as start-up Director, Hugh Crandall clearly understood that the position was for only three years after which we planned to hire a Director who had a strong academic background. Hugh had said that worked for him because he had no plans to be here more than three years. It was surprising, therefore, that at this time he was presenting a plan under which he should receive a percentage of tuition above his base salary. The plan didn't go far and we proceeded to search for an academic person. In retrospect, it may have been too early to shift gears but others felt the time was right. So the search began led by Chief Naturalist, Al Mebane, supported by a committee from the Board.
From several very well qualified applicants a man from Wyoming was selected and accepted the position. He had an impressive resume including important research projects and had grad students who could aid with operations at the new Buffalo Ranch Headquarters.
Classroom courses were flowing smoothly now that there were reliable facilities at the Buffalo Ranch. Housing, however, was a very serious problem. Good news came from Al Mebane who announced that a number of old cabins, removed from Fishing Bridge, that were scheduled for demolition, had been relocated to the Yellowstone Institute at Buffalo Ranch for student housing. No one asked for details regarding the transaction. I was saddened, a few years later, to hear disparaging comment about the old cabins that had seemed so precious when they arrived.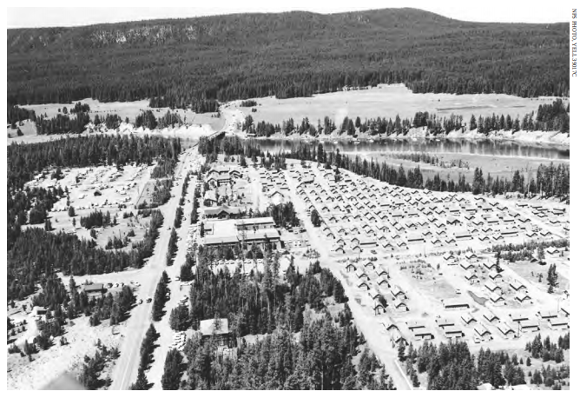 Some of the Fishing Village cabins (above) were relocated to Lamar Buffalo Ranch (below)

Progress of the Institute seemed now to have come into slack water. Growth, measured by students and number of courses offered, stagnated. The new Director was, apparently, so involved in important research projects that Directors functions and operations were largely in the hands of students and volunteers. We couldn't afford, at this critical stage, to lose traction. I asked whichever Board members could, come to meet over lunch at Roosevelt Lodge. Current state of of operations was reviewed then Board members studied resumes of all applicants to previous considerations for Director. One person, in particular, had been seriously considered before. The group agreed to contact Rick Reese to find out if he might still be available to fill the position of Director. He was. Rich, as new Institute Director, hit the ground running. He had enthusiasm needed for development and skills for academic management.
The Yellowstone Institute was now airborne and this is where my part of the story ends!
Because of hard work by many skilled, ambitious, good people the Yellowstone Institute has flourished. Every Director, Board Member, Instructor and Student has contributed something of value to the beautiful thing that is now The Yellowstone Institute. That part of the story must be told by others.
Al Mebane's Story, 1972 - 1982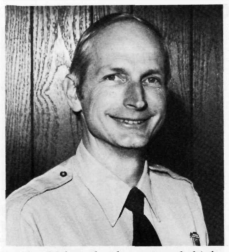 I transferred to Yellowstone in December of that year as the Chief Park Naturalist (that's me pictured at right). In that position, I was automatically the Executive Secretary of the Yellowstone Library and Museum Association (YLMA); a practice that ended in the '80s, I think. The Board was made up of a splendid group of private individuals such as Monte who were dedicated to the Park and to supporting its interpretive programs. They were also a good sounding board for the Superintendent.
From time to time I made proposals for publications and experimental projects for which there were no governmental funds available, such as roadside radio transmitters, underwater filming of trout at Fishing Bridge, etc. I always looked forward to the Board meetings which included "Quests" in search of wildlife a day or two before. My wife and I treasured the friendships which resulted.
Monte related how he learned firsthand about the Yosemite Institute but was ignored by Yellowstone's Superintendent Anderson, and later, Townsley when he suggested something similar in Yellowstone. I'm sure Monte told me about it soon after we met but I was consumed with major interpretive plans and projects from the outset. His suggestion was mentally filed away.
My memory is fuzzy about the sequence of events. I do remember being reminded of the Yellowstone Institute idea when I was confronted by a ranger's wife in my office. She and her husband had recently moved from Yosemite to Yellowstone and were stationed at Tower Junction. She demanded to know why we didn't have something similar to the Yosemite Institute. I expressed my view that it would be untenable, given our remote location, lack of facilities, plus that I didn't think visitors should pay for interpretive programs in a national park. Nevertheless, I promised to look into it. I did contact colleagues in Yosemite and Zion who were very enthusiastic and promptly sent me details of their Institutes.
Armed with new information and the Superintendent's unexpected backing, Monte and I proposed it to the Board of YLMA. They were immediately supportive, agreeing to underwrite a Yellowstone Institute for a limited period of time.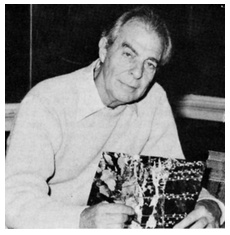 I undertook two tasks: finding candidates for the Director, and approaching one or more universities to join us in the venture. One candidate for Director immediately made himself available, in the person of Hugh Crandall (pictured at right), a chain-smoking park enthusiast and writer whom I had met in Shenandoah National Park. He and his wife Aggie were now living at Mammoth in an apartment they rented above the Post Office. Hugh was quite persuasive in selling me on his qualifications, and the Board hired him as the first Director.
I began sounding out university contacts, and got an immediate show of interest from the Montana School of Mines. A geology instructor liked the idea of teaching a series of his courses in the field, but I held back from encouraging him since his school could offer no other subject matter. Prior to my transfer to Yellowstone, I spent four years immersed in the brand-new environmental education movement for the National Park Service, promoting the idea of using the parks as outdoor classrooms and organizing teacher workshops. Although geology is basic to understanding Yellowstone, and is my personal field, I wanted to find a university interested in providing interdisciplinary classes in the park. When I told him I wanted courses in more subjects than just geology, appealing to a broad spectrum of the public, he lost interest.
When I contacted Bill Carlson, president of the University of Wyoming, he became very enthused and invited us to visit. Hugh Crandall and I drove to Laramie and were warmly received. [If he noticed that I reeked of Hugh's cigarette smoke, he didn't mention it.] Thus began a new and important relationship with the University with several courses being taught in Yellowstone by UW faculty.
The first indoor classroom that the Institute used in Yellowstone was in the Mammoth Elementary School, courtesy of its principal, John Whitman. I don't remember the subject or the size of the first class, but it was a start, a toehold. I had eyed the larger unused space at the Buffalo Ranch in Lamar Valley, but received major pushback from the Ranger Division which felt it was their domain, so hands off!
Another thought was to utilize part of Grant Village for the Yellowstone Institute. It was partly finished, stalled in mid-development when the funds ran out. I believe much of the campground had been completed, along with underground utilities, but none of the other visitor facilities had been built. Like Monte, I recall Townsley's angry reaction to the suggestion that the Institute make use of it. I was probably the one who brought it up during a staff meeting and was instantly shot down. Townsley was incensed by the idea of "millions of dollars of utilities in the ground" being wasted for something trivial (or words to that effect) instead of seeing the original plan for development through. Somehow, he managed to get construction priorities changed up the chain of command so that Grant Village project was quickly funded and completed.
We prepared to struggle through another season operating out of the Mammoth School. Then the Superintendent made the welcome decision to overrule any claim by the Ranger staff for their exclusive use of the Buffalo Ranch, and assigned the unused main building to the Institute. We now had a real base of operations! Let me add that the Ranger staff quickly welcomed the Institute and fully supported the new relationship.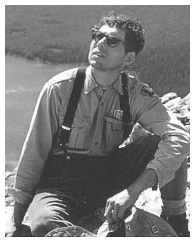 Students still had no housing, however. They had to either camp or stay in Canyon or Mammoth which limited the ability of many prospects to attend. Again, Townsley came to the rescue. He, having final authority, could provide solutions beyond anything I could manage. Because the old Fishing Bridge development was being demolished, he decided that the Park Service would salvage several of the old tourist cabins and move them over Dunraven Pass to Lamar. He charged Bill Hape of the Maintenance Division with the task of making it happen. Bill was a man who might not be able to move mountains, but could go over them. The cabins were anything but luxurious, but represented a huge improvement.
When Hugh Crandell's 3-year contract drew to a close, he fully expected it to be renewed. However, the Board and I were somewhat disenchanted with his management by that time and they decided to replace him with the highly capable Rick Reese from Helena, Montana (pictured at top right). Rick was still the Institute's Director when I transferred from Yellowstone in 1982.
I will always regard my role in the beginning of the Yellowstone Institute to be one of the major achievements of my career in the National Park Service.
Additional History Links
"National Parks for the Future" Symposium held at Yosemite National Park, April 13-15, 1972 (page 24 - 30, excerpt at right)
Report from the "National Parks for the Future" project, 1972
"An interesting and complex after-effect of the removal of the cabins from Fishing Bridge" (page 124)
"Effective December 18, 1985, YLMA became known officially as the Yellowstone Association" (page 6)

This article originally appeared on Plein Air in the Parks, written by Kara Hidalgo