Historical Photographs
The following photographs appeared in First Report of the Director of the National Park Service to the Secretary of the Interior for the Fiscal Year Ended June 30, 1917.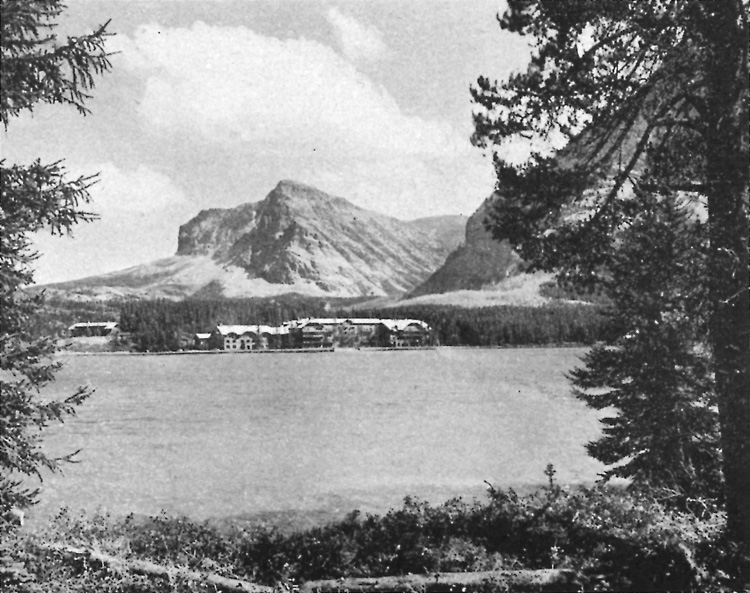 GLACIER NATIONAL PARK—MANY GLACIER HOTEL ON LAKE McDERMOTT.
A large addition to this hotel was constructed during the past summer.
(Photograph by Fred H. Kiser)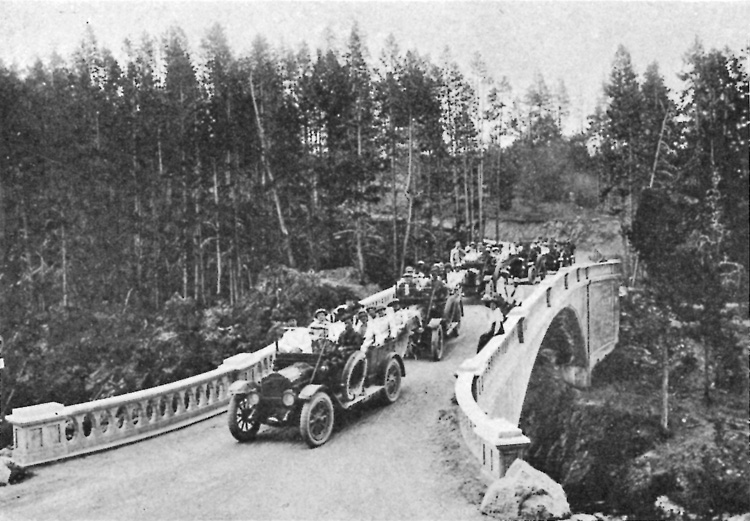 YELLOWSTONE NATIONAL PARK—NEW 10-PASSENGER CARS OF YELLOWSTONE TRASPORTATION COMPANY ON THE CHITTENDEN BRIDGE OVER THE YELLOWSTONE RIVER.
(Photography by J.E. Haynes)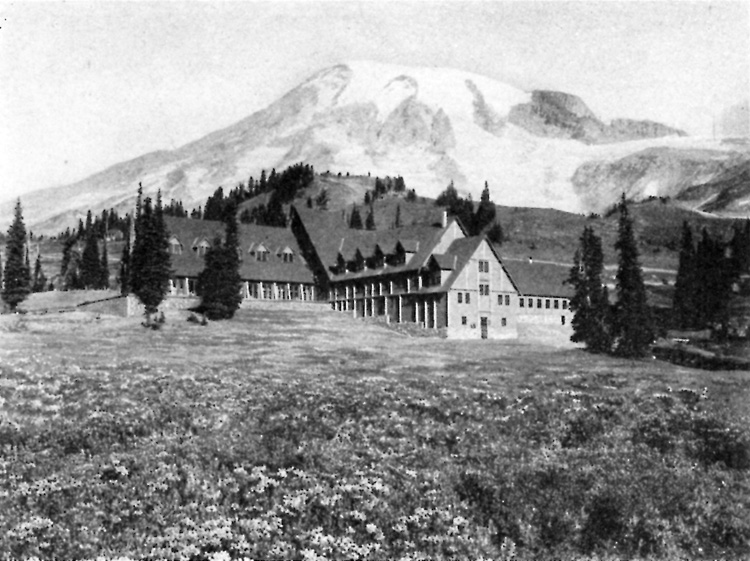 MOUNT RAINIER NATIONAL PARK—NEW PARADISE INN, IN BEAUTIFUL PARADISE VALLEY.
Note the wild flowers in the foreground.
(Photograph by Asahel Curtis)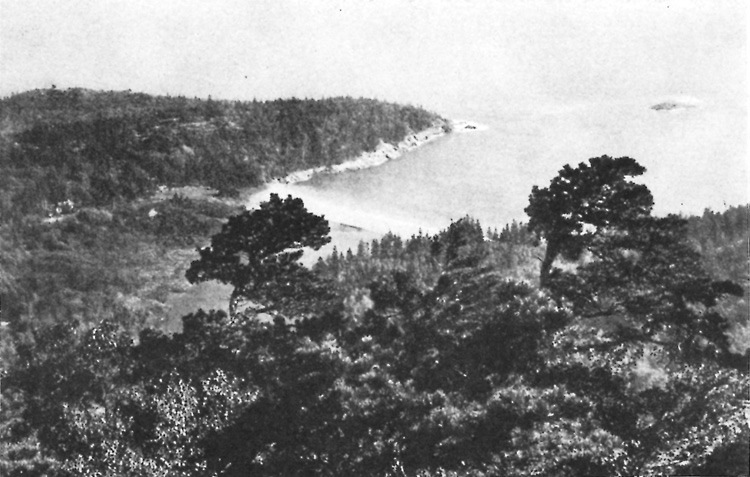 SIEUR DE MONTS NATIONAL MONUMENT
Vista of the sea from Newport Mountain.
(Photograph from National Geographic Society, Washington, D.C. Copyright 1916)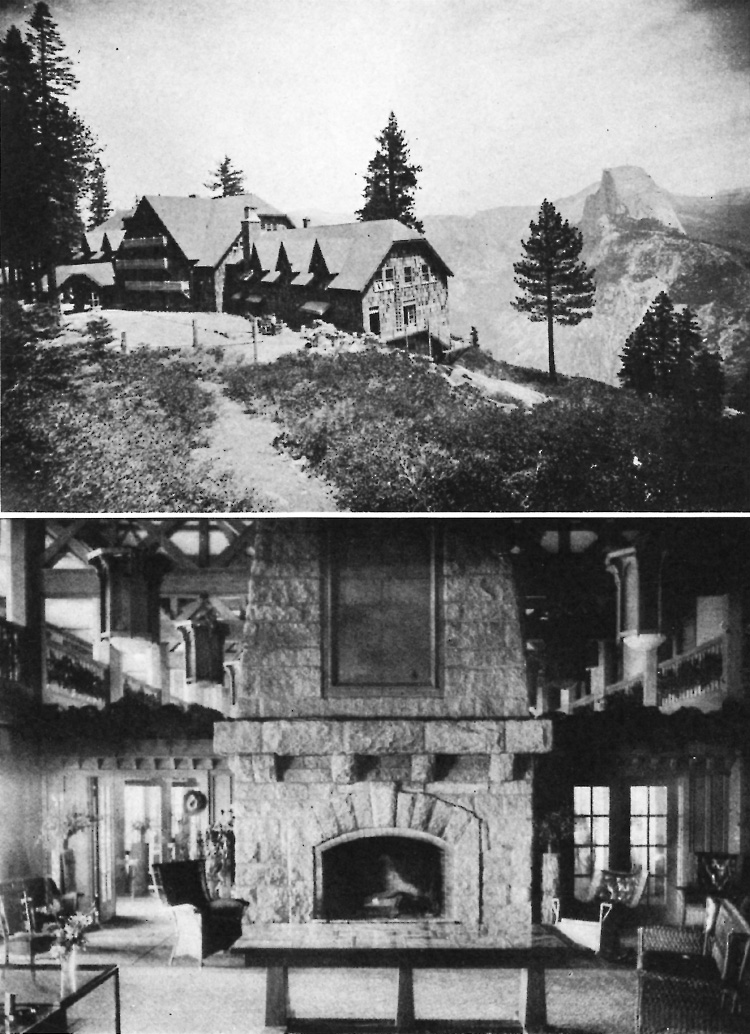 YOSEMITE NATIONAL PARK—NEW GLACIER POINT HOTEL.
Half Dome in the background (top); lobby and fireplace (bottom).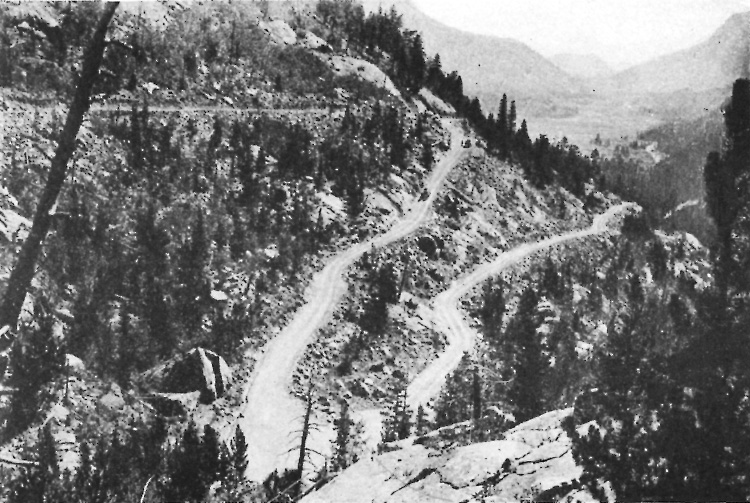 ROCKY MOUNTAIN NATIONAL PARK—FALL RIVER ROAD.
Showing first switchback. Horseshoe Park in the background.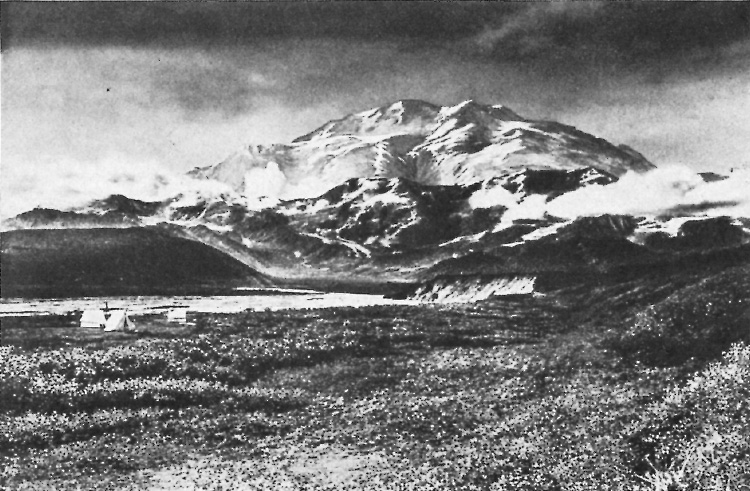 MOUNT McKINLEY NATIONAL PARK.
Mount McKinley, 20,300 feet above the sea.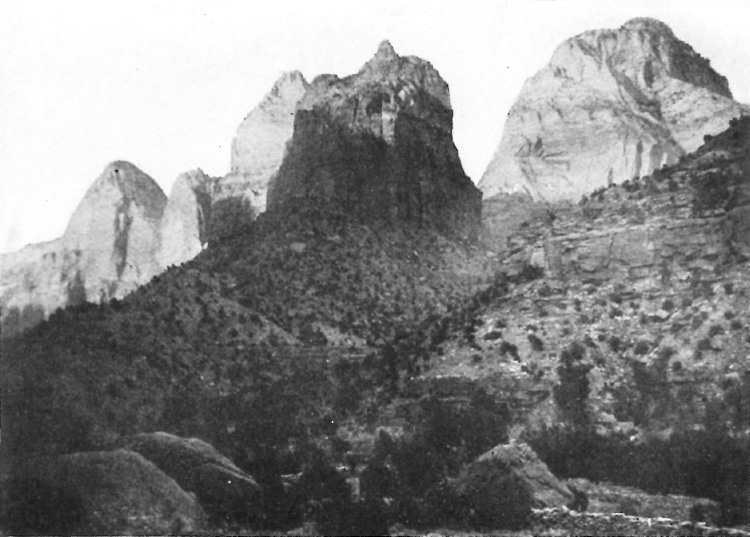 MUKUNTUWEAP NATIONAL MONUMENT.
Scene in Zion Canyon, showing the beautiful East Temple of the Virgin.
(Photograph by R.D. Adams)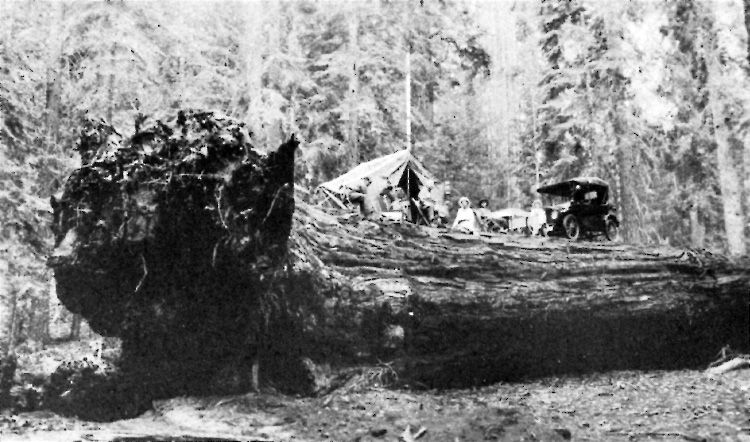 SEQUOIA NATIONAL PARK
Camping out on fallen sequoia tree, over 20 feet in diameter at base.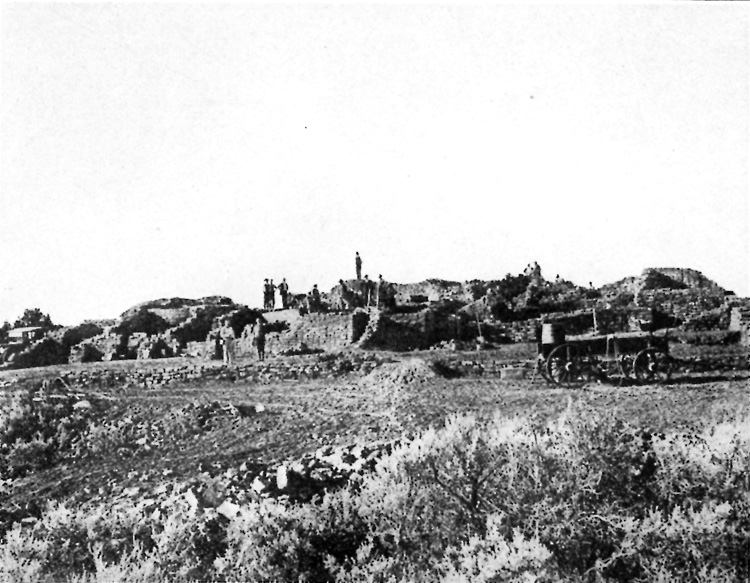 MESA VERDE NATIONAL PARK—FAR VIEW HOUSE FROM THE SOUTH.
This mesa pueblo was excavated in 1916. It is one of the Mummy Lake group of ruins.
(Photograph by G.L. Beam)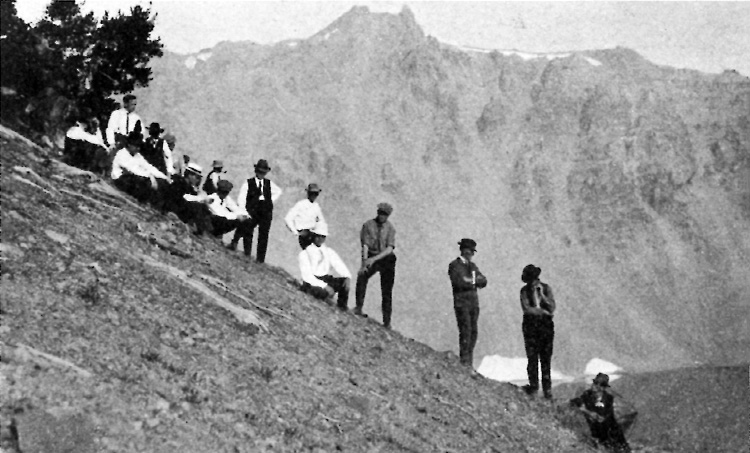 CRATER LAKE NATIONAL PARK
Knights of Pythias starting for Wizard Island, where their initiation ceremonies were held in the crater on August 14, 1917.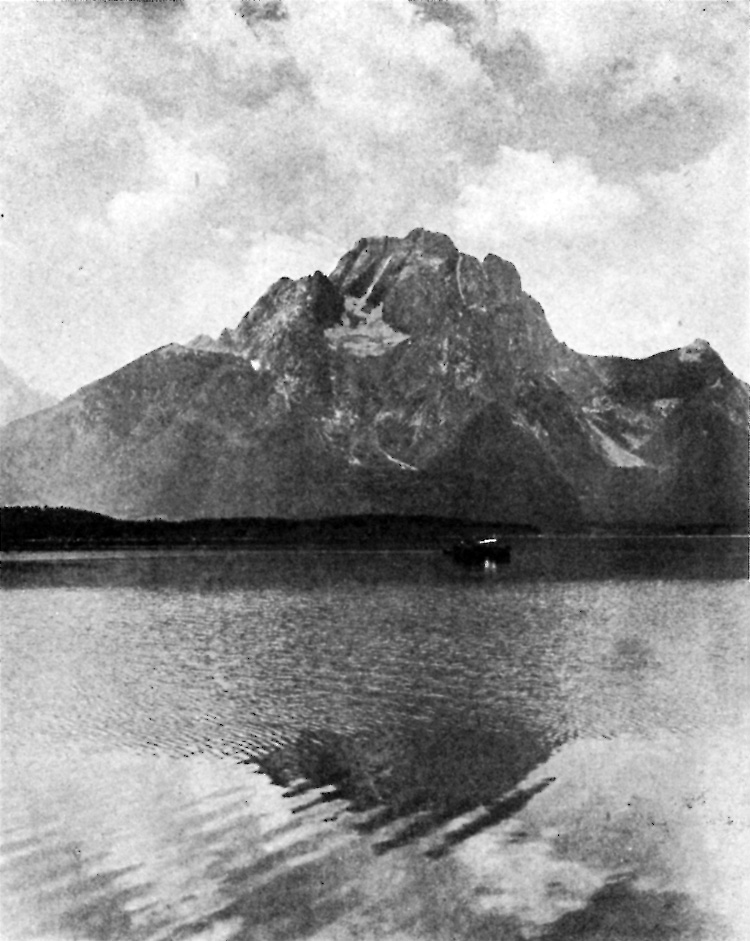 "THE GREATER YELLOWSTONE"
Will include part of the Jackson Hole region, geographically and scenically, a part of the mighty Yellowstone exhibit. This is a picture of Mount Moran and Jackson Lake. Mount Moran is one of the peaks of the Teton Range, which extends to the south of Yellowstone Park along Jackson Lake.
(Photograph by J.E. Haynes)

YOSEMITE NATIONAL PARK—EL PORTAL ROAD.
Showing enormous rocks in the surveyed right of way.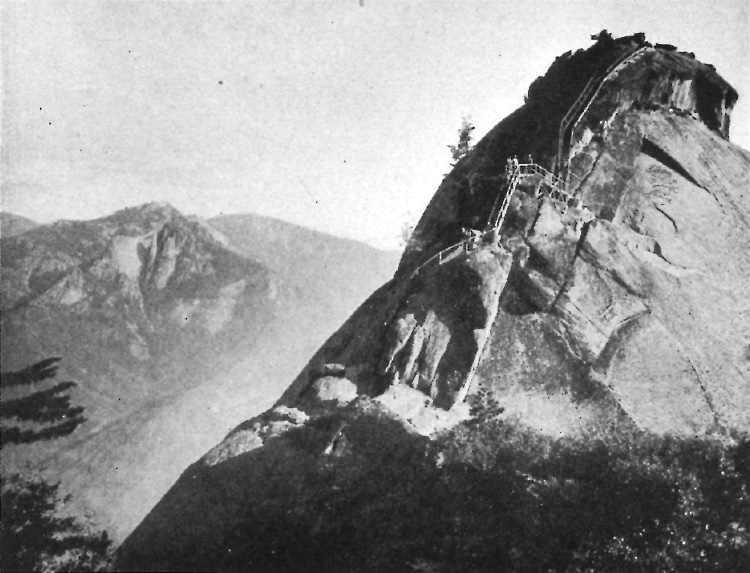 SEQUOIA NATIONAL PARK—MORO ROCK.
This picture shows the new stairway, 346 feet in length, erected to the top of the great granite monolith.

GLACIER NATIONAL PARK
Part of women on tour of the park trails.
(Photograph by Fred H. Kiser)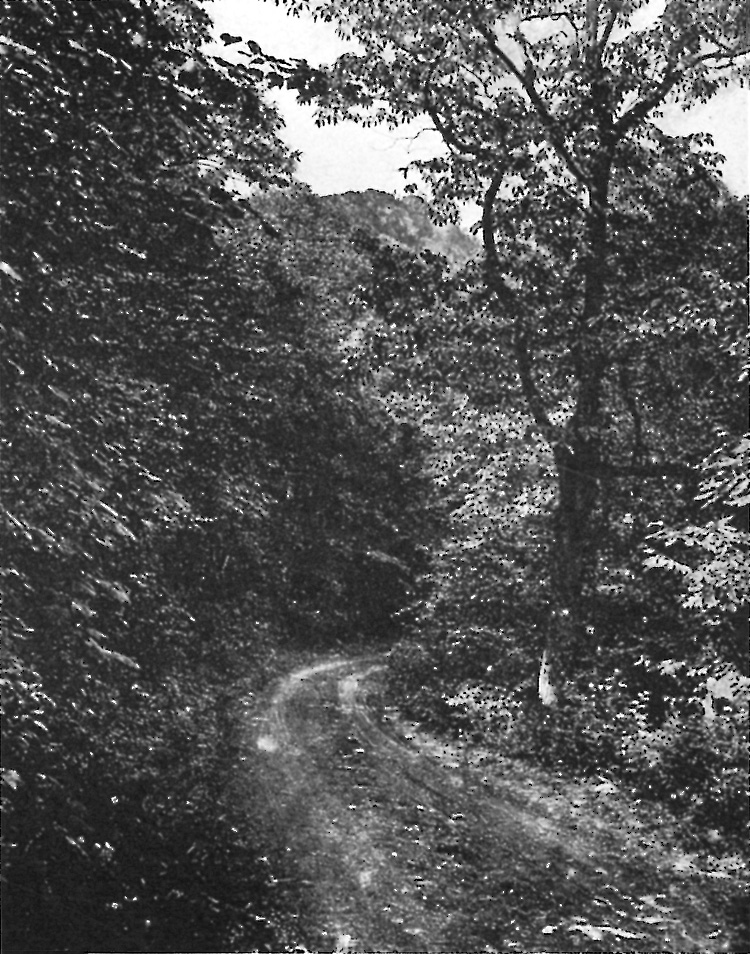 PROPOSED GRANDFATHER MOUNTAIN, NATIONAL PARK, NORTH CAROLINA.
Yonahlossee Road along the side of Grandfather Mountain.