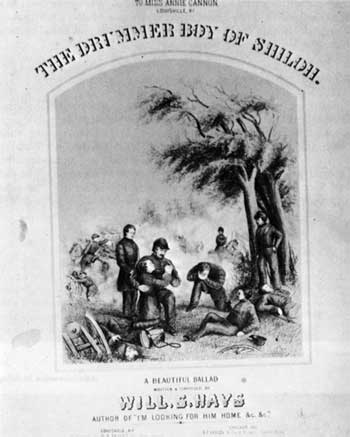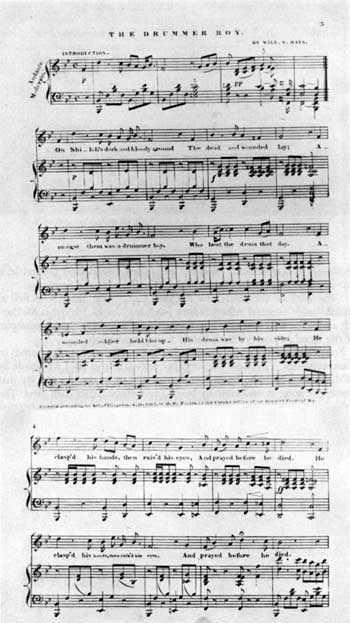 "The Drummer Boy of Shiloh," written in 1862, was one of more than 300 songs published by Will S. Hays.

Shiloh Inspires Writers

For the first two or three decades following the Battle of Shiloh many literary men, following the dictates of popular demand, based their compositions, both prose and poetry, upon events of that bloody battle. Since Shiloh was significant for the bravery of the young untrained men of the North and South alike, writers frequently wrote about the young and otherwise undistinguished soldiers rather than the time-worn theme of the brave and gallant leaders. The drummer boy, often a mere lad who had run away from home to seek adventure in the ranks, became the subject of some of the most popular literature of the day. Many of these productions were based upon incidents which actually happened during the engagement, but those destined to become most famous were drawn largely from the imaginative minds of the authors.
Samuel J. Muscroft's play The Drummer Boy of Shiloh, written in 1870, was apparently based upon "what might have been" rather than facts. The play—a pleasing mixture of drama, pathos, and comedy—was staged in cities and towns all over the Northern States for almost 40 years. It was ordinarily staged as a home-town production rather than by professional actors and actresses—a factor which tended to increase its popularity. In fact, contemporary accounts say that the play was second in popularity only to Uncle Tom's Cabin.
Numerous poems about Shiloh were of immediate, if not lasting, popularity. Herman Melville, author of Moby Dick and Typee, attracted by the multitude of inviting subjects presented by the Civil War, turned to Shiloh for inspiration. "Shiloh," published 4 years after the battle, is one of his most famous poems of the War Between the States era.
"The Men of the West" by Richard Coe; "Our Boys who Fell at Shiloh" and "General Albert Sidney Johnston" by H. Pleasants McDaniel; and "The Old Sergeant" by Forceythe Willson are typical examples of the trend in poetry immediately following Shiloh.
Song writers of the period also looked to Shiloh for the themes of their melodies. The most successful endeavor in this field was made by Will S. Hays in "The Drummer Boy of Shiloh" Like the play by that name, the song is undoubtedly based upon fancy rather than facts. The title was chosen because of its certain musical quality and not because of its connection with any incident of the engagement. Hays, a correspondent of the Louisville Democrat, wrote the song in 1862 while the story of the battle was still news rather than history. It is not known whether he was at the battle of Shiloh or whether his sympathies were with the North or the South. However, his song immediately became famous throughout the country and remained popular for a number of years.
The song and the play, "The Drummer Boy of Shiloh," may possibly be credited with the creation, or at least the perpetuation, of the popular legend about "The Drummer Boy of Shiloh" After the publication of these works several claimants to the title came to the fore. Needless to say, these men had not been killed at the battle, but each maintained that his presence at the engagement as a youthful drummer had inspired the authors. From time to time, as years passed, newspapers in widely scattered sections of the country announced "The Drummer Boy of Shiloh Dies." A recent study by Kay H. Mattison, former historian at Shiloh National Military Park, proved that many of the claimants were ineligible for the designation. In the final analysis, John Clem, "The Drummer Boy of Chickamauga," was found to have the strongest claim to the Shiloh title.

"Johnny Shiloh" or "The Little Drummer Boy" of Shiloh." John Clem (1851-1937), 10 years old at Shiloh, later served at Chattanooga and is sometimes called "The Drummer Boy of Chickamauga."
THE DRUMMER BOY OF SHILOH
"Look down upon the battlefield,
Oh Thou, Our Heavenly Friend,
Have mercy on our sinful souls."
The soldiers cried, "Amen."
There gathered 'round a little group,
Each brave man knelt and cried
They listened to the drummer boy,
Who prayed before he died.

"Oh, Mother," said the dying boy,
"Look down from heaven on me.
Receive me to thy fond embrace,
Oh, take me home to thee.
I've loved my country as my God.
To serve them both I've tried"'
He smiled, shook hands —death seized the boy,
Who prayed before he died.

Each soldier wept then like a child.
Stout hearts were they and brave.
They wrapped him in his country's flag
And laid him in the grave.
They placed by him the Bible,
A rededicated guide
To those that mourn the drummer boy
Who prayed before he died.

Ye angels 'round the throne of grace,
Look down upon the braves,
Who fought and died on Shiloh's plain,
Now slumbering in their graves.
How many homes made desolate,
How many hearts have sighed.
How many like that drummer boy,
Who prayed before he died.

—WILL S. HAYS
The years intervening between the Battle of Shiloh and the present have softened the harshness of the engagement and wrapped it in a shroud of sentimental romanticism. Most twentieth-century writers are content to view the battle from that perspective. Occasionally a realist, such as Shelby Foote in his historical novel, "Shiloh," penetrates the rosy glow and brings forth interesting and all-but-forgotten facts. Dr. Merrick F. McCarthy, another twentieth-century writer, presents an accurate and vivid picture of the battle in the following poem:
FOUR VOICES FROM SHILOH*
Stern Johnston came in April from the South
To spread the Shiloh fields with threatening Gray!
Hard Sherman set his unrelenting mouth,
And Grant knew not the season or the day,
Though spring had come! A turmoil held the Land
In vast confusion, out of which these three
Came on, with purpose clear, with sword in hand,
To meet on Shiloh Field their destiny!

Where their lines struck live now but squirrel and bird!
Calm April has her way with flower and tree,—
But there are lasting voices to be heard
At Pittsburg Landing on the Tennessee!
FIRST VOICE
(That of a young man from the North)
If Grant and Sherman push on through,
We'll cut the Southern States in two!
It's not a question of white or black,—
But when States leave, we'll bring them back!
They talk and talk in Washington,
While in the South they're training men!
We had 'em whipped at Donelson,—
But now they're ready to fight again!

When the brood mare foals, I'll be away,—
I always spaded the garden in spring!
And what of the oats, the wheat and the hay?
Who will shock as the reapers swing?
Or mend the roads in thicket and copse,
Or boil the syrup from maple drops?
Timber to fell, fires to make,—
Ice to cut on the frozen lake! I wonder if Dad will be able to plow,—
And whether Mother is living now?

Why do we stay on Shiloh hill,
With our backs to the muddy river;
With Rebels to fight and Rebels to kill,
Why camp in the woods and shiver?
We drilled with Sherman in Ohio,
And now by the Tennessee!
Where do the Southern pickets go
That fire on you and me?
I reckon to Corinth to drill in the mud,—
But we have drilled a few
Who stained the Michie hill with blood
To remember me and you!
SECOND VOICE
(That of a young Southern man)
Hang all Yanks to the end of a limb!
One of us equals ten of him!
What's a Southern man to do
But load his rifle and see this through?
The Yankee Buell is miles away,
While Sherman here on Shiloh creek,
Has no entrenchments, so they say!
Let's hit the Yanks while they are weak!
But winter is here and times are hard,—
I wonder who'll slaughter and render the lard
With me in Corinth? Who'll tend the mill,
With corn on hand and orders to fill?
Dragging guns through water and mud,
With cotton to plant and rice to flood!
The Army's taken our horses and mules
And the children walk to the parish schools!
General Johnston's almighty slow
Gettin' this army ready to go!

And who in hell made the Corinth road?
Horse to leather, man to rope,—
Slither, stagger with the load,—
Through rain, the mud and darkness grope!
Timber the ruts where the freshets run,—
Dam off the floods; move up, move on,—
Live or die, but every gun
Must reach the ridge with its caisson!
Cover your powder from the wet;
Keep hammers clean and barrels dry,—
Wipe your pistol and bayonet!
Tomorrow watch the Yankees die!
THIRD VOICE
of an old army sergeant)
Privates sleep where the rain pours down!
Generals have a bed in town!
Hayfoot, strawfoot never knows
Whether his gun is loaded or not!
Load again and if she blows . . .
Dead and buried, and soon forgot!
(A ringing rifle volley is heard)
Volley fire! That's what you hear!
And that means more than a picket brush!
Turn your head away from the rear
And set yourself for their first rush!
(Load your guns, if you know how,
With your fingers stiff with fright!
Northern boys from yard and mow,
Southern boys from field and plow,
God forbid, your time is now!)
Dress your line! The guide is right!
(The sounds of battle rise to a crescendo then fade to the silence of the woods)
FOURTH VOICE
(That of an elderly farmer)
Pray God they never' march again
Across my farm, tearing the land to bits,—
Wheeling their guns and leaving broken men
Blasted and burned wherever shell-fire hits!
I have the papers now about the fight
That rolled across my orchard, ridge and hill!
Half of the truth is all they dare to write
About what happens when men fight to kill!
Now this: "Cleburne advanced across the stream"!
Advanced! He met a line that crashed and flamed
Not loud enough to cover up the scream,
As those in front fell over dead and maimed!
Over the fallen who still shrieked and cried,
The Mississippi troops moved in the flash
Of Sherman's powder, burning as they died,
Meeting the fire with stab and saber slash!

"Sherman fell back"! They ran from tree to tree
Along the greening ridge, now blue with smoke,
Where struggling wounded staggered desperately,
Holding torn arms or legs that bent and broke!
Fell slowly back through burning oak and beech,
Carrying an officer shot through the chest!
Behind my orchard bright with blooming peach,
"Prentiss took line across the Hornets' Nest"!

Out of the "Sunken Road" men rose to fire
Into the faces of advancing men
Who found the flaming leaves a funeralpyre,—
While those who lived rallied and charged again!
Around my little pond they clubbed and fired
Until the banks were beaten into mud,
Where lay the crying wounded, trapped and mired,
Bleeding until the water stained with blood!

"Then Ruggles massing his artillery
Opened his fire upon the Union line,"
Shaking the earth with blazing battery
That razed the trees, the thickets and the vine!
Men and my fence dissolved in splintering sound
To red-stained rubble! Then "General Wallace fell,"—
And when his men saw him knocked to the ground,
The center broke, and both the wings as well!

Pushed to the river bank, for one last stand,
Artillery and infantry stood side by side,
Guarding the only place where boats might land!
"Hold now"! Or drown in the Confederate tide!
Then on this wild confusion, darkness came,
And with the darkness, rain and piercing chill,
Lit only by the sudden, thundering flame,
A Union gunboats fired across the hill . . .

>

All night they carried wounded back to town,—
By barge and boat,—and some they put to knife
In that small shack, near where the steps go down,
With screaming I'll remember all my life!
Their General Grant just couldn't stand the sound
The wounded made! He sat out by a tree
Under a little tent and nearly drowned
In rain; sitting as close as you to me!

Fresh Yankee troops crossed over through the night,—
Buell's troops, come down from Nashville way!
Grant sent them in and started up the fight
As soon as there was light, come break of day!
Then hell broke loose again across my farm,—
More frightened, screaming men came running back,
Coughing and bloody,—broke in leg or arm,—
And some with powder burns, completely black!

By afternoon, they said it was a rout,—
But no one followed far, that I could see!
While Beauregard got his Confederates out,
The Yankees seemed content to let them be!
And when they told me General Johnston died
In my ravine, I thought: "The South is dead"!
And so thought those who took that Corinth ride
With their dead general in a wagon-bed!

And I thought too: this farm is dead to me!
I'll never cross my orchard lot again
But I'll remember how it looked to see
My pasture spread with fallen, silent men!
But there is fruit again; the grass is high,—
I guess by fall I'll have my fences set!
I've got some hay down, lying cut to dry,—
And hard work helps a man who must forget!

And I keep thinking that it may not be
The South has met her end! This may begin
A time when men no longer feel so free
To say to other men: you live in sin
For which there's need to cure you with a gun!
It could be here was born a brotherhood,—
That from this waste and ruin we have won
A hope for us as yet not understood!

I wonder too about this Lincoln man!
He must have feelings just as you and I!
He must have thought when all this fight began:
O God Almighty, now more men must die!
He's uglier than sin, but maybe he
Will keep his will above the sound of guns
And not turn arrogant in victory,
Remembering how the South, too, lost her sons!
I wept and prayed while I threw in the dead
Like lumps of soil: "O God of all Creation,—
Let it not be in vain our sons have bled!
In your Son's name,

MAKE US AGAIN A NATION!"
*Copyright by author.