DEPARTMENT OF INTERIOR
NATIONAL PARK SERVICE
CRATER LAKE NATIONAL PARK
OREGON
Mr. E.C. Solinsky
Superintendent
Mr. Earl U. Homuth
Acting Park Naturalist
NATURE NOTES FROM CRATER LAKE
July 1, 1929.
Vol. II, No. 1.
This is one of a series of bulletins issued monthly during the summer season, by the staff of the Educational Division to give information on subjects of interest concerning the Natural History of Crater Lake. It is supplemental to the lectures and field trips conducted by the staff.
* * * * * * * * * * * * * * * * * * * *
For copies which are free, address the Superintendent or Acting Park Naturalist.
---
Foreword
By Earl U. Homuth
---
The staff of the Educational Division in Crater Lake National Park has been increased this year, to afford greater service to the Public, and also to leave more permanent record of the work accomplished.
Mr. Dale Leslie, of Eugene, Oregon, has been assigned as Ranger-Naturalist. Miss Mabel Hibbard, who has had several years of experience in the Yosemite, is in active charge of the Temporary Museum. Mr. Fredrick L. Wynd is assisting especially in the preparation of material for the Manual of Information.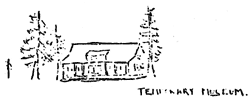 The Temporary Museum in the Community House is rapidly developing into a focus of interest for the Public. A relief model of the Park has been added, together with temporary cases to contain the bird specimens prepared by Dr. Loye Miller, and the insect and rock collections which are being rapidly increased. The cut-flower collection numbers over sixty identified species. Many valuable exhibits are awaiting the construction of a more permanent building.