GRAND CANYON NATURE NOTES
October 1932
Volume 7, Number 7

---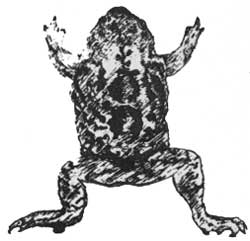 AN INTERESTING addition to the list of amphibians found in the Grand Canyon National Park was recently contributed by Mr. Wallace F. Wood of Oakland, California. He writes: "On July 1, 1932, I found in Greenland Lake on the North Rim immense numbers of larvae and newly metamorphosed young of the spadefoot toad, Scaphiopus hammondii. Around the margins of the lake hundreds of young individuals were seen burrowing their way in the soft mud of the lake margins."
Mr. Wood also writes: "Apparently this toad has not been hitherto recorded from the Grand Canyon National Park, though it is not a rare form in Nevada, and parts of Northern Arizona." In the Preliminary Check-list of Amphibians and Reptiles, Grand Canyon* the Western Spadefoot Toad is listed under "areas closely adjacent to Grand Canyon" with the statement "Specimens have been collected from the Painted Desert."
---

*Preliminary Check-list of Amphibians and Reptiles. Grand Canyon, by Edwin D. McKee, Technical Bulletin No. 3, 1929.

---