Floyd W. Schmoe
(1895-2001)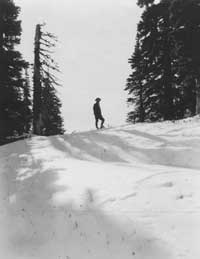 Park Naturalist Floyd Schmoe
(Mount Rainier National Park Archives)
[Mr. Schmoe passed away on April 20, 2001 at age 105.]
Floyd Schmoe, the first full time naturalist at Mount Rainier National Park, was born in the Midwestern U.S. in 1895 and raised on a Kansas wheat farm.
He was a sixth generation Quaker, conscientious objector, and "peace activist." At the onset of WWI Schmoe was against the concept of war. In order to follow his belief and to save lives, Floyd joined a Red Cross unit bound for Europe. While stationed in France he served as an ambulance driver and stretcher bearer for the wounded. While the German armies still occupied Eastern Europe he was chosen by the Hoover Commission to deliver a trainload of food and clothing to refugees inside Poland.
At the end of WWI Schmoe returned to Kansas and married his high school sweetheart, Ruth, an accomplished pianist.
In September of 1919 the Schmoes moved to Seattle and entered the University of Washington. Floyd chose forestry and Ruth concentrated on music development. By December the couple was out of money.
The Rainier National Park Company hired the two as "winter keepers" (caretakers) of the buildings at Paradise.
The couple adjusted to solitude for over six months. A telephone line and semi-weekly hikes to Longmire were their only connection to civilization until they heard the noise of a steam shovel working to clear snow from the road. The road was opened July 4, 1920. The couple took a day of leave.
Floyd returned to Paradise as a mountain guide for the summers of 1920 and 1921. In the spring of 1922 he completed his undergraduate forestry education at UW.
On June 20, 1922 Schmoe became a full time ranger at Mount Rainier National Park.
In 1923 he launched the Mount Rainier National Park Nature Notes.
In 1924 he became the park's first full time naturalist.
In 1925, assisted by three seasonal naturalists, he served approximately 75,000 visitors at Longmire and Paradise. New exhibits were planned and prepared. His book "Our Greatest Mountain" was published and served as an unofficial park handbook.
In 1926, Schmoe prepared ("stuffed") Charley the Mountain Lion, who still resides in the Longmire Museum.

"Nature Coasting" - "You don't need any sled - just sit on yourself and slide",
Floyd Schmoe guide, date unknown.
(Mount Rainier National Park Archives)
In 1928 Schmoe resigned from the National Park Service and became an Instructor in the Forestry Department at the University of Washington. His specialty was forest ecology.
In 1942 He retired from UW and concentrated on gaining support for the return of Japanese Americans from internment camps to their home areas. Before the end of WWII his daughter, Esther, married Gordon K. Hirabayashi, a Japanese American.
From 1948 to 1953 Schmoe made several trips to Japan. He and other volunteers built homes for Japanese citizens who survived the atomic bombing of Hiroshima and Nagasaki.
Schmoe supported construction of homes, orphanages, hospitals and irrigation systems in Korea, the Middle East, and Africa. As a result, he was nominated three times for the Nobel Peace Prize. In May, 1982, he was awarded the Japanese Order of the Sacred Treasure, Japan's highest civilian award, by Emperor Hirohito.
Until the end of his life, Schmoe lived in the Seattle area, continuing to write and to contribute proceeds to support world peace. He published over a dozen books, including "A Year in Paradise" (first published in 1959), a beautiful summary of his life at Mount Rainier through contrasting seasons. He died on April 20, 2001, at the age of 105.
Prepared by Bob McIntyre, Jr. 3/22/01
(updated 4/24/01)