The Amphitheater
Nothing is subtle about the great natural rock amphitheater of Cedar Breaks and its gigantic spectacle of extraordinary forms wrapped in bold and brilliant colors. "If Cedar Breaks were anywhere but in this region," one observer said, "it would be picked as one of the world's greatest scenic wonders." The Cedar Breaks amphitheater is a product of many of the same forces that created other great Southwest landscapes, including the Grand Canyon, Zion Canyon, and the Bryce amphitheater. It is, however, an original work of nature not quite like any other.
Shaped like a huge coliseum, the amphitheater is more than 2,000 feet deep and more than three miles in diameter. Millions of years of uplift and erosion carved this huge bowl in the steep west-facing side of the 10,000-foot-high Markagunt Plateau.
Like statues inside this natural gallery, stone spires, columns, arches, and canyons of intricate design seem infinitely varied—time-worn sculptures of rain, streams, ice, and wind. Saturating the rock throughout is a color scheme as striking as any on the Colorado Plateau. Varying combinations of iron and manganese give the rock its different reds, yellows, and purples. Among the region's original residents are the Southern Paiute, who called Cedar Breaks u-map-wich, "the place where the rocks are sliding down all the time." Later settlers renamed it Cedar Breaks: "Cedar" for the cedar, or juniper, trees growing nearby, and "Breaks," a term for badlands. In 1933 Cedar Breaks National Monument was established, calling nationwide attention to the spectacular amphitheater.
The Highcountry
Atop the Markagunt Plateau is the highcountry of Cedar Breaks. It is a world every bit as rich in color and as delicate in form as the rock amphitheater below, yet it is a very different place. Here you can immerse yourself in the lushness of the scenery, breathe in the intoxicating fragrance of spruce-fir forests, and walk through subalpine meadows of grasses and seasonal wildflowers. In this sanctuary of clean, cool air, abundant rainfall, full sunlight, and fertile soil, nature exhibits its full irrepressible potential.
Seasons of Color
Cedar Breaks flaunts its natural flair for life most dramatically with a yearly show of spring and summer wildflowers. Floral displays begin late in June, as sprays of mountain bluebell, pale pink spring beauty, lavender fleabane, beardtongue, and other early bloomers appear. In late July the display begins to peak, and the rolling meadows fill to over-flowing with larkspur, lupine, penstemon, columbine, Indian paintbrush, and a variety of other flowers. For the next few weeks, until about mid-August, the open fields are stages where the flowers of Cedar Breaks improvise one spontaneous show of color after another.
Ancient Trees of Life
In sharp contrast to the flowers that rush through their lives in months is the bristlecone pine. This native of the Cedar Breaks highcountry is the Methuselah of trees; one gnarled and weather-beaten individual at Spectra Point on the plateau rim already has lived more than 1,600 years. In other southwestern states 4,500-year-old specimens have been discovered. That a bristlecone lives at all seems something of a miracle, considering that it grows only in forsaken spots where water is scarce, soil is thin, and fierce winds blow unchecked.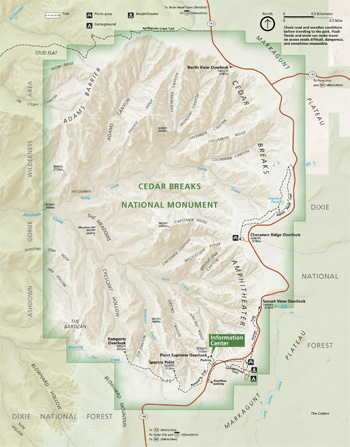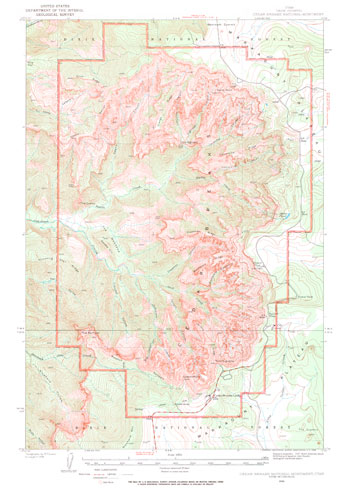 (click for larger maps)
A Place of Refuge
Elsewhere in the highcountry are luxuriant forest retreats, like the one at Alpine Pond. This spring-fed backcountry pool lies in a shady grove of Engelmann spruce, subalpine fir, and quaking aspen. Interspersed among the trees are lush meadows of grasses and wildflowers. Here, and throughout the park's fields and forests, various kinds of wildlife roam. As you drive a road or walk a trail, you are likely to encounter many birds, including neighborly Clark's nutcrackers, violet-green swallows that fly along the plateau rim, and common ravens. You might also see or hear mule deer, pikas, golden mantled ground squirrels, marmots, porcupines, chipmunks and red squirrels. More rare and hard-to-find animals—such as mountain lions—also inhabit this protected natural area.
This then is the world of Cedar Breaks highcountry on top of the Markagunt Plateau. Small in size but great in what it has to offer, this land of meadows and forests is a gentle and glorious expression of wild America.
Exploring Cedar Breaks
Planning Your Visit
At the visitor center you will find an information desk, exhibits, and publications for sale. It is open daily from early June to mid-October. The rest of the year you can call for information or visit the Kolob Canyons Visitor Center in Zion National Park, just off U.S. 15, 43 miles southwest of Cedar Breaks.
The Scenic Drive A five-mile road through the highcountry takes you to the park's attractions. Overlooks, trailheads, and all visitor services are located along this road. The road is designed for sightseeing, not speeding; observe posted speed limits. Don't drive into meadows, which are easily damaged; use designated roadside parking areas only.
Four overlooks, where you can view the massive Cedar Breaks amphitheater, are located along the scenic drive. No two offer quite the same perspective. Stay behind overlook fences and away from the edge, where the rock is loose and crumbly. Don't throw rocks or other objects off the rim. Keep a close eye on children. Avoid exposed areas during thunderstorms.
Trails Cedar Breaks has two highcountry trails. The circular, two-mile Alpine Pond Trail leads to a picturesque forest glade and pond. A trail guide is available at the trailhead or the visitor center. The two-mile Ramparts Trail along the plateau rim passes a stand of ancient bristlecone pines at Spectra Point and ends at a viewpoint overlooking the Cedar Breaks amphitheater. Pets are not permitted on these trails. Experienced hikers may want to explore the more demanding Rattlesnake Creek Trail, just north of the park. Before you attempt this hike, however, be aware of the hazards of steep terrain and flash floods.
Camping and Picnicking The 28-site park campground is open on a first-come, first-served basis from June to mid-September. Daytime temperatures at that time of year are usually in the 60s and 70s°F; nighttime lows are in the 30s and 40s°F. The campground has water, restrooms, tables, fire grills, and an amphitheater for the evening programs. Near the campground there is a picnic area with water, tables, and grills. Fires are permitted only in campground and picnic area grills. Food, lodging, gasoline, and other services are available in nearby towns.
Winter Activities Roads and services are usually closed from mid-October through May because of heavy snow accumulations, but the park is open for cross-country skiing and snowmobiling (only on unplowed roads).
For a Safe Visit High altitudes may cause shortness of breath and tiredness. Slow down and rest often. Also, remember that everything here—even the tiniest flower—is protected by law and must be left undisturbed. Feeding wildlife, hunting, and carrying firearms are prohibited. In an emergency, come to the visitor center or contact any park employee.
Source: NPS Brochure (2005)
Establishment

Cedar Breaks National Monument — Aug. 22, 1933



For More Information
Please Visit The

OFFICIAL NPS
WEBSITE
Brochures ◆ Site Bulletins ◆ Trading Cards

Documents
Annotated Checklist of Vascular Flora, Cedar Breaks National Monument NPS Natural Resource Technical Report NPS/NCPN/NRTR-2009-173 (Walter Fertig, February 2009)
Birds of Zion, Bryce, and Cedar Breaks Zion-Bryce Museum Bulletin No. 5 (Russell K. Grater, Zion-Bryce Natural History Association, March 1947)
Cedar Breaks National Monument (Gordon Y. Croft, extract from Zion-Bryce Nature Notes, Vol. 6 No. 4, July-August 1934)
Cedar Breaks Ranger Station Environmental Assessment (January 2010)
Foundation Document, Cedar Breaks National Monument, Utah (November 2015)
Foundation Document Overview, Cedar Breaks National Monument, Utah (February 2017)
General Management Plan: Development Concept Plan - Cedar Breaks National Monument (May 1984)
Geologic Map of Cedar Breaks National Monument (February 2006)
Geologic Resource Evaluation Report, Cedar Breaks National Monument NPS Natural Resource Report NPS/NRPC/GRD/NRR-2006/006 (T.L. Thornberry-Ehrlich, March 2006)
Geologic Road Log of Cedar Breaks National Monument Utah Geological Association Publication 29 (Stanley C. Hatfield, Peter D. Rowley, Edward G. Sable, David J. Maxwell, Bryant V. Cox, Matthew D. McKell and David E. Keil, 2000)
High-altitude Archeological Investigations at Cedar Breaks National Monument, Utah Cultural Resources Selections No. 17, Intermountain Region (Timothy W. Canaday, 2001)
Interpretive Plan, Cedar Breaks National Monument (December 1995)
Interpretive Prospectus, Ceder Breaks National Monument, Utah (1973)
Junior Ranger Activity Booklet, Cedar Breaks National Monument (Date Unknown)
Mammals of Cedar Breaks National Monument: A Survey of Wildlife Observed 2017-2019 (Nicki Frey, Natalie D'Souza, Ethan Hammer, Bryan Larsen and Jake Nielson, 2020)
Mammals of Zion-Bryce and Cedar Breaks Zion-Bryce Museum Bulletin No. 2 (C.C. Presnall, Zion-Bryce Natural History Association, January 1938)
National Register of Historic Places Nomination Forms
Caretaker's Cabin (Mary Shivers Culpin, July 27, 1982)
Visitor Center (Mary Shivers Culpin, July 27, 1982)
Natural Resource Condition Assessment, Cedar Breaks National Monument NPS Natural Resource Report NPS/NCPN/NRR-2018/1631 (Lisa Baril, Kimberly Struthers and Patricia Valentine-Darby, May 2018)
Park Newspaper (Visitor Guide)
2017: Summer
2019: Summer
Shaping the Nature of a Controversy: The Park Service, the Forest Service, and the Cedar Breaks Proposal (Hal Rothman, extract from Utah Historical Quarterly, Vol. 55 No. 3, Summer 1987; ©Utah State Historical Society)
Staking Claims on the Markagunt Plateau: Creation of Cedar Breaks National Monument, 1916-1934 (Dale Topham, extract from Utah Historical Quarterly, Vol. 85 No. 3, 2017; ©Utah State Historical Society)
Statement of Management: Cedar Breaks National Monument (September 1986)
The Dixie National Forest: Managing an Alpine Forest in an Arid Setting (Wayne K. Hinton, 1987)
Topographic Map: Cedar Break National Monument, UT Scale: 1:15,000 (USGS, 1963)
Vascular Plant Flora of the Ashdown Gorge Wilderness Area and Additions to the Flora of Cedar Breaks National Monument (Walter Fertig, November 24, 2009)
Vascular Plant Species Discoveries in the Northern Colorado Plateau Network: Update for 2008-2011 NPS Natural Resource Technical Report NPS/NCPN/NRTR-2012/582 (Walter Fertig, Sarah Topp, Mary Moran, Terri Hildebrand, Jeff Ott and Derrick Zobell, May 2012)
Vegetation Classification and Mapping Project Report, Cedar Breaks National Monument NPS Natural Resource Report NPS/NCPN/NRTR-2011/470 (Amy Tendick, Janet Coles, Beverly Friesen, Aneth Wright, Gery Wakefield, Gwen Kittel, Angie Evenden and Peter Williams, July 2011)
Visitor Guide (Dixie National Forest): 2015
Handbooks ◆ Books

Videos