You must never so much as think whether you like it or not, whether it is bearable or not; you must never think of anything except the need, and how to meet it.

—Clara Barton
Clara Barton National Historic Site honors the life and work of this outstanding American humanitarian. This house in Glen Echo, Md., was Barton's home for the last 15 years of her life. Built in 1891, it was first used as a warehouse for disaster relief supplies. In 1897 Barton made it her home and the headquarters for the American Red Cross.
Restored to the era of her occupancy, 1897 to 1912, the house and its contents underscore a key personality trait: that Clara Barton made little distinction between her work and her personal life. Sunlight shines through stained-glass red crosses in the windows. Open cabinets in the hall hold supplies that appear ready for shipment at a moment's notice. Living quarters were available for staff or volunteers returning from disaster sites. Barton worked with her staff in an open office; she liked to supervise them at all times.
The house was modeled on a relief shelter built by the Red Cross in the wake of the 1889 flood in Johnstown, Pa. Barton's frugal habits are still evident. Ceilings, for example, were built of painted-over muslin.
After Barton died in 1912 the house was privately owned, with rooms and apartments rented out to help with the upkeep. In 1963 Friends of Clara Barton, Inc., bought the house with preservation in mind. Congress designated Clara Barton National Historic Site in 1974, the first National Park Service site dedicated to the accomplishments of a woman. As you tour the house, look for the details that illustrate Barton's love for her home. "All seems so home-like, spring-like and peaceful," she wrote, "that I wonder what can draw me away again."
You have never known me without work; while able, you never will. It has always been a part of the best religion I had.

—Clara Barton
Clara Barton and the American Red Cross
In an era when women rarely ventured outside their family and home, this shy woman rose from a middle-class background to the rank of American hero. Her journey is one of determination, compassion, and an ability to seize opportunities that came her way.
Clarissa Harlowe Barton was born in 1821 in North Oxford, Mass. Stephen and Sarah Barton raised their family to value education and public service above personal gain. Clara, as she was called, started teaching school at age 17. In 1854 she moved to Washington, D.C., and worked as a clerk in the U.S. Patent Office, one of few women employed by the federal government. Living in the nation's capital at the outbreak of the Civil War, she was ready for the work that would earn her worldwide fame. "This conflict is one thing I've been waiting for," she said. "I'm well and strong and young—young enough to go to the front. If I can't be a soldier, I'll help soldiers."
At first she sought donations of supplies for Union soldiers, which she stored in her home. In 1862 she went to the battlefields to nurse the wounded and dying and to write letters to soldiers' families. Barton worked alongside other relief groups, like the U.S. Sanitary Commission and U.S. Christian Commission, but she preferred to work alone, unhampered by organizations and interference.
After the war Barton continued her charitable activities, using her growing fame to lend prestige to her causes. She opened an office to find information on missing soldiers and helped identify gravesites in the former prison camp at Andersonville, Ga. She supported rights for African Americans and women. In her writings and lectures Barton projected confidence and authority. Yet the private Barton was often fearful and fragile. By 1869 she needed a rest. She went to Europe and there learned of a worldwide war relief movement. Jean-Henri Dunant, a Swiss banker, had seen an 1859 battle in Italy, where over 30,000 dead and wounded were left on the battlefield. Horrified, Dunant publicized the need for battlefield relief in his book Un Souvenir de Solferino. His work inspired the 1864 Treaty of Geneva, setting conventions for treatment of the wounded and establishing the International Red Cross to aid those suffering as a result of war.
Barton worked with war-stricken civilians during the Franco-Prussian War. Returning to the United States, she was determined to promote the idea of the Red Cross at home. It was a difficult job. She endured poor health, uncooperative government officials, and public apathy. She persevered, and in 1882 the U.S. Senate ratified the Treaty of Geneva; that year the American Red Cross was officially chartered. Clara Barton ran the American Red Cross with the style she had shown during the Civil War. As president, 1881 to 1904, she directed relief, garnered supplies, and expanded the organization. Barton's greatest innovation was engaging the Red Cross in peacetime and natural disaster aid, with over 18 relief efforts to her credit. Because of her influence, the International Red Cross recognized peacetime work through its 1884 American Amendment to the Geneva Treaty.
During the 1898 Spanish-American War Barton directed relief efforts from Cuba. Though the Red Cross aid was timely and competent, the war exposed the limitations of its inner workings as well as its inability to meet the needs of a modern nation. Many Red Cross members pressed for Barton's resignation, considering her too old, disorganized, and unbusinesslike to deal with the expanding Red Cross. She resigned in 1904.
Barton returned to her correspondence and her interest in the feminist movement. In 1905 she established the National First Aid Association of America to educate communities about emergency preparedness. At home in Glen Echo she read, wrote, gardened, and enjoyed her cats and horse. She died here in 1912.
Clara Barton's Life and Work
1821
Born December 25 in North Oxford, Mass.
1825-50
Begins school at age 3; starts teaching at 17.
1850
Attends Clinton Liberal Institute in New York; spends a year furthering her education.
1852
Establishes free public school in Bordentown, N.J.
1854-60
Patent Office clerk, Washington, D.C.
1861-65
Aids wounded at battles of Manassas (second), Antietam, Fredericksburg, The Wilderness, Spotsylvania.
1864
Treaty of Geneva establishes International Red Cross.
1865-68
Searches for missing U.S. Army soldiers. Helps establish national cemetery at Andersonville, Ga.
1870-71
Works with the International Red Cross in Europe.
1873-76
Suffers nervous breakdown; recovers in Dansville, N.Y.; meets Julian Hubbell.
1877-82
Promotes U.S. ratification of Treaty of Geneva.
1881
Establishes and heads American Association of the Red Cross. Elected its first president, serves 23 years. Directs relief efforts for over 18 natural disasters and for the Spanish-American War.
1882
U.S. ratifies Treaty of Geneva. President Chester A. Arthur charters American Red Cross.
1889
Flood relief work, Johnstown, Pa.
1891
Construction of Glen Echo house begins; at first it is used as a warehouse.
1897
Moves to Glen Echo; remodels it into home and headquarters.
1898
Works in Cuba during Spanish-American War.
1900
Hurricane relief work in Galveston, Texas.
1902
Attends Red Cross conference in Russia.
1904
Resigns as American Red Cross president. Establishes National First Aid Association of America in 1905.
1912
Dies at Glen Echo, Md., April 12.
Warehouse, Headquarters, and Home
In 1889 Edwin and Edward Baltzley, local entrepreneurs, bought a tract of land in Maryland along the Potomac River and named it Glen Echo. To promote home sales, they established Glen Echo Chautauqua, the newest of over 50 Chautauqua assemblies, whose aim was to bring education, culture, and personal enrichment "to the masses of the people." The brothers asked Clara Barton to head the Chautauqua Women's Executive Committee, a position that included a house. Seeing this as a chance to benefit the Red Cross, she accepted.
Barton designed the house, modeling it after the Red Cross shelters used during flood relief efforts at Johnstown, Pa. She moved to Glen Echo in 1891 but found the community too remote. Commuting to Washington, D.C., was long and difficult, and there was no telephone service or reliable mail delivery. At the end of the Chautauqua season Barton moved back to the city. For the next six years the house was a Red Cross warehouse, receiving, storing, and shipping disaster-relief supplies. By 1897 the trolley line extended to Glen Echo, and Barton moved into the warehouse. She remodeled it as her home and the Red Cross national headquarters, from which she directed the organization.
An assistant's diary entry in 1898, reads: "Office work today consists of indexing books, filing letters, writing several letters for Miss Barton, and in the afternoon writing Dr. Hubbell's report of Sea Island relief, the latter to be used in Miss Barton's book."
Glen Echo headquarters also served as living quarters for volunteers and staff members. Barton encouraged her staff to live here in furnished bedrooms or in storage rooms with folding beds. Closets built into the main hallway, designed to resemble paneled walls, held supplies. After the Glen Echo Chautauqua failed, the property next to the house became the Glen Echo Amusement Park, where Barton and her staff occasionally attended concerts and events.
Flower and vegetable gardens, cows, chickens, and a horse gave the place a peaceful, countrified air. "She loved her Glen Echo home," a friend recalled, "and used to say the moon seemed always to be shining there." Barton resigned as president of the American Red Cross in 1904, and the organization moved temporarily to Washington, D.C. In 1917 it moved to a building on 17th Street, N.W., where it is headquartered today.
The House Today
The National Park Service has restored this "beautiful building commemorative of Clara Barton" and will continue to preserve Clara Barton National Historic Site as a place "sacred to her memory." The restoration is based on research of original writings, diaries, oral interviews, and photographs.
Today you can sense how Barton and her staff lived and worked. As you tour the house, try to imagine what it was like when she lived here. The hallway was adorned with gifts from grateful foreign governments, and rooms overflowed with proclamations of gratitude, photographs of her relief work, and portraits. The hidden closets held Red Cross supplies. The bustle of volunteers and visitors gave the house an earnest and productive atmosphere.
Dr. Julian Hubbell
In 1876, while living in Dansville, N.Y., Clara Barton met Julian Hubbell, a chemistry teacher at Dansville Seminary. They became friends, and when she told him of the Treaty of Geneva and how she hoped for its adoption in the United States, Hubbell asked how he could help. "Get a degree in medicine," she replied. Hubbell left his teaching position and entered the University of Michigan's Homeopathic Medical College in 1878. After interrupting his education three times to conduct American Red Cross field relief, he earned his medical degree in 1883.
When the American Red Cross (ARC) was established, Hubbell became its chief field agent. His skillful organization and quiet control were responsible for much of the ARC'S early success. His loyalty never wavered. Like Barton, the Red Cross was his life and profession. He supervised building of the Glen Echo house and lived there when not engaged in field work. When Barton was forced to resign from the Red Cross in 1904, he resigned too.
Barton deeded the house to Hubbell. After she died, he and others formed the Clara Barton Memorial Association to honor her memory and work. The association had little public support, eventually disbanding. Hubbell was struggling to care for the house when he was swindled out of the property. He fought to regain title and won his lawsuit in 1927.
Hubbell's Successors
After Hubbell died in 1929, his nieces inherited the property—and the responsibility of honoring Barton. The sisters rented apartments in the house, using the income to help care for the property. In 1942 Rena Hubbell sold the house to Josephine Franks Noyes. Ms. Noyes, and her sisters after her death, continued to rent rooms and care for the home until the Friends of Clara Barton, Inc., bought it in 1963. That group pushed for the establishment of the Clara Barton National Historic Site and deeded the house and many original furnishings to the National Park Service in 1975.
Planning Your Visit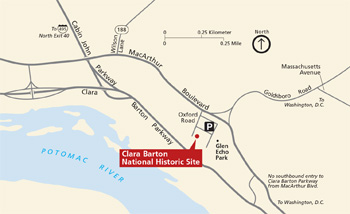 (click for larger map)
Clara Barton National Historic Site includes Barton's home, the original one-acre tract, and eight acres of surrounding land.
Getting Here The park is off MacArthur Boulevard in Glen Echo, Md., next to Glen Echo Park. By vehicle from the Capital Beltway (I-495): • Inner Loop Take Clara Barton Parkway (exit 41). • Outer Loop Take Glen Echo/Cabin John Parkway (exit 40). • Follow the brown signs on the parkway and MacArthur Blvd.
You may park in the lot between the house and Glen Echo Park. Check our website for more directions.
Tours and Programs The park is open daily except Thanksgiving Day, December 25, and January 1. The house is shown by guided tour only (free). Tours start on the hour between 10 am and 4 pm. Reservations are required for groups of 10 or more. The first floor is wheelchair-accessible. Service animals are welcome.
Educational programs are available by reservation. The park hosts special events throughout the year. Contact the park or visit our website for details or to schedule a group reservation.
Safety/Regulations For a safe visit and to protect this home, please follow these regulations. • Do not touch walls, furniture, or objects. • Be extra careful on the stairs. • For firearms and other regulations, see the park website. • All plants, animals, and natural or historic features are protected by federal law.
Emergencies: call 911.
Source: NPS Brochure (2011)
Establishment

Clara Barton National Historic Site — Oct. 26, 1974
Clara Barton House National Historic Landmark — 1965



For More Information
Please Visit The

OFFICIAL NPS
WEBSITE
Brochures ◆ Site Bulletins ◆ Trading Cards

Documents
Foundation Document Overview, Clara Barton National Historic Site, Maryland (January 2015)
Historic Furnishing Plan, Clara Barton House, Clara Barton National Historic Site, Maryland (Sandra Weber, Katherine Menz and Diana R. Pardue, 1983)
Historic Structure Report, Part 1, Volume 1: Developmental History, Clara Barton National Historic Site (1977)
Historic Structure Report, Part 1, Volume 2: Physical History/Condition Assessment, Clara Barton National Historic Site (1977)
Historic Structure Report, Volume 3: Collection of Documentation, Investigation & Treatment Reports, 1976-2002, Clara Barton National Historic Site (1977)
Traveling Clara Barton Junior Ranger Civil War Worksheet, Clara Barton National Historic Site (Date Unknown)
Handbooks ◆ Books

Videos