The Life of a Poet
Edgar Poe was born to itinerant actors in Boston in 1809. His mother, Elizabeth Poe, died when Edgar was two, by which time his father, David Poe, was no longer with them. He was raised as a foster child by Frances Allan and her husband John Allan, a tobacco exporter of Richmond. Poe spent his youth between the ages of six and eleven with the Allans in England where he attended boarding school. Returning to Richmond, Poe later enrolled for a year at the University of Virginia. His tenure was marked by distinction in Latin and French and ended with the withdrawal of Allan's support due to Poe's gambling debts.
At eighteen, Poe set off for Boston where he published his first volume of poems. He subsequently enlisted in the army for two years. Following a brief reconciliation with Allan after his foster mother died, he obtained an appointment to West Point. But Allan soon remarried; Poe lost all hopes of Allan's support and he left West Point because the service was an inappropriate career for a young man of little means. Although Poe romanticized his forbears and pretended to have set off for Greece and St. Petersburg in some idealized aristocratic pursuit of freedom during his years in the army, it is clear that he faced, from age twenty-two, a life of struggle and poverty.
In 1831, Poe published a new collection of poems. He appears to have spent most of the next four years in Baltimore living with his aunt, Maria Clemm, and her daughter, Virginia. These were difficult times: letters to Allan indicate Poe feared imprisonment for debt and mentioned that he was perishing for want of aid. During this period, Poe was writing tales and selling them to journals in Baltimore and Philadelphia.
When he became editor of the Southern Literary Messenger in Richmond in 1835, Poe found his vocation: editor, critic and contributor to a series of journals, each of which flourished under his guidance. Poe married Virginia in 1836. With Maria Clemm they formed a household which, in 1837, moved from Richmond to New York and thence to Philadelphia where Poe enjoyed his most productive and most contented years. In 1844, they returned to New York where Poe briefly owned his own journal. It was in New York that Virginia died of tuberculosis in 1847.
Following Virginia's death, Poe rapidly disintegrated, returning to Richmond in 1849 still preoccupied with the goal of his lifetime: owning his own journal. Setting off for New York shortly thereafter to visit Mrs. Clemm, his hopes still high for the future, Poe traveled no farther than Baltimore. There he died in delirium of "acute congestion of the brain" and was buried near his grandfather in the Presbyterian cemetery.
"My address is 234, North Seventh St. above Spring Garden, west side."

—Edgar Allan Poe, 1843.
Exactly how long Poe lived in the small brick house now connected to 530 North Seventh St. is unknown. Apparently, he moved here sometime between the fall of 1842 and June of 1843 and left in April 1844. Like all of Poe's homes, this one was rented. It may or may not have been furnished when Poe; his wife, Virginia; his mother-in-law, Maria Clemm; and their cat, Catterina, moved in. Whatever furniture they used or purchased has disappeared without a trace.
The importance of this house lies in its location and its connection to Poe. During the six years Poe lived in Philadelphia, he attained his greatest successes as an editor and critic, and he published some of his most famous tales, including, "The Gold Bug," "The Fall of the House of Usher," "The Tell-Tale Heart,"and "The Murders in the Rue Morgue." Of his several Philadelphia homes, only this one survives. It serves as a tangible link with Poe and his days of greatness in Philadelphia. For this reason, it is fitting that Congress chose this site as our nation's memorial to Edgar Allan Poe.
The Writer and His Influence
Edgar Poe has cast a long shadow: he has probably had a greater influence than any other American writer. Although Poe's tales and poems range from masterful to ludicrous, Poe exerted his most significant influence as a man who understood the temper of his times, and foreshadowed so much of the future of literature. His wide-ranging tales and his broad criticism sought a method for American literature where none had prevailed. Poe deliberately sought great variety in his tales. A review of his more than seventy pieces of fiction testifies not merely to his range, but also to the significant popular genres he created or made his own which today form the staples of American fiction.
Poe's greatest influence comes about in the murder mystery. He can be said to have invented it when he published "The Murders in the Rue Morgue." Although murders in fiction existed before Poe, his preoccupation with the ingenious solution of the crime established in his tales of ratiocination (the process of exact thinking) changed the emphasis from the acts to getting the facts. Poe's cerebral and eccentric detective Dupin ("the ingenious are always fanciful and the truly imaginative never otherwise than analytic") who also appeared in "The Mystery of Marie Roget" and "The Purloined Letter" is the identifiable ancestor of Conan Doyle's Sherlock Holmes, Agatha Christie's Hercule Poirot, Erle Stanley Gardner's Perry Mason and all those other heroes whose minds are "resolvent and creative."
One popular genre which can be traced back to Poe, science fiction, was seen more as a hoax by Poe's contemporaries. Orson Welles' radio broadcast of a Martian landing is a later example of the American hoax or tall-story tradition. In "The Unparalleled Adventure of One Hans Pfaall" in which Poe attempted an ingenious simulation of a balloon flight to the moon or in "A Descent into the Maelstrom," Poe's imaginative science and pseudo-science made for compelling pieces of fiction which led to future amplification in the work of such writers as Jules Verne, Isaac Asimov and Arthur Clarke.
Another popular form which Poe created, was the treasure-mystery combination with built-in clues, which Robert Louis Stevenson later capitalized on. This type of story has been required adolescent reading for decades, but was poorly developed until the "The Gold Bug" was published.
Poe is justifiably famous for his tales of terror, his "arabesques" as he called them, in contrast with his "grotesques" or fantastic tales. From "Morella," the first of his treatments of the death and terrifying rebirth of a beautiful woman which was to find its most compelling expression in "The Fall of the House of Usher", Poe uses his awesome imaginative powers. In such tales as "The Black Cat," "The Imp of the Perverse" and "The Pit and the Pendulum," Poe developed his ability to convey imagined horror by making it immediately physical.
Because of the power of Poe's narrative voice, many a tale is indelible. Poe's imaginative sociology in "The Man of the Crowd" will tell you more about loneliness in the crowd than David Riesman did. The psychological analysis in "William Wilson" is an excellent and frightening exploration of split personality two generations before Freud.
One would think that Poe would be best remembered for his powerful tales, but much of his international reputation rests on his critical acumen which pointed in equally new directions. Poe was among the first to discern the tendency of the age toward "the curt, the condensed, the pointed, the readily diffused." In a famous critical piece, Poe recognized Hawthorne as one of our "few men of indisputable genius;" he went on to formulate his famous conception of the short story, which must be designed for "a single effect" and every word of which must be made to count.
Poe applied his test of condensation to poetry. He had read and absorbed Coleridge, and he responded to the aesthetics of the European romantics. When Poe embodied romantic tendencies, abridged them into rules with his assured spareness and so decreed that a poem must be short as well as extraordinarily crafted, he foreshadowed the direction of symbolist and modern poetry. In his essay, "The Philosophy of Composition," Poe proceeded to deliver a detailed account of every step in the process of designing "The Raven," ostensibly to suit popular and critical taste at once. Poe himself spoke of this essay as being his "best specimen of analysis." The essay epitomized Poe's greatest critical contribution, his insistence upon the application of a rigorous method in all forms of thought."
Poe's approach toward literature, his famous method which emphasized strict artistic spontaneous emotion, earned him the homage of the French symbolists such as Baudelaire who spent fourteen years translating his tales. A phrase in "Marginalia," "my heart laid bare" becomes the title of Baudelaire's journal, while another phrase, "the orange ray of the spectrum and the buzz of a gnat...affect me with nearly similar sensations" was reflected in Baudelaire's epoch-making sonnet "Correspondances."
Poe's method leads to the symbolist poetry of Mallarmé and to Rimbaud and the dream-inspired surrealists. Poe's brooding heroes and symbolic houses lead to the decadent heroes, new Roderick Ushers with their concern for the artificial detail of their shut-in paradise, reflected earlier in such Poe tales as "The Masque of the Red Death" and "The Philosophy of Furniture."
Poe is returned to America through French symbolism, and so made digestible to such important American poets as T.S. Eliot and Wallace Stevens. In opposition to the romantic stress on the expression of personality, Poe insisted on the importance not of the artist, but of the created work of art. He stands as one of the few great innovators in American literature who took his place in international culture as an original creative force.
Other Sites Honoring Edgar Allan Poe
The Edgar Allan Poe House and Museum—Poe's Baltimore home, 1832-1835. Open Wednesday through Saturday, 12 Noon-4 p.m. Operated by Baltimore City under the Commission for Historic and Architectural Preservation.
Edgar Allan Poe Cottage—The final home of Edgar Allan Poe. Open Wednesday-Friday, 1-5 p.m., Saturday, 1O-4 p.m. and Sunday, 1-5 p.m. Administered by The Bronx County Historical Society.
Poe Museum—Not a Poe home, but dedicated to telling his story. Open Tuesday-Saturday, 10 a.m.-4 p.m. and Sunday & Monday, 1:30-4 p.m. Operated by the Poe Foundation.
Visitor Information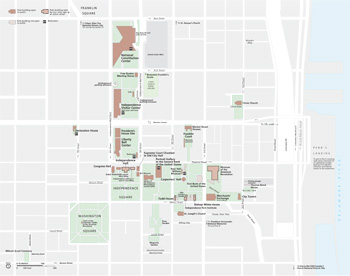 (click for larger map)
A New Park
The Edgar Allan Poe National Historic Site is one of the newest units of the National Park System. Opened in August of 1980, the site is undergoing extensive research and will be developed and restored as research progresses.
The Park consists of a complex of three buildings, two of which serve as a visitor center and entrance to the site. This area contains exhibits, an audio-visual program and a small sales facility. Ranger-guided tours of the Poe House begin here.
Groups should contact the Park in advance of their visit. Although picnicking is allowed on the grounds, there are no indoor picnic facilities. The Park is open 9 a.m. to 5 p.m. daily, except Christmas and New Year's Day. Admission is free. We hope you enjoy your visit.
Safety Reminder
The Poe House was not built with 20th century visitors in mind. Please watch your step on uneven surfaces and on the steep and narrow stairways.
Getting There
The Edgar Allan Poe National Historic Site is located at 7th and Spring Garden Sts. in Philadelphia, just a few blocks north of Center City. When planning your visit, we urge you to consider mass transit. Philadelphia is served by major air, rail, and bus lines and has an extensive public transportation system.
If you arrive in the city by train or bus, take the Market-Frankford subway east to 5th and Market Sts. There you may board a #50 trolley to 5th and Spring Garden Sts. The Park is located two blocks west. If you arrive in the city by plane, take the Airport Shuttle to 5th and Markets Sts. and proceed as above.
If you come by car: Eastbound, via I-76 (Schuylkill Expressway)קExit at Spring Garden St. Turn left on Spring Garden, (caution: Spring Garden St. enters a traffic circle in front of the Philadelphia Art Museum. It exits the circle on the other side—3rd right). Follow Spring Garden to 7th Street.
Westbound, via the Benjamin Franklin Bridge—Follow Vine St. (U.S. 30) to 7th St. Turn right on 7th St. to Spring Garden St.
Southbound, via I-95—Use Center City exit. At the bottom of the exit ramp turn right on Callowhill St. Follow Callowhill to 7th St. Turn right on 7th and proceed to Spring Garden St.
Northbound, via I-95—Exit at Aramingo Ave., follow Aramingo Ave. to York St., at York St. make a U-turn on Aramingo and follow signs to I-95 South. Follow directions above for "Southbound via I-95."
Source: NPS Brochure (undated, c1980s)
Establishment

Edgar Allan Poe National Historic Site — Nov. 10, 1978



For More Information
Please Visit The

OFFICIAL NPS
WEBSITE
Brochures ◆ Site Bulletins ◆ Trading Cards

Documents
Edgar A. Poe, The Years in Philadelphia, 1838-1844: Historic Resource Study, Edgar Allan Poe National Historic Site, Independence National Historical Park, Philadelphia (J. Thibaut, October 1981)
Foundation Document Overview, Edgar Allan Poe National Historic Site, Pennsylvania (January 2017)
Imagining Poe: Interpretation at the Edgar Allan Poe National Historic Site: Symposium on Resource Management and Interpretation - Edgar Allan Poe National Historic Site - June 16, 2004 (June 2005)
Junior Ranger Guide (Ages 5-7), Edgar Allan Poe National Historic Site (2009)
Junior Ranger Guide (Ages 8-12), Edgar Allan Poe National Historic Site (2009)
Long Range Interpretive Plan, Edgar Allan Poe National Historic Site (December 2003)
National Register of Historic Places Nomination Forms
Edgar Allen Poe House (Richard E. Greenwood, August 8, 1974)
Handbooks ◆ Books

Videos