The Sound of a City
Saturday night in New Orleans, summer of 1913, and music is beating through the streets. In some parts of town you'd be hard-pressed to walk a block without hearing blues, ragtime, or the latest "hot" music—not yet called jazz. One of the centers for this music is called Back of Town. It's a few blocks from the French Quarter, in uptown New Orleans, where young African Americans can hear the music that moves them.
In the steamy August night, streetlamps throw pools of light down Rampart. Voices and languid piano runs drift through the doorway of the Red Onion at the corner of Julia. Longshoremen and domestics are joined by workers from upriver levee camps and a few "out of town women" who've walked over from the Illinois Central station. Dancers doing the Slow Drag to Buddy Carter's Tom Cat Blues are getting closer. Three blocks down Rampart, in the Masonic Lodge at the corner of Perdido, the Eagle Band has begun playing its "ratty" late-night tunes as the older, respectable people filter out. Sitting in is Freddie Keppard, one of the city's top cornetists, blowing a ragged 2.19 Blues.
Walk down Basin a few blocks, cross the stream of horse and motor traffic on Canal, and head downtown to the city's legalized prostitution district—Storyville. Not every establishment in the district is a brothel; many are saloons and restaurants, and these are the places that hire bands. Tonight at Pete Lala's at Iberville and Marais, Lizzie Miles sings a plaintive Careless Love. Joe Oliver, Keppard's chief rival among New Orleans cornetists, answers her with his bluesy, vocal horn. Most brothels have a piano "professor" to help set the mood. Kid Ross, heir to legendary Storyville pianists like Tony Jackson and Jelly Roll Morton, is playing Panama Rag at Mahogany Hall on Basin. This is a spot favored by merchants and plantation owners—bosses of the workers up at the Red Onion.
A short walk beyond Beauregard Square (Congo Square) is Economy Hall at Marais and Ursuline. A musician stomps off the opening beat and the Kid Ory Band, Johnny Dodds on clarinet, launches into Bucket's Got a Hole in It. People are up and doing the Black Bottom. Climbing the stairs outside is 16-year-old prodigy Sidney Bechet, his clarinet hidden in his jacket, planning to challenge Dodds to a cutting contest. Meanwhile, players in the Crescent City Orchestra have taken a long streetcar ride up St. Charles to play a dance at Tulane University. The white kids call out for "Meatball!"—later known as Tiger Rag—whose propulsive riffs have them moving in ways unimagined by their parents.
Next afternoon, the Original Superior Orchestra is rumbling down Burgundy in a furniture wagon, advertising a dance and looking for other bandwagons to challenge. Trombonist Buddy Johnson sits on the tailgate, giving him room for his long slides, while Bunk Johnson brings his mellow cornet style to the old ragtime piece Makin' Runs. There's a parade over in Tremé, with Manuel Perez's Onward Brass Band stepping up Villere and loosely ragging the King Zulu Parade march. Followers in the second line push the band to play hotter, to keep up with their rhythmic gyrations.
Take the streetcar out to West End, one of the resorts on Lake Pontchartrain. On the bandstand a group of boys from the Colored Waif's Home is playing Down by the Riverside. Among them is a cornetist, just turned 12, who has learned the rudiments of his instrument at the Home. Louis Armstrong is already impressing older musicians with his gift for blowing the blues.
New World Music
Late in life Louis Armstrong recalled hearing Buddy Bolden as a child, gathering a crowd in front of Funky Butt Hall. Bolden, who personified the African American uptown sound, had the hottest horn in New Orleans from about 1895 to 1906, when mental illness forced him from music. He was among the first New Orleans musicians to take popular and traditional songs and play them as blues, "rag them," improvise on them—the earliest music that can be called jazz.
Jazz caught an urban American pulse but owed much to the music of West Africa, the rural South, and the Caribbean. It was born of two Old World cultural traditions, African and European, coming together in the New World as blues, ragtime, brass band music, and African American spirituals and gospel. Blues music was rooted in rhythmic work chants called field hollers. As these evolved into songs, musicians joined European and African scales to produce distinctive "blue notes." The blues scale, central to the music's highly personal vocal styles, opened up an emotionally powerful way of expression that lay at the heart of jazz.
The infectious rhythms of early jazz drew on European syncopation and African and Afro-Caribbean polyrhythms. Ragtime, all the rage in the early 1900s, recalled syncopated African American cakewalks and ring shouts. Musicians incorporated marches, waltzes, quadrilles, and the schottische round dance. They absorbed European structure and harmonic devices from brass bands, vaudeville and minstrel songs, and tin pan alley. Even opera's vocal techniques, adapted to instruments, were part of the mix. Cuban habanera and rhythms imported by Haitian immigrants brought the "Spanish tinge" that Jelly Roll Morton declared essential to the New Orleans sound.
Why New Orleans?
Jazz did not develop solely in New Orleans, but the city was a crucible for its birth and early growth. By 1900 it was the South's largest city, a world port, and an ethnically diverse cultural center with over 300,000 inhabitants. But other such ports didn't play so important a role in jazz. In many ways. New Orleans was unique.
The city was born in the early 1700s as a French colonial settlement, strongly Catholic, with close ties to Central America and the French and Spanish West Indies. Several enduring characteristics sprang from this origin: a more relaxed and tolerant attitude than was typical of North America; the influence of Caribbean music and culture; and a tradition of public celebration that embraced music and dance. The long brass marching band tradition in New Orleans was central to the creation of jazz. Around 1900 New Orleans musicians began "ragging" their marches—syncopating them—and introducing West Indian sounds.
New Orleans also enjoyed an unparalleled confluence of cultural traditions. For much of the 1800s the city was a major center of immigration. After the 1803 Louisiana Purchase, Protestant Anglo-Americans poured in from the rural South, bringing their enslaved African Americans with them. Crucial to jazz was their interaction with a class of free, French-speaking Catholics of mixed African, European, and sometimes American Indian heritage, descended from people born in the Americas—Creoles of Color.
Music was at the heart of Creole life, and this community provided many of the musicians for the city's orchestras, brass bands, and string dance bands. Most were formally trained, priding themselves on their discipline and technical proficiency. "Uptown," across Canal Street, African Americans had their own dance and music traditions. Tapping into the blues, ragtime, church music, and brass bands, their music was looser, more adventurous.
A new generation's attraction to the blues helped dissolve the distinctions between African American and Creole. The melding of Creole classical finesse and structure with African American emotional depth, flair, and rhythmic invention was a major catalyst in the creation of jazz.
Congo Square
From the mid-1700s until well into the 1800s, the city's enslaved Africans kept their culture alive by gathering in Congo Square to dance and sing. Under the colonial Code Noire, Sunday was a "free day" for slaves. The tradition began in an informal Sunday marketplace on the northern (lakeside) boundary of the city. By the late 1700s hundreds of slaves converged there on Sundays to buy and sell, and to dance.
The gathering broke into clusters of dancers, who often moved in circular patterns rooted in African ring dances. Musicians struck drums, gourds, and tambourines; blew on "quillpipes," a kind of panpipe; and played stringed instruments. Moving in a circle around them were the exotically clad and ornamented dancers. They chanted, clapped, patted, and sang as they danced the bamboula, the calinda, and the djouba, with single dancers and couples taking turns within the circle.
By the 1830s fewer participants had memories of African traditions, and the young were creating their own dances, incorporating West Indian rhythms and American reels and jigs. The Americans, never comfortable with the gatherings, increasingly restricted them, and by the start of the Civil War Congo Square was quiet.
The Age of Jazz
The Tempo Quickens
By the early 1900s front line players (cornet, clarinet, trombone) were interweaving two or three melodies in the distinctive polyphony that defined the city's sound. The best musicians brought together the secular—even profane—blues with the music of the church. They ventured beyond melodic embellishment to creative improvisation and ragging songs on the fly. More musicians could read music, but at the same time playing by ear ("faking") and improvising were increasingly valued. Brass and dance bands alike grew more adventurous, relaxing ragtime's relatively inflexible syncopation—the first glimmerings of what came to be called "swing." They learned to play off each other spontaneously, moving toward true collective improvisation.
New Orleans was filled with versatile musicians who could tailor their music to the crowd: in dance halls and bars, where people moved to the hottest rags and the slowest, lowdown blues; and at gentler dances in ballrooms—black, white, and Creole—where a band that had played a saloon the night before added strings and played waltzes and tangos. As theater house bands, they accompanied vaudeville shows and provided the music for plays and silent movies. Lincoln Park, Lake Pontchartrain resorts, parades and funerals, picnics, bandwagons to advertise store openings, fish fries, political rallies—the opportunities were endless. There were so many good bands in town that spontaneous competitions—"cutting contests"—became a New Orleans tradition.
Touring musicians like Jelly Roll Morton and Freddie Keppard spread the new sound around the country. Increasingly restrictive racial laws and the lure of a bigger audience spurred others to take the Illinois Central out of town. Sidney Bechet departed in 1917 to play in Chicago and New York. Joe Oliver left the following year to join a band in Chicago. When he sent for Louis Armstrong, who had become the city's top cornetist, his disciple leapt at the chance. Armstrong's departure in 1922 brought an end to the first chapter of jazz in New Orleans. As these celebrated musicians carried jazz to a wider world, others like Sam Morgan and Kid Rena stayed and made their own contributions to the evolving music of New Orleans.
A Jazz Chronology
1870s
• Jazz History
• U.S. History
Brass band tradition is by this time well-established in New Orleans.
Previously enslaved African Americans move to New Orleans, bringing work songs and early blues.
First telephones introduced to American homes.
1877 End of Reconstruction: last Federal troops leave New Orleans.
Edison files patent for cylinder phonograph.
1880s
Mardi Gras Indians become part of parade tradition.
Beginning of Sanctified, or Holiness, church movement, where gospel was born.
1882 Edison introduces country's first electrical distribution system in New York City; electricity rapidly spreads throughout country.
1884 World Cotton Centennial held in New Orleans: Mexican band influences New Orleans musicians.
1886 Statue of Liberty dedicated in New York City.
1888 Emile Berliner introduces disc-playing gramophone.
1890s
Automobile introduced to America.
1890 Historian Frederick Jackson Turner observes the closing of the American frontier.
1892 Ellis Island becomes the main entry point for immigrants to America.
1895 Buddy Bolden forms his band.
1897 Designation of legal prostitution district in New Orleans. It came to be called Storyville.
1899 Scott Joplin's Maple Leaf Rag helps make ragtime a national craze.
1900s
Peak of immigration to United States.
1903 Wright Brothers make first controlled, heavier-than-air flight.
1907 Theodore Roosevelt's Great White Fleet sails around the world to display America's growing military power.
Jelly Roll Morton leaves New Orleans, begins performing in vaudeville shows.
1910s
FIRST GREAT MIGRATION: Millions of African Americans leave the South—escaping Jim Crow laws and cotton crops devastated by boll weevils, and seeking war-related jobs in the North. Many New Orleans musicians move west and north, especially to Chicago.
1913 Armory Show in New York City; modern European art greeted with puzzlement, derision, and for a few, excitement.
1914 Original Creole Orchestra, led by Freddie Keppard, introduces New Orleans sound to cities around the country; turns down chance to make first jazz recording.
1917 America enters World War I.
Storyville closed at request of U.S. Navy.
Original Dixieland Jass Band makes first jazz recording, Livery Stable Blues, in New York.
1920s
Late in decade center of jazz moves from Chicago to New York, as big bands capture attention. With the ascendancy of swing, the New Orleans sound, once mainstream jazz, becomes "Traditional Jazz."
Introduction of regular radio broadcasting.
1920 18th Amendment goes into effect, banning "manufacture, sale, or transportation" of "intoxicating liquors" in the United States.
19th Amendment ratified; women gain the right to vote.
F. Scott Fitzgerald publishes This Side of Paradise, the first of his books portraying the postwar generation, whose values and behavior characterized the jazz age.
1922 Kid Ory's Creole Orchestra is the first African American jazz band to record.
1923 Landmark jazz recordings by King Oliver's Creole Jazz Band.
1924 George Gershwin's Rhapsody in Blue is premiered by the Paul Whiteman Orchestra; the piece combines elements of classical music and jazz.
1925 Beginning of electrical sound recording (replacing acoustical recording into cones) results in higher-fidelity reproduction of music.
1926 Langston Hughes publishes The Weary Blues. His poetry is influenced by jazz rhythms.
1929 Stock market crash begins Great Depression.
1930s
1931 Empire State Building is completed, at the time the world's tallest structure.
1933 21st Amendment ends prohibition.
FDR introduces New Deal programs to help pull the country out of the Depression.
1935 Teddy Wilson becomes part of the Benny Goodman Trio—the first African American to play in public with a white jazz group.
1938 The Benny Goodman Orchestra's performance at Carnegie Hall signals the mass acceptance of swing jazz.
1941 United States enters World War II. After the war, bop and "jump blues" displace swing.
The Jazzing of America
Jazz was the sound track of the 20s, giving its name to the period. In the jazz age, the measured rhythms of a more formal time were forever altered. Postwar America became more casual, less inhibited. Women, recently enfranchised, looked beyond the home. American society began to absorb significant elements of African American music, wordplay, and style. A distinct culture of the young took shape—"flaming youth." We were becoming modern, and jazz captured the spirit of the new.
Records—and radio later in the 20s—brought the sound of New Orleans jazz into the American home. In 1917 the Original Dixieland Jass Band—white musicians from New Orleans—made the first jazz record. They treated Livery Stable Blues as a novelty tune, and it couldn't match the rhythmic flair of the best jazz bands. It had real energy and drive, though, and when this expressive new thing called "jazz" crashed the conventional music scene of the time, it opened the gates for others. As the music made inroads on the national culture, parents and the musical establishment threw up the barricades. The Los Angeles Times found it a "vile imitation of music." But like ragtime before it and rock after it, jazz spoke to the young. Its pulsing, ragged rhythms drove American youth, black and white, and throughout the next two decades jazz remained dance music.
With many New Orleans musicians playing in Chicago by the early 20s, Chicago jazz was still rooted in New Orleans collective improvisation. That sound first reached its artistic peak in Joe Oliver's Creole Jazz Band. His 1923 recordings, with Louis Armstrong on second cornet, remain milestones of the music. More than anyone else of his time, Armstrong could swing—that hard-to-define rhythmic gait where, at its simplest, the musician plays just before or after the beat. In 1925 Armstrong formed his own band, the Hot Five, and his cornet solos were a prominent part of its sound. His powerful recordings so challenged other musicians that the extended solo became a basic element of jazz.
By the end of the 20s the brief golden age of classic New Orleans jazz was drawing to an end. As Armstrong and others took the music to New York and California and taught musicians how to really swing, the stage was set for the smoother sound of the big band era. The improvising soloist was now in the spotlight, displacing the polyphony and collective improvisation of hot jazz. After World War II swing and big bands gave way to bop, then cool jazz. Jazz moved from the dance floor to the small club and concert hall, where it was listened to as art. But the music never lost its power to move the listener—or to make the listener move.
The New Orleans Jazz Generation
John Robichaux
Violin
(1866-1939)

Papa Jack Laine
Drums, Saxophone
(1873-1966)

Bill Johnson
Bass
(1874-1972)

Tony Jackson
Piano
(1876-1920)

Buddy Bolden
Cornet
(1877-1937)

Joe "King" Oliver
Cornet, Trumpet
(1885-1938)

Edward "Kid" Ory
Trombone
(1886-1973)

Manual Manetta
Piano, Violin, Cornet, Trombone
(1889-1969)

Freddie Keppard
Cornet, Trumpet
(1889-1933)

Bunk Johnson
Cornet, Trumpet
(1889-1949)




Jelly Roll Morton
(born Ferdinand Lamothe)
Piano
(1890-1947)

Johnny St. Cyr
Banjo, Guitar
(1890-1966)

Johnny Dodds
Clarinet, Saxophone
(1892-1940)

Buddy Petit
Cornet
(1895-1931)

Jimmy Noone
Clarinet
(1895-1944)

Sidney Bechet
Clarinet, Soprano Saxophone
(1897-1959)

Warren "Baby" Dodds
Drums
(1898-1959)

George Lewis
Clarinet
(1900-1968)

Louis Armstrong
Cornet, Trumpet
(1901-1971)

Leon Roppolo
Clarinet
(1902-1943)
Classic Jazz Preserved
Amid the popularity of swing in the 1930s, classic New Orleans jazz was all but forgotten—but it didn't die. Good musicians stayed in New Orleans and continued to play the music. Traditional jazz hung on, but was in danger of becoming a museum piece when in the late 30s musicians and classic jazz enthusiasts mounted a successful effort to make it once again a living tradition. Central to the movement was Bunk Johnson. Papa Celestin got together a new Tuxedo Brass Band. Pops Foster, Alphonse Picou, Alcide "Slow Drag" Pavageau—they all had second acts.
The "Trad" scene remains strong in New Orleans. In 1970 Danny Barker founded the Fairview Baptist Church Brass Band to train a new generation of musicians. The band evolved into the Dirty Dozen Brass Band, which incorporated bop and funk into traditional brass band music.
Rebirth Brass Band, Hurricane Brass Band, Treme Brass Band—they carry on the New Orleans tradition, often with contemporary accents. The music lives: Social clubs still support marching bands, and they're followed by the second line, still moving to the sound of New Orleans.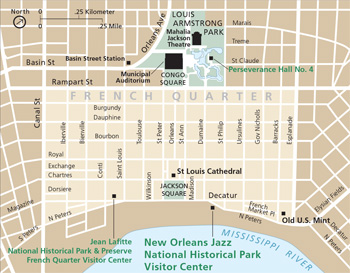 (click for larger map)
About Your Visit The visitor center at 916 N. Peters St. is open year-round except Thanksgiving, December 25, and January 1. Hours are 9:00 am-5:00 pm Tuesday through Saturday. The park offers music programs, demonstrations, and self-guiding walking tours. Talk to a ranger or visit our website for a calendar of events and downloadable tour brochures.
A complex of buildings in Armstrong Park will soon become our new home. The first to open will be Perseverance Hall, with a performance space and exhibits. The park will maintain its N. Peters St. visitor center during the transition.
In celebration of the National Park Service Centennial in 2016, the park has entered into a partnership with the Louisiana State Museum to create a "world class jazz museum and performance center" at the historic Old U.S. Mint at N. Peters and Esplanade. Scheduled to open in 2010, the project will serve as a satellite for park interpretive and educational programs.
Directions From 1-10, exit at Orleans Ave. #235A and turn south toward the Vieux Carre (French Quarter). Orleans Ave. turns into Basin St. Continue on Basin St. and turn left on Conti St. Turn left on N. Peters St. (last road before the river). Public parking is on N. Peters and Decatur Streets. The visitor center is on the river side of N. Peters St., past Cafe DuMonde, just before the golden statue of Joan of Arc.
For Your Safety Remember that this is an urban park. Be mindful of your surroundings at all times.
Where To Hear the Music You can hear traditional jazz in many places in New Orleans. Visit www.nps.gov/jazz for a list of venues.
Source: NPS Brochure (2017)
Establishment

New Orleans Jazz National Historical Park — October 31, 1994



For More Information
Please Visit The

OFFICIAL NPS
WEBSITE
Brochures ◆ Site Bulletins ◆ Trading Cards

Documents
A Biographical Listing of Selected Major Jazz/Blues Artists in New Orleans, Past and Present (Curtis Dale Jerde, April 16, 1990)
A Feminist Perspective on New Orleans Jazzwomen (Sherrie Tucker, September 30, 2004)
A New Orleans Jazz History, 1895-1927 w/ Bibliography (April 14, 2015)
Abbreviated Final General Management Plan / Environmental Impact Statement, New Orleans Jazz National Historical Park (May 1999)
Archival Record and Resources Related to Jazz in the New Orleans Area (Curtis Dale Jerde, April 16, 1990)
Draft General Management Plan/Environmental Impact Statement, New Orleans Jazz National Historical Park (October 1998)
Foundation Document, New Orleans Jaze National Historical Park, Louisiana (April 2015)
Foundation Document Overview, New Orleans Jaze National Historical Park, Louisiana (January 2015)
Junior Ranger Program, New Orleans Jazz National Historical Park (2016)
Long-Range Interpretive Plan, New Orleans Jazz National Historical Park (July 2007)
Handbooks ◆ Books

Videos