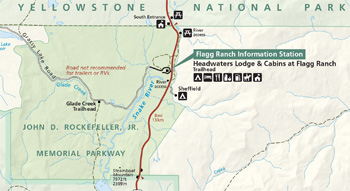 (click for larger map)
John D. Rockefeller, Jr. Memorial Parkway commemorates the many contributions to conservation by Rockefeller on behalf of America's National Park System. Established in 1972, the parkway encompasses 24,000 acres connecting Grand Teton National Park with the world's first national park, Yellowstone.
Visiting Jackson Hole in the 1920s, Rockefeller was dismayed by the haphazard development marring the landscape. With a vision to protect the spectacular Teton scenery, Rockefeller began buying land, later donating over 32,000 acres of the Jackson Hole valley to the federal government. His philanthropy ensured that views of the Teton Range and public access to northern Jackson Hole would be preserved for future generations. Rockefeller worked to conserve national parks nationwide, too, including Yellowstone, Yosemite, Acadia, Shenandoah, and Great Smoky Mountains.
John D. Rockefeller, Jr. Memorial Parkway lies at the center of the Greater Yellowstone Ecosystem. Recreational activities include hiking, camping, boating, and fishing. Grassy Lake Road, not paved, provides access through parkway lands to the Caribou-Targhee National Forest.
Source: NPS Brochure (2013)
Establishment

John D. Rockefeller Jr. Memorial Parkway — Aug. 25, 1972



For More Information
Please Visit The

OFFICIAL NPS
WEBSITE
Brochures ◆ Site Bulletins ◆ Trading Cards

Documents
Burned Area Survey of Grand Teton National Park and John D. Rockefeller, Jr. Memorial Parkway: The Fires of 1988 (Ann Rodman, Henry Shovic, Don Despain and Paul Schullery, June 1990)
Final Environmental Statement, Proposed John D. Rockefeller, Jr. National Memorial Parkway, Wyoming (March 12, 1973)
Foundation Document, Grand Teton National Park and John D. Rockefeller, Jr. Memorial Parkway, Wyoming (May 2017)
Foundation Document Overview, Grand Teton National Park and John D. Rockefeller, Jr. Memorial Parkway, Wyoming (January 2017)
Geologic Resources Inventory Report, Grand Teton National Park and John D. Rockefeller, Jr. Memorial Parkway NPS Natural Resource Report NPS/NRPC/GRD/NRR-2010/230 (K. KellerLynn, August 2010)
Greater Yellowstone Climate Assessment: Past, Present, and Future Climate Change in Greater Yellowstone Watersheds (Steven Hostetler, Cathy Whitlock, Bryan Shuman, David Liefert, Charles Wolf Drimal and Scott Bischke, June 2021)
Hydrogeologic Conditions and Options for Water Well Construction in the Vicinity of Flagg Ranch, John D. Rockefeller, Jr., Memorial Parkway, Wyoming (Larry Martin, February 4, 2005)
Natural Resource Condition Assessment, Grand Teton National Park and John D. Rockefeller, Jr. Memorial Parkway NPS Natural Resource Report NPS/GRYN/NRR-2012/550 (R. Douglas Ramsey, Christopher M. McGinty, Ellie I. Leydsman McGinty, Lisa A. Langs Stoner, Benjamin A. Crabb, William A. Adair, Alexander Hernandez, John C. Schmidt, Milada Majerova, Benjamin Hudson, Ashton K. Montrone, John H. Lowry and Matthew E. Baker, July 2012)
Water quality and hydrogeology near four wastewater-treatment facilities in Grand Teton National Park and John D. Rockefeller, Jr., Memorial Parkway, Wyoming, September 1988 through September 1997 USGS Water-Resources Investigations Report 99-4117 (Kenneth J. Hedmark and H.W. Young, 1999)
Water Quality Summary for the Snake River and Alpine Lakes in Grand Teton National Park and the John D. Rockefeller, Jr. Memorial Parkway: Preliminary Analysis of 2013 Data NPS Natural Resource Report NPS/GRYN/NRR—2016/1228 (Alysa Yoder, Andrew Ray, Kathryn Mellander, Chad Whaley and Rodney Roy, May 2016)
Water Quality Summary for the Snake River and Alpine Lakes in Grand Teton National Park and the John D. Rockefeller, Jr. Memorial Parkway: Preliminary Analysis of 2014 Data, Revised May 2016 NPS Natural Resource Report NPS/GRYN/NRR—2016/1229 (Andrew Ray, Katie Kaylor, W. Adam Sigler, Kathryn Mellander and Chad Whaley, May 2016)
Water Quality Summary for the Snake River and Alpine Lakes in Grand Teton National Park and John D. Rockefeller, Jr. Memorial Parkway: Preliminary Analysis of 2015 Data (Revised - 2019) NPS Natural Resource Report NPS/GRYN/NRR—2019/1932 (Mary Levandowski, Andrew Ray, Kathryn Mellander and Chad Whaley, May 2019)
Winter Use Plan Environmental Assessment, Yellowstone and Grand Teton National Parks, John D. Rockefeller, Jr. Memorial Parkway, Wyoming, Idaho, Montana (November 1990)
Winter Use Plans Environmental Assessment, Grand Teton/Yellowstone National Parks, John D. Rockefeller, Jr. Memorial Parkway, Wyoming, Montana, Idaho (November 2008)
Winter Use Survey, Yellowstone and Grand Teton National Parks, John D. Rockefeller, Jr. Memorial Parkway, Wyoming, Idaho, Montana Final (January 1990)
Handbooks ◆ Books

Videos