1775-1776 Anza Expedition
"Mass having been chanted...all its members being present...at eleven today the march was begun toward the north."

—Juan Bautista de Anza
October 23, 1775
¡Vayan subiendo!
"Everyone mount up!" This became a familiar call from Spanish Lt. Col. Juan Bautista de Anza. In 1776, while American patriots fought for their independence from England, Anza led about 300 people over 1600 miles to settle Alta California. It was the first overland route from New Spain (Mexico) to colonize San Francisco.
Pursuing a Dream
Juan Bautista de Anza's father had a dream. He wanted to find an overland route to Alta California beyond the Spanish frontier, but he died in an Apache ambush in 1740 when Anza was three years old. Anza followed in his father's footsteps and joined the Spanish military, eventually becoming a Captain on the frontier at the Tubac Presidio.
Spain had been struggling to secure its outposts in Alta California from Russian and English exploration and colonization. Existing sea routes were dangerous and difficult. Just like his father, Anza requested permission from the Viceroy of New Spain, Antonio Maria Bucareli, to prove a land route to Alta California was possible. Permission was granted.
Following Indian trading and mission travel routes, Anza identified a path in 1774. This allowed an avenue for much needed livestock and supplies. Upon this success, he was granted permission to recruit and lead a group of settlers to Alta California. Spain's goal was to establish the first colony in a place they called el Rio San Francisco. Anza's goal was to safely deliver the settlers, thus fulfilling his father's dream.
Trusting a Promise
In September 1775, Anza arrived in places like Culiacán in Sinaloa and Horcasitas in Sonora. Residents heard a call from this military man who told stories of lush lands and plentiful resources in a place far from their desert homeland. Anza invited the men to join this expedition as paid soldiers on two conditions: they would not return and they had to bring their families.
When the expedition left the Tubac Presidio on October 23, 1775, thirty families had joined Anza totaling about 240 settlers; men, women, and children. These families put their trust in a promise for a better life, from a man who did not guarantee they would reach their destination, Alta California. However, it was a risk these families were willing to take.
They were diverse in their heritage with a blending of indigenous, European, and Afro-Latino ancestry. Most of the families did not have many prospects, so when Anza offered an opportunity, they took it.
Traveling Town
The settlers, with their military escorts and support workers (cowboys, mule packers, and Indian guides) comprised an enormous group of over 300 people and more than 1,000 head of livestock. Led by Anza, the people, their supplies and livestock resembled a traveling town making their way through the desert.
Most days started with mass and the alabado, a hymn of praise, led by Franciscan priest Pedro Font, the expedition chaplain. Not only did Font provide religious leadership, he recorded latitudes with a quadrant and kept a meticulous journal. Where the tone of Anza's journal was official, Font's was eloquent.
These two journals document dates, supplies issued, distances traveled, places visited, and people encountered, covering the struggles and successes of the journey. Without the diaries, details of this epic journey would never have been known.
Success & Impacts
On June 27, 1776, led by Lt. Moraga, the expedition families arrived in what is now San Francisco. Anza ensured the settlers reached their destination, and Spain successfully established its northernmost colony in Alta California. In the new land, the colonists obtained the better life Anza had promised.
Part of the journey's success was due to Anza's ability to forge alliances with a few of the Indians along the route. Some were very generous in their assistance. The Pima and Chumash provided much needed food. A Quechan group, led by Chief Palma, helped them cross the Colorado River.
Spain intended to expand their society by acculturating the local Indians into mission life. To Spain, the frontier was full of souls to be saved. Viewed as the beneficiaries, Indians were the required labor that built missions. Many were forced to accept an unfamiliar lifestyle.
The Spanish believed this lifestyle would elevate the Indians in their new society. In reality, the approach significantly altered the tribal world. Indian populations declined and their traditions were disrupted. Ultimately, Spanish colonialism spelled the end of the tribal world as it had existed.
Living Legacy
Descendants of the expedition live today. Family names such as Berryessa, Bernal, Peralta, Moraga, and Alviso can be found on streets, towns, counties, and landmarks throughout California.
Native people encountered throughout the expedition route remain and continue their traditions today. Public presentations of Indian lifeways occur in places such as Satwiwa Native American Indian Culture Center and Coyote Hills East Bay Regional Park.
The 1776 Anza Expedition changed the course of California history. Today, descendants and native people are all a living legacy within the population.
Quotations are from the only existing journals written about the expeditions. Lt. Col. Juan Bautista de Anza was the military leader and Father Pedro Font was the religious leader.
".. .it was decided in Mexico to make this second expedition and journey, the better to explore the country, and especially to conduct thirty families of married soldiers to the port of Monterey, in order by means of them to settle and hold the famous port of San Francisco."

—Font, remarks opening his journal

San Miguel de Horcasitas
"After eleven o'clock in the morning an order was given to load up. More than two hours were spent in this business, because with so many people there was much delay, and it was no small labor to raise the camp..."

—Father Font, October 2, 1775

San Ignacio de la Canoa
"In the night the wife of a soldier gave birth to a fine boy, but...the woman died in childbed early in the morning. Next day in the afternoon she was taken for burial to the mission of San Xavier del Bac, and on the 25th in the morning she was buried by Father Garces..."

—Father Font, October 23, 1775

Casa Grande Ruins National Monument
"About three leagues from here there is an edifice of the ancient Indians, and I decided to go see it for the purpose of making an observation of its latitude..."

—Lt. Col. Anza, October 31, 1775

Yuma Crossing
"...they [Quechan or Yuma] invited all members of the expedition to eat, giving them in abundance beans, calabashes, maize, wheat and other grains which are used by them, and so many watermelons that we estimated that there must have been more than three thousand."

—Lt. Col. Anza, November 28, 1775

Coyote Canyon
"...she [Gertrudis Rivas, wife of Ignacio Linares] happily gave birth to a boy...which makes three who have been born between the presidio of Tubac and this place...These and three others who were born before reaching San Miguel de Horcasitas make a total of eight, all while on the march..."

—Lt. Col. Anza, December 24, 1775

Mission San Antonio
"The site is very good, with fine lands, and plentiful water from the river which runs through this valley...In the range there is a great abundance of oaks, live oaks, and pines, and consequently plenty of pinenuts and acorns, for which reason the mission raises large numbers of hogs."

—Father Font, March 6, 1776

Presidio of San Francisco
"Indeed, although in my travels I saw very good sites and beautiful country, I saw none which pleased me so much as this. And I think that if it could be well settled like Europe there would not be anything more beautiful in all the world."

—Father Font, March 28, 1776
Exploring the Anza Trail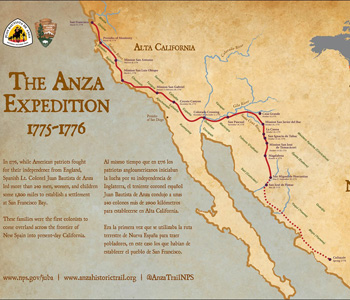 (click for larger map)
In 1990, Congress established the Juan Bautista de Anza National Historic Trail as a part of the National Trails System. The 1200-mile trail in the United States traverses from Nogales, AZ to San Francisco, CA. There is another 600 miles of the historic corridor in Mexico. The trail traces the route of the 1775-1776 Anza Expedition as closely as possible. Portions of the trail can be explored by car, foot, horse, bicycle, or train.
Historic Sites Along the Anza Trail Route
The National Park Service administers the trail through partnership with other federal, state, county, and municipal parks and agencies, local volunteer groups, non-profit organizations, and private landowners. If an area belonging to a private landowner is not open to visitors, permission must be obtained to enter their property.
The auto route approximates the areas where the expedition traveled. Several communities and parks offer recreational opportunities for walking, hiking, horse riding, and bicycling. A variety of historic sites provide experiences related to the Spanish Colonial era. Riders of Amtrak can also follow a section of the trail from Los Angeles to Oakland on the Coast Starlight. At certain times of the year. Trails & Rails guides make presentations on board.
Source: NPS Brochure (2006)
En la víspera de la revolución americana, los españoles procuraron controlar la costa pacífica, de lo que es hoy día los estados unidos, contra la incursión de los británicos y los rusos. Juan Bautista de Anza, un soldado fronterizo de la tercera generación de Nueva España, guió a 198 inmigrantes y sus escoltas y 1000 cabezas de ganado en la primera expedición colonizadora saliendo de Sonora, México y entrando en Alta California. Esta expedición resultó en la fundación del Presidio de San Francisco y las misiones de San Francisco de Asísi (Misión Dolores) y Santa Clara de Asísi.
La expedición de Anza y la ruta establecida está conmemorada por la Ruta Nacional Histórica de Juan Bautista de Anza.
La Expedición de Anza
Historial
Ya para la década de 1770, los españoles habían estado en el nuevo mundo por más de 200 años. Su Imperio incluía lo que es hoy día el oeste de los Estados Unidos, Florida, y las islas Filipinas. Todavía necesitaban asegurar la costa del Pacífico de la influencia de Rusia e Inglaterra. Expediciones dirigidas por Gaspar de Portóla en 1769 y 1771 solamente crearon colonias pequeñas en Alta California.
Ya para 1773, habían dos presidios y cinco misiones, pero la población española solo era aproximadamente 70 personas.
Para colonizary suplir a Alta California ora difícil: los barcos pequeños que podían hacer el viaje arduo del mar desde San Blas, México, no podían cargar ganado o muchas personas. La ruta por tierra al través de Baja California resultó ser muy peligrosa y difícil para proveer. Para asegurarse de su posesión de Alta California, los españoles necesitaban una nueva ruta portierra empesando en Sonora.
Esta situación impulsó a Juan Bautista de Anza, entre otros, a perseguir abrir tal ruta. Anza fue capitán del presidio real en Tubac, Sonora (ahora el sur de Arizona). En 1774, él probó que una ruta por tierra era posible, financiando su propio viaje de exploración con éxito. Planeando su regreso con emigrantes y una manada de ganado, él delineó aguajes y pastos y estableció contacto con las tribus indígenas mediante la ruta.
La Expedición Colonizadora
En 1775, el virrey de Nueva España autorizó al Capitán Anza a comandar una expedición para escoltar soldados y sus familias para ocupar y colonizar el puerto de San Francisco. Anza comenzó a reclutar volunt, irios en la ciudad grande de Cullacán, donde gente pobre serían más disponibles para aceptar el rigor de un viaje arduo y empezar una vida nueva. Los reclutas se congregaron en el presidio de San Miguel de Horcasitas, la capital provincial de Sonora. Anza escogió como su teniente a José Joaquín Moraga. El Fraile Pedro Font, un misionero Franciscano, fue escogido como capellán de la expedición por su habilidad de leer latitudes.
El área final para congregar era Tubac. Los Apache habían corrido la caballada entera de 500 caballos tres semanas antes déla llegada de la expedición, forzándola a continuar sin monturas frescas. La comida incluía seis toneladas de harina, frijoles, harina de maíz, azúcar y chocolate que sería cargada y descargada de las muías cada día. Materiales, desde calderas para cocinar a hierros para herraduras para los caballos y las muías, añadían más tonelaje. Ll comandante y sus siervos tenían una tienda de campaña así como el Padre Font y sus asistentes. Las familias, vaqueros, arrieros, y soldados compartían diez tiendas de campaña entre ellos.
Mas de 240 personas salieron desde Tubac el 23 de octubre de 1775. El grupo sufrió su única muerte por el camino la primera noche, cuando María Manuela Piñuelas murió de complicaciones después de su parto. Su hijo vivió. Dos niños mas, que nacieron por el camino, subió el numero total de emigrantes a 198. De estos, más de la mitad eran niños de doce años de edad y menos.
La expedición continúa siguiendo al Río Santa Cruz a su unión con el Río Gila. Mientras la expedición campaba, Anza, Font, y algunos soldados visitaron a Casa Grande, ya conocido como un solar anciano indio. Siguieron al Río Gila al Río Colorado con un nacimiento ocurriendo durante el camino. Fueron ayudado en el cruzar del Río Colorado porOlleyquotequiebe (Salvador Palma), el jefe de los Yuma (Quechan), y su tribu quienes le habían dado asistencia a Anza en su viaje exploratorio de 1774.
La jornada se hizo más difícil según la ruta seguía al sudoeste entre los montéenlos de arena y los desertes del sudeste de California. Anza dividió la expedición en tres grupos, cada uno viajando un día aparte para dejar los pozos de agua rellenarse.
Se reorganizaron cerca de loqueos hoy el Parque Estatal del Desierto Anza-Borrego. Le dieron la bienvenida a otro nacimiento en la Noche Buena y llegaron al asilo de la misión San Gabriel Arcángel el 4 de enero de 1776. Desde allí, siguieron caminos conocidos pasando por numerosas aldeas indias a lo largo de la costa de California. visitando las misiones de San Luís Obispo de Tolosa y San Antonio de Padúa, Ilegando a Monterey y la misión cercana, San Carlos Borromeo de Carmelo, el 10 de marzo.
Entonces Anza tomó un grupo de exploración para inspeccionar la Bahía de San Francisco donde el escogió los lugares para el presidio y la misión. Siguiendo órdenes para explorar el "Río de San Francisco," viajó al lado este de la Bahía de San Fiancisco antes de doblar hacía el sur para regiesar a Monterey.
El 14 de abril de 1776, Anza salió de Monterey para la Ciudad de México y luego recibió un apuntamiento como gobernador de Nuevo México. En junio el teniente Moraga trajo a los colonizadores a la Bahía de San Francisco, a construir el presidio y fundar la misión.
El Significado
Anza había exitosamente abierto una ruta por tierra de inmigración y provisiones desde Sonora a las misiones y colonizaciones de Alta California. El confirmó que la Bahía de San Francisco era un gran puerto. Los soldados y familias que Anza escoltó, trajeron su idioma, costumbres, tradiciones y cultura diversa hispánica del Nuevo Mundo. Los españoles cuidadosamente anotaron la filiación de todos los soldados y colonizadores como español, mulato, o mestizo. La mayoría de los miembros de la expedición nacieron en este continente y tenían parentesco mezclado europeo, africano, o indio. Estas influencias cambiaron las vidas de la gente indígena y moldó el desarrollo de Arizona y California.
La ruta que Anza abrió suplió las coionizaciones de Alta California durante suficiente tiempo para que se establecieran. En 1781, los Yuma se rebelaron contra la autoridad española y cerraron la ruta durante el resto de la época colonial española. Años después, la ruta de Anza le serviría al militar, colonizadores, ganaderos, mineros, y viajeros del desierto.
Descubriendo la Ruta de Anza
En 1990, el Congreso reconoció el significado de las expediciones de Anza estableciendo la Ruta Nacional Histórica de Juan Bautista de Anza.
El Departamento del Interior del Servicio Nacional de Parques (SNP), administra la Ruta de Anza en una asociación pública/privada. El SNP guía la preservación, desarrollo, y el placer de la ruta mediante asistencia técnica y apoyo financiero limitado. El mantenimiento de los recursos de la ruta y derechos de camino permanece con los dueños de la tierra individualmente, grupos sin beneficios, y agencias federales, estatales y locales.
Actividades que se planean incluirán marcando una ruta de viaje para autos, identificando una vereda recreacional; conduciendo investigaciones arqueológicas e históricas; proveyendo protección de los recursos; desarrollando letreros educacionales, folletos de ruta, guías del viajero, y otras publicaciones; y trabajando con museos para interpretar la historia de la ruta de Anza. Varios grupos locales en Arizona y California conducen celebraciones anuales para conmemorar las fechas que la expedición de Anza pasó por sus áreas.
Aprenda más sobre el cuento interesante de Juan Bautista de Anza visitando los varios lugares a lo largo de la ruta. Hoy día, se puede disfrutar de segmentos completos de la vereda en excursión o montado en caballo paseando a lo largo de la ruta de Anza entre ef Parque Nacional Histórico de Tumacácorí y el Parque Estatal Histórico del Presidio de Tubac en Arizona, o en el Parque Estatal del Desierto Anza-Borrego en California. El cuento de las expediciones de Anza también están relatadas en el Monumento Nacional de las Ruinas de Casa Grande, Misión San Gabriel, El Presidio de San Francisco, y en otros lugares mediante el camino que ya reconocen las hazañas de Juan Bautista de Anza.
Lugares en la Ruta
Los lugares federales siguientes son componentes de la Ruta Histórica Nacional de Juan Bautista de Anza:
Tumacácorí National Historic Park
P.O. Box 67
Tumacacori, AZ 85640

Casa Grande Ruins National Monument
1100 Ruins Drive
Coolldge, AZ 85228

Painted Rocks
Bureau of Land Management
Phoenix District
Lower Gila Resource Area
2105 Deer Valley Road
Phoenix, AZ 85027

Antelope Hill
Bureau of Land Management
Yuma District
3150 Winsor Avenue
Yuma. AZ 85764

Yuma Area Office
7301 Calle Agua Salada
Yuma, AZ 85364

San Felipe Creek National Natural Landmark
Bureau of Land Management
El Centro Resource Area
1661 South 4th Street
El Centro, CA 92243

Bautista Canyon Road
San Bernardino National Forest
1824 S. Commercenter Circle
San Bernardino. CA 92408

Santa Monica Mountains National Recreation Area
30401 Agoura Road, Suite 100
Agoura Hills, CA 91301

Channel Islands NP Visitor Center
1901 Spinnaker Drive
Ventura, CA 93001

Fort Ord Public Lands
Bureau of Land Management
20 Hamilton Court Court
Holllster. CA 95023

Presidio oí San Francisco
San Francisco, CA 94i29

San Francisco Bay National Wildlife Refuge
US Fish and Wildlife Service
1 Marshlands Road
Fremont, CA 94536

Vicente Martinez Adobe
John Muir National Historic Site
4202 Alhambra Avenue
Martinez, CA 94553
Certificación
Otros lugares
Lugares históricos que no son federales, segmentos de la ruta, y establecimientos educacionales se harán parte de la Ruta Nacional Histórica de Juan Bautista de Anza mediante certificación — un proceso voluntario en que un dueño o gerente se pone de acuerdo adherirse a las normas del Servicio Nacional de Parques pare preservación de los recursos y gozo público. El símbolo oficial de la Ruta Anza será usado solamente en localidades certificadas.
Muchos parques de los estados, condados, y ciudades, y misiones privadas a lo largo del camino preservan recursos históricos y ya podrán reconocer la Ruta Anza. Información será disponible en museos de los estados, condados, y ciudades, cámaras de comercio, y centros de Información turísticos.
Necesitamos Su Asistencia
La Ruta Nacional Histórica de Juan Bautista de Anza solo puede tener éxito con el esfuerzo y dedicación de los voluntarios, oficiales públicos, y dueños de tierra privada que quieren preservar los recursos y derechos de camino de la ruta y traer el cuento al ojo público. Reconocimiento de la Ruta Anza puede asistir a los esfuerzos de la comunidad para preservación y educación histórica, campos históricos, y otros planes para recreación pública. Heritage Trails Fund/Amigos de Anza y Anza Trail Coalition of Arizona son grupos sin beneficio que promulgan conocimiento y apreciación de la Ruta Anza. Usted puede asistirnos en el desarrollo de la Ruta Anza uniéndose o apoyando una de esta organizaciones, sociedades históricas estatales o locales, u otros grupos que promulgan o asisten con la Ruta Nacional Histórica de Juan Bautista de Anza. Dueños de tierra y gerentes de establecimientos pueden proceder certificación de sus solares o segmentos de la ruta para adelantar uso público y protección de los recursos de los caminos. Protección permanente de estos recursos puede lograrse por donaciones de terreno o derechos a fiadores de tierra, u otros grupos apropiados. Contribuciones financieras pueden apoyar programas de la ruta. Donaciones de dinero, tierra, o derechos de camino pueden calificar como regalos deducibles de impuestos.
Source: NPS Brochure (1996)
Establishment

National Millenium Trail — June 26, 1999
Juan Bautista De Anza National Historic Trail — August 15, 1990



For More Information
Please Visit The

OFFICIAL NPS
WEBSITE
Brochures ◆ Site Bulletins ◆ Trading Cards

Documents
A Guide to the Juan Bautista de Anza National Historic Trail (Greg Bernal-Mendoza Smestad, extract from Antepasados, Vol. XI, 2005; no commercial use permitted)
Alternatives Study, Juan Bautista De Anza National Trail Study (January/March 1985)
Comprehensive Management and Use Plan, Final Environmental Impact Statement, Juan Bautista de Anza National Historic Trail (April 1996)
Long Range Interpretive Plan, The Juan Bautista De Anza National Historic Trail (2003)
Newsletter (Noticias de Anza):
1992: May (Vol. 1 No. 1) • September (Vol. 1 No. 2) • December (Vol. 1 No. 3)
1993: March (Vol. 2 No. 1) • July (Vol. 2 No. 2)
1994: January (Vol. 3 No. 1) • June (Vol. 3 No. 2) • December (Vol. 3 No. 3)
1996: September (No. 9)
1997: September (No. 10)
1998: November (No. 11)
1999: October (No. 12)
2000: July (No. 13)
2001: March (No. 14)
2002: January (No. 15) • April (No. 16) • July (No. 17) • October (No. 18)
2003: January (No. 19) • April (No. 20) • July (No. 21) • October (No. 22)
2004: January (No. 23) • April (No. 24) • July (No. 25) • October (No. 26)
2005: March (No. 27) • October (No. 28)
2006: May (No. 29) • July (No. 30) • October (No. 31)
2007: January (No. 32) • April (No. 33) • July (No. 34) • October (No. 35)
2008: January (No. 36) • April (No. 37) • July (No. 38) • October (No. 39)
2009: January (No. 40) • April (No. 41) • October (No. 42)
2010: January (No. 43) • April (No. 44) • July (No. 45) • October (No. 46)
2011: April (No. 47) • July (No. 48) • October (No. 49)
2012: January (No. 50) • April (No. 51) • July (No. 52) • October (No. 53)
2013: January (No. 54) • April (No. 55) • July (No. 56) • October (No. 57)
2014: January (No. 58) • April (No. 59) • July (No. 60) • October (No. 61)
2015: January (No. 62) • April (No. 63) • Summer (No. 63)
2016: Spring (No. 65)
Handbooks ◆ Books

Videos