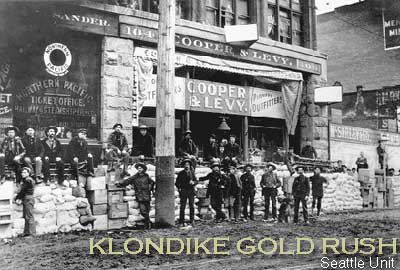 Seattle's Stake in the
Klondike Gold Rush
A 3rd - 6th grade Integrated Curriculum
May 12, 2005
Dear Educators;
We are pleased to offer you "Seattle's Stake in the Klondike Gold Rush", a 3rd - 6th grade integrated (and very interactive) curriculum. Made possible by a generous grant from 4 Culture (formerly Cultural Development Authority of King County), this curriculum is a collaborative effort of Lakeridge Elementary School and Klondike Gold Rush National Historical Park.
The Klondike Gold Rush, known as "The Last Grand Adventure", was a key event in the economic development of Seattle and the Puget Sound. In 1897, seventy thousand stampeders would head for Seattle to equip themselves with a year's worth of food, clothing, and equipment so that they could live in the Yukon Territory of Canada as they sought their fortunes. "Seattle's Stake in the Klondike Gold Rush" appeals to a wide range of learning styles and meets many Washington Essential Academic Learning Requirements. The lesson plans make use of writing skills, reading, math, art, and physical education.
"Seattle's Stake in the Klondike Gold Rush" can be adapted upwards to meet middle school requirements.
Supplement your in-school program with a visit to Klondike Gold Rush National Historical Park in the Pioneer Square Historic District. We at the park are excited to announce the move to our new location at the Cadillace Hotel, located at the corner of 2nd and Jackson Avenue in Pioneer Square. Our new address is 319 2nd Avenue South, Seattle, WA, 98104. Our new phone number is (206) 220-4240. The move will occur in September of 2005. (At this time we do not have a set date for the move). We will definitely be moved into the new facility in time for school group visits in Fall 2005.
Contact: Park Staff,
(206) 553-7220