MOUNT RAINIER NATIONAL PARK
---
THE FROZEN OCTOPUS

ROM the Cascade Mountains in Washington rises a series of volcanoes which once blazed across the sea like giant beacons. To-day, their fires quenched, they suggest a stalwart hand of Knights of the Ages, helmeted in snow, armored in ice, standing at parade upon a carpet patterned gorgeously in wild flowers.
Easily chief of this knightly band is Mount Rainier, a giant towering 14,408 feet above tide-water in Puget Sound. Home-bound sailors far at sea mend their courses from his silver summit.
This mountain has a glacier system far exceeding in size and impressive beauty that of any other in the United States. From its snow-covered summit twenty-eight rivers of ice pour slowly down its sides. Seen upon the map, as if from an aeroplane, one thinks of it as an enormous frozen octopus stretching icy tentacles down upon every side among the rich gardens of wild flowers and splendid forests of firs and cedars below.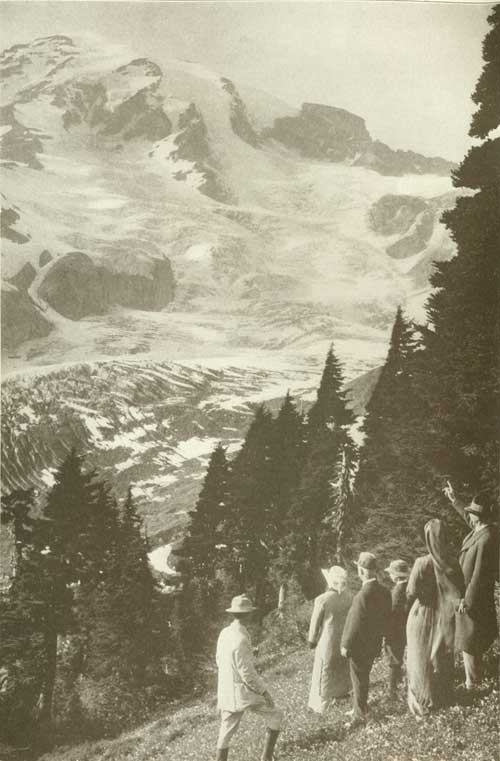 A RIPPLING RIVER OF ICE 1,000 FEET THICK FLOWING FROM THE SHINING SUMMIT
Looking from a wild-flower slope down upon the celebrated Nisqually Glacier and up at Columbia Crest
Photograph by Curtis & Miller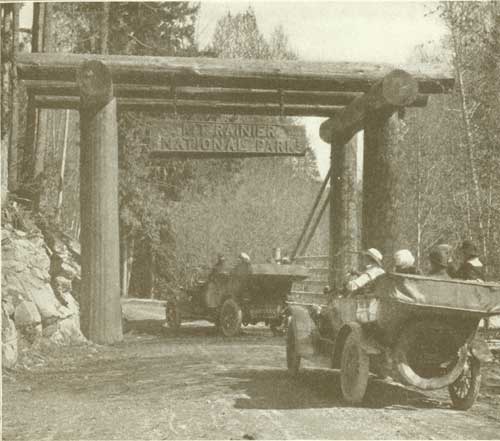 ENTRANCE TO MOUNT RAINIER NATIONAL PARK
Photograph by Curtis & Miller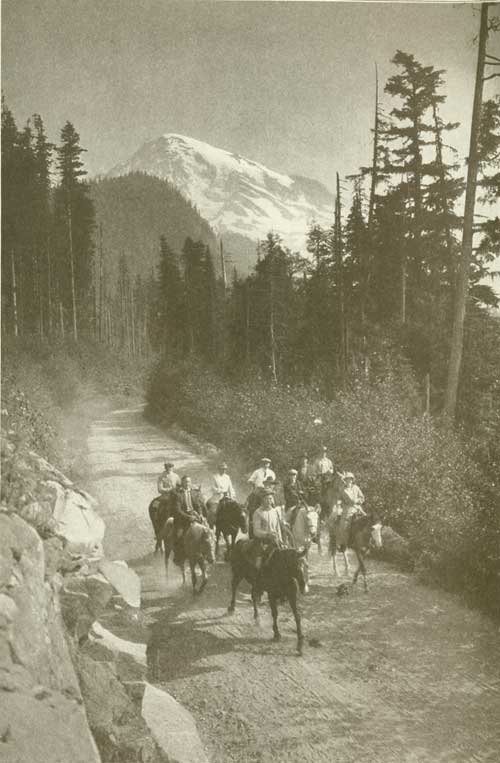 ABOVE EVERY CURVE OF THE PARADISE ROAD LOOMS THE GREAT WHITE MOUNTAIN
Photograph by Curtis & Miller
FROM UNDER THE SHADOWY FIRS OF VAN TRUMP PARK IT GLISTENS STARTINGLY
Photograph by Curtis & Miller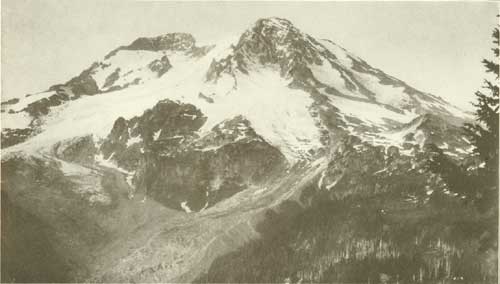 THE TWO TAHOMA GLACIERS MAY BE SEEN THROUGH THEIR WHOLE COURSES FROM INDIAN HENRY'S HUNTING GROUND
The Tahoma, on the left, begins at the summit; the South Tahoma begins in the cirque just below Point Success, the highest point shown in the picture; they circle in opposite directions around rocky Glacier Island and join in the foreground
Photograph by Curtis & Miller
EVERYWHERE, BETWEEN AND TOUCHING THE ICY GLACIER FINGERS, ARE GORGEOUS GARDENS OF LUXURIANT WILD FLOWERS
"As if Nature," writes John Muir, "glad to make an open space between woods so dense and ice so deep, were economizing the precious ground"
Photograph by Curtis & Miller
---
---
yard1/mora1.htm
Last Updated: 30-Oct-2009