Lying a few miles off the south Texas coast, Padre Island National Seashore protects the world's longest undeveloped stretch of barrier island. It embraces 70 miles of sand-and-shell beaches, windswept dunes, endless grasslands, tidal flats teeming with life, and warm near-shore waters. The nation's prime nesting beach for endangered Kemp's ridley sea turtles, it is also globally important for migrating birds.
Throughout this coastal wilderness you can enjoy the riches of relaxation and recreation. Padre Island's sun, sand, and surf are ideal for swimming and sunbathing almost year-round. If you enjoy fishing, you can choose between the Gulf of Mexico and the shallow, extremely salty waters of the Laguna Madre—one of only six hypersaline lagoons in the world. The Gulf beaches provide boundless opportunities for beachcombing. Campers awaken to the sights and sounds of the surf and shorebirds. Those who seek solitude in nature can drive along portions of the beach to reach remote camping and fishing locations.
Visitors with a passion for history can explore Padre Island's cultural heritage of Native American settlements, Spanish explorations and shipwrecks, and even use as a US Navy bombing range. In the 1800s, people in one coastal community struggled to survive by ranching, harvesting salt from the Laguna Madre, and building their homes from the remains of ships and cargoes that washed up on the beach.
However you choose to spend your time, you can experience and discover your own connections when you find your national park on Padre Island.
PROFILE OF A BARRIER ISLAND
Padre Island is one of a chain of islands that stretch along the Atlantic and Gulf coasts of the United States from Maine to Texas. Called barrier islands, they protect the mainland from the direct onslaught of storm tides. On many of these low-lying islands humans have left their mark: homes, lighthouses, fishing villages, vacation resorts. But on Padre Island, Nature's hand is most evident.
Here you can witness change wrought by gentle breezes, relentlessly crashing waves, rhythmic tides, violent tropical storms, and hurricanes. These natural sculptors shape and reshape the island's many environments—beaches, dunes, grasslands, and tidal flats. Waves deposit new seashells, storms cut new channels, and winds pick up and move sand in an endless cycle. The entire island slowly moves toward the mainland as winds and storms shift sand to its west side.
In this landscape of change, Padre Island's plants and animals are adapted to survive and even thrive. Railroad vines can push up through eight inches of blowing sand per day to stay on the surface. Dunes, once held in place by plants, can grow to heights of 50 feet if the plants aren't destroyed. A particularly fierce storm can damage dunes. So can people, when they trample or drive over the grasses. You can help preserve the dunes and the plants that hold them by treading softly.
Among the flourishing wildlife are birds that live here year-round or visit seasonally. Laughing gulls circle overhead and sandpipers probe for crustaceans on the beach. White-tailed hawks soar and sandhill cranes rattle as they strut through tall grasslands. Rare piping plovers forage and white pelicans float gracefully along the Laguna Madre. Around 380 bird species—almost 45 percent of all those in North America—have been recorded here.
Many other animals inhabit the island. Coyotes, white-tailed deer, black-tailed jackrabbits, lizards, and Western diamondback rattlesnakes live in the dunes and grasslands. Ghost crabs and ghost shrimp thrive in the intertidal zone. Five sea turtle species live in the Gulf, and three of them nest here. The Gulf's offshore waters and the Laguna Madre, a fertile nursery for saltwater fish, are rich in underwater life.
Constant change and rich natural resources define Padre Island National Seashore. Come here to explore and enjoy the world of the barrier island.
BEACH WATCH
Saving Endangered Sea Turtles
Since 1978 Padre Island National Seashore has worked with other agencies in the United States and Mexico to bring the Kemp's ridley sea turtle back from the brink of extinction. About 60% of the Kemp's ridley nests found in the US are located on North Padre Island, and after many years of conservation nesting increased in Texas and Mexico. Researchers remove Kemp's ridley and other sea turtle eggs from the nest site into protected care. Later, the hatchlings are released on the beach and guarded as they enter the surf. As a result, thousands of baby sea turtles have had a chance at life.
Stay alert during turtle nesting season, March to September. If driving, proceed carefully—these turtles blend in with the sand and often nest in the beach roadway. They are unable to move for an approaching vehicle. If you see a nesting mother, protect her from passing traffic, but remain in your vehicle or at least 20 feet behind her until she has dug her nest and laid a few eggs. You may then approach close enough to see if she has a metal tag on her flipper. Note the number on the tag. Mark the nest with material found nearby on the beach but do not push objects in the sand to mark the nest; this can damage the eggs. If possible take photos or video. Do not touch or restrain the mother turtle. Report the sighting immediately to a sea turtle patroller; or call the sea turtle researcher.
Most hatchling releases take place between May and August. Each year several are open to the public at no charge. Call the 24-hour Hatchling Hotline for the date and location of the next release. Releases are usually held at dawn.
ACTIVITIES ASHORE AND AFLOAT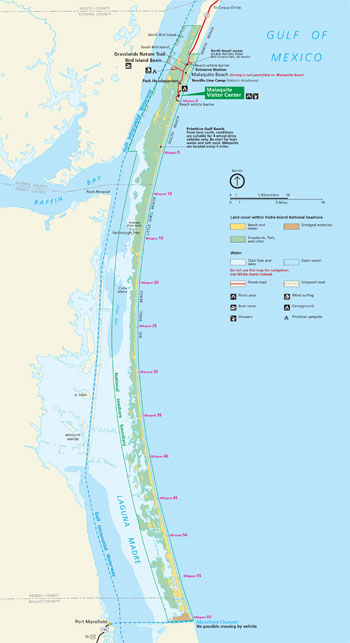 (click for larger map)
One way to see Padre Island's sights is to drive its scenic roads and sandy beaches. A 5.5-mile paved entrance road is accessible to all vehicles. You can usually access North Beach and the first five miles of South Beach with 2-wheel drive, but sometimes 4-wheel drive is required.
South Beach includes 60 miles of beach open to driving. Anyone traveling south of Milepost 5 should use a 4-wheel drive vehicle. Loose, shifting sand and marine debris can make the going tough. Carry emergency supplies and be prepared for an extended stay if you become stranded. Cell phone reception is poor to nonexistent.
Before starting your first 4-wheel-drive trip on the island, ask a park ranger what to expect. All dunes, grasslands, tidal flats, and the Malaquite Beach area are off-limits to vehicles. Sounds of the surf may drown out the noise of your engine; be careful when you approach others. Obey posted speed limits (15 mph on beaches unless otherwise noted). Vehicles must display a valid state license plate and safety inspection sticker. All-terrain vehicles (ATVs) are prohibited in the park.
Hiking offers another way to explore. Grasslands Nature Trail, a 0.75 mile paved, accessible loop, winds through grassland and dune habitats. Grab a guide at the trailhead, bring insect repellent, watch for rattlesnakes, and stick to the trail. Beach hiking can be slow but rewarding, especially if you like natural solitude, beachcombing or bird watching.
Birders can spot some of Padre Island's 380-plus bird species. Beachcombers can collect shells and other natural treasures, but must leave live animals and cultural or archaeological objects where found. Summer mornings, winter and spring days at low tide, and after a storm are the best beachcombing times. Metal detectors are prohibited.
Except from January through March, the hot Texas sun and the Gulf's warm waters make this an ideal place to swim and sunbathe along the beaches. No lifeguards are present. Never enter the water alone. Beware of dangerous currents, undertows, Portuguese man-of-war, and stingrays. Surfing is not permitted at Malaquite Beach.
Enjoy the water also by boating and windsurfing in the Laguna Madre. Small power or fishing boats, sailboats, and other small watercraft can navigate the bay's shallow waters. Launch or use of Jet Skis© and similar personal watercraft is not allowed in the park. Find the primary boat launch ramp at Bird Island Basin. You may launch inflatable boats up to 12 feet long into the Gulf at any location south of Milepost 5 on South Beach. Boaters should carry nautical charts and stay aware of weather and other boaters.
Fishing is an all-season sport on Padre Island. Catch redfish, speckled sea trout, black drum, and whiting in the Gulf. Pull in sheepshead, croaker, and flounder in the Laguna Madre. A Texas state fishing license with a saltwater stamp is required.
Camp and picnic year-round. Malaquite Campground, a developed campground for tent and RV camping, overlooks the Gulf. Bird Island Basin Campground offers tent and RV camping along the Laguna Madre. Primitive camping is allowed on North and South Beaches.
Campfires are permitted on park beaches; fire pans are required at Bird Island Basin and Malaquite campgrounds. Control your campfires. Keep them well away from dunes and grasslands. Douse fires thoroughly with water and bury the remains.
Picnic at shaded tables in the Malaquite Beach area, or simply spread out a blanket on the beach.
All pets must be leashed and under your control. Pets are permitted everywhere except on the visitor center deck and the beach directly in front of the visitor center. Pet owners can access the adjacent beaches using trails on either side of the visitor center.
SEASHORE SITES AND SERVICES
Fees are charged for entering the park, camping in the Malaquite Beach Campground, and using Bird Island Basin. Camping is limited to 14 days at one time and 56 calendar days per year. After each 14-day stay, you must remove all camping equipment and vehicles from the park for at least 48 hours before returning. You must get a permit for primitive camping; find self-service kiosks at entrances to South and North beaches and Bird Island Basin.
Malaquite Pavilion is the center for visitor services. The visitor center has an information desk, bookstore, exhibits, a first-aid station, and beach wheelchairs. The pavilion also has picnic tables, an auditorium, two observation decks, restrooms, and cold rinse-off showers. The camp store sells supplies, sandwiches, snacks, drinks, bait, fishing tackle, ice, t-shirts, and souvenirs. The visitor center is open daily except December 25. It has schedules of park programs, special events, and beach cleanups. Pets (leashed) are permitted everywhere in the park except Malaquite Pavilion and the beach directly in front of the pavilion.
Malaquite Campground is 100 yards from the Gulf. It has 42 sites suitable for RVs, 6 for compact vehicles, and 25 for tents. No hookups. The water-filling station and sanitary dump station are just outside the entrance. Rangers present evening programs at the amphitheater at the campground's north end, seasonally. Check the campground bulletin board or at the visitor center for information. The campground is open year-round and is first-come, first-served (no reservations). During most of the year plenty of space is available.
Park Headquarters has administrative and maintenance facilities; no public services.
Bird Island Basin, with its shallow, warm water and nearly constant breeze, is one of the nation's top areas for windsurfing. Kayaking and windsurfing equipment rentals and lessons are available. Bird Island Basin also has the park's primary boat launch ramp into the Laguna Madre. Primitive camping is available.
Yarborough Pass is a good area for wade fishing and birding. Launch inflatable boats into the Laguna Madre from here.
South Beach is a remote, natural beach 60 miles long. Open to driving, its first 5 miles are normally suitable for 2-wheel-drive vehicles. South of Milepost 5, 4-wheel-drive is required on this primitive Gulf beach.
Climate Average summer temperatures range from lows in the 70s°F to highs in the upper 80s and lower 90s°F. Winter lows are commonly in the 40s and 50s°F with highs in the 60s°F. In spring and fall, average lows are in the 50s and 60s°F; average highs are in the 70s and 80s°F. High humidity and breezy conditions are common year-round. Hurricane season lasts from June through November.
Shoreline Trash Most refuse on beaches is washed in by Gulf currents. Both park staff and the general public participate in beach cleanups. For information or to volunteer, contact the Malaquite Visitor Center.
Accessibility We strive to make our facilities, services, and programs accessible to all; call or check our website.
Firearms For firearms regulations check the park website.
Emergencies call 911
Corpus Christi and other area communities have many visitor services, some not available in the park—lodging, gas stations, restaurants, fishing tackle and bait shops. Padre Balli County and Mustang Island State parks have campgrounds with hookups. At Padre Balli you can also fish at the popular Bob Hall Pier. Observe bird life at Aransas National Wildlife Refuge (scenic drive and trails) or Laguna Atascosa National Wildlife Refuge. For more information call the Corpus Christi Convention and Visitors Bureau.
Source: NPS Brochure (2015)
Establishment

Padre Island National Seashore — Sept. 28, 1962



For More Information
Please Visit The

OFFICIAL NPS
WEBSITE
Brochures ◆ Site Bulletins ◆ Trading Cards

Documents
A Guide to the Geology, Natural Environments, and History of a Texas Barrier Island, Padre Island National Seashore (Bonnie R. Weise and William A. White, 1980)
A Summary of Biological Inventory Data Collected at Padre Island National Seashore: Vertebrate and Vascular Plant Inventories NPS Natural Resource Technical Report NPS/GULN/NRTR-2010/402 (November 2010)
An Administrative History, Padre Island National Seashore (HTML edition) (W. Dwayne Jones, 1999)
An Assessment of the Archeological Resources of Padre Island National Seashore] (Dan Scurlock, Warren M. Lynn and R. Thomas Ray, June 1974)
Assessment of Coastal Water Resources and Watershed Conditions at Padre Island National Seashore, Texas NPS Natural Resource Technical Report NPS/NRWRD/NRTR-2004/323 (Kim Withers, Elizabeth Smith, Olivia Gomez and John Wood, December 2004)
Coastal Hazards & Sea-Level Rise Asset Vulnerability Assessment, Padre Island National Seashore (Western Carolina University, July 2017)
Coastal Vulnerability Assessment of Padre Island National Seashore (PAIS) to Sea-Level Rise USGS Open-File Report 2004-1090 (Elizabeth A. Pendleton, E. Robert Thieler, S. Jeffress Williams and Rebecca L. Beavers, 2004)
Draft General Management Plan/Development Concept Plan and Environmental Assessment, Padre Island National Seashore Texas (November 1981)
Foundation Document, Padre Island National Seashore, Texas (January 2016)
Foundation Document Overview, Padre Island National Seashore, Texas (January 2016)
Geologic Resources Inventory Report, Padre Island National Seashore NPS Natural Resource Report NPS/NRPC/GRD/NRR-2010/246 (K. KellerLynn, September 2010)
Historic Resource Study: Padre Island National Seashore (HTML edition) (James W. Sheire, August 1971)
Historic Structure Report: Novillo Line Camp, Padre Island National Seashore (October 1979)
Interpretive Prospectus, Padre Island National Seashore, Texas (1975)
Kemp's Ridley Sea Turtle Project
1981 Kemp's Ridley Turtle Restoration and Enhancement: National Park Service Involvement (1981)
1982 Report, Kemp's Ridley Sea Turtle Restoration and Enhancement Project: Incubation and Imprinting Phase (Robert King, Anne Anderson, Donna Shaver and Pamela Plotkin, 1982)
1983 Report, Kemp's Ridley Sea Turtle Restoration and Enhancement Project: Incubation and Imprinting Phase (Robert King, Anne Anderson, Donna Shaver and Pamela Plotkin, 1983)
1984 Report, Kemp's Ridley Sea Turtle Restoration and Enhancement Project: Incubation and Imprinting Phase (Robert King, Anne Anderson, Donna Shaver and Kelly Phillips, 1984)
1988 Report, Kemp's Ridley Sea Turtle Restoration and Enhancement Project: Incubation and Imprinting Phase (Donna J. Shaver, Pamela Plotkin, Ann Neville and Kirsten Brennan, 1986)
Padre Island National Seashore Kemp's Ridley Sea Turtle Project: 1989 Report (Donna J. Shaver, September 1989)
Padre Island National Seashore Kemp's Ridley Sea Turtle Project: 1990 Report (Donna J. Shaver, September 1990)
Padre Island National Seashore Kemp's Ridley Sea Turtle Project: 1991 Report (Donna J. Shaver, September 1991)
Padre Island National Seashore Kemp's Ridley Sea Turtle Project: 1992 Report (Donna J. Shaver, November 1992)
Padre Island National Seashore Kemp's Ridley Sea Turtle Project and Texas Sea Turtle Strandings: 1998 Report (Donna J. Shaver, February 1999)
Padre Island National Seashore Kemp's Ridley Sea Turtle Project and Texas Sea Turtle Nesting and Stranding: 1999 Report (Donna J. Shaver, March 2000)
Kemp's Ridley Sea Turtle Project at Padre Island National Seashore and Texas Sea Turtle Nesting and Stranding: 2001 Report (Donna J. Shaver, January 2002)
Kemp's Ridley Sea Turtle Project at Padre Island National Seashore and Texas Sea Turtle Nesting and Stranding: 2002 Report (Donna J. Shaver, September 2004)
Monitoring Shoreline Position at Gulf Coast Network Parks: Data Quality Standards NPS Natural Resource Report NPS/GULN/NRR-2017/1502 (Jeff Bracewell, August 2017)
National Register of Historic Places Nomination Form
Dunn Ranch / Novillo Line Camp (David G. Battle and Richard W. Sellars, February 1974)
Natural Resource Condition Assessment, Padre Island National Seashore NPS Natural Resource Report NPS/PAIS/NRR-2014/747 (Shann Amberg, Andy Nadeau, Kathy Kilkus, Sarah Gardner and Barry Drazkowski, January 2014)
Oil and Gas Management Plan Environmental Impact Statement, Padre Island National Seashore (Draft, February 1999)
Park Newspaper (The Gulf Breeze/Padre Post): 2005 • Spring 2006 • Fall 2006 • Spring 2007 • Fall 2007 • Spring 2008 • Fall 2008 • Summer 2009 • Fall 2009 • Summer 2010 • 2011 • 2012 • 2013 • 2014 • Winter 2014-2015 • 2015 • 2016 • 2017
Protecting the National Parks in Texas Through Enforcement of Water Quality Standards: an Exploratory Analysis NPS Technical Report NPS/NRWRD/NRTR-94/18 (Ronald A. Kaiser, Steven E. Alexander and J. Porter Hammitt, November 1994)
Review of the Sea Turtle Science and Recovery Program, Padre Island National Seashore (2021)
Simple Techniques for Assessing Impacts of Oil and Gas Operations on Public Lands: A Field Evaluation of a Photoionization Detector (PID) at a Condensate Release Site, Padre Island National Seashore USGS Open-File Report 2001-183 (James K. Otton and Robert A. Zielinski, 2001)
Topobathymetry Map of Padre Island National Seashore, Texas (March 2022)
Handbooks ◆ Books

Videos