What is Piscataway Park?
It's where land meets water and present meets past along the tidal Potomac River in one of the nation's earliest public-private preservation achievements.
Piscataway Park is home-grown. In the 1950s local residents saw that encroaching development threatened the natural beauty across the river from George Washington's Mount Vernon. Alice Ferguson, Frances Payne Bolton, and others laid the groundwork for a new kind of park where open space is protected and enjoyed by the public.
Established in 1961, Piscataway Park today covers some 5,000 acres and stretches for six miles along the river from Piscataway Creek to Marshall Hall. The National Park Service, Alice Ferguson Foundation, Accokeek Foundation, local and state agencies, and many citizens work together to ensure that tranquil scenery, wildlife habitat, and park goers can coexist.
Piscataway Park is Green Space
George Washington said of his beloved Mount Vernon, "No estate in United America is more pleasantly situated than this." Today the serene green of the Maryland shoreline across the Potomac River looks much as it did in Washington's time, thanks to Piscataway Park.
Wetlands, woods, meadows, and streams—remnants of old Prince George's County—are reached by back roads, trails, boardwalks, and waterways. With varied habitats in a relatively small area, Piscataway is ideal for birding. In open areas look for colorful songbirds and bald eagles, which nest along the river. Marshy areas are homes or rest stops for ospreys, great blue herons, mallards, wood ducks, and other waterfowl.
You can sometimes see beavers gliding through the water near their dam. White-tailed deer, raccoons, squirrels, and rabbits are common sights, while red foxes, moles, and shrews tend to stay hidden. Turtles bask on rock "islands" in calm water. Snakes hunt for mice, frogs, and other small prey.
Cast a line for dozens of fish species in the park's creeks, marshes, and river waters. Piscataway Creek is one of the Washington area's premier bass fishing spots. Other catches include blue catfish, hickory shad, longnose gar, black crappie, American eel, pumpkinseed, bluegill, brown bullhead, white perch, yellow perch, and common carp.
Piscataway Park Brings the Past to Life
People have lived on these shores for thousands of years. Piscataway Indians occupied villages from the Anacostia River stretching southward into Charles and St. Mary's counties. Their regional influence continues today in place names like "Potomac" and "Accokeek," land use patterns, and transportation routes. Piscataway people still live in southern Maryland and this park is a sacred part of their homeland. They often gather here to celebrate their heritage and pass on traditions to the next generation.
The Piscataway Indians first encountered Europeans in 1608 when Capt. John Smith's expedition sailed up the Potomac. Soon the Piscataway were conducting business—and sometimes fighting—with the increasing numbers of English traders and settlers. By the 1700s farms and plantations lined the Potomac.
Across the river is Mount Vernon, home of George and Martha Washington. In the southwestern part of the park is Marshall Hall, another 1700s plantation that once covered thousands of acres. You can see the remains of the 1730s manor house, the Marshall family cemetery, and the site of the 1950s-60s amusement park.
Most farmers were not rich—just ordinary folks. The National Colonial Farm, an outdoor living history museum, was established in 1957 to depict the life of typical tobacco planters in the 1770s.
As Washington, D.C., grew in the 20th century, so did Prince George's County. Yet, thanks to the local citizens who pushed to establish this park, you can connect with the past in this rural refuge.
Your Day at Piscataway Park
National Colonial Farm and Ecosystem Farm
This reconstructed 1770s farmstead shows what life was like for typical southern Maryland tobacco planters. Explore the dwelling, tobacco barn, smokehouse, kitchen, and crop fields. Historic varieties of field crops like Orinoco tobacco, Virginia Gourdseed corn, and Red May wheat are grown seasonally and produce heirloom seed stock. Costumed interpreters demonstrate Colonial-era sewing, cooking, spinning, dyeing, candlemaking, gardening, woodworking, and playing games. Look into agriculture's future at the nearby Ecosystem Farm, where farmers practice sustainable use of natural resources. Local residents can buy shares of the Ecosystem Farm's produce. Managed by the Accokeek Foundation. The visitor center is at 3400 Bryan Point Rd., Accokeek, MD 20607; www.accokeek.org.
Hard Bargain Farm
Learn while you have fun! Environmental education programs for elementary and middle school students feature hands-on activities and outdoor investigations. By observing wildlife habitats, students learn to appreciate the ways in which humans and the natural world are interconnected. Several of the buildings use innovative green technology. Not open to the general public; open to school groups by reservation only. Managed by the Alice Ferguson Foundation, 2001 Bryan Point Rd., Accokeek, MD 20607; www.fergusonfoundation.org.
Roads and Trails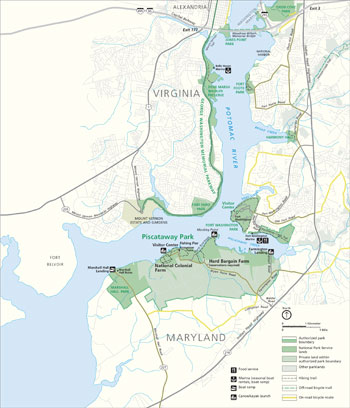 (click for larger map)
Not far from the main highway are back roads for scenic driving or bicycling. The Prince George's County on-road bicycling route passes through the park; the route is shown in yellow on the map below.
Local trails hug the shoreline along Piscataway Creek and the Potomac River. A 0.5-mile boardwalk crosses the marsh east of National Colonial Farm.
On the Water
Be sure to wear a certified life jacket at all times when you're on the water. Swimming in the river and creeks is dangerous and is not recommended.
Farmington Landing on Piscataway Creek is a quiet place to launch small craft. To launch larger boats on a concrete ramp, go to Marshall Hall. Rent canoes or kayaks at the Fort Washington Marina.
There is a fishing pier at National Colonial Farm. A Maryland state fishing license is required for persons 16 and older. For more information visit www.dnr.state.md.us.
More Information
Piscataway Park's grounds are open dawn to dusk every day of the year. Partner sites have their own operating hours and fees; contact individual sites for information. Service animals are welcome in the park.
Our Partners
The Accokeek Foundation, founded in 1957 to preserve the shoreline across from Mount Vernon, operates the National Colonial Farm and the Ecosystem Farm. www.accokeek.org
Established in 1954, the Alice Ferguson Foundation helps foster an appreciation of the natural and cultural heritage of the Potomac watershed.
www.fergusonfoundation.org
For a Safe Visit
Much land within Piscataway Park is privately owned. Respect owners' privacy. • Stay on trails and boardwalks, particularly when near water. • All cultural and natural objects are protected by federal law. Do not damage or remove them. • This is a trash-free park; whatever you carry in, be sure to carry out. • For firearms regulations, visit the park website.
Directions to National Colonial Farm Visitor Center
From I-495: Take Exit 3 to Indian Head Hwy. (Md. Rte. 210 South), go 9.2 miles. Pass Farmington Rd. and take a right at the next stoplight Livingston Rd. (look for B&J Carryout). Drive one block and turn right on Biddle Rd. At the stop sign, turn left on Bryan Point Rd. and follow 3.5 miles to the end. Turn right into the visitor parking lot.
Source: NPS Brochure (2010)
Establishment

Piscataway Park — Oct. 4, 1961



For More Information
Please Visit The

OFFICIAL NPS
WEBSITE
Brochures ◆ Site Bulletins ◆ Trading Cards

Documents
An Annotated List of the Ants (Hymenoptera: Formicidae) Found in Fort Washington and Piscataway National Parks, Maryland (Theodore W. Suman, 2004)
An Annotated List of the Spiders (Arachnida:Araneida) Found in Fort Washington and Piscataway National Parks, Maryland (Theodore W. Suman, 2004)
Biological Inventories at Three National Park Service Sites in the National Capitol Region Final Report (Chris Athanas & Associates, Inc., May 2000)
Foundation Document Overview, Piscataway Park, Maryland (December 2016)
General Historic Background Study, Piscataway Park, Maryland (Anna Coxe Toogood, September 1969)
General Mangement Plan, Piscataway Park, Maryland (September 1983)
Historic Structure Report: Architectural Data Section: Marshall Hall, Piscataway Park, Maryland (Susan Long, January 1983)
Land Use Survey for Piscataway Park (1963)
Natural Resource Condition Assessment, National Capital Parks-East, National Capital Region NPS Natural Resource Report NPS/NACE/NRR-2016/1197 (Brianne M. Walsh, Simon Costanzo, William C. Dennison, J. Patrick Campbell, Mark Lehman, Megan Nortrup, Mikailia Milton and Stephen Syphax, April 2016)
Preservation and Partners: A History of Piscataway Park (Janet A. McDonnell, December 2020)
Handbooks ◆ Books

Videos