"Nothing...can take the place of family life..."

—Theodore Roosevelt at Pacific Theological Seminary, 1911
Theodore Roosevelt—champion of the "strenuous life," larger-than-life hero to millions of Americans, and 26th president of the United States—was born on October 27, 1858, in the original four-story, brownstone townhouse on this site.
"Teedie," as he was known to his family, spent the first 14 years of his life in this house. He was a frail and sickly child, who suffered from severe asthma and other ailments. Physically unable to attend school on a regular basis, Theodore received some tutoring but gained his education primarily on his own by extensive reading. He devoured books on nature, adventure, and history. He learned taxidermy and started what he called the "Roosevelt Museum of Natural History" in his room.
All four of the Roosevelt children—Theodore, Elliott, Anna, and Corinne—were born in the house the family occupied until the fall of 1872. When he was 10, Theodore accompanied his family to Europe, which proved a major ordeal for him because of illness and homesickness. Two years later, as Theodore's health began to improve, his father gave him a warning and a challenge. "You have the mind," he said, "but you haven't got the body. To do all you can with your mind, you must make your body match it." Theodore vowed to improve his health. To help him his father installed gymnasium equipment on the second-floor porch. Here young Theodore, along with many neighborhood youngsters, exercised daily. By the time the family made a second trip to Europe in 1872-73, his health problems no longer interfered with his activities.
After returning from Europe in 1873,the Roosevelts settled into a new home at 6 West 57th Street. The birthplace house remained in the Roosevelt family until 1896. Gradually, however, as the surrounding neighborhood passed from residential to commercial, the house underwent a series of transformations that obliterated its original character. Reconstructed in 1920-23, it was donated to the National Park Service in 1962. The first floor contains the restored parlor, library, and dining room, and a museum gallery. The second floor consists of a refurnished bedroom approximating the one in which Roosevelt was born, the nursery, porch on which Roosevelt's father installed the gymnasium equipment, library, and study. The ground floor has a large exhibit tracing Roosevelt's career.
The Man and the House
Passages in an Active Life
1858 Born October 27 at 28 East 20th Street
1880 Graduates from Harvard; marries Alice Hathaway Lee
1882-1884 Member; New York State Assembly
1882 Publishes Naval War of 1812, first of many books on history, nature, travel, and public affairs
1884 Alice Lee dies February 14
1884-1886 Cattle rancher in Dakota Territory
1886 Unsuccessful candidate for mayor of New York; marries Edith Carow on December 2
1889-1895 Member, U.S. Civil Service Commission
1895-1897 President, New York City Board of Police Commissioners
1897-1898 Assistant secretary of the Navy
1898 Organizes Rough Riders
1898-1901 Governor of New York State
1900 Elected U.S. vice president; becomes president September 14, 1901, upon death of William McKinley
1902 Enforces antitrust laws; begins vigorous conservation program
1904 Elected U.S. president
1905 Mediates Russo-Japanese peace treaty; awarded Nobel Peace Prize
1907 Sends U.S. Navy on voyage around the world
1909 Ends presidential term; embarks on safari
1912 Runs for president on Progressive Party ticket; survives assassination attempt while campaigning in Milwaukee
1913 Leaves for South America
1919 Dies January 6 at Sagamore Hill
The Birthplace House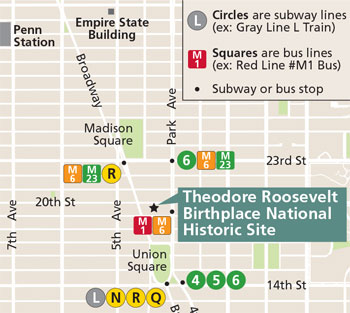 (click for larger map)
The Roosevelt home at 28 East 20th Street was a typical New York brownstone located on what was a quiet tree-lined street in New York's most fashionable residential district. The family lived there until 1872 when Theodore Jr. was 14. Eventually the house was taken over for business purposes. In 1916 it was completely demolished to make way for a two-story commercial building.
After TR's death in 1919 prominent citizens decided to purchase the site, raze the commercial building, and reconstruct Roosevelt's boyhood home as a memorial. The reconstructed birthplace was opened to the public in 1923. In 1963 the Theodore Roosevelt Association donated the site to the National Park Service.
Rooms of the house have been restored to reflect their appearance between 1865 and 1872. Most of the furnishings are from the original house or were provided by family members. Color schemes, layouts, and other room details were provided by TR's sisters and his wife.
Planning your visit
Period rooms can only be seen by park ranger-guided tours. Each tour is limited to 15 people and lasts approximately 30 minutes. Late comers will be asked to join a later tour. Groups of 10 or more need to call to book a group visit. Visitors may also visit the ground floor gallery which contains hundreds of original items from Roosevelt's colorful life. Service animals are welcome.
Subway Lexington Avenue #6 subway trains stop at the East 23rd Street station on Park Avenue South. Express #4 and #5 subways stop at Union Square. R subway trains stop at the East 23rd Street station on Broadway; frequent service is provided 24 hours a day, seven days a week.
Source: NPS Brochure (2012)
Establishment

Theodore Roosevelt Inaugural National Historic Site — June 18, 1970
Ansley Wilcox House National Historic Site — November 2, 1966



For More Information
Please Visit The

OFFICIAL NPS
WEBSITE
Brochures ◆ Site Bulletins ◆ Trading Cards

Documents
A Proposal for the Restoration of the Period Rooms in the Theodore Roosevelt Birthplace (David M. Kahn, August 17, 1976)
Foundation Document, Theodore Roosevelt Birthplace National Historic Site, New York (August 2018)
Foundation Document Overview, Theodore Roosevelt Birthplace National Historic Site, New York (August 2018)
Historic Structure Report: Theodore Roosevelt Birthplace National Historic Site (John Milner Architects, May 2008)
Junior Ranger, Theodore Roosevelt Birthplace National Historic Site (2008)
Manhattan Historic Sites Archive
National Register of Historic Places Nomination Form
Theodore Roosevelt Birthplace National Historic Site (Ricardo Torres-Reyes, April 1975)
Refurbishing Theodore Roosevelt Birthplace (February 18, 1977)
Site Specific Draft/General Management Plan/Environmental Impact Statement, Theodore Roosevelt Birthplace National Historic Site, Manhattan Site, New York (February 1996)
Theodore Roosevelt Birthplace: an interpretive concept... (Art Allen, 1975)
Theodore Roosevelt House: What It Was, What It Is, What It May Become (Hermann Hagedorn, 1925)
Handbooks ◆ Books

Videos
Theodore Roosevelt Birthplace National Historic Site Virtual Tour