The National Forests of California
Miscellaneous Circular No. 94

---
APPENDIX
LIST OF NATIONAL FORESTS WITH HEADQUARTERS AND NET AREA, CALIFORNIA DISTRICT
(District headquarters, Ferry Building, San Francisco, Calif.)
---

National forest
Headquarters
Area
Government
land (acres)

---

Angeles
Federal Building, Los Angeles, Calif
646,192
California
Federal Building, Willows, Calif
822,735
Cleveland
Federal Building, San Diego, Calif
350,109
Eldorado
Placerville, Calif
551,478
Inyo
Bishop, Calif
1,638,248
Klamath
Yreka, Calif
1,525,257
Lassen
Susanville, Calif
944,292
Modoc
Alturas, Calif
1,470,005
Mono
Minden, Nev
1,260,536
Plumas
Quincy, Calif
1,107,947
San Bernardino
San Bernardino, Calif
197,301
Santa Barbara
Federal Building, Santa Barbara, Calif
1,772,555
Sequoia
Porterville, Calif
1,410,133
Shasta
Mount Shasta, Calif
868,373
Sierra
Northfork, Calif
1,492,617
Stanislaus
Sonora, Calif
810,632
Tahoe
Nevada City, Calif
516,714
Trinity
Weaverville, Calif
1,410,202
Total


19,265,326

---

NATIONAL FORESTS, PARKS, AND MONUMENTS
In order that the public may understand the essential differences between national forests, national parks, and national monuments, it is necessary to point out the basic standards underlying the establishment and administration of these Federal areas.
The principle of use of resources is the vital distinction between national forests on the one hand and national monuments and national parks on the other. National forests are created to protect and maintain in a permanently productive and useful condition lands unsuited to agriculture but capable of yielding timber or other general benefits, such as forage for livestock and water for irrigation, domestic use, and power. All of the resources of the national forests are developed and used to the greatest possible extent consistent with permanent productivity under the principle of coordinated use. Camping and hunting and fishing in season are permitted in the national forests of California, but a camp-fire permit must first be obtained before any form of outdoor fire, including fire in stoves burning wood, kerosene, or gasoline, is built on Government land. National forests are administered by the Forest Service of the United States Department of Agriculture.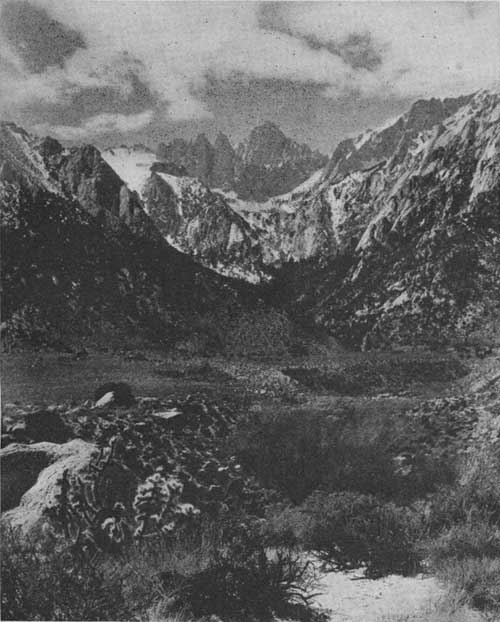 MOUNT WHITNEY (14,501 FEET), INYO NATIONAL FOREST
Telephoto view of the beacon of the Sierras and the highest peak in continental United States (PHOTO BY RAMSEY)
National parks are natural preserves for the recreation and education of the people. They are created to preserve objects of outstanding scenic, geologic, or historic interest, and the plant and wild life under nature's chosen conditions. All national parks are game sanctuaries, and are protected completely from all utilitarian and commercial enterprises save those necessary for and subservient to legitimate park uses. There are four national parks in California—Yosemite, Sequoia, Lassen Volcanic, and General Grant—which cover an area of approximately 1,200,000 acres. National parks are under the jurisdiction of the National Park Service of the Department of the Interior.
National monuments, although of small size and lesser importance than the national parks, are created for the same basic purposes. There are five national monuments in California, as follows:
---

Name
Location
Administered by—

---

Cabrillo
San Diego County
War Department.
Devil Postpile
Sierra National Forest
United States Forest Service.
Lava Beds
Modoc National Forest
Do.
Muir Woods
Marin county
National Park Service.
Pinnacles
San Benito County
Do.

---

STATE PARKS
In addition to Federal forest and park areas, California also possesses five State parks with a total area of 13,000 acres, nearly 12,000 acres of which is located in the redwood regions of Santa Cruz, Humboldt, and Del Norte Counties. Following is a list of State parks:
---

Name
Location
Administered by—

---

California State Redwood Park
Santa Cruz County
California State Redwood Park Commission.
Humboldt State Redwood Park
Humboldt and Del Norte Counties
State board of forestry
Burney Falls State Park
Shasta County
Do.
General Bidwell Slate Park
Butte County
Do.
Mount Diablo State Park
Contra Costa County
Special commission appointed by governor.

---

FOREST STATISTICS, STATE OF CALIFORNIA
[compiled for the Senate select Committee on Reforestation, 1923]
---

Ownership
Total forest
land area1
Present virgin
timber area
Present virgin
timber stand
Deforested area
cut and burned

---



Acres
Acres
M feet b. m.
Acres
Private
6,782,000
4,406,000
187,775,000
2,376,000
State
95,000
95,000
230,000
0
Federal
12,319,000
10,531,000
96,500,000
1,788,000
Total
219,196,000
315,032,000
4284,505,000
54,164,000

---

1Land that is in forest or that is potential forest land.
219.3 per cent of entire State land area.
3Pine region, 13,963,000 acres; redwood region, 1,069,000 acres.
4Pine region, 208,330,000 M feet b. m.; redwood region, 76,175,000 M feet b. m.
5Pine region: Cut-over but restocking, 1,949,000 acres; requires replanting, 589,000 acres. Burned-over land and brush fields restocking, 1,200,000 acres; not restocking, 600,000 acres.
Redwood region: Cut-over lands, restocking, 436,000 acres; not restocking, 125,000 acres. Brush fields, restocking, 125,000 acres; not restocking, 40,000 acres.


ESTIMATED STAND OF GOVERNMENT TIMBER IN NATIONAL FORESTS OF CALIFORNIA
---

Species
Total stand M feet b. m.

---

Yellow pine
31,192,012
Douglas fir
16,476,048
White fir
14,461,403
Red fir
12,934,782
Sugar pine
11,655,089
Incense cedar
4,404,971
Lodgepole pine
634,906
Jeffrey pine
1,928,605
Redwood
258,147
Bigcone spruce
165,375
White pine
151,681
Hemlock
75,211
Coulter pine
30,000
Miscellaneous species
150,583
Total
96,515,813

---

Cordwood, 20,414,739 cords.

TIMBER CUT IN CALIFORNIA, 1924
[United States census]
---

Region
Total cut
Value of lumber product

---



M feet b. m.


Pine
11,305,823
$42,338,452
Redwood
690,929
20,539,326

---

1304,427 M feet b. m., cut from national forests; value in the tree, $912,000; approximate value of lumber product, $9,700,000.

PRODUCTION OF LUMBER IN CALIFORNIA,1 1923 AND 1924
[United States census]
---

Number of mills reporting

---

Lumber cut2 (M feet b. m.)

---

Percentage of increase
or decrease
1923
1924
1923
1924

---

214
181
2,118,094
1,996,496
—5.7

---

1Includes a small amount of lumber cut in western Nevada.
2Not including production of mills cutting less than 50,000 feet.

CONSUMPTION OF LUMBER IN CALIFORNIA, 1920, 1922, 1923, AND 1924
---

Year
Total consumption1
Per capita consumption1

---



M feet b. m.
Feet b. m.
1920
2,174,517
625
1922
3,248,572
865
1923
4,288,705
1,105
1924
3,579,755
860

---

1 Domestic lumber only. The inclusion of lumber imported from foreign countries would raise the stated per capita consumption by 25 feet in 1924 and an average of 10 feet in previous years. The total per capita consumption of the United States, including imports, was 285 feet in 1922, 330 feet in 1923, 310 feet in 1924, and 325 feet in 1925.

GRAZING, NATIONAL FORESTS OF CALIFORNIA
---

Area of grazing land, acres
11,389,000
Average number of stock grazed:
Cattle and horses
207,129
Sheep and goats
506,000
Total
713,129

---

HYDROELECTRIC POWER FROM STREAMS IN CALIFORNIA
[Federal Power Commission]
---

Total horsepower developed to 1926
1,800,000
Potential horsepower, estimated
5,000,000
Estimated power developed from streams in national forests
1,028,000

---

IRRIGATED LANDS, STATE OF CALIFORNIA
---



Acres
Irrigated by gravity water, 1919
12,660,578
Total area under irrigation, 1924
24,700,000
Water supply available for
36,200,000
Total potential irrigable area
418,000,000

---

1United States census.
2Irrigation report, Commonwealth Club of San Francisco.
3Division of engineering and irrigation, State department of public works.
4A deficiency in crop land in California occurred in 1924, due to prolonged drought. The normal area of improved lands in farms in the State, as given in the 1920 census, is 11,878,339 acres.

Over two-thirds of all the irrigated lands in the State are dependent on the national forests for their water supply.

FARMING, STATE OF CALIFORNIA
[United States 1925 farm census]
---



Acres
Total farm acreage
27,565,440
Crop land, 19245
8,402,195
Pasture, 1924
16,907,167
Woodland, not pastured
447,489
All other land
1,808,589
Value of field and fruit crop, 1925
6 $458,469,000

---

5United States and State departments of agriculture.
6.

During the period 1920 to 1925 the number of farms in California increased from 117,670 to 136,409, or an increase of 18,739 farms. The average acreage of these farms is 202.1 acres.

FIRE RECORD, STATE OF CALIFORNIA
---

Year
Total number
of fires
(timber, brush, and grass)
Number of
man-caused fires
Area burned (acres)

---

Damage

---

Supression costs
(Federal, State, and private)
Timbered
Non-timbereda
Total
Timber
Other damageb
Total

---

1920
1,795
1,142
124,622
281,416
406,038
$380,859
$185,890
$566,749
$211,564
1921
2,245
2,028
30,146
620,576
650,724
67,651
562,794
630,645
203,915
1922
1,978
1,705
103,174
550,098
653,272
211,035
437,725
648,760
296,051
1923
2,240
1,548
103,636
838,929
942,565
197,922
1,644,302
1,842,224
245,724
1924
2,657
1,872
436,899
548,140
985,039
1,312,897
1,089,780
2,402,677
1,329,543
1925
2,614
1,114
20,618
163,093
183,712
109,886
151,017
260,904
250,435



---

6-year average
2,255
1,569
136,516
500,375
636,892
380,075
678,585
1,058,660
423,205

---

aBrush, grass, and weed areas.
bIncludes damage to reproduction, forage, improvements, etc.


FIRE RECORD, NATIONAL FORESTS OF CALIFORNIA
---

Year
Total
number
of
fires
Number of
man-caused fires
Area burned (acres)1

---

Total
damage3
Cost
of
fighting
fires
Goverment
Private2
Total

---

1920
1,338
697
129,798
34,659
164,457
$177,967
$159,535
1921
1,106
991
122,612
23,968
146,580
34,443
137,264
1922
1,028
772
190,001
26,054
216,055
188,646
189,008
1923
1,372
722
145,287
33,762
179,049
71,965
151,666
1924
1,032
1,164
401,221
360,931
762,152
1,251,911
1,191,271
1925
1,915
537
51,209
47,775
98,984
99,019
207,929



---

6-year average
1,463
817
173,354
87,858
261,212
304,992
339,445

---

1Includes timbered and brush areas.
2Includes private lands burned over both inside and adjacent to national forests,
3Exclusive of damage to watersheds, wild life, and recreational resources. Does not include damage to private lands outside national forests.

MOUNT SHASTA (14,380 FEET) "THE QUEEN OF THE SISKIYOUS"
This magnificent snow-capped peak in the Shasta National Forest is the most beautiful mountain in California and the lodestone of recreationists (PHOTO BY R. E. STINSON)


TREES OF CALIFORNIA

Alder: Mountain (Alnus tenuifolia).
Red (Alnus rubra).
White (Alnus rhombifolia).
Ash: Flowering (Fraxinus dipetalla).
Oregon (Fraxinus oregona).
Aspen (see Poplar).
Bigtree (Sequoia washingtoniana).
Birch: Red (Betula fontinalis).
Boxelder (see Maple).
Buckeye, California (Aesculus californica).
Cedar: Incense (Libocedrus decurrens).
Port Orford (Chamaecyparis lawsoniana).
Western red (Thuya plicata).
Cottonwood (see Poplar).
Cypress: Gowen (Cupressus goveniana).
Monterey (Cupressus macrocarpa).
McNab (Cupressus macnabiana).
Pigmy or Dwarf (Cupressus pygmaea),
Fir: Bristlecone (Abies venusta).
Douglas (Pseudotsuga taxifolia).
California Red (Abies magnifica).
Shasta Red (Abies magnifica shastensis).
White (Abies concolor).
Golden Chinquapin (Castanopsis chrysophylla).
Hemlock: Mountain (Tsuga mertensiana).
Western (Tsuga heterophaylla).
Juniper: California (Juniperus californica).
Madroño (Arbutus menziesii).
Maple: Bigleaf (Acer macrophyllum).
California Boxelder (Acer negundo californicum).
Dwarf (Acer glabrum).
Vine (Acer circinatum).
Nutmeg (Tumion californicum).
Oak: California shin (Quercus brewerii).
California black (Quercus Kelloggii).
California blue (Quercus douglasii).
Canyon live (Quercus chrysolepis).
Coast live (Quercus agrifolia).
Evergreen black (Quercus morehus).
Evergreen white (Quercus engelmannii).
Highland live (Quercus wislizenii).
Huckleberry (Quercus chrysolepis vaccinifolia).
Oregon white (Quercus garryana).
Sadler (Quercus sadleriana).
Scrub (Quercus dumosa).
Tan (Lithocarpus densiflora).
Valley white (Quercus lobata).
Oregon myrtle (Umbellutaria californica).
Palm: Cailfornia (Washingtonia filamentosa).
Pine: Bishop (Pinus muricata).
Bristlecone (Pinus aristata).
Coulter (Pinus coulteri).
Digger (Pinus sabiniana).
Foxtail (Pinus balfouriana).
Jeffrey (Pinus jeffreyi).
Knob-cone (Pinus attenuata).
Limber (Pinus flexilis).
Lodgepole (Pinus contorta).
Monterey (Pinus radiata).
Parry Piñon (Pinus parryana).
Singleleaf Piñon (Pinus monophylla).
Sugar (Pinus lambertiana).
Torrey (Pinus torreyana).
Western white (Pinus monticola).
Western yellow (Pinus ponderosa).
Whitebark (Pinus albicaulis).
Poplar: Aspen (Populus tremuloides).
Black cottonwood (Populus trichocarpa).
Cottonwood (Populus fremontii).
Redwood (Sequoia sempervirens).
Sequoia (see Bigtree and Redwood).
Sycamore, California (Platanus racemosa).
Spruce: Bigcone (Pseudotsuga macrocarpa).
Engelmann (Picea engelmannii).
Sitka (Picea sitchensis).
Weeping (Picea breweriana).
Walnut: California (Juglans californica).
Willow: Black (Salix nigra).
Mountain or Nuttall's (Salix scouleriana).
White (Salix lasiolepis).


---
---
circ-94/app.htm
Last Updated: 01-Feb-2011