The Nezperce Story
A History of the Nezperce National Forest

---

PEOPLE
---
SUPERVISORS AND STAFF
F. A. Fenn provided this information in 1927:
The Bitterroot Forest Reserve (Idaho) was divided into the Northern and Southern divisions with a supervisor in each. Roughly the line separating them was the Selway River. The headquarters for the Southern Reserve was first Elk City but later temporarily located at Grangeville by the arbitrary action of the supervisor, a saloon keeper, whose regular place of business was in the county seat town. Northern division headquarters were in Kooskia. Benton Myer is thought to have been the first Southern division supervisor followed by George D. Smith (the saloon keeper) and J. B. Chamberlain.
For the territory which is now the Nezperce, the list of supervisors follows:
Benton Myer


1897
George D. Smith




J. B. Chamberlain


1902
Casius M. Day
about
1902-1907
F. A. Fenn


1907-1908
George V. Ring


1908-1916 (died 1958)
Chas. K. McHarg


1917-1918
S. V. Fullaway


1918-1920
Adrian C. Adams


1921-1924
Leon C. Hurtt


1924-1927
Roy A. Phillips


1928-1942 (died Jan. 20, 1959)
Clayton S. Crocker


1943
Albert N. Cochrell


1944-1956
*Alva W. Blackerby


1957-1959
John R. Milodragovich


1959-
*Blackerby died from severe burns incurred in a plane crash at the Moose Creek Ranger Station landing field on August 5, 1959.
The date that the headquarters was legitimately moved from Elk City to Grangeville, was not found.
Assistants, some of whom were deputy forest supervisors, assistant supervisors, forest assistants, fire assistants, grazing assistants, timber sale assistants, and engineers were:
J. E. Barton, forest assistant, 1906
J. Arthur Brown, deputy, 1909-1916
Frank J. Jefferson, 1917-1919
R. N. Cunningham, fire assistant, 1919-1921
C. P. Fickes, 1920-1924
Thomas Crossley, 1921-1924
A. J. Devan, fire assistant, 1921-1924
Ralph K. Day, forest assistant, 1921-1927
Guy M. Brandborg, 1924-1934
Clyde D. Blake, 1924-1931 (died 1958)
Ray A. Coster, 1935-1936
Bernard A. Anderson, 1937-1939
Wm. G. Guernsey, 1939-1940
W. E. Fry, 1937-1939
W. W. Wetzel, 1941-1942
Harold H. Hendron, 1940-1944
John F. Shields, 1942-1945
Rolf W. Fremming, 1946-1955
Hans C. Roffler, 1943-1945
John A. Fallman, 1945-1946
Rolf B. Jorgensen, 1954-1956
Elmer E. Luer, 1947-1949
Edward Stein, 1950-1953
F. M. Griswold, 1950-1953
Fred I. Stillings, 1936-1946
Ray L. Hilding, timber staff man, 1955 (also included recreation, lands and watershed management until 1959)
Eugene Dyson, forest engineer, 1953-1959
Homer Hartman, fire, range and wildlife, 1956-1957
Keith Thompson, fire range and wildlife, 1957-
Walt Kasberg, forest engineer, 1959-
Robert Miller, recreation, lands and watershed management, 1959-
E. S. Cotter, clerk, 1915
Wm. M. Noble, clerk, 1920-1926
C. W. Griffin, clerk, 1926
Gerald E. Reed, 1927-1928
LaVerne Huffman, executive assistant, 1929-1933
Emery M. Kapp, executive assistant, 1934-1940
Raymond E. Armstrong, executive assistant, 1940-1942
Thaddeus A. Lowary, executive assistant, 1943-1946
Glenn C. Todd, administrative assistant, 1947-1949
Paul Prety, administrative assistant, 1950-1953
Ernest Mirehouse, administrative assistant, 1954-1955 Paul Grainger, administrative assistant, 1955-1956
Arthur A. Johnson, administrative officer, 1956-1959
James Stephenson, administrative officer, 1959-

A partial list of clerks, stenographers and receptionists includes:
Mrs. Beale, 1917
Olive Walker, 1917
Margaret Urbahn, for many years in the twenties and thirties
Nell Curtiss Burrows
Nell Billings
Theo Cox
Gayle Dennis Hauger
Jean Todhunter Martin
Iris Potter Hardin
Doris Watson
Mrs. Harvey Myrick
Mrs. Jack Hickman
Mrs. Frank Scott
Mrs. Earl Taylor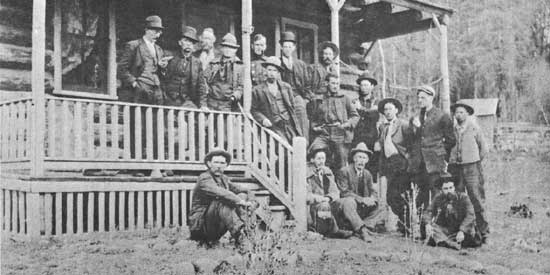 In April of 1911 a ranger meeting was called at Dwelling No. 1, then headquarters for the Middle Fork District. Standing on the porch, from left to right, were Ed Thenon, Lou Fitting, S. Radcliff, W. B. Willey, McGee, F. A. Silcox, and Agnew. Standing on the steps and path, from left to right, were Rene McPherson, Johnny Durant, Ashley Roche, Adolph Weholt, Frank Tompkins, and James S. Garrison. Seated, left to right, were Frank Rogers, Roy Monroe, Major Fenn, and Frank Smith.

DISTRICT RANGERS

It is next to impossible to identify ranger districts in the earlier years or even to be sure when they were first established. A 1915 directory is the earliest definite information available, although George Ring lists the people on the unit July 1, 1908, as being Blane L. Riggs and Grafton F. Johnson (on the Weiser portion), Thomas Crossley, G. I. Porter, S, I, McPherson, J. Arthur Brown and himself, but does not locate them in any particular place.

Other names of previous employees that show up without being tied down to any location are, W. V. Manring, 1908-1912; J. W. Jorgens (no dates); Will L. Vermillion, 1909-1911; Henry Huck (no dates); Harry Halvorson, 1912-1914; Cash Hurst, 1916-1919; John W. Bell, 1917-1920. Both Hurst and Bell may have been connected with the Pittsburg District.

There seems to be some confusion about whether Whitebird was a district or just the headquarters for the Slate Creek District at times. Likewise there is some doubt as to what areas are intended when Elk City, French Gulch, and Red River are mentioned in the earlier years. It is known that G. I. Porter was a ranger at French Gulch somewhere around 1907-1912 and may have then handled the Salmon Mountain area as well as some of present Red River District.

Salmon River District

Lew Brundage, Silvers Ranger Station, 1915-1917
Wm. H. Deasy, Riggins Ranger Station, 1920-1928
J. L. Williams, 1929-1930; Assistant Ranger J. T. Horner, 1928-1929
O. V. Clover, 1931-1941; Assistant Rangers Stanley Miller, 1937, and Lloyd Bernhardt, 1939-1941
John A. Fallman, 1942-1944, Assistant Ranger Floyd E. Williams, 1942
Floyd E. Williams, 1945-1946
Rolf B. Jorgensen, 1947-1953
Jack R. Alley, 1953-1954
M. C. Asberg, 1955-1958
David Howard, 1958-


Whitebird Ranger District

This unit only shows up briefly and may or may not have been a separate unit.

Wayne F, Alexander, 1915 (Free Use Ranger Station)
George V. Ring, 1917


The district does not appear in the 1920 directory.

Slate Creek or Hump Ranger District

Frank Hartman, Slate Creek Ranger Station, 1911-1915
James Dyer, (called Hump District), 1917
Wm. M. Gregg (headquarters in Whitebird), 1919-1923, Howard Higgins was assistant in 1923.
*W. P. Hanover (called Slate Creek again), 1924-1926
O. V. Clover, 1927-1930; J. T. Harner assistant some of those years.
Earl McConnell, 1931-1937
Arthur W. Wirch, 1938-1942
Floyd E. Williams, 1943-1948
W. E. Green, 1945-1949
John C. Crupper, 1949-1954
John Morrison, 1955-1959
James H, Freeman, 1959-


*Hanover was killed in the spring of 1926 and Higgins was probably in charge for the remainder of the season.

A separate Hump District with headquarters at Moores Station shows up again in 1928 and 1929 with W. K. Samsel as Ranger, then disappears permanently.

Elk City District

There is some uncertainty as to what area is intended in the earlier records. In the 1915 directory there is both an Elk City (French Gulch) and a Red River District listed. From then until 1923 Red River District does not again appear. In 1917 an Elk City-Dixie District shows up, and since the Salmon Mountain area and a ranger were transferred to the Bitterroot following the 1916 season there may have been some shifting of the remaining areas.

In 1919 V. L. Collins describes the Elk City District as everything east of the Iron Mountain-Elk Summitt-Nellie Mountain divide to the South Fork, thence up Center Star-North Pole divide and on to Salmon River, In effect this would be the present Red River and Dixie Districts plus a portion of the present Elk City District.

R. E. Moses, 1915-1917
James W. Dyer, 1919-1922
W. P. Hanover, 1923
O. V. Clover, 1924-1926
George G. Space, 1927-1930


The district was dropped from the 1931 directory but was re-established July 1, 1958 with John Ulrich as ranger.

Red River District

Eugene Langdon, 1915
Does not appear in directories 1917-1922
Earl McConnell, 1923-1930
Howard W. Higgins, 1931-1941
Alfred A. Flint, 1942
Hans C. Roffler, 1943
Donald L. Chamberlain, 1944-1945
Wesley Castles, 1946
Marlin Galbraith, 1947-1952
Earl E. Cooley, 1953-1955
Dan Montgomery, 1956-


Dixie Ranger District

This unit was first established in 1923 with George C. Space as ranger.

George C. Space, 1923-1926
Howard W. Higgins, 1927-1930
John T. Harner, 1931-1933
James Kauffman, 1934-1944
Paul H. Strand, 1945
Rolf B. Jorgensen, 1946
Howard W. Higgins, 1947-1958 (retired July 31, 1958)
James Freeman, 1958-1959
Kenneth Rogers, 1959-


Pittsburg Ranger District (Riverview Ranger Station)

George V. Ring shows Blane L. Riggs and Grafton F. Johnson as coming to the Nezperce from the Weiser, July 1, 1908, but 1915 is the first time the district shows up in a directory.

D. W. Arrison, 1915
Cash Hurst, 1917
Earl McConnell, 1920-1921


The district was dropped in 1922 and McConnell was assigned to the Salmon River District.

Clearwater Ranger District

The headquarters were originally at Castle Creek but were moved to Grangeville, probably around 1919.

Frank Hartman, 1909-1910
Thomas Crossley, 1915-1919
Vernon L. Collins, 1920-1936
Bertram A. Goodman, 1937-1940
Carl Walker, 1941-1942
Roscoe L. Space, 1943-1952 (killed by falling tree in 1952)
Dale L. Arnold, 1952
Marlin Galbraith, 1953-1955
John Lyman, 1956-


It is more difficult to trace accurately the the happenings on old Selway Forest since it was broken up in 1934 and scattered three or four ways. The Nezperce, at least, has few of the early records. Likewise in 1956, additional changes took place to further complicate the boundaries of one-time districts. However, authentic data are not lacking entirely and follow:

Tahoe Ranger District

S. I. McPherson built the first cabin there in 1908 and continued as ranger until about 1913. No further information is available except the unit was consolidated with others in 1917.

Meadow Creek District

This unit may also have been known as Anderson Butte since the headquarters was there until the early 1920's when the Meadow Creek Station was built. John Rice was the ranger when the move was made.

S. I. McPherson, 1914-1917
Chas. Loitued, 1918
John Rice, 1921-1923
Albert C. Campbell, 1924-1932


The district was discontinued at that time.

Bear Creek District

This unit apparently dates back a long time and could have been the earliest station to exist on the Upper Selway.

Sumner Rackliff, 1910
Adolph Weholt and Ray R. Fitting followed sometime prior to
Chas A. McGregor, 1916
Bill Bell (later a remount packer), 1918
Thomas Donica, 1919-1920
Floyd M. Cossitt, 1921-1923
Ray S. Ferguson, 1924-1925
Jack Parsell, 1926
Leroy W. Lewis, 1927-1932


District dropped after 1932 and added to Moose Creek.

Selway Ranger District

This unit probably started out as the O'Hara District and when the change in name was made is not recorded. The original station was built about 1910 on O'Hara Bar opposite O'Hara Creek and continued as the headquarters until about 1940 when the present Fenn Ranger Station was occupied by both the Selway and Middlefork Districts.

It is pretty well agreed that Sumner Rackliff was among the first rangers on the Selway River. Where he made his headquarters is not known. The next ranger of record was James Agnew who likely built the O'Hara station and may have continued until S. I. McPherson took over in 1918.

S. I. McPherson, 1918-1923
Clayton S. Crocker, 1924-1932
Fred W. Shaner, 1933-1934
C. D. Sousley, 1935-1937
John P. Gaffney, 1938-1943
Edward L. Shults, 1944-1946*
George R. Wolstad, 1947-1949*
Glenn L. Boy, 1949-1955
John W. Johnson, 1949-1957 (1949-1956 Middlefork District)
Karl W. Spelman, 1958-


*The Selway and Middlefork Districts were combined during these years.

Moose Creek District

Jack Parsell says the Moose Creek District as it existed prior to the addition of Bear Creek was established in the spring of 1920:
I was the first ranger assigned to the district. The headquarters was located in the Three Forks area on North Moose Creek and consisted of two old abandoned homestead cabins built originally by Fred Shissler. In the spring of 1921 I set up a tent headquarters at the present Moose Creek Ranger Station and built the building that is now used for the cook house and administration building.
Whether there was a district in the area prior to 1920 is not known, but Frank Freeman was a ranger in the Three Forks area in 1910. Lew Fitting, an uncle of Ray, was also in the area about that time. Charles A. McGregor was likewise a ranger there in 1918.

Jack A. Parsell, 1920-1922
Bert Kauffman, 1923-1924
Fred W. Shaner, 1925-1930
George W. Case, 1931-1934


The district was transferred to the Bitterroot in the fall of 1934, but George Case continued as ranger until 1943.

A. B. Gunderson, 1944
Jack Parsell, returned as ranger, 1945-1955. In 1956 the district was transferred to the Nezperce, and Glenn L. Boy was assigned in charge. Lawrence Smith replaced Glenn in 1959.


Some other early-day rangers that are known to have worked on the Selway somewhere were: Dan Dunham, Ed Thenon, Jas. McLendon, and Chas. McGee.

Charles Howell was supervisor until Frank J. Jefferson took over following the 1919 season. Francis T. Carroll was an assistant following Jack Clack. James C Urquhart was also an assistanton the forest before it was broken up. Clayton S. Crocker received the blame for removing the supervisor's office from Kooskia when the Selway Forest was discontinued.

The earliest information obtained was from George G. Bentz, a stockman at Whitebird. He died in the fall of 1958. George worked seasonally at Elk City in 1900 and 1901. Benton Myer was the supervisor and Warren Cook was a ranger. Bentz received a ranger's appointment May 15, 1902, and stayed at Elk City until June of 1906 when he transferred to Whitebird. J. B. Chamberlain was supervisor when Bentz went to work; he also recalls a Babcock as head ranger and Warren Cook, Homer Fenn, and Grant Ritchfield as rangers around Elk City. There did not appear to be districts as we know them and the rangers carried on individual patrols. In 1904 Homer Fenn went to the Targee as supervisor and Warren Cook resigned to run Campbell's Ferry for a time. George well remembers getting the proper political endorsement before obtaining his first job.

When Bentz first reported for work, the supervisor's greatest concern was how well he could use a lariat rope since he carried one on his saddle. It later developed that the supervisor had some horses running wild on the breaks of Salmon River that he hadn't been able to catch. The horses were caught.

George left Whitebird in February 1907 to become supervisor of the Salmon Forest. During 1909 and 1910 he was in Ogden as assistant to Homer Fenn, chief of Grazing. In 1911 he went to the Caribou as supervisor where he remained until February 28, 1916, when he resigned and returned to Whitebird to engage in the stock business with other members of the family. The Bentz ranch has held a grazing permit on the Nezperce since 1906.

Another early and colorful ranger was S. I. (Rene) McPherson. He started in the early 1900's when the Bitterroot Forest Reserve was in existence and later was assigned first to the Nezperce and then the Selway after it was established.

Rene first lived on a ranch in the Clear Creek area and used that as a headquarters, but was absent from home for long periods when his official duties required. He built the South Fork Trail from the vicinity of Harpster to Johns Creek. In 1908 he constructed the Tahoe Ranger Station and was in charge of that district until about 1913. From 1914 to 1917 he was the ranger at Anderson Butte, which later became the Meadow Creek District. In 1918 he was in charge of the Selway District with headquarters at O'Hara Ranger Station where he remained until 1922 when he retired following an injury.

Wm. I. McPherson, a son, has worked for the Forest Service for many years, mostly as a blacksmith and a mule shoer, but has also put in many hard days on fires starting back about 1910. Bill remembers when his father would take him and his brother along to fires and put them to work scratching a trench with pointed sticks. (The output might have been low but they weren't paid anything either.)

George V. Ring received his appointment as a forest ranger on May 9, 1899. It is uncertain where he worked in those early years but likely in the southern portion of the Bitterroot (Idaho). On July 1, 1908, when the Nezperce National Forest came into being, he was named supervisor of the new unit.

George continued in this capacity until 1917 when he asked to be relieved and returned to a ranger's job which he liked much better. This assignment was at Whitebird where he remained for a few years and then returned to Grangeville where he worked in various capacities until his retirement in 1931. After leaving the service he made his home in the Lewiston-Clarkston area and passed away at the home of a daughter, in Julietta, in the fall of 1958.

It is not often that anyone starts and finishes a career on the same forest, but Howard W. Higgins did. "Hig," as he was called by his many friends, first received an appointment as assistant ranger on the Slate Creek District, May 16, 1923. He continued in that position until Ranger Hanover's death in the spring of 1926 when he took over as ranger. Then he moved to Red River and stayed until 1941. His only service away from the Nezperce was from 1942 to 1946 which was spent on the St. Joe at Avery. There was no place like home, so he returned to Dixie in 1947 and finished his tour of duty there, retiring July 31, 1958.

Howard Higgins was a fine example of the custodial type ranger. There was never any question about where he stood or what was right. Like treatment for everyone, whether it be the public, employees, permittees, or his superiors, was his rigid code. He loved to build things whether it be roads, trails, landing fields, lookout houses, or cabins.

During both World War I and World War II, men were scarce. Frequently temporary people were assigned in charge of districts and often did not show up in directories. This could well mean that some folks have not received credit for some important assignments. It is believed that both Delbert Cox and Abner W. Foskette were in this category about 1942.

Following World War II, practically the entire staff and ranger force were veterans. The supervisor and Rangers Higgins and Space were of World War I vintage. Fremming was a retread and the others were briefly out of the latest conflict. There apparently was some attraction for Navy men and if all the Lt. Commanders had been recalled at once, the Nezperce would have been "sunk." The supervisor, being Army, used devious means to keep that branch ahead numerically if not in rank. Yes, there were some Marines and Coast Guard. Wm. C. A. Enke had been a prisoner of the Germans for 14 months and Glenn Boy was the recipient of a Silver Star award; both were Army.

In the beginning, rangers were selected more on the basis of their political affiliations than for their other qualifications. This does not mean that many of them were not good men and they must have had their troubles. The public sentiment was against them. They had little to work with, no procedures to follow and did not quite know where they were going.

The first civil service examinations consisted of a written test and a field test. The latter included such things as saddling and mounting a horse, cargoing and packing up some camp equipment, throwing a diamond hitch and using an ax and a saw. The emphasis was on the practical aspects of the job rather than anything very technical. The field test was eliminated in 1917.

The trend since about the midtwenties has been more and more toward technically trained college graduates. Now and then someone with a wealth of background experience and native ability does get over the hurdle. Here is the way Delbert Cox managed to become a ranger. He started in 1930 as a lookout and for the next two seasons was a foreman on trail and tower construction. Next came two seasons as a dispatcher and alternate and then about 2 years as a CCC foreman. On October 1, 1936, he became superintendent of the Slate Creek CCC camp and continued there and at the O'Hara Camp until April 1, 1942. For the remainder of that year he was acting ranger on the Middle Fork District and then enlisted in the U.S. Coast Guard where he spent 3 years.

The year 1946 saw Del back on the job as dispatcher for the combined Middle Fork-Selway District where he stayed until November 1, 1949, when he became forest dispatcher. In 1953, after considerable maneuvering, he was permitted to take an aptitude test which he passed with flying colors. He received an appointment as ranger on the Clearwater. After a brief time in charge of a project sale he became ranger on the Bungalow District and later went to the Lolo District of the Lolo Forest. It was a long slow climb, but know-how and perseverance finally paid off.

OTHERS

It requires many people other than rangers and staff to run a forest, Seldom, if ever, do any of these show up in directories. It is regretted that more oldtimers cannot be included, but they just aren't known any more. Here is a partial list:

R. E. McArdle, present Chief, Forest Service, and Carl A. Gustafson, one-time chief of fire control in Washington office, now retired, were members of a resource survey crew on the Clearwater District during the 1923 season; Henry Goodman, trail foreman; John Warden, lookout on Fish Creek for many years, retired and living in Happy Hollow near Grangeville; "Bud" Warden, John's son, started as a lookout, then became a machine operator and finally a mechanic; Carl Elmen, an expert blade man and foreman; Bernice McConnell, foreman and jack-of-all-trades; Stanley McKenzie, alternate and foreman; Sid Poppe, foreman; Adam W. Schwoebel, alternate, telephone lineman, foreman, and about everything else, now retired and living in a trailer near Castle Creek where he can still "look after" the place; Alfred Moore alternate and general handyman; Leonard York, alternate at Red River; George Carter and "Slim" Goforth, many different jobs.

Hugh Eminger, dispatcher; James Steinhouse, dispatcher and several other jobs, now on the Kootenai; Ed Gray, dispatcher on several districts; "Gene" Kapp, headquarters fireman, carpenter at Red River and Dixie; Everett F, Vanarsdale, who spent 21 years as lookout on Sheep Hill and was considered an expert at his job and who retired in 1958 and lives in Grangeville.

Sylvan Hart, or "Buckskin," moved to Salmon River in 1932 and worked seasonally as a lookout; "Pete" Klinkhammer came to the area in 1904 and now lives on Shepp Ranch at the mouth of Crooked Creek and has worked at different times for the Forest Service; Leslie Powelson, a native of Dixie since 1905, was a storekeeper, a postmaster and worked for the Dixie District now and then. Around Riggins at various times could be found "Lark" Alkire, alternate and foreman; Loy Hollensbeak, foreman and now retired; Roy Butzien, headquarters guard and handyman; and Joe Wirt, alternate who transferred from the Lolo and returned there after about 10 years on Salmon River. Joe was a real jack-of-all-trades and master of several. "Ace" Barton, alternate, grew up on a ranch in Hells Canyon and is better than good at battling Salmon and Snake river fires.

Lloyd Butzien, who was alternate for many years at Adams Ranger Station, ran the district for extended periods from time to time when the ranger was called away on other jobs. Laurence "Speedy" Thompson was a packer of long standing, at least since 1919 when he was employed on the Clearwater Forest.

Fred W. Reimler, who is retired and living in Clarkston, was an alternate in the Selway area where he did a full share of firefighting over the years. To Fred goes much of the credit for completing a new trail along the river to avoid climbing over Teepee Hill on the Selway. The old trail, climbing and winding through the bluffs, was bad and had caused the loss of quite a number of pack and saddle animals. Rolf Fremming once said it was the only trail he was ever on where he could look down on the inside of his saddle horse and see the river.

Paul H. Strand worked mostly as a dispatcher but also worked at many jobs since 1928. Chester W. Curtis has been on the job some 25 years, taking on many different tasks. At present he is doing engineering work. Earl W. Parks, a top timber sale administrator, has been an alternate and filled in on many different jobs. Jack Taylor, a handyman with equipment of all kinds, is best known as a patrol operator.

Mark Watkins was a member of the clerical staff during the war years and filled in as administrative assistant on different occasions. Mark was especially good at training new clerks. Lora Vilas, telephone operator at Elk City, did many things not exactly within the title of her job or within official hours. Edward J. Robinette, a son of O. P. of packsaddle tree fame, is alternate on Selway District. Jay Miller is remembered as headquarters fireman and ex-officio mayor of Pete King. Both "Cap" Evans and Bert Cramer worked in the 3-Links and 62 area during the early twenties. Bob Bruce, administrative officer on the Lolo, was on the forest for several years as was Bruce Gray who migrated to Alaska.

Elbert Hendren, one of the few remaining old-time packers, retired in 1959 and died shortly after. He must have been rather young when he started helping his father, Jeff, but he learned fast and was a full-fledged packer in 1908, moving grub and camp equipment for the railroad surveyors on the Lochsa. No one ever asked Elbert if he could pack something - he could - and did, no matter how awkward it was. He knew all the tricks that mules could think of and outwitted them at their own game. He had one bad habit and that was getting up with the chickens, even in the summertime with its long days.

Ralph Space, now supervisor of the Clearwater Forest, worked on the Selway in 1924.

This list is far from being complete but others were unknown to the writer or do not come to mind.

Here is a group in the younger age class who started their careers as Civil Service employees on the Nezperce following World War II:

Wm. C. A. Enke is still on the forest but served some time on the Clearwater as district ranger and on timber.
Glenn L. Boy, staff assistant in fire and grazing
Kenneth I. Young, ranger on the St. Joe
Keith M. Thompson, staff on the forest but served on both St. Joe and Kootenai in between
John C. Crupper, now staff on Custer
David R. Howard, back as ranger on the Salmon River District after several years on the Coeur d'Alene
Karl W. Spelman, ranger, Selway Ranger District
Ray W. Miner, engineering work
Dale L. Arnold, staff, Division of Recreation & Lands in regional office
James H. Freeman, ranger, Slate Creek Ranger District
Lloyd Larson, Region 6
John A. Ulrich, ranger, Elk City Ranger District
Wm. R. Driver, timber sales on Gallatin
Dale S. Thacker, ranger, Magruder District, Bitterroot
Craig W. Silvernale, ranger on Gallatin
John L. Emerson ranger on Coeur d'Alene
David L. Owens, ranger on Flathead
Fred T. Matzner, assistant ranger, Clearwater District
Hadley B. Roberts, Lewis & Clark
Kenneth W. Rogers, ranger, Dixie District
A. James Caddis, assistant ranger, Red River District
John P. McArdle, assistant ranger, Selway District Wm. R. Magnuson, assistant ranger, Salmon River District J. H. "Bud" Coats, in charge of regional communications


With so many people employed over the years, some tragedies did occur. In the spring of 1926, Wm. Noble, his wife and young son, drowned in the Middle Fork. They were taking a Sunday drive to visit at Pete King when the car went off the road in some unexplained manner and into the river.

At about the same time W. P. Hanover was killed while riding the trail from Florence to Wind River, His horse "exploded," as was his habit, and bucked under a tree where a large limb struck Bill in the head, inflicting fatal injuries.

In the late twenties Tom Mattison, the alternate at Meadow Creek Ranger Station was killed or drowned. He was riding down the trail a mile or two below the station when his horse "spooked" and jumped or rolled into the flood-swollen Meadow Creek. The horse survived.

R. L. Space, Clearwater district ranger, was killed by a falling tree in May 1952. The accident happened in the Cove while Roy and Dale Arnold were looking over the cutting on a timber sale. Unknowingly they walked into a place where two sawyers had two trees lodged and were cutting a third to knock them down. The day was overcast and sound did not carry so they were much closer than they realized. Dale was in the clear but Roy was caught by one of the trees before he could jump aside.

The practice of giving "Nezperce" belts (hand-tooled by Ray Holes) for going away presents was probably started by committee action rather than by any individual. The first belt it is believed, was given to James E. Kauffman when he retired about 1946.

A rough count shows that about forty men have received their belts from the Nezperce since the practice was initiated. It is considered a real honor to possess one.

THE END



---
---
region1/nezperce/history/sec9.htm
Last Updated: 11-Nov-2008