GRAND CANYON NATURE NOTES
January 1933
Volume 7, Number 10

---

PERIOD OF THE BEGINNING OF POTTERY AND HOUSE FORMS
DATE ABOUT 500 B. C. to 500 A. D.

POTTER BASKETMAKERS: BASKETMAKER III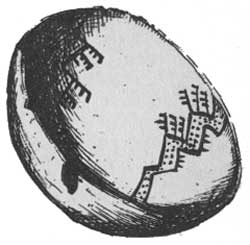 Out of the slab-lined cists of the Farmers grew the slab-lined houses of the Potter Basketmakers. Out of the mud vessels reinforced with cedar bark came true pottery tempered with sand. It was during this stage, known as Basketmaker III, that the Potter Basketmakers emerged as full blown potters of a remarkably high order.
Architecturally, a series of house types was developed which covered the span from small isolated slab houses built in eaves to communities of single houses grouped in the open and apparently subscribing to a central rule.

THE HOHOKAM
Below the Plateau, in Southern Arizona, a race of people have been identified who were Desert Dwellers, practised agriculture with irrigation, made buff pottery with red decorations, and built houses of a distinct type. These people are known as the Hohokam, a Pima word meaning the Ancient Ones, and their culture resembles to a remarkable extent that which existed in the Old World in many scattered localities at an approximate date of 4000 B. C.
The source of origin of these people has not yet been found. The area which they occupied is bounded on the north by the Mogollon Rim, on the south by the Mexican Border, on the west by the Colorado River, and on the east by the broken mountainous country of Eastern Arizona. Over this entire area their remains are uniform, a fact which implies dispersion from a central point which has not yet been determined. It is significant that a basic element in all the great civilizations of Mexico, Central America, and South America is found in the red-on-yellow, or red-on-buff pottery of various specialized forms which bear little resemblance to one another, but all of which may well have had their origin in some such form as that found in southern Arizona. In this connection, it should be noted that, at the present time, practically nothing is known of the early evolutionary stages of these great civilizations.
Cross finds of Northern pottery in Southern ruins, and vice versa, have been found in early sites, indicating contact between the two peoples, but it was not until about 1100 A.D. that distinct traces of inter-influence appeared. Nevertheless, the Hohokam never lost their identity, and quickly reverted to their characteristic manner of life on the withdrawal of the Pueblo people at the beginning of the sixteenth century.