GRAND CANYON NATURE NOTES
January 1933
Volume 7, Number 10

---
PERIOD OF MASONRY, INCLUDING DEVELOPMENT OF PUEBLOS
AND CLIFF DWELLINGS. IMPROVEMENT IN POTTERY.
DATE ABOUT 500 A.D. TO PRESENT.

PUEBLO I TO V
The Basketmaker epoch was brought to an end by the arrival in Arizona of a new race of men. Whereas the Basketmakers were long-headed (Dolichooephalic), the new-comers were broad-headed (Brachycephalic), further accentuated by occipital flattening, due to a custom of binding the heads of babies to a wooden cradle board.
From the meeting of these two peoples, three nuclei were created, one in Northeastern Arizona destined to become the modern Hopi, one in Western New Mexico which may have led up to the present-day Zuni, and one in Southwestern Colorado which probably contributed to the existing pueblos of the Rio Grands Valley.
The three branches grew along parallel lines, and reached the height of their development at about the same time, 1200-1300 A. D. In Northern Arizona, the peak was reached in the cliff-dwellings of what is now the Navajo National Monument in Sagi Canyon; in New Mexico, at Pueblo Bonito and the great ruins in Chaco Canyon; in Colorado, amongst the great cliff-dwellings of the Mesa Verde.
The Classic period was brought to an end with the abandonment of the great pueblos and cliff-dwellings of Northern Arizona. This exodus was probably coincident with the arrival of the Navajo, an aggressive nomadic people of Athabascan stock.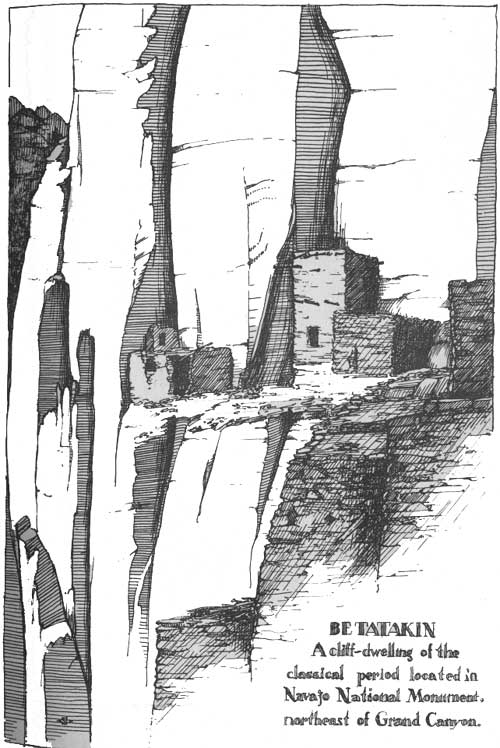 The evacuation of the northern settlements stirred up a maelstrom which affected the entire Southwest. The ancestors of the Hopi moved south past the San Francisco Peaks and filtered down the Verde Valley and into Tonto Basin; colonies from the Little Colorado Drainage and from Mesa Verde moved eastward to the valley of the Rio Grande; other groups from the Little Colorado pushed southward into the rugged country of the Upper Salt River and brought about radical changes in Southern Arizona, where they merged with the resident Hohokam and built the great communal houses of the Gila Basin.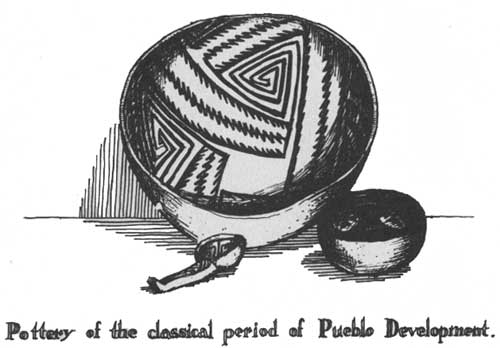 When Coronado entered Arizona in 1540, ha found these communal houses abandoned, the Hopi concentrated in their present villages, having withdrawn from the Verde, the colonies of the Little Colorado settled near Zuni, and the pueblos of the Rio Grande Valley in much the same form as they are today. In Southern Arizona the Hohokam reverted to their former way of life, as found today amongst the Papago.