Land of Standing Up Rocks
As you enter Chiricahua National Monument, you are climbing up a sky island—an isolated mountain range rising above the surrounding grassland sea. Meadows dotted with cactus and mesquite begin to fill with sycamore, juniper, and oak trees. Farther up are cypress, pine, and fir woodlands. So far the landscape is typical of the basin-and-range topography in this part of the Southwest. It's the rock pinnacles looming over the road like guardians of the forest that announce you're in Chiricahua country.
The Chiricahua Apache called these pinnacles "standing up rocks." Their origins began 27 million years ago when eruptions from the Turkey Creek Volcano spewed ash over 1,200 square miles (3,100 square km). These superheated ash particles melted together, forming layers of gray rock called rhyolite. Cooling and subsequent uplifting created joints and cracks in the rhyolite. Eons of weathering by ice wedging and erosion by water enlarged the cracks. Weaker material washed away, leaving behind an endless variety of spires, balanced rocks, and other shapes. This sculpting by the forces of nature continues today. The longer you look, the more alive the formations seem. Many have names; use your imagination to name your own.
Chiricahua National Monument was established in 1924 to preserve and protect the pinnacles. In 1934 the Civilian Conservation Corps began improving the road and building trails and structures. The park comprises 12,025 acres (4,866 hectares); 84 percent is designated as wilderness. It has trails for everyone—from the short, wheelchair-accessible nature trail at Massai Point to all-day hikes that wind through the formations. An eight-mile scenic drive climbs from the grasslands to the summit at Massai Point, where you get a true sense of being atop a sky island.
The Chiricahua Apaches
From the early 1400s southeastern Arizona and southwestern New Mexico have been home to the Chiricahua Apaches. The Chokonen, one of four main bands, lived in and around the Chiricahua Mountains.
Traditionally they were nomads who hunted large animals and gathered edible plants. Superb warriors whom neighboring tribes feared and respected, the Apaches fiercely resisted colonization beginning in the 1500s, when the Spanish arrived. They quickly learned to handle guns and horses acquired from the newcomers. Mexican independence in 1821 and encroachment by emigrants and miners led to a protracted state of war. But not even Cochise and Geronimo's leadership skills could stem the invading tide. In 1886 the Chiricahua Apaches surrendered and the government eventually relocated them to reservations in Oklahoma and New Mexico.
Faraway Ranch
The peach and green house in Bonita Canyon looks like the door may open any minute, welcoming you for a visit.
Swedish immigrants Neil and Emma Erickson settled here in 1888. By the 1920s their eldest daughter, Lillian, and her husband, Ed Riggs, had turned the homestead into a guest ranch. From 1917 until 1973 visitors came to relax, watch birds, and hike in the hills.
Lillian and Ed built trails and led guests on horseback through the Wonderland of Rocks. Armed with photographs and colorful stories, they lobbied for the area's protection.
After the deaths of the three Erickson children the ranch and its furnishings became a historic district within the national park. Today Faraway Ranch tells the story of how one family lived on the land, shaped the land, and was in turn shaped by the land.
Civilian Conservation Corps
Launched March 31, 1933, as part of President Franklin D. Roosevelt's New Deal, the Civilian Conservation Corps (CCC) enlisted 3.4 million young men hard hit by the Great Depression.
Nicknamed the Tree Army, its enrollees labored at conservation, construction, and rehabilitation projects in all states and territories. National Park Service areas hosted 118 CCC camps, including NM-2-A, Company 828, at Chiricahua National Monument.
The CCC offered more than a job. If you could not read or write you received classroom instruction. You could learn carpentry, plumbing, surveying, and other important skills. Monthly pay was $30, $25 of which was sent to their families.
The outbreak of World War II led many CCC workers into military Sice. The CCC camps were disbanded in 1942.
Wild Chiricahua
Rising to 9,763 feet (2,978 meters), the Chiricahua sky island is home to 1,200 species of plants. Species vary by elevation, exposure to sun, and precipitation. Plants and animals from four ecosystems meet in this range. On cooler northern slopes look for ponderosa pine and Douglas fir; both typify the Rocky Mountains. Sunny southern slopes have Apache pine and border pine from Mexico's Sierra Madre range. Yuccas and sotol from the Chihuahuan Desert coexist with agaves and prickly pear cactus from the Sonoran Desert. Lichens of many colors, including neon green, adorn the pinnacles while ferns thrive in shade.
Birders flock here for the diversity of birds, including many Mexican species at the northern limit of their range. Or you may spot an elusive coatimundi, Arizona white-tailed deer, or—found only in these mountains—Chiricahua fox squirrel. Mountain spiny lizards and black-tailed rattlesnakes are two of the many reptile species.
Planning Your Visit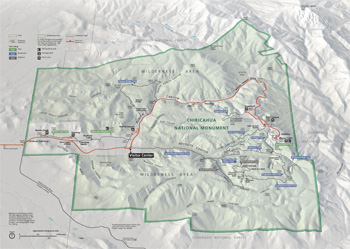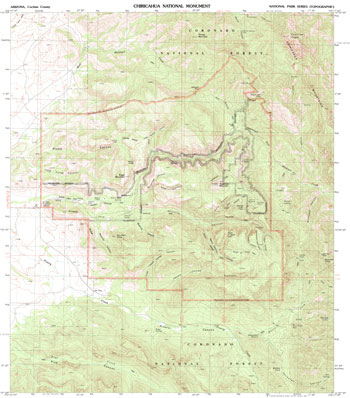 (click for larger maps)
Getting to the Park
Chiricahua National Monument is 35 miles southeast of Willcox. From I-10, take AZ Rt. 186 south to AZ Rt. 181. Entrance is free. A fee is charged for camping. Find food service, lodging, and gasoline in Willcox, Sunizona, and Douglas, AZ.
Visitor Center
Open daily. Stop to receive a map and check current conditions. The museum and store offer opportunities to learn about park resources and items to help plan and remember your visit. Hours may change seasonally.
Scenic Drive
Bonita Canyon Drive winds eight miles to Massai Point, climbing through oak, cypress, and pine forests. The overlook has a 360-degree view of Rhyolite Canyon, adjacent valleys, and surrounding mountain peaks. Your return rip is the best time to stop at roadside pullouts.
Wilderness and Trails
Most of the park area is designated wilderness, accessible by foot and horseback, but not by mechanized vehicles. Some 17 miles of day-use trails wind through meadows, forest, and rock pinnacles. Check the map below for trail lengths, elevation changes, and degrees of difficulty. Pets are prohibited on most trails; obey signs. Ask at the visitor center about the hikers' shuttle.
Picnic Areas
The Bonita Creek and Faraway areas have tables, grills, trashcans, and restrooms. Massai Point, Echo Canyon, and Sugarloaf areas have tables and restrooms. Water is available at Faraway Ranch and the visitor center.
Camping
The 26-site Bonita Canyon Campground is open year-round for tents, and trailers or RVs up to 29 feet long. Tables, grills, restrooms with flush toilets. No showers or hookups. Group site accommodates 9-24 people. Make reservations at www.recreation.gov. A fee is charged.
Faraway Ranch and Stafford Cabin
The ranch grounds and cabin are open year-round. Ask at the visitor center for a trail guide and information about the Faraway Ranch house tours.
Emergencies call 911
For firearms regulations check our website.
For a Safe Visit
Hiking Tips
• Plan your hike wisely; return before dark. Remember that you are at a high elevation. If you have a heart or respiratory condition, don't attempt a strenuous hike. • Beware of loose rock underfoot. Watch for falling rock. • Always carry and drink adequate water. • Watch the sky. Avoid hiking during summer monsoon thunderstorms. If caught, stay low, avoid open areas, and return to your vehicle. Cross flowing streams with extreme caution. • Trails can be icy in winter. • Allow horses the right-of-way. • Snakes, including rattlesnakes, are most active in summer. Be careful where you place your hands and feet. • This is a burned landscape. Watch for hazardous and falling trees. Flash floods can be severe. • Smuggling and illegal activity are common this close to the Mexico border. Be aware of your surroundings at all times, and do not travel alone in remote areas. Report suspicious behavior to park staff or call 911.
Prohibited
• Pets on trails, except where designated. • Camping outside Bonita Canyon Campground. • Collecting firewood. • Picnicking in the campground. • Rock climbing or bouldering. • Fireworks. • Bicycling, except on paved roadway. • Skateboards, roller blades or skates, and scooters. • Feeding or disturbing any wildlife, including birds. • Collecting or destroying plants, rocks, animals, or structures; all are protected by federal law. • Launching, operating, or landing an unmanned aircraft, such as a drone.
Source: NPS Brochure (2018)
Establishment

Chiricahua National Monument — April 18, 1924



For More Information
Please Visit The

OFFICIAL NPS
WEBSITE
Brochures ◆ Site Bulletins ◆ Trading Cards

Documents
A Conservation Study, Chiricahua National Monument, Arizona (James A. Randall, March 1957)
A History of the Building and Structures of Faraway Ranch: Historic Structure Report, Historical and Archeological Data Sections, Chiricahua National Monument (HTML edition) (Louis Torres and Mark Baumler, July 1884)
A Narrative History of the Civilian Conservation Corps at Chiricahua National Monument, Cochise County, Arizona (Jason H. Gart, History International, Inc., June 2001)
A Wild Place on the Frontier: Wilderness Building Blocks for Chiricahua National Monument (Jesse Engebretson, November 2012)
An Addendum to the Natural Resources Management Plan for Chiricahua National Monument Arizona (February 1980)
An Annotated Checklist of Spring and Early Summer Birds for the Northeastern Quarter of the Chiricahua Mountains of Southeastern Arizona (Bruce G. Elliott, 1961)
An Annotated List of Vascular Plants of the Chiricahua Mountains Cooperative National Park Resources Studies Unit Special Report No. 12 (Peter S. Bennett, R. Roy Johnson and Michael R. Kunzmann, October 1996)
Arizona Explorer Junior Ranger (Date Unknown)
Availability of Additional Water for Chiricahua National Monument Cochise County, Arizona USGS Water-Supply Paper 1475-H (Phillip W. Johnson, 1962)
Campground talk and slide show on volcanoes for Chiricahua National Monument USGS Open-File Report 94-232 (J.S. Pallister and E.A. Du Bray, 1994)
Chiricahua Mountains Annotated Bird Checklist (Kathy L. Hiett, R. Roy Johnson and Michael R. Kunzmann, extract from Park Science, Vol. 11 No. 2, 1991)
Cultural Landscape Inventory, Chiricahua Monument Developed Region, Task 1.4, Chiricahua National Monument, Wilcox, Arizona (Morrow Reardon Wilkinson, Ltd., July 2001)
Cultural Landscape Report: Faraway Ranch, Chiricahua National Monument — Parts One and Two: History, Analysis and Treatment (University of Arizona, August 2013)
Cultural Landscapes Inventory, Faraway Ranch, Chiricahua National Monument (1998)
Cultural Landscapes Inventory, Historic Designed Landscape, Chiricahua National Monument (2008)
Draft Environmental Impact Statement, General Management Plan: Chiricahua National Monument, Arizona (1999)
Ethnographic Overview and Assessment of Chiricahua National Monument and Fort Bowie National Historic Site (Scott Rushforth, July 2010)
Faraway Ranch Special History Study, Chiricahua National Monument Intermountain Cultural Resources Management Professional Paper No. 72 (Lysa Wegman-French, 2006)
Faraway Ranch, Chiricahua National Monument: Overview (Cori Knudten, May 16, 2011)
Fire History in Chiricahua National Monument Final Report (Christopher H. Baisan and Kiyomi A. Morino, July 2000)
Fire History of Rhyolite Canyon, Chiricahua National Monument Cooperative National Park Resources Studies Unit Technical Report No. 32 (Thomas W. Swetnam, Christopher H. Baisan, Peter M. Brown and Anthony C. Caprio, August 1989)
Five Year Summary of Wildlife Camera Trap Monitoring across Three Parks: A systematic approach to monitoring wildlife NPS Natural Resource Report NPS/CHIR/NRR-2015/1069 (Amanda Selnick, Jason Mateljak and Thomas Athens, October 2015)
Fort Bowie National Historic Site and Chiricahua National Monument Visitor Survey Cooperative National Park Resources Studies Unit Special Report No. 6 (Ervin H. Zube, Christina Kennedy and David Simcox, June 1987)
Foundation Document, Chiricahua National Monument, Arizona (January 2016)
Foundation Document Overview, Chiricahua National Monument, Arizona (January 2016)
Geologic Resources Inventory Report, Chiricahua National Monument NPS Natural Resource Report NPS/NRPC/GRD/NRR-2009/081 (J. Graham, June 2009)
Geology of Chiricahua National Monument: A Review For the Non-specialist USGS Open-File Report 93-617 (J.S. Pallister, E.A. Du Bray, and D.B. Hall, 1993)
Guide to the Volcanic Geology of Chiricahua National Monument and Vicinity, Cochise County, Arizona USGS Miscellaneous Investigations Series MAP I-2541 (John S. Pallister, Edward A. du Bray and Douglas B. Hall, 1997)
Historic Designed Landscape: Chiricahua National Monument (Robin L. Pinto, M. Lavato and R.B. Jeffrey, May 2007)
Historic Furnishings Report: Furnishings at Faraway — Faraway Ranch, Chiricahua National Monument, Arizona (David H. Wallace, 1986)
Historic Resource Study: A Pioneer Log Cabin in Bonita Canyon — The History of the Stafford Cabin, Faraway Ranch Historic District, Chiricahua National Monument, Arizona (HTML edition) (Dewey Livingston, 1994)
Junior Arizona Archeologist (2016)
Long-Range Interpretive Plan, Chiricahua National Monument (April 2012)
Interpretive Map and Guide to the Volcanic Geology of Chiricahua National Monument and Vicinity, Cochise County, Arizona USGS Miscellaneous Investigations Series MAP I-2541 (John S. Pallister and Edward A. du Bray, 1997)
Live fuel moisture sampling methods for Chiricahua National Monument Cooperative National Park Resources Studies Unit Technical Report No. 27 (Carol Rice, December 1989)
National Register of Historic Places Nomination Forms
Bonita Cañon, [Military] Camp at Bonita Cañon, Camp Bonita Cañon, Stafford Homestead, Stafford Cabin, Erickson Homestead, Erickson Ranch, Faraway Ranch (Gordon Chappell, July 1979)
Chiricahua National Monument Historic Designed Landscape (Robin Lothrop Pinto with R. Brooks Jeffery and Mike Lovato, May 21, 2007)
Stafford Cabin (H.S.-1) (F. Ross Holland, Jr., April 1972)
Natural Resource Condition Assessment 2015 Update, Chiricahua National Monument, Coronado National Memorial, and Fort Bowie National Historic Site NPS Natural Resource Report NPS/SODN/NRR-2015/1080 (Mark A. Dimmitt, Richard C. Brusca, Karen Krebbs, Cheryl L. McIntyre, Joel Viers, Colleen Filippone, Alison Berry, Thomas R. Van Devender and Alix Rogstad, November 2015)
Natural Resources Management Plan and Environmental Assessment, Chiricahua National Monument, Arizona (February 1980)
Preliminary geologic map of Chiricahua National Monument, Cochise County, Arizona, with digital geologic map data USGS Open-File Report 93-590-A (E.A. Du Bray and John S. Pallister, 1993)
Small Mammal Inventory of Chiricahua National Monument Cochise County, Arizona Cooperative National Park Resources Studies Unit Technical Report No. 30 (Douglas K. Duncan, August 1990)
Springs, Seeps and Tinajas Monitoring Protocol: Chihuahuan and Sonoran Desert Networks NPS Natural Resource Report NPS/SODN/NRR-2018/1796 (Cheryl McIntyre, Kirsten Gallo, Evan Gwilliam, J. Andrew Hubbard, Julie Christian, Kristen Bonebrake, Greg Goodrum, Megan Podolinsky, Laura Palacios, Benjamin Cooper and Mark Isley, November 2018)
Status of Climate and Water Resources at Chiricahua National Monument, Coronado National Memorial, and Fort Bowie National Historic Site: Water Year 2019 NPS Natural Resource Report NPS/SODN/NRR—2022/2378 (Kara Raymond, Laura Palacios, Andy Hubbard, Cheryl McIntyre and Evan Gwilliam, May 2022)
Stories of the Sky Islands: Exhibit Development Resource Guide for Biology and Geology at Chiricahua National Monument and Coronado National Memorial (Adam M. Hudson, J. Jesse Minor and Erin E. Posthumus, May 17, 2013)
The Archeology of Faraway Ranch, Arizona: Prehistoric, Historic and 20th Century Western Archeological and Conservation Center Publications in Anthropology No. 24 (Mark F. Baumler, 1984)
The Camp at Bonita Cañon: A Buffalo Soldier Camp in Chiricahua National Monument, Arizona Western Archeological and Conservation Center Publications in Anthropology No. 42 (Martyn D. Tagg, 1987)
The Camp at Bonita Canyon: Overview (Patricia Valentine-Darby, April 19, 2010)
The Pinnacles of Chiricahua National Monument: Overview (Patricia Valentine-Darby, May 3, 2010)
Topographic Map: Chiricahua National Monument, AZ Scale: 1:24,000 (USGS, 1993)
Vascular Plant and Vertebrate Inventory of Chiricahua National Monument USGS Open-File Report 2008-1023 (Brian F. Powell, Cecilia A. Schmidt, William L. Halvorson and Pamela Anning, 2008)
Handbooks ◆ Books

Videos