September 11, 2001, morning: Four commercial airliners are hijacked by al Qaeda terrorists in a planned attack against the United States. Two are flown into the World Trade Center's twin towers in New York City. A third is flown into the Pentagon in Arlington, Virginia. A fourth plane, United Flight 93, a Boeing 757 bound from Newark, New Jersey, for San Francisco, California, is delayed 25 minutes before takeoff.
After 46 minutes flying, when over eastern Ohio, hijackers in first class attack at 9:28 am, incapacitating the captain and first officer. Hijackers turn Flight 93 southeast, headed for Washington, DC, most likely the US Capitol.
Just before 10 am the plane is seen flying low and erratically over southwestern Pennsylvania. At 10:03 it crashes, upside-down, at 563 miles per hour into this Somerset County field. There are no survivors. All 33 passengers, seven crew members, and four hijackers are killed.
CREW MEMBERS
CAPTAIN, JASON M. DAHL • FIRST OFFICER, LEROY HOMER
FLIGHT ATTENDANTS: LORRAINE G. BAY • SANDY WAUGH BRADSHAW • WANDA ANITA GREEN • CEECEE ROSS LYLES • DEBORAH JACOBS WELSH

PASSENGERS
CHRISTIAN ADAMS • TODD M. BEAMER • ALAN ANTHONY BEAVEN • MARK BINGHAM • DEORA FRANCES BODLEY • MARION R. BRITTON • THOMAS E.BURNETT, JR. • WILLIAM JOSEPH CASHMAN • GEORGINE ROSE CORRIGAN • PATRICIA CUSHING • JOSEPH DELUCA • PATRICK JOSEPH DRISCOLL • EDWARD PORTER FELT • JANE C. FOLGER • COLLEEN L. FRASER • ANDREW (SONNY) GARCIA • JEREMY LOGAN GLICK • KRISTIN OSTERHOLM WHITEGOULD • LAUREN CATUZZI GRANDCOLAS AND UNBORN CHILD • DONALD FREEMAN GREENE • LINDA GRONLUND • RICHARD J. GUADAGNO • TOSHIYA KUGE • HILDA MARCIN • WALESKA MARTINEZ • NICOLE CAROL MILLER • LOUIS J. NACKE II • DONALD ARTHUR PETERSON • JEAN HOADLEY PETERSON • MARK DAVID ROTHENBERG • CHRISTINE ANN SNYDER • JOHNTALIGNANI • HONOR ELIZABETH WAINIO
America Attacked
What happened on board Flight 93—why it crashed here and why it did not strike its target—revealed itself as a story of heroic action. When the terrorist-hijackers took over the plane, passengers and crew began phoning family, friends, and authorities to report the hijacking. Their calls—13 people placed 37 calls—told them of the World Trade Center and Pentagon attacks. Their plane, they now realized, was part of a planned attack. Passengers and crew then made a collective decision, by vote, to rush the terrorists and try to retake the plane.
Recovered from the crash site, the cockpit voice recorder captured the shouts, thumps, crashes, and breaking of glass and plates. The 9/11 Commission reported that the hijackers, although remaining in control of the plane, must have judged that the passengers and crew were mere seconds from overcoming them. To continued sounds of the counterattack, Flight 93 crashed into this field.
The crash site is 18 minutes flying time from Washington, DC. The action of unarmed passengers and crew thwarted and defeated the terrorists' plan.
Flight 93 National Memorial is the nation's memorial to the passengers and crew of Flight 93. The Visitor Center Complex, on the hill above the crash site, introduces their story. Memorial Plaza borders the crash site, which consists of the impact site (marked by a boulder) and the debris field. The fields and woods beyond are the final resting place for the passengers and crew; their remains are still present.
A PARTNERSHIP PARK
Congress designated the crash site as a national memorial in 2002. Paul Murdoch Architects and Nelson Byrd Woltz Landscape Architects won the international design competition in 2005. The Memorial has been created through a public-private partnership including the Families of Flight 93, Friends of Flight 93, National Park Foundation, and National Park Service. To learn how you can support the memorial, visit www.flight93friends.org.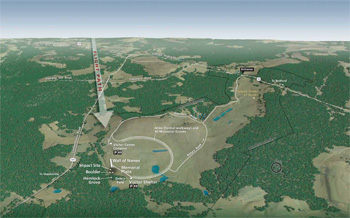 (click for larger map)
VISITING THE MEMORIAL
The Visitor Center Complex includes exhibits, a viewing window, a bookstore, the Flight Path Walkway, and Overlook. Call or check the park website for programs at The Learning Center. The complex connects with the Memorial Plaza by paved road and walkway.
You can also explore the story of Flight 93 through outdoor exhibits, a cell phone tour, ranger-led programs, and conversations with rangers and park volunteers.
WHILE YOU ARE HERE
Water is only available at the Visitor Center Complex. • Be alert to changing weather. • Stay on walkways and roads. • Pets allowed only in parking areas. • For firearms regulations ask a ranger or check the park website. • We strive to make our facilities, services, and programs accessible to all.
Thank you for helping to honor and respect the story of Flight 93.
Source: NPS Brochure (2015)
Establishment

Flight 93 National Memorial — Sept. 24, 2002



For More Information
Please Visit The

OFFICIAL NPS
WEBSITE
Brochures ◆ Site Bulletins ◆ Trading Cards

Documents
A Socioeconomic Atlas for Flight 93 National Memorial and its Region (Jean E. McKendry, Cynthia A. Brewer and Steven D. Gardner, 2004)
Climate Change Trends and Vulnerabilities at Flight 93 National Memorial, Pennsylvania (Patrick Gonzalez, March 21, 2018)
Enabling Legislation: September 11th National Memorial Trail P.L. 117-48 (October 13, 2021)
Flight 93 National Memorial: An International Design Competition (2004)
Foundation Document, Flight 93 National Memorial, Pennsylvania (June 2018)
Foundation Document Overview, Flight 93 National Memorial, Pennsylvania (June 2018)
General Management Plan/Environmental Impact Statement, Flight 93 National Memorial (Final, June 2007)
Junior Ranger Journal for Older Children, Flight 93 National Memorial (Date Unknown)
Natural Resource Condition Assessment, Flight 93 National Memorial NPS Natural Resource Report NPS/FLNI/NRR-2019/2059 (Mary Ann Furedi, Adam Hnatkovich, Ephraim Zimmerman and Jaclyn Braund, January 2020)
Handbooks ◆ Books

Videos