Commander-in-chief in the American Revolution. Founding father. First president. Few figures in United States history are so revered as George Washington. Henry Lee's 1799 eulogy still rings true: "First in war, first in peace, and first in the hearts of his countrymen." Three centuries later, Washington lives on through countless places of tribute. But sites in and near his namesake city can claim special significance because here he lived, worked, worshipped, and planned for the nation's future.
Even in Washington's lifetime, his home at Mount Vernon drew sightseers, growing more popular with each generation. In 1932, the bicentennial of his birth, Mount Vernon Memorial Highway opened from Arlington Memorial Bridge to the estate. The 16-mile road improved access through Virginia and ushered in a new era of road-building. Built by the Department of Agriculture's Bureau of Public Roads, it was proclaimed "America's Most Modern Motorway." While it was under construction, Congress renamed it George Washington Memorial Parkway, expanding its authorized length and its mission. Under the Capper-Cramton Act of 1930, the federal government acquired land along the Potomac River in Virginia from Great Falls to Mount Vernon to protect the shoreline and palisades, preserve historic features, and provide for public recreation areas.
In the 1950s and 1960s the parkway was extended northward. Traversing more difficult terrain than the southern leg, this section displays the latest in road engineering methods for its time—a wide, gently curving road with a grassy median, low stone guardrails, and soaring steel-and-concrete arched bridges. By 1970, 6.8 miles of the Maryland section were complete; that section was renamed in honor of Clara Barton in 1989. Today George Washington Memorial Parkway is a 7,600-acre national park area protecting the landscape and native habitat of the Potomac shoreline. Within the park you can visit over 25 sites associated with George Washington's life, and with the life of the nation he helped establish.
A Road Through Past and Present
By the time he became president in 1789, George Washington owned 8,000 acres along the Potomac River in Virginia, from south of Mount Vernon to several miles north of the estate. One of his dreams for post-Revolutionary America was to turn the Potomac River into the commercial gateway to the West. He lobbied for building the Patowmack Canal to route boats safely around the "great falls" of the Potomac, nearly 30 miles upriver from his home. George Washington Memorial Parkway includes remains of this late-1700s canal at Great Falls Park and sections of Washington's tidal Potomac farmlands: Riverside Park, Fort Hunt Park, and Collingwood Picnic Area.
Other members of Washington's family held land that is now within the parkway. Abingdon, home of Washington's stepson John Parke Custis, is the site of Ronald Reagan-Washington National Airport. Arlington House was the property of Washington's step-grandson George Washington Parke Custis, who was raised by the Washingtons. Custis left Mount Vernon in 1802 after his grandmother Martha Custis Washington died. That year, on the 1,100-acre estate he inherited, Custis began building a Greek Revival mansion. He filled the home, finished in 1817, with Washington heirlooms. Later, Custis' daughter Mary and her husband Robert E. Lee lived here until the Civil-war broke out in 1861.
Two more U.S. presidents are honored at Lyndon Baines Johnson Memorial Grove on the Potomac and Theodore Roosevelt Island. Other sites recall the nation's past: Claude Moore Colonial Farm recreates 1700s tobacco farm life. Military sites in Virginia include Civil War-era Fort Marcy and Spanish-American War and WWII-era Fort Hunt. Glen Echo, Md., features the home of American Red Cross founder Clara Barton, and site of a Chautauqua Assembly in the 1800s, now Glen Echo Park.
Turkey Run Park and Dyke Marsh Wildlife Preserve are natural habitats preserved within parkway lands. Watch for signs of the seasons: spring's dogwood, redbud, and daffodils and fall's fiery hues of oaks, maples, and hickories. Watch for wild turkeys, bald eagles, and other migratory and resident birds. As you travel the parkway, see how the Potomac River's character changes between the falls and tidewater.
Exploring the George Washington Memorial Parkway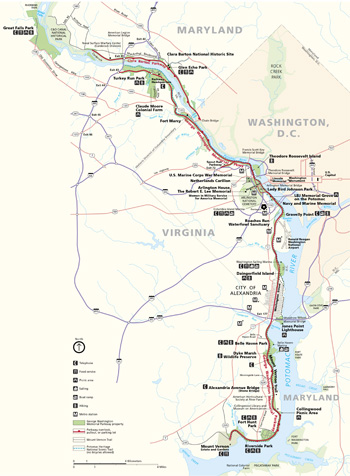 (click for larger map)
George Washington Memorial Parkway was designed to bring people closer to nature and history. With rapid suburban growth, the parkway is now a major commuter route. The very qualities that set this roadway apart—a rolling, winding course bounded by stone walls, with wildlife and eye-catching scenery—now make it unsafe at high speeds. When driving, observe posted speed limits. Keep in mind that first and foremost, the parkway is a park!
The parkway has two main sections, Virginia and Maryland. The 25-mile Virginia section runs northward from Mount Vernon along the Potomac River to I-495. In Maryland, the Clara Barton Parkway follows the Potomac River for seven miles from Chain Bridge in Washington, D.C., to north of I-495. Along the way are historic sites, memorials, and scenic and recreation areas, listed below north to south. Unless otherwise noted, entrances to these sites are directly from the parkway.
What To See and Do Along the Parkway
• Great Falls Park, Virginia
Overlooks have views of the Potomac's most dramatic series of falls. Nearby are remains of the Patowmack Canal, promoted by George Washington and built 1786-1802. Visitor center, trails, picnic area, snack bar. Open 7 am to 10 pm daily except December 25. Entrance fee. Directions: From I-495 take exit 44, Va. 193 (Georgetown Pike) west for 4.2 miles; right on Old Dominion Drive; follow signs to park entrance.
• Clara Barton National Historic Site
Built in 1891 and renovated in 1897 for Clara Barton, the house was a supply warehouse, American Red Cross headquarters, and Barton's home until she died in 1912. Directions: From Clara Barton Parkway take Cabin John exit; turn right on MacArthur Blvd.; follow signs to entrance.
• Glen Echo Park
Established by the Chautauqua Assembly in the 1890s, Glen Echo was an amusement park from 1907 to 1968. Today it is a center for visual and performing arts. Restored 1921 Dentzel Carousel, picnic area, classes, weekend dances. Directions: see Clara Barton NHS (above).
• Turkey Run Park
This quiet wooded area has views of the river's palisades and access for the Potomac Heritage National Scenic Trail, which follows the riverbank 8.5 miles from I-495 to Theodore Roosevelt Island. Trails, picnic area. Closes at 10 pm.
• Claude Moore Colonial Farm
Operated by cooperative agreement with Friends of Claude Moore Colonial Farm at Turkey Run, this is a working re-creation of a small 1700s tobacco farm. Picnic area (permits required). Entrance fee. Open 10 am to 4:30 pm, Wed.-Sun., April through mid-December. Directions: Exit parkway at Va. 123 south; right on Va. 193 (Georgetown Pike); right on Colonial Farm Rd., 0.6 miles to entrance.
• Fort Marcy
See earthworks and the site of a Civil War fort built in 1862 as part of the defense system that encircled Washington, D.C. Closed at 10 pm. Directions: NOTE—Enter from northbound parkway only! Southbound traffic, take Theodore Roosevelt Bridge to Constitution Ave., right on 23rd St., cross Memorial Bridge; bear right to return to parkway northbound.
• Theodore Roosevelt Island
Memorial dedicated to the 26th U.S. president and conservation advocate preserves 88 acres of swamp, marshland, and forest. A formal plaza has a statue of Roosevelt with quotations from his writings carved in stone. Hiking, wildlife watching. Closes at 10 pm. No bicycles. Directions: NOTE—Enter from northbound parkway only! Southbound traffic, see directions for Fort Marcy (above,). Metro station: Rosslyn.
• U.S. Marine Corps War Memorial/Netherlands Carillon
Statue depicts the World War II second flag-raising on Iwo Jima and honors sacrifices of U.S. Marines since 1775. The Netherlands gave the 50-bell carillon to the United States in gratitude for its support in WWII. Closed midnight to 6 am. Directions: From parkway southbound, take right exit for I-66/US 50/Roosevelt Bridge; bear right onto US 50 west; take ramp on right for Ft. Myer/Key Bridge/Rosslyn; left onto N. Meade St.; left onto Marshall Dr.; go to park entrance on left. From parkway northbound: bear left and follow signs for US 50 west; from US 50 west, proceed as above. Metro stations: Arlington Cemetery or Rosslyn.
• Arlington House, The Robert E. Lee Memorial
Robert E. Lee and wife Mary Custis Lee lived at the Arlington estate 1831-1861. Federal troops occupied it after Lee took command of Virginia's army during the Civil War. Later, a freedman's village was set up here, as was Arlington National Cemetery. Completed in 1932 and visually linking the Lee and Lincoln memorials, Arlington Memorial Bridge symbolizes the reunited nation after the Civil War. In Virginia the bridge leads into the cemetery via Memorial Avenue, lined with military monuments that include the Women In Military Service for America Memorial (WIMSA). Directions: From parkway, exit at Arlington National Cemetery; follow signs to parking; walk or take shuttle bus. Metro station: Arlington Cemetery.
• Lady Bird Johnson Park
Columbia Island was renamed in honor of the former first lady and her campaign to beautify Washington, D.C. She chose the site of Lyndon Baines Johnson Memorial Grove on the Potomac, where the Johnsons often stopped to admire the city as they drove from Texas. Nearby is the Navy and Marine Memorial dedicated to Americans lost at sea. Area includes Columbia Island Marina and a snack bar. Closed midnight to 6 am.
• Gravelly Point/Roaches Run Waterfowl Sanctuary
Gravelly Point has a boat ramp, playing fields, and views of Washington and air traffic at Ronald Reagan Washington National Airport. Across the parkway is Roaches Run, a popular birding area. Closed 10 pm to 6 am. Directions: NOTE—Enter Gravelly Point from northbound parkway only! Southbound traffic, turn around at Daingerfield Island. NOTE—Enter Roaches Run from southbound parkway only; turn around at I-395 south.
• Daingerfield Island
Includes Washington Sailing Marina, playing field (permits required), boat ramp, picnic area, snack bar, and restaurant. Closed midnight to 6 am.
• City of Alexandria
Scottish merchants founded Alexandria in 1749. George Washington considered it his home town. Visitor center: 221 King St. Directions: Parkway becomes Washington Street within city limits.
• Jones Point Lighthouse
This is the southernmost point of the original 10-mile-square District of Columbia. The 1856 lighthouse (closed) was one of the nation's first inland river lighthouses.
• Belle Haven Park/Dyke Marsh Wildlife Preserve
Set on an early 1700s tobacco warehouse site, Belle Haven Park has trails, a picnic area, and marina. Over 250 species of birds nest or feed at Dyke Marsh, a swamp forest and cattail marsh. South of Belle Haven the Alexandria Avenue Stone Bridge typifies those built in 1930-31 by the Bureau of Public Roads. Closes at 10 pm.
• Collingwood Picnic Area
This land was once part of George Washington's River Farm. Closes at 10 pm.
• Fort Hunt Park
This 1890s fort, from Spanish-American Wartimes, never saw action. Reactivated in World War II for military intelligence operations, this popular area has facilities for group picnics (permits required). Closes at dark.
• Riverside Park
This recreation site has a picnic area, fitness course, fishing areas, and river views. Look for bald eagles. Closes at 10 pm.
• Mount Vernon Trail
This paved, multi-use trail runs 18.5 miles from Key Bridge to Mount Vernon. Bicyclists must observe 15-mph speed limit. No motorized vehicles. Most sites along the parkway have parking for the trail.
• Mount Vernon Estate and Gardens
George Washington's home 1754-1799 is owned and operated by the Mount Vernon Ladies' Association of the Union. House, gardens, and demonstration farm are open daily. Fee.
Safety First The parkway is narrow and winding. Speed limit varies from 25 to 50 mph. Do not speed! • Watch for deer, wild turkeys, and other wildlife and pedestrians. • Metal detectors are prohibited. • For firearms regulations see the park website. • A license is required for fishing; local regulations apply. • Do not destroy or remove plants, animals, or other natural or cultural objects; all are protected by federal law.
Accessibility Contact the park for details about accessible facilities and activities. Service animals are welcome.
Source: NPS Brochure (2010)
WELCOME TO THE MOUNT VERNON TRAIL
The National Park Service built the Mount Vernon Trail in 1973 so visitors could better enjoy the diverse natural and historic areas along the Potomac River. Today, this foresight is appreciated by thousands who enjoy the trail for its many recreational opportunities. Please help us care for this park—for your pleasure and for future generations.
With the Potomac River as your companion, you can walk, ride your bike, or jog the 18.5-mile Mount Vernon Trail. The trail runs from Mount Vernon, George Washington's home (southern end), to Theodore Roosevelt Island in the Potomac River (northern end). Along the way you can enjoy a view of the Potomac at Riverside Park, visit fortifications at Fort Hunt Park, and take side trips to Dyke Marsh Preserve or to Jones Point Lighthouse, which features a 19th-century lightstation. If you have worked up an appetite, you can dine in Alexandria amidst the 18th-century homes and shops occupied since the city was a tobacco and shipping port.
Beyond Alexandria you can see sailboats off Daingerfield Island and view the Washington skyline from Gravelly Point. Once over the Columbia Island Bridge, you pass the Navy and Marine Memorial, with its sculpture of gulls in flight above a wave. Next, you can rest in the greenery of Lady Bird Johnson Park. The Mount Vernon Trail also connects to other recreational trails that await your exploration. If you enjoy vigorous activities or just relaxing—the Mount Vernon Trail is for you.
Enjoying the Trail
Theodore Roosevelt Island
Leave your bicycles at the racks and explore 2½ miles of trails and memorial plaza. Restrooms are ¼ mile from the plaza.
Lyndon Baines Johnson (LBJ) Memorial Grove
You have a clear view of the Washington, D.C., skyline from this living memorial to the 36th President.
Navy and Marine Memorial
This statue designed by Ernest Begni del Piatta, dedicated in 1934, honors Americans who served at sea.
Gravelly Point
From here you can see a panoramic view of Washington, the Potomac River, and Ronald Reagan Washington National Airport. It is a good place to begin a bike trip or watch the airplanes.
Daingerfield Island
No longer an island, this 107-acre area at the junction of the Potomac River and Four Mile Run has sailing, fishing, field sports, and bike rentals.
Alexandria, Virginia
The trail follows city streets through Alexandria. The town, historically a center for tobacco trading and shipbuilding, was frequented by George Washington, George Mason, and Robert E. Lee. Stop for a visit at Lee's childhood home, Christ Church, Gadsby's Tavern, and the Black History Resource Center.
Jones Point Lighthouse
This inland lighthouse warned vessels of the nearby sandbars from 1836-1925. The point was named for Cadwalader Jones, a beaver trader who built a cabin here in 1692. Jones Point was once the southernmost corner of the District of Columbia. Look for the cornerstone commemorating this boundary in an alcove along the seawall. This area is popular for fishing and picnicking.
Belle Haven Park
Once a settlement of Scottish merchants, Belle Haven grew up around a tobacco warehouse in the 1730s. It is a good place to picnic or join the trail.
Dyke Marsh Preserve
The largest freshwater tidal wetland in the metropolitan area is home to a diversity of animals and plants, including beaver, cattails, and wild rice. More than 250 species of birds have been sighted here.
Fort Hunt Park
Here are 156 acres for picnicking and playing ball. It is a great place to start a bike trip or a walk on the trail.
Riverside Park
Here you can enjoy fishing, picnicking, and viewing the river.
Mount Vernon
George Washington's home on the Potomac River is administered by the Mount Vernon Ladies' Association (fee).
For a Safe Visit
Trail Courtesy The trail is shared by many people, including bikers, runners, skaters, and casual explorers. Watch out for others who may be traveling faster or slower than you.
Safety and Regulations • Stay on the main trail or designated side trails. • Stay on the right side of the trail. Move left to pass—give ample warning to the trail user in front of you before passing. • Watch out for uneven pavement. Use caution on wet boardwalks—they can be slippery. • Be careful when crossing streets or if traveling with vehicle traffic. • Firearms and metal detectors are prohibited. • Lock your bikes in the racks provided. • Pets must be on a leash at all times. • Be alert for poison ivy and ticks. • Respect the privacy of property owners along the trail. • Do not damage, remove, or destroy any natural or cultural objects in the park—all are protected by federal law.
Source: NPS Brochure (2007)
UNITED STATES MARINE CORPS WAR MEMORIAL
"UNCOMMON VALOR WAS A COMMON VIRTURE"

—Fleet Adm. Chester W. Nimitz
A Memorial to Courage and Freedom
A fraction of a second . . . one click of a camera . . . and a powerful image is captured that engrosses a war-weary nation and fuels its resolve to push for final victory. This memorial, inspired by and based upon that image, is a testament to the bravery, honor, and sacrifice of the United States Marine Corps in its long and celebrated history.
The origins of the memorial began on Iwo Jima, a small volcanic island 648 nautical miles south of Tokyo. Iwo Jima's location, midway between the Japanese home islands and American bomber bases in the Mariana Islands, was key to each country's strategy in the final year of World War II.
The Japanese had built airfields on Iwo Jima by February 1945, which they used to launch attacks against U.S. bases in the Marianas and American long-range B-29 bombers. If Americans held the airfields, U.S. fighter planes could escort bombing missions, and damaged bombers could use the island as a sanctuary.
Japanese troops on Iwo Jima, commanded by Lt. Gen. Tadamichi Kuribayashi, had prepared a formidable series of defenses to protect the island. They vowed to defend it to their death. The Marines had the ability to take the island, but at what cost?
The battle for Iwo Jima lasted 36 days—from February 19 to March 26, 1945. Over 70,000 American troops, mostly Marines, under Lt. Gen. Holland M. Smith's command, engaged over 21,000 Japanese defenders in one of the bloodiest battles of the war. Almost 7,000 Marines, sailors, and soldiers were killed or missing during the battle and almost 20,000 were wounded. Of the Japanese soldiers, only 1,100 survived.
Fleet Adm. Chester W. Nimitz called the capture of Iwo Jima "as necessary to us in our continuing forward movement toward final victory as it was vital to the enemy in staving off ultimate defeat."
The Flag Raisings
Once ashore on February 19, 1945, the 28th Regiment, 5th Marine Division, began its assault on Mount Suribachi, an extinct volcano that rises 550 feet to dominate the southern tip of the fan-shaped island. The Marines readied the base of the mountain on the afternoon of February 21; by nightfall the next day they had almost completely surrounded it. On the morning of February 23, Company E, 2nd Battalion, 28th Marines, began the arduous climb up the rough terrain to the top. At about 10:30 am, U.S. troops were thrilled to see a small American flag flying from atop Mount Suribachi.
That afternoon a second, larger flag (salvaged from Pearl Harbor) was raised by Navy hospital corpsman John H. Bradley and Marines Harlon H. Block, Rene A. Gagnon, Ira Hayes, Franklin R. Sousley, and Michael Strank. News photographer Joe Rosenthal caught the flag raising in an inspiring photograph that won him a Pulitzer Prize and inspired creation of the United States Marine Corps War Memorial.
Making the Memorial
Sculptor Felix W. de Weldon, then with the U.S. Navy, found Rosenthal's photograph so inspiring that he immediately began sculpting a small wax model of the scene. He was then asked to build two nine-foot-tall versions for a war bond drive. De Weldon was subsequently commissioned to sculpt the present 78-foot-high memorial. Gagnon, Hayes, and Bradley, three survivors of the flag raising (the others had been killed in later phases of the battle for Iwo Jima), posed for the sculptor. De Weldon modeled the other men using photographs and descriptions.
President Dwight D. Eisenhower dedicated the memorial on November 10, 1954, the 179th anniversary of the U.S. Marine Corps. The memorial is dedicated to the Marine dead of all wars, and their comrades of other services who fell fighting beside them. No public funds were used building the memorial. Marines, Naval Service members, and friends donated the cost of $850,000.
Memorial Statistics
The 32-foot-high figures are shown raising a 60-foot flagpole; the flag flies 24 hours a day. They occupy positions similar to those in Rosenthal's historic photograph. As you stand before the memorial, the four figures in front are (left to right) Hayes, Sousley, Bradley, and Block. The two in back are Strank (behind Sousley) and Gagnon (behind Bradley).
The six figures stand on a jumble of igneous rock that represents the volcanic debris atop Mount Suribachi. On the memorial's base, engraved and burnished in gold, are the names and dates of principal Marine Corps campaigns and battles.
On the base is the tribute of Fleet Adm. Chester W. Nimitz to the fighting men on Iwo Jima: "Uncommon Valor was a Common Virtue." Below this is "Semper Fidelis," Latin for "always faithful," motto of the United States Marine Corps.
The United States Marine Corps
The United States Marine Corps was established by the Continental Congress in November 1775 to serve as shipboard infantry for the fledgling Continental Navy. It has evolved into a multi-purpose force dedicated to the defense of freedom in both the United States and abroad.
From the first amphibious operations in the American Revolutionary War to today's efforts to promote freedom around the world, the U.S. Marine Corps has enjoyed a reputation as an effective fighting force. The names of principal campaigns engraved on the memorial are a testament to the sacrifices U.S. Marines have made in service to America.
NETHERLANDS CARILLON
So many voices in our troubled land are still unheard. Let that be an incentive for all of us when we hear the bells ringing.

—Queen Juliana
A Gift of Friendship
Near the U.S. Marine Corps War Memorial stands a large bell tower, the Netherlands Carillon. This was a gift "From the People of the Netherlands to the People of the United States" in gratitude for American aid during and after World War II. The carillon symbolizes and is dedicated to the friendship between two countries and their common allegiance to the principles of freedom, justice, and democracy.
The idea for this symbolic gift came from a Dutch government official. Endorsed by Queen Juliana, the concept and the drive for funds to build the carillon and tower met with generous response from all sections of the Netherlands.
On April 4, 1952, during a visit to the United States, Queen Juliana presented a small silver bell to President Truman as a token of the carillon to come.
First installed at a nearby site in 1954, the tower and 49-bell carillon were moved to their present location in 1960. Dutch- and American-sponsored renovations were completed in 1995. A 50th bell was dedicated on May 5 of that year, on the 50th anniversary of the liberation of the Netherlands from the Nazis.
Design and Construction
The 50-bell carillon is cast from a bronze alloy of about four-fifths copper and one-fifth tin. Its total weight is 61,438 pounds. The largest bell, or bourdon, is six feet, nine inches in diameter and weighs 12,654 pounds; the smallest bell, or treble, is eight inches in diameter and weighs 35 pounds. Each bell carries an emblem, as well as a verse by Dutch poet Ben van Eysselsteijn. The smallest bells contain verses about youth.
The tower housing the carillon, designed by Dutch architect Joost W.C. Boks, is an open steel structure reinforced by steel plates. It is about 127 feet high, 25 feet deep, and 36 feet wide, and stands on a quartzite plaza 93 feet square. The plaza is enclosed by a low lava stone wall. Two bronze lions designed by Dutch sculptor Paul Koning guard the approach to the plaza. A rectangular staircase leads to a platform (not open to public). From there a circular staircase winds up to the glass-enclosed playing cabin 83 feet above ground.
Operation of the Carillon
The carillon is tuned to the chromatic scale. Its 50 bells give it two notes more than four octaves. In the playing cabin are the clavier's wooden levers and pedals. These connect directly to the movable inner clappers of the stationary hanging bells, permitting the carillonneur to achieve a full musical expression. Eighteen bells of the carillon are programmed to play a medley of songs by computer at 12 pm and 6 pm daily.
Planning Your Visit
Getting Here The United States Marine Corps War Memorial and Netherlands Carillon are in Virginia along the northern edge of Arlington National Cemetery, across from major monuments and memorials in Washington, D.C. You can get here via the Arlington Cemetery or Rosslyn Metro stations and via U.S. 50 and I-66.
Concerts Carillonneurs give free concerts on Saturdays from about late May through September. For concert schedules, check the panel on the carillon or contact the park: www.nps.gov/gwmp.
Accessibility, Safety, Regulations The United States Marine Corps War Memorial and Netherlands Carillon are administered by George Washington Memorial Parkway, part of the National Park System. For information about safety and accessibility (service animals are welcome) and firearms regulations contact the park: www.nps.gov/gwmp.
Source: NPS Brochure (2010)
Establishment

George Washington Memorial Parkway — May 29, 1930



For More Information
Please Visit The

OFFICIAL NPS
WEBSITE
Brochures ◆ Site Bulletins ◆ Trading Cards

Documents
A Report on Furnishings: Turkey Run Farm, McLean, Virginia (Charles E. Fisher, February 1973)
Administrative History, 1985-2010: George Washington Memorial Parkway (Robison & Associates, Inc., August 2011)
Analysis of the Deconstruction of Dyke Marsh, George Washington Memorial Parkway, Virginia: Progression, Geologic and Manmade Causes, and Effective Restoration Scenarios USGS Open-File Report 2010-1269 (Ronald J. Litwin, Joseph P. Smoot, Milan J. Pavich, Helaine W. Markewich, Erik Oberg, Ben Helwig, Brent Steury, Vincent L. Santucci, Nancy J. Durika, Nancy B. Rybicki, Katharina M. Engelhardt, Geoffrey Sanders, Stacey Verardo, Andrew J. Elmore and Joseph Gilmer, 2011)
Arlington Memorial Bridge, Photographs, Written Historical and Descriptive Data HAER No. DC-7 (Historic American Engineering Record, 1988)
"By the River Potomac": An Historic Resources Study of Fort Hunt Park, George Washington Memorial Parkway, Mount Vernon, Virginia (Matthew R. Laird, August 2000)
Cultural Landscapes Inventory: Memorial Avenue corridor, George Washington Memorial Parkway (2004)
Foundation Document, George Washington Memorial Parkway, District of Columbia-Maryland-Virginia (December 2014)
Foundation Document Overview, George Washington Memorial Parkway, District of Columbia/Maryland/Virginia (January 2015)
Geologic Resources Inventory Report, George Washington Memorial Parkway NPS Natural Resource Report NPS/NRPC/GRD/NRR-2009/128 (T.L. Thornberry-Ehrlich, December 2009)
Historic Resource Study: Rock Creek and Potomac Parkway, George Washington Memorial Parkway (Jere L. Krakow, January 1990)
Historic Structure Report: The Netherlands Carillon Draft (Diana Inthavong, Jennifer Oeschger and Elizabeth Milnarik, 2019)
Historic Structures Report, Architectural Data Section: Patowmack Canal and Locks, Great Falls Section, George Washington Memorial Parkway, Virginia (December 1986)
Historical and Archeological Study of the George Washington Memorial Parkway from the Theodore Roosevelt Memorial Bridge to the Lorcom Lane Turnabout on Spout Run Parkway, Arlington, Virginia (Paul B. Cissna, 1990)
Junior Ranger, Fort Hunt Park (Date Unknown)
Let's Move Outside, George Washington Memorial Parkway (Date Unknown)
Long-Range Interpretive Plan: George Washington Memorial Parkway (November 2005)
Natural Resource Condition Assessment, George Washington Memorial Parkway NPS Natural Resource Report NPS/GWMP/NRR-2016/1121 (Brianne M. Walsh, Simon D. Costanzo, William C. Dennison, Mark Lehman, Megan Nortrup, Brent Steury and Simone Monteleone, January 2016)
Handbooks ◆ Books

Videos