"Ex-President Van Buren returned to the place of his nativity on Saturday last ... after the lapse of a long series of years, spent in the service of his country, he has returned to the home of his youth, probably to spend the evening of his days among those who have long appreciated the splendor of his genius and admired his virtues."

—Kinderhook Sentinel, May 1841
Martin Van Buren was born in 1782 in Kinderhook, N.Y., as the American Revolution was drawing to a close. His parents kept a tavern and, like their Dutch predecessors of 150 years, farmed in the Hudson Valley. Young Martin, bright and ambitious, began a legal career at 14 as an apprentice to a local attorney and in 1804 joined his half=brother's law practice. In 1807 he married Hannah Hoes, a distant relative and childhood sweetheart. Van Buren's first appointed post as a county probate judge set him on a course that led to the highest office in the state—and eventually the nation.
Birth of the Democratic Party Politics in the early 1800s was a whirlwind of boisterous characters and opposing interest groups that shaped a new party system. Van Buren positioned himself in the eye of the storm, advocating the principles of the Jeffersonian Republicans: states' rights, strict constitutional construction, and civil liberties. His efforts helped bring an alliance of the "planters of the South and the plain republicans of the North,"—what came to be the Democratic Party. During Democrat Andrew Jackson's administration, Van Buren was "Old Hickory's" top adviser.
As eighth president, the first born under the U.S. flag (previous presidents were born British subjects), Van Buren continued Jackson's Democratic policies. He faced daunting problems: a national economic depression; crises with Great Britain, Spain, and the Republic of Texas that taxed his diplomatic skills; and, most controversial, the issue of extending slavery into new states, which Van Buren opposed.
Out of the Running In 1840 Van Buren lost his reelection attempt and returned to Kinderhook. He bid for the Democratic presidential nomination in 1844 but lost at the convention to James K. Polk. As the topic of slavery became more contentious, Van Buren was persuaded to run for president in 1848—as a third-party candidate for the Free Soil party. He lost again and gave up public life for good.
The 1850 census listed his occupation as farmer. He died at Lindenwald in 1862 and was buried in Kinderhook, where in life he had always known a beloved home.
A Master Politician's Magical Career
A series of elected and appointed posts gave Van Buren, nicknamed the Little Magician, ample opportunity to practice his true craft—cool, competent diplomacy.
He operated most effectively behind the scenes, where an observer noted that Van Buren "rowed to his object with muffled oars."
1801
Delegate to the Republican Party caucus in Troy, N.Y.; supports Jeffersonian principles for the rest of his life.
1808
Surrogate (local probate judge) of Columbia County, N.Y.
1812-20
State senator; state attorney general; leader of the Jeffersonian Republicans in New York; establishes Albany Regency, first statewide political machine in the nation.
1821
Delegate to convention for revision of the state constitution.
1821-28
U.S. senator; helps form Democratic Party; manages Andrew Jackson's 1828 presidential campaign.
1829
Governor of New York: in office 71 days, until appointed Secretary of State (1829-31); President Jackson's chief adviser.
1831
Nominated ambassador to Great Britain, highest U.S. diplomatic post; Senate does not confirm appointment.
1833-37
U.S. vice president under Andrew Jackson.
1837-41
President of the United States; continues Jackson's policies; opposes extension of slavery and annexation of Texas; establishes independent treasury; faces worst economic depression in U.S. history.
1844
Loses Democratic presidential nomination to James K. Polk.
1848
Presidential candidate of Free-Soil party, a group opposing extension of slavery; defeat ends political career.
Van Buren's Lindenwald
When Martin Van Buren was in the White House, an august home surrounded by fertile land just south of his native Kinderhook became available for purchase. Built by Judge Peter Van Ness when Van Buren was a boy, the large two-story red brick house followed a simple rectangular plan. It featured many elegant details, like a Palladian window lighting the second-story hallway. At the entrance was a silver-plated door knocker inscribed 1797, the year the building was completed. Van Buren knew when he purchased this home in 1839 that it could become an appropriate base for his activities at the center of the Democratic Party as well as an active and profitable farm. What he could not have known was that both the house and the nation would soon witness dramatic change.
William Van Ness, Van Buren's lifelong friend and former employer, inherited the house from his father but lost it to creditors in 1824. Fifteen years later, though neglect had rendered the building and grounds unattractive to a man who took pride in his surroundings. Van Buren paid the current owner William Paulding Jr. $14,000 for the estate. Even before he moved in Van Buren was anxious to begin improvements, and he set about making his piece of the Hudson Valley into a working farm. The place soon came back to life. By 1845, as the annexation of Texas created upheaval in national politics, he could gaze upon wooded paths, a variety of outbuildings, and farmland of over 220 acres. He planted pear and apple orchards, and in later years kept a large flock of sheep.
Van Buren lavished attention on his new house. His most elaborate modification involved removing the entrance hall's central stairway to create large rooms on both stories. The rooms often held meetings during his 1844 and 1848 presidential campaigns, which were run from Lindenwald. Fifty-one wallpaper panels imported from France formed a mural hunting scene in the downstairs hall. Elsewhere he placed fine furniture and Brussels carpets and hung portraits of his friends—Thomas Jefferson, Henry Clay, and Andrew Jackson. Van Buren described one improvement to a friend in 1846: "When you visit me again you shall wash off the impurities of Mammon in the Bath which has been put up." Lindenwald was a source of tremendous satisfaction to its owner.
"We are to undergo a great Revolution here," Van Buren announced in 1849. When his son Smith agreed to move in and help manage the estate, Van Buren gave him license to make alterations to accommodate Smith's growing family. Smith hired noted architect Richard Upjohn. The plan called for kitchen ranges, running water, a furnace, and more rooms. But it was the stylistic features—a four-story brick tower, a central gable, attic dormers, and "as beautiful a Porch as you ever laid your eyes upon"—that transported Lindenwald from the 1700s to the mid-1800s, an era when fashionable builders modeled homes after the villas of northern Italy. Finally Lindenwald was painted yellow. The indulgent father explained that "the idea of seeing in life, the changes which my heir would be sure to make after I am gone, amuses me."
Van Buren lived happily at his country estate until his death in 1862. Over the next 100 years it served as a private residence, tea house, nursing home, and antiques shop. In 1974 Congress designated Martin Van Buren National Historic Site to honor the eighth U.S. president. Today, restored to the era of Van Buren's occupancy, the mansion and grounds recall the time when this gentleman farmer "drank the pure pleasure of a rural life" at his Lindenwald.
Planning Your Visit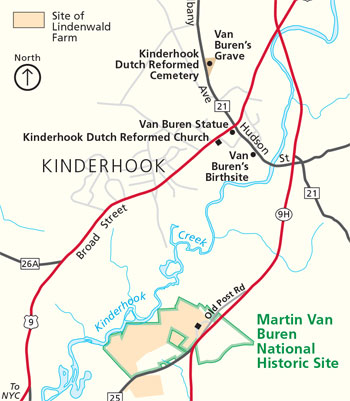 (click for larger map)
Martin Van Buren National Historic Site preserves the mansion and 300 acres surrounding most of the original farm property. Note: The park boundary encompasses private property. Talk to a ranger before crossing private property; please respect the rights of property owners.
Visitor Center A small visitor center near the parking lot has information, restrooms, a bookstore, and ticket sales for the house tour. Open seasonally. For tour schedules contact the park or see www.nps.gov/mava.
Guided House Tours The only way to tour the house is with a guide; sign up at the visitor center. Tours are given daily from the end of May through October; there is a fee. The house is closed in winter; the park grounds are open year-round from 7 am to dusk.
Nearby Van Buren Sites
• Van Buren's Birthsite Hudson Street A historical marker in Kinderhook marks the site of the Van Buren family tavern where Martin was born. The original building burned long ago. The tavern served as a hostel for travelers and a gathering place for villagers.
• Van Buren Statue Village center near the bandstand This bronze statue sculpted by Edward Hlavka was presented to the village in 2007 by the Friends of Lindenwald.
• Kinderhook Dutch Reformed Church Broad Street Van Buren attended church here. The building was badly burned in 1867 and rebuilt in 1869.
• Kinderhook Dutch Reformed Cemetery Albany Avenue Van Buren died on July 24, 1862, at age 79. He is buried in this 1817 cemetery along with his wife Hannah, his parents, and his son Martin Jr. A ceremony celebrating his birthday is held each year.
Accessibility/Regulations For information about accessibility and firearms and other regulations, see the park website. Service animals are welcome.
Source: NPS Brochure (2010)
Establishment

Martin Van Buren National Historic Site — October 26, 1974



For More Information
Please Visit The

OFFICIAL NPS
WEBSITE
Brochures ◆ Site Bulletins ◆ Trading Cards

Documents
A Farmer in his Native Town: Cultural Landscape Report for the Martin Van Buren Farmland, Volume I: History, Existing Conditions, Analysis and Treatment Implications (Llerena Searle, 2004)
A Political Landscape: Landscape Design Research for LINDENWALD the Farm and Home of President Martin Van Buren, Kinderhook, New York (Spring 2004)
A Return to His Native Town: Martin Van Buren's Life at Lindenwald, 1839-1862, Martin Van Buren National Historic Site Historic Resource Study (Leonard L. Richards, Marla R. Miller and Erick Gilg, August 2006)
Adjacent Lands Resource Analysis, Martin Van Buren National Historic Site (September 1980)
Administrative History, 1974-2006: Martin Van Buren National Historic Site (Suzanne Julin, July 2011)
Archeological Collections Management at Martin Van Buren National Historic Site, New York ACMP Series No. 8 (Maria Angela Capozzi, 1991)
Alternative Transportation Feasibility Study: Martin Van Buren National Historic Site (May 2012)
Archeological Investigation: Lindenwald Wheelchair Lift, Town of Kinderhook, Columbia County, New York (Hartgen Archeological Associates, Inc., February 1999)
Boundary Study Environmental Assessment, Martin Van Buren National Historic Site (2003)
Cultural Landscape Report for Martin Van Buren National Historic Site: Site History, Existing Conditions and Analysis Olmsted Center for Landscape Preservation Cultural Landscape Publication No. 5 (David L. Uschold and George W. Curry, June 1995)
Cultural Landscape Report for Martin Van Buren National Historic Site — Volume II: Updated Treatment Plan and Record of Treatment (Alexandra von Bieberstein and Margie Coffin Brown, 2016)
Foundation Document, Martin Van Buren National Historic Site, New York (October 2016)
Foundation Document Overview, Martin Van Buren National Historic Site, New York (January 2016)
From Homeland to New Land: A History of the Mahican Indians, 1600-1830, Martin Van Buren National Historic Site Cultural Affiliation Report (William A. Starna, 2011)
General Management Plan/Environmental Assessment, Martin Van Buren National Historic Site (2015)
Historic Furnishings Report Addendum — Part 1: Historical Data Section with Implementation Options, Martin Van Buren National Historic Site (Janice Hodson, 2019)
Historic Furnishings Report Addendum — Part 2: Implementation Plan, Martin Van Buren National Historic Site (Janice Hodson, October 2019)
Historic Furnishings Report for "Lindenwald", Martin Van Buren Historic Site, Kinderhook, New York (Carol E. Kohan, 1986)
Historic Resource Study: Lindenwald, Martin Van Buren National Historic Site, New York (John D.R. Platt, November 1982)
Historic Structure Report, Architectural Data Section, Volume 1: Martin Van Buren Historic Site (William W. Howell, June 1985)
Historic Structure Report, Architectural Data Section, Volume 2: Appendices, Martin Van Buren Historic Site (William W. Howell, June 1985)
Interpretive Concept Plan, Martin Van Buren National Historic Site (2005)
Interpretive Planning Foundation, Martin Van Buren National Historic Site, New York (2003)
Irish Immigrant Workers in Antebellum New York: The Experience of Domestic Servants at Van Buren's Lindenwald (Patricia West, extract from Hudson Valley Regional Review: A Journal of Regional Studies, Vol. 9 No. 2, September 1992)
Junior Ranger (K to 2nd Grade), Martin Van Buren National Historic Site (2013)
Junior Ranger (3rd Grade), Martin Van Buren National Historic Site (2013)
Lindenwald: The Martin Van Buren National Historic Site (Reduced Copies of Measured Drawings/Photographs) HABS No. NY-6021 (1997)
"Lindenwald," The President Martin Van Buren Homestead, near Kinderhook, New York (Melvin J. Weig, November 3, 1936)
Master Plan: Lindenwald National Historic Site, New York (February 18, 1970)
National Register of Historic Places Nomination Form
Martin Van Buren National Historic Site ("Lindenwald") (Bronwyn Krog, January 3, 1979)
Natural Resource Condition Assessment, Martin Van Buren National Historic Site NPS Natural Resource Report NPS/MAVA/NRR-2019/2015 (Geraldine Tierney and James Gibbs, October 2019)
Plant Yourself in My Neighborhood: An Ethnographic Landscape Study of Farming and Farmers in Columbia City, New York, Martin Van Buren National Historic Site Special Ethnographic Report (Cathy Stanton, April 2012)
Preservation Maintenance Plan for Martin Van Buren National Historic Site (Olmsted Center for Landscape Preservation, 1996)
Report on the information found in the Papers of Martin Van Buren, collected at the Ogontz Campus of the Pennsylvania State University, regarding Lindenwald, through the years 1839 to 1864 (Lorraine M. Poll, 1978)
State of the Park Report, Martin Van Buren National Historic Site, New York State of the Park Series No. 32 (2016)
The "Little Magician" after the Show: Martin Van Buren, Country Gentleman and Progressive Farmer, 1841-1862 (R. Huston, extract from New York History, 85(2), March 2004)
Transportation Analysis Report: Martin Van Buren National Historic Site (October 2010)
Handbooks ◆ Books

Videos