Men Who Matched the Mountains:
The Forest Service in the Southwest

---

CHAPTER VII
What the Well Dressed Ranger Should Wear
---
The subject of uniforms was always a volatile one in the early days of the Forest Service. All it took to get an argument started at Ranger meetings was to mention uniforms. In the 1905-06 era, the usual field clothing consisted of a pair of Levis—Levi Strausses, they called them then—a work shirt of almost any kind, with a short blue denim jacket and a wide-brimmed Stetson.
When the Ranger was working in brushy country, he added chaps to his wardrobe. Most of the early Rangers also wore a gun belt and six-shooter. Supervisor McClure still wore his Prince Albert.
A. O. Waha, who was one of the first of the technically-educated foresters to be assigned to the Southwestern Region, discovered on his arrival in New Mexico in July, 1905, that his favorite riding habit was not quite in style in the Southwest.
"While still at New Haven, I had made a very attractive riding suit of brown-flecked corduroy," Waha has written. "I realized immediately after noting the characteristic dress of the he-men of the southwest that my riding clothes were quite out of keeping and would make me entirely too conspicuous. While I didn't go as far as to adopt the Levi Strausses, I did use khaki trousers for about the first season, and subsequently khaki riding breeches, and while I found the latter much more comfortable for riding and just as comfortable as trousers for walking provided they were not too tight in the knees, I must admit that considerable intestinal fortitude was required to wear them.
"However, I had a little support due to the fact that we had some ranchers from the East who on occasions wore riding breeches, and then there were several English 'remittance men' who sometimes wore the choke bores; as they were called by the Rangers and cowhands, but for the most part they were so anxious to 'do as the Romans do' that they wore the most disreputable looking clothes they would find and largely forgot about their 'bawths.' It was always a matter of wonderment to me how these supposedly wellbred Englishmen could go from one extreme to the other in so short a time.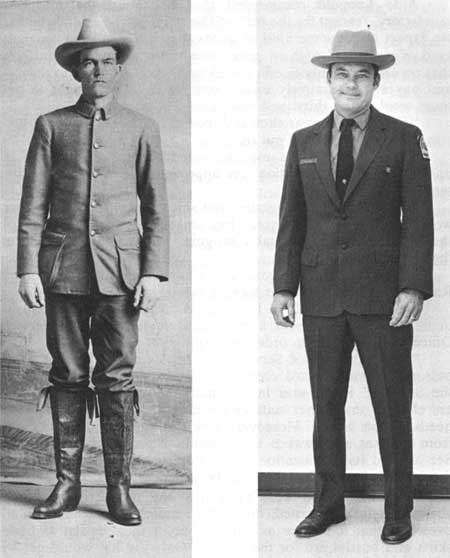 The well-dressed Forest Ranger (Left: 1910; Right: 1971).
"Many were the arguments I had with the Rangers regarding superiority of riding breeches, but I knew they would not be convinced unless they actually gave them a trial. After Ranger Goodard, who had been a top cow hand, bought a pair and liked them, others followed suit. But as long as I was assigned to the Gila, choke bores were anathema to the resident stockmen and cowpunchers."
An attempt had been made as far back as 1903 to get the few scattered Rangers into uniforms, and a paper in the Fred Winn collection reveals that the order to get into uniforms "was not accepted with any degree of enthusiasm, for they were well aware that the people with whom they had to deal were not the type who would be awed by a uniformed official representing the Federal government."
The Rangers "ordered their uniforms and then conveniently hid them away and went on about their work in the garb that was current in the neighborhood."
In 1908 a Forest Service uniform was adopted based on the design of the German foresters, with a tight-fitting collar. The Rangers soon began calling it the "German Crown Prince" uniform.
Waha recalled that because of poor fittings the Rangers were getting by mail order purchases, "some of the men wearing them looked more like pictures of German soldier prisoners during the World War."
"At some hotels," Waha recounted, "the bellboys were wearing uniforms of about the same design and color. Arthur Ringland, who was short of stature and rather boyish looking, was made painfully aware of this when we were staying at the Gadsden Hotel in Douglas, Arizona at the time we were having a Ranger meeting there in 1908. Ringland had his uniform on and was walking bareheaded across the lobby when a guest approached him with a letter, saying, 'Boy mail this letter.' Ringland, who was always a strong advocate of uniform clothing for Forest Officers, did not allow his enthusiasm to be dampened by this incident, but for a time his face was red and of course the story went the rounds."
It was difficult to "sell" Rangers on uniforms. At the 1909 meeting of Rangers at Springerville the subject was discussed several times.
"I always got a perfect fit, but the goods are absolutely worthless," J. C. Wheatley spoke up. "They won't stand rough usage."
D. C. Martin affirmed the judgment, "The suits are o.k. except when they are worn in brushy country."
Aldo Leopold commented that he found the uniforms satisfactory, "except for the fit." "The point is," he said, "whether we expect to get some kind of goods that will stand the roughest kind of wear, and high in price, or whether we want a uniform that we can wear only in office work and when we come to town and pay a comparatively small price for it. They ought to put more wool in the shirts and charge a little more."
"The trousers wear slick and look more or less like a spotted cow," Ranger Wheatley put in.
The Rangers at the meeting voted compulsory wearing of uniforms and the resolution was approved with a couple of dissenting votes.
Arthur Ringland suggested that since a coat was hardly ever worn, a gray shirt with a green tree embroidered on the points of the collar be used as a suitable insignia. No action was taken on the suggestion.
For years it was not compulsory to wear uniforms and many Rangers wore them only at Ranger meetings.
On August 1, 1910, A. F. Potter, Associate Forester in Washington headquarters, sent a memorandum to all Forest Service Officers urging them to order uniforms.
"While the use of Service uniforms is not at present compulsory, it tends toward economy, efficiency, and the dignity of the Service," Potter said in his memorandum. "The uniforms are cheaper than other suitable clothing and are adapted to the needs of the work. Moreover, they distinguish Forest Officers from civilians and awaken in the public a proper respect for the Service and its organization. The Forester heartily approves of them. It is hoped that they will be generally worn."
With the memo were price lists and a descriptive folder showing styles of worsted, olive green uniforms, Mackinaws and overcoats that today are as out of style in their design as hoop skirts and bustles are for the ladies. Only the hat would get by even the un-style-conscious Rangers of today. The hat was a light drab Stetson with four-inch crown and three-inch brim. Trousers were cavalry style riding breeches with laces at ankle and puttee leggins—or if preferred, straight cut long trousers with or without a double seat. There were many supplementals: cap, sweater, reefer, denim jacket and overalls.
The prices offered by the uniform company, the Fechheimer Bros. of Cincinnati certainly would be welcomed by Rangers today: coats, from $7.55 to $9.70; trousers, from $4.45 to $5.90; hats, $3.45 to $4.50; denim coat, $1.10; denim trousers, 90 cents.
A. O. Waha reported that "it was a sad day when they had to give up wearing their Stetsons. Having had my fling with this type of hat for years, I personally had no objection to the changed type which is really a more comfortable hat for general wear. In the horseback days, however, I am thankful that sombreros were recognized as the hat the well-dressed Forest Officers should wear. As a memento of those days, I still have the Mexican hand-carved leather hat band which I used to make my hat, shall I say, somewhat distinctive."
In 1918, Waha was an inspector in the Division of Operations in the Washington office, and was designated a committee of one to design a new uniform. The English army officer's uniform with its open collar and large bellows-type pockets furnished ideas for the 1918 uniform. The arrangement of pockets was changed, according to Waha, and a sewed on belt was added.
"This style," he said, "was effective until about 1934 when a Service-wide committee designed the present day uniform, which retains the best features of the one I had designed and, unfortunately, some that are longer so good."
---
---
tucker-fitzpatrick/chap7.htm
Last Updated: 22-Jan-2008