First in war, first in peace, and first in the hearts of his countrymen.

—Henry "Lighthorse Harry" Lee
Among the founders of the United States, George Washington alone earned the title "Father of his Country," in recognition of his leadership in the cause of American independence. In 1775 he molded a fighting force that won independence from Great Britain. In 1787, as president of the Constitutional Convention, he helped guide the deliberations to form a government that has lasted over two centuries.
In 1789 George Washington was unanimously elected the first president of the United States. Washington defined the presidency and helped develop the relationships among the legislative, executive, and judicial branches of government. He established precedents that successfully launched the new government on its course. President Washington remained ever mindful of the ramifications of his decisions and actions, for he was a consummate statesman. With this monument the citizens of the United States show their enduring gratitude and respect.
Washington—the Man
George Washington was born February 22, 1732, on his father's plantation in Westmoreland County, Virginia. As a young man he worked as a surveyor, gaining detailed knowledge of western lands and a taste for adventure. When Washington was 21, Virginia's royal governor sent him into the Ohio Valley to warn the French to stay out of lands claimed by Great Britain. In the ensuing French and Indian War (1754-1763) Washington received his first military experience. Fame gained on the field of battle led to his first political victory—election to the Virginia House of Burgesses, where he served during the growing political difficulties with Great Britain. He represented Virginia in the Continental Congress, and in 1775 Congress chose him to command American troops. He located and selected talented officers for the Continental Army that he led in a successful war against England, the most powerful nation in the world. By war's end Washington had become identified with the American Revolution's triumphant conclusion, and he commanded enough respect to assume any role he chose. Instead, he willingly laid down the powers Congress bestowed, resigned his commission, and returned to Mount Vernon. As the young federation faltered the people again looked to Washington for leadership—now in peace—as they had in war. At the Constitutional Convention in 1787, Washington was elected presiding officer. The new Constitution provided for a president to head the government, and Washington was the ideal choice. He served for two terms, 1789-97, and refused pressure to run for a third. Once again he retired to Mount Vernon where he was available to answer his country's call until his death on December 14, 1799.
Building the Monument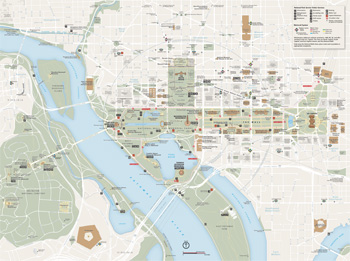 (click for larger map)
The Washington Monument, at 555 feet, 5-1/8 inches, towers over everything in the Nation's Capital and reminds us of the immensity of George Washington's contribution to this republic. The monument resembles a classic Egyptian obelisk and has little in common with the colonnaded temple originally designed by Robert Mills to house statues of Washington and other American heroes. The cornerstone was laid July 4, 1848, in a ceremony attended by President James K. Polk and other dignitaries, among whom were representatives Abraham Lincoln and Andrew Johnson. The monument rose steadily to 156 feet, financed by popular subscriptions collected by the Washington National Monument Society. Construction stopped in 1858 due to lack of funding. It stood unfinished for over 18 years until President Ulysses S. Grant, in 1876, approved an act authorizing the federal government to complete the project. In 1878 Lt. Col. Thomas Casey, U.S. Army Corps of Engineers, took control, simplified the design by Mills, and resumed construction. In December 1884, a 3,300-pound marble capstone was placed on the obelisk and topped with a 9-inch pyramid of cast aluminum, a rare metal in 1884. The monument was dedicated on February 21, 1885.
Visiting the Monument
The monument is open daily except December 25. Free tickets for a timed entrance are required; they are available at the ticket kiosk at 15th Street and Madison Drive. A 70-second elevator ride takes visitors to the 500-foot level for spectacular views of the city. Rangers periodically lead tours past 195 memorial stones.
Source: NPS Brochure (2008)
Establishment

Washington Monument — Aug. 2, 1876



For More Information
Please Visit The

OFFICIAL NPS
WEBSITE
Brochures ◆ Site Bulletins ◆ Trading Cards

Documents
A Brief History of the Washington Monument and Grounds, 1783-1978 (Final Draft) (Charles W. Snell, September 14, 1978)
A History of the Washington Monument, 1844-1968 (George J. Olszewski, April 1971)
Cultural Landscape Report: Washington Monument Grounds (John Milner Associates, Inc. and Grunley-Walsh Joint Venture, December 2003, revised August 2011, January 2015)
Development Concept Plan and Alternatives, Washington Monument (September 1981)
Historic Structure Report, Vol. 1: Washington Monument and Associated Structures, Washington Monument (John Milner Associates, Inc. and Grunley-Walsh Joint Venture, June 2004)
Historic Structure Report, Vol. 2: Washington Monument and Associated Structures, Monument Lodge (John Milner Associates, Inc. and Grunley-Walsh Joint Venture, June 2004)
Historic Structure Report, Vol. 3: Washington Monument and Associated Structures, Survey Lodge (John Milner Associates, Inc. and Grunley-Walsh Joint Venture, June 2004)
The Origins and History of the Washington Monument Flag Display (Michael D. Hoover, February 1992)
The Washington Monument: A Technical History and Catalog of the Commemorative Stones (Judith M.Jacob, 2005)
"To the immortal name and memory of George Washington": The U.S. Army Corps of Engineers and the Construction of the Washington Monument (Louis Torres, U.S. Army Corps of Engineers, December 1984)
Handbooks ◆ Books

Videos