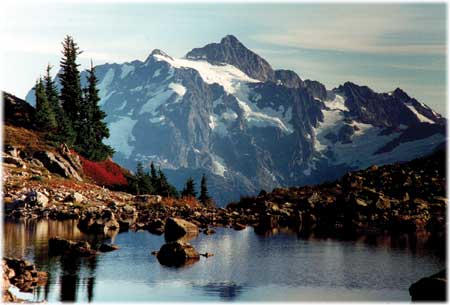 Mount Shuksan, Anne Braaten, NPS
Parks For Science
It is an exciting time for our national parks thanks to a renewed enthusiasm for science. National parks are public treasures that offer us a chance to explore significant places throughout the country. Their natural aspects and long-term protection also make them ideal for scientific research. Park managers realize that this research is needed to confront increasingly complex environmental issues and decide how to best preserve these places for the enjoyment of future generations.
A multiyear plan called the Natural Resource Challenge began in 1999 and continues to expand and revitalize National Park Service (NPS) natural resource management through a greater reliance on scientific knowledge. The foundation of this plan is to acquire basic information about the natural resources and conditions in the parks by compiling:
species lists of vertebrates (mammals, birds, fish) and plants
information on the distribution and status of these vertebrates and plants
geology, soil and vegetation maps
data on air quality
information on the location and classification of bodies of water
data on water quality
a natural resource bibliography
basic data for generating maps
As information is compiled, it becomes apparent that some natural resources need ongoing attention. For these, monitoring is the next step of the Natural Resource Challenge. To study trends and pressures on resources, parks are working out long-term monitoring strategies adapted to specific kinds of resources and factors that may threaten them.
Overall, the Natural Resource Challenge is the Park Service's strategy to:
inventory and monitor natural resources
restore natural ecosystems degraded by non-native plants and animals
encourage independent research studies by scientists
build working partnerships among parks, universities, researchers and other agencies such as the U.S. Forest Service, the U.S. Geological Survey and the U.S. Fish and Wildlife Service
share new findings and knowledge with the public
www.nps.gov/noca/nat.htm
www.nature.nps.gov
look for links to web-based resources throughout Natural Notes
---
Inventory And Monitoring In The North Coast And Cascades Network: Partnership For The Future
The goal of the Natural Resource Challenge and its Inventory and Monitoring Program is to better meet the mission given to the National Park Service (NPS) by Congress when the agency was created in 1916: "... to conserve the scenery and the natural and historic objects and the wildlife and to provide for the enjoyment of the same in such manner and by such means as will leave them unimpaired for the enjoyment of future generations".
For North Cascades National Park Service Complex (NCNPSC) to become a library, laboratory and classroom, it must work with other parks and other agencies to compile databases and conduct research. Across the NPS, Vital Signs Monitoring Networks have been established. A total of 32 regional networks are planned.
These networks allow parks within similar regions to share information and findings on common natural resources and ecosystem health. In the Pacific Northwest we have the North Coast and Cascades Network (NCCN) comprised of seven NPS units:
North Cascades NPSC
Olympic National Park
Mount Rainier National Park
San Juan Island National Historical Park
Ebey's Landing National Historical Reserve
Fort Vancouver National Historic Site
Lewis and Clark National Historical Park
The NCCN is a cooperative effort to increase our knowledge of this amazing region to ensure the long-term protection of these significant NPS units.

Lupine, Anne Braaten, NPS
In all things of nature there is something of the marvelous.
—Aristotle
North Cascades National Park Service Complex
This part of the National Park System embodies the very idea of diversity. The mountainous park includes the north and south units of the national park, as well as Lake Chelan and Ross Lake National Recreation Areas. With 684,320 acres, of which over 93% is managed as the Stephen Mather Wilderness, the park sees around 400,000 recreational visits each year.
The park's vast range of elevations, climates and life zones provides for a variety of wildlife. Over 700 glaciers and a sea of peaks and valleys form the unique Cascades ecosystem. This newsletter, the second edition of Natural Notes, highlights scientific findings and showcases current research in the park.