At Kenai Fjords, the idea of "forever" is elusive. Glaciers advance and retreat with changes in global temperature and precipitation. Forests claim rocky ground left by retreating glaciers. As ice melts, sea level rises, and the land no longer weighted down by masses of ice rises as well. Nothing here is static; even "solid" land is a work in progress.
Some changes are slow and steady, some happen practically before our eyes. Deep below Earth's surface crustal plates collide head-on: the denser Pacific Plate slips under the North American Plate. This subduction drags the Kenai Mountains into the sea and causes frequent earthquakes. In the 1964 Great Alaska Earthquake, the shoreline plummeted six feet, dramatically reshaping the coast in a matter of minutes.
Established as a national monument in 1978, Kenai Fjords became a national park under the Alaska National Interest Lands Conservation Act (ANILCA) of 1980. The National Park Service protects this dynamic ecosystem for you to enjoy today and for others to appreciate tomorrow.
Coastal Rainforest
You might be surprised to find so much greenery in this otherwise icy place. Until about 200 years ago, much of what is now green was covered by ice. As the glaciers retreated—and continue to retreat—lush temperate rainforest has taken hold.
Between the icefield and the fjords, the stages of plant succession are ongoing. Mosses, lichens, lupine, and fireweed are the first to colonize glacial till. Black cottonwoods, Sitka alders, and several species of willows mark the middle stage of this progression. Eventually pioneer species give way to conifers like Sitka spruce and mountain hemlock. These giants of the temperate rainforest create a canopy for shade-loving ferns, shrubs, and mosses.
Each stage of plant succession creates habitat for different animals. Mountain goats pick their way on precipitous slopes. Moose browse hedges of willow and alder. You can see results of their foraging along trails. Bears—black and brown—search for grasses and berries, but also feed on salmon and carrion. Forest dwellers include wolverines, marmots, beavers, snowshoe hares, and many others.
Rivers of Ice
The Harding Icefield covers over half of 669,983-acre Kenai Fjords National Park and conceals a mountain range under a thousand-foot blanket of ice. A relic from the last ice age, the icefield shows us what much of North America looked like in our planet's not-so-distant past.
Glaciers are still at work in Kenai Fjords today. Year-round storms can drop over 100 feet of snow on higher elevations. Snowflakes compact into dense glacial ice, feeding 38 glaciers that flow from the icefield. These slow-moving rivers of ice slice through the bedrock, exposing bowl-shaped cirques and broad, U-shaped valleys as they retreat.
At Exit Glacier—the only part of the park you can reach by road—you can get close enough to look into blue glacial crevasses. Keep a safe distance though! The mix of ice and gravel at the glacier's edge can be treacherous. Ice caves and overhangs can collapse without warning.
Glacial Fiords
Deep, glacier-scoured valleys fill with sea water to create the fjords. Massive icebergs crash from tidewater glaciers into the sea, adding fresh water and nutrients to the cold ocean. This mixture, further energized by long Alaskan summer days, creates one of the most productive ecosystems on Earth.
Kenai Fjords provides habitat for at least 191 species of birds. The black oystercatcher spends most of its time feeding in the rich intertidal zone. Tufted and horned puffins nest in rock crevices along the coast. Bald eagles patrol the waters in search of salmon and other fish.
The park was established in part to protect marine mammals. The waters around Kenai Fjords provide habitat for several threatened or endangered species including humpback, sei, and gray whales and the Steller sea lion.
The orca—"killer whale"—is easy to recognize with its large dorsal fin and white markings. Though you can't tell by looking, there are three different kinds of orcas in these waters: residents, transients, and offshore. Their diets range from fish to other marine mammals, including whales and sharks.
At Home in Kenai Fjords
The oldest documented inhabitants of the Kenai Fjords area were the Sugpiaq, commonly known as the Alutiiq. Coastal hunters and gatherers, the Alutiiq subsisted on marine and land mammals, fish, birds, and a variety of edible plants. They lived in permanent villages and used outlying hunting and fishing camps seasonally. Today some of their descendants live in coastal fishing communities nearby.
Russian fur traders arrived in the late 1700s, followed by other Europeans and Americans in search of wealth. The 1800s and early 1900s saw commercial fisheries, homesteaders, and gold-seekers. American painter Rockwell Kent lived and worked here 1918-19. Today visitors from all over the world come to marvel at the scenery and wildlife in this setting where mountains, ice, and ocean meet.
Get Set to Explore Kenai Fjords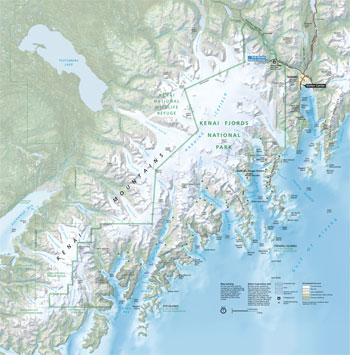 (click for larger map)
VISITOR INFORMATION
The visitor center in Seward has exhibits, films, maps, publications, and information. Open daily in summer. The Exit Glacier Nature Center offers exhibits, maps, publications, information, and ranger-led hikes in summer.
The nonprofit Alaska Geographic Association sells detailed maps and publications at the visitor and nature centers.
THINGS TO SEE AND DO
In summer boat tours travel along the coast. You may see calving glaciers, seabirds, and marine mammals.
Boat charters offer overnight fjord trips and fishing trips to the fjords and Resurrection Bay.
Authorized commercial guide services offer camping, fishing, and kayaking experiences. Air charters from Seward or Homer fly over the coast for sightseeing and access to the fjords.
EXIT GLACIER
Stop first at the Exit Glacier Nature Center for exhibits, interpretive programs, hikes, and information to help you plan your visit. Open daily in summer. A wheelchair-accessible loop trail leads to a panoramic view of Exit Glacier.
A rugged walk to the glacier's terminus crosses the rocky outwash plain; shifting streams can make the area inaccessible. A steeper trail continues over moraines and bedrock to a view at the glacier's edge.
The Harding Icefield Trail, 4.1 miles one way, follows Exit Glacier's edge to an overlook of the icefield. Day-use only, no overnight camping along trail. Check the bulletin boards for trail conditions.
ACCOMMODATIONS
Seward offers visitor services and campgrounds. Exit Glacier has walkin, summer-use campsites. Two summer-use, backcountry, public-use cabins in the fjords at Holgate Arm and Aialik Bay can be reached by boat, kayak, or float plane. In winter, a public-use cabin at Exit Glacier is available. Public-use cabins have a three-day stay limit. Reservations are first-come, first-served, starting in January. Contact: Alaska Public Lands Information Center, 605 West Fourth Ave., Suite 105, Anchorage, AK 99501
IN THE BACKCOUNTRY
You need to be in good physical condition, use proper equipment, and take reasonable precautions. If you are planning a backcountry trip with no guide, get current, specific information from the park staff before setting out.
On the Harding Icefield, you must prepare for sudden storms, blinding sunlight, high winds, and extreme changes in temperature. At Exit Glacier in winter you may face deep snow and cold temperatures. Know hypothermia symptoms and their treatment.
STAY SAFE, PROTECT THE PARK
Hunting and Fishing All lands and waters in the national park are closed to hunting and trapping. Alaska state fishing licenses are required.
Boating All federal and state boating regulations apply. A seaworthy craft and rough-water boating experience are absolutely necessary. Know your boat and its operation. Carry a maritime radio, signal equipment, and a survival kit that includes shelter, warm clothing, and extra food. Icy waters can lead to hypothermia and death in minutes. File a float plan with a responsible person.
Kayak travel in the fjords is recommended only for experienced paddlers because of rough seas and strong tidal currents. Glaciers calve without warning, posing extreme danger from falling ice and cresting waves. Never approach within ¼ mile of a tidewater glacier. Although very experienced paddlers can travel to the fjords from Seward, most kayakers arrange charter boat drop-offs and pick-ups.
Pets At Exit Glacier, dogs are allowed only in the parking lot, on a leash no longer than six feet. Dogs (other than service animals) are not permitted on park beaches or trails.
Camping and Parking Campers in the tents-only campground must camp in established sites. There is no overflow camping. Sleeping in vehicles is prohibited.
Wildlife Bear and moose are commonly seen in the park. Treat them with respect for your safety and theirs. Do not approach, disturb, or feed wildlife. Travel in groups and make noise while hiking to avoid surprising animals. Do not take pets on trails or beaches. In the backcountry, carry and know how to use bear pepper spray. Ask staff about wildlife safety, and report encounters with bear or moose.
To minimize bear encounters in the campground, cooking is permitted only at the central cooking area. Food must be secured in the bear-proof storage locker provided. Proper food storage is mandatory in the park. All food or anything that contains food odors, including fishing catch, garbage, containers, and utensils, must be stored out of reach. Ask park staff or check our website for information.
Emergencies
Seward area: call 911
On the coast: call the Coast Guard, Marine Channel 16. Rangers patrol Nuka and Aialik bays in summer; Marine Channel 16.
Source: NPS Brochure (2018)
Establishment

Kenai Fjords National Park — December 2, 1980
Kenai Fjords National Monument — Dec. 1, 1978



For More Information
Please Visit The

OFFICIAL NPS
WEBSITE
Brochures ◆ Site Bulletins ◆ Trading Cards

Documents
200 Years of Terminus Retreat at Exit Glacier 1815-2015 NPS Natural Resource Report NPS/KEFJ/NRR—2016/1341 (Deborah Kurtz and Emily Baker, November 2016)
A Fragile Beauty: An Administrative History of Kenai Fjords National Park (Theodore Catton, 2010)
A Slice of Early Seward: How Archeology Provides a Glimpse into Daily Life in this Frontier Town (Dan Trepal, 2013)
A Stern and Rock-Bound Coast: Historic Resource Study (HTML edition) (Linda Cook and Frank Norris, 1988)
Acoustic Bat Monitoring in Alaska National Parks 2016-2018 NPS Natural Resource Report NPS/AKRO/NRR-2020/2096 (Paul A. Burger, March 2020)
Acoustic Monitoring Report: Kenai Fjords National Park NPS Natural Resource Technical Report NPS/NRSS/NRTR—2013/798 (September 2013)
Annual Climate Summary for 2007 - 2008: Kenai Fjords National Park NPS Natural Resource Data Series NPS/SWAN/NRDS—2010/024 (Chuck Lindsay and Fritz Klasner, February 2010)
Anthropogenic Climate Change Trends in Kenai Fjords National Park, Alaska, USA (Patrick Gonzalez, May 23, 2019)
Assessment of Coastal Water Resources and Watershed Conditions, Kenai Fjords National Park NPS Natural Resource Report NPS/NRPC/WRD/NRR-2010/192 (Sonia Nagorski, Eran Hood, Sanjay Pyare and Ginny Eckert, May 2010)
Avian Predator-Prey Dynamics in Kenai Fjords National Park: Integrating Raptor and Seabird Studies NPS Natural Resource Data Series NPS/KEFJ/NRDS—2013/587 (Laura M. Phillips and Elisa Weiss, November 2013)
Backcountry Campsite Environmental Changes and Effective Monitoring Practices: A Case Study in Kenai Fjords National Park NPS Natural Resource Report NPS/KEFJ/NRR-2021/2289 (Shannon T. Wesstrom and Christopher Monz, August 2021)
Bear Management Plan, Kenai Fjords National Park Interim (Sharon Kim, Mark Thompson, Grant Hilderbrand and Laura Phillips, May 13, 2013)
Black Oystercatcher Chick Diet and Provisioning: 2013 Annual Report NPS Natural Resource Data Series NPS/KEFJ/NRDS—2013/588 (Brian Robinson and Laura M. Phillips, November 2013)
Black Oystercatcher Diet and Provisioning: 2014 Annual Report NPS Natural Resource Data Series NPS/KEFJ/NRDS—2015/749 (Sam Stark, Brian Robinson and Laura M. Phillips, January 2015)
Detecting Vegetation Change in Kenai Fjords National Park: A Revisit of 15-Year-Old Inventory Plots NPS Natural Resource Technical Report NPS/SWAN/NRTR—2010/329 (Tina Boucher, Amy Miller and Keith Boggs, May 2010)
Distribution and Density of Marine Birds and Mammals along the Kenai Fjords National Park Coastline - March 2010 NPS Natural Resource Technical Report NPS/SWAN/NRTR—2011/451 (Heather A. Coletti, James L. Bodkin and George G. Esslinger, May 2011)
Evaluation of a Dual-frame Design to Estimate Occupancy and Productivity of Bald Eagle Nests in Kenai Fjords National Park NPS Natural Resource Technical Report NPS/SWAN/NRTR—2011/413 (William L. Thompson and Laura M. Phillips, January 2011)
Evaluation of Genetic Structure Among Black Bears (Ursus americanus) in Kenai Fjords National Park and the Kenai Peninsula, Alaska: Final Report 2007 (Stacie J. Robinson, Lisette P. Waits and Ian D. Martin, January 10, 2007)
Exit Glacier Area Plan: Environmental Assessment and Glacier Management Plan Amendment (May 2004)
Fjord Estuary Ecosystem, Kenai Fjords National Park (undated)
Foundation Statement, Kenai Fjords National Park, Alaska (April 2013)
Foundation Document Overview, Kenai Fjords National Park, Alaska (March 2016)
General Management Plan, Kenai Fjords National Park, Alaska (July 1984)
Geological Resources Inventory Report, Kenai Fjords National Park NPS Natural Resource Report NPS/NRSS/GRD/NRR-2018/1581 (Amanda Lanik, Chad P. Hults and Deborah Kurtz, January 2018)
Harding Icefield-Kenai Fjords National Monument—A Master Plan (1973)
Ice Thickness Measurements on the Harding Icefield, Kenai Peninsula, Alaska NPS Natural Resource Data Series NPS/KEFJ/NRDS—2014/655 (Martin Truffer, April 2014)
Image interpretation and Classification of Land Cover Change in Lake Clark and Kenai Fjords National Parks Between 1954 and 2009 NPS Natural Resource Report NPS/SOPN/NRR—2014/866 (Mark J. Burchiel, Bonnie L. Maffitt, Andy G. Robertson, Dave D. Rokus and Kevin J. Stark, October 2014)
Invasive Plant Management in Kenai Fjords National Park
Invasive Plant Management in Kenai Fjords National Park: Summer 2009 Field Season Report (Deborah Kurtz, September 2009)
Invasive Plant Management for Kenai Fjords National Park: 2010 Summary Report NPS Natural Resource Report NPS/KEFJ/NRDS—2010/109 (Deborah Kurtz, November 2010)
Invasive Plant Management in Kenai Fjords National Park: 2011 Summary Report NPS Natural Resource Report NPS/KEFJ/NRDS—2011/223 (Travis Fulton, December 2011)
Invasive Plant Management for Kenai Fjords National Park: 2012 Summary Report NPS Natural Resource Data Series NPS/KEFJ/NRDS—2013/430 (Travis Fulton, January 2013)
Invasive Plant Management in Kenai Fjords National Park: 2013 Summary Report NPS Natural Resource Data Series NPS/KEFJ/NRDS—2014/636 (Peter A. Frank, March 2014)
Invasive Plant Management in Kenai Fjords National Park: 2014 Summary Report NPS Natural Resource Data Series NPS/KEFJ/NRDS—2014/740 (Nicholas Kainrath and Christina L. Kriedeman, December 2014)
Invasive Plant Management in Kenai Fjords National Park: 2015 Summary Report NPS Natural Resource Report NPS/KEFJ/NRR—2015/1097 (Aaron Stover and Christina L. Kriedeman, December 2015)
Invasive Plant Management in Kenai Fjords National Park: 2016 Summary Report NPS Natural Resource Report NPS/KEFJ/NRR—2016/1351 (Renee F. Sniegocki and Christina L. Kriedeman, December 2016)
Invasive Plant Management in Kenai Fjords National Park: 2017 Summary Report NPS Natural Resource Report NPS/KEFJ/NRR—2018/1609 (Geoffrey S. Geier and Christina L. Kriedeman, March 2018)
Invasive Plant Management in Kenai Fjords National Park: 2018 Summary Report NPS Natural Resource Report NPS/KEFJ/NRR—2019/1926 (Geoffrey S. Geier and Christina L. Kriedeman, May 2019)
Invasive Plant Management in Kenai Fjords National Park: 2019 Summary Report NPS Natural Resource Report NPS/KEFJ/NRR—2020/2208 (Sierra N. Sampson and Christina L. Kriedeman, December 2020)
Invasive Plant Management in Kenai Fjords National Park: 2020 Summary Report NPS Natural Resource Report NPS/KEFJ/NRR—2021/2227 (Hannah M. Gage and Christina L. Kriedeman, February 2021)
Junior Ranger Adventure Guide, Kenai Fjords National Park (Date Unknown)
Lake Temperature Monitoring in Southwest Alaska Parks: A Synthesis of Year-Round, Multi-Depth Data from 2006 through 2018 NPS Natural Resource Report NPS/SWAN/NRR-2020/2191 (Krista K. Bartz and Paul W.C. Gabriel, November 2020)
Lessons To Be Learned: The National Park Service Administrative History and Assessment of the Exxon Valdez Oil Spill (Rick S. Kurtz, 1995)
Long-Range Interpretive Plan: 2010-2019, Kenai Fjords National Park (Edquist Davis Exhibits, 2010)
Monitoring for Trends in the Distribution and Abundance of Colonial Nesting Seabird Populations on the Kenai Fjords Coast: Final Project Completion Report NPS Natural Resource Data Series NPS/KEFJ/NRDS—2014/734 (Laura Phillips and Jennifer Curl, November 2014)
Monitoring Responses to Climate Change in Southwest Alaska (February 2010)
Monitoring Vegetation Change in Coastal Marshes of Southwest Alaska, 2007-2018 NPS Natural Resource Report NPS/SWAN/NRR-2020/2202 (Michael P. Hannam, Amy E. Miller and James K. Walton, December 2020)
Natural Resource Condition Assessment, Kenai Fjords National Park NPS Natural Resource Report NPS/KEFJ/NRR-2015/900 (Kevin J. Stark, Kathleen Allen, Andrew J. Nadeau, Jonathan Sopcak, Lindsey Danielson, Michael R. Komp and Barry Drazkowski, January 2015)
Occupancy and Productivity of Peregrine Falcons in Kenai Fjords National Park: Monitoring Activities 2011 NPS Natural Resource Data Series NPS/KEFJ/NRDS—2012/274 (Laura Phillips and Leslie Adams, April 2012)
Orthorectification of Historic Imagery for Kenai Fjords National Park and Aniakchak National Monument and Preserve: Final Report NPS Natural Resource Technical Report NPS/SWAN/NRTR—2011/481 (Andrew Robertson, August 2011)
Over-the-Snow Transportation Feasibility Study: Kenai Fjords National Park (January 2012)
Physical and biological habitat preferences of black oystercatcher breeding territories in Kenai Fjords National Park NPS Natural Resource Technical Report NPS/SWAN/NRTR—2010/410 (Brooke McFarland and Brenda Konar, December 2010)
Physical Science in Kenai Fjords (undated)
Proposed Harding Icefield-Kenai Fjords National Monument: Final Environmental Impact Statement (1975)
Reanalysis of the US Geological Survey Benchmark Glaciers: Long-term insight into climate forcing of glacier mass balance (Shad O'Neel, Christopher McNeil, Louis C. Sass, Caitlyn Florentine, Emily H. Baker, Erich Peitzch, Daniel McGrath, Andrew G. Fountain and Daniel Fagre, extract from Journal of Glaciology, Vol. 65 Issue 253, October 2019)
Replacement of Cottonwood Cabin Environmental Assessment, Kenai Fjords National Park (December 2017)
Sea Otter Abundance in Kenai Fjords National Park: Results from the 2010 Aerial Survey NPS Natural Resource Technical Report NPS/SWAN/NRTR—2010/417 (Heather A. Coletti, James L. Bodkin and George G. Esslinger, January 2011)
Seabird Colony Survey Report 2010: Kenai Fjords National Park and Alaska Maritime National Wildlife Refuge NPS Natural Resource Data Series NPS/KEFJ/NRDS—2012/246 (Laura Phillips and Brooke McFarland, February 2012)
Seabird Colony Survey Report 2011: Kenai Fjords National Park and Alaska Maritime National Wildlife Refuge NPS Natural Resource Report NPS/KEFJ/NRDS—2012/312 (Monika Parsons, Laura Phillips, Jennifer Curl and Leslie Adams, April 2012)
Seabird Colony Survey Report 2012: Kenai Fjords National Park and Alaska Maritime National Wildlife Refuge NPS Natural Resource Data Series NPS/KEFJ/NRDS—2013/471 (Nicole A. Dewberry, Jennifer A. Curl and Laura M. Phillips, April 2013)
Seabird Colony Survey Report 2013: Kenai Fjords National Park and Alaska Maritime National Wildlife Refuge NPS Natural Resource Data Series NPS/KEFJ/NRDS—2014/616 (Elisa A. Weiss, Jennifer A. Curl and Laura M. Phillips, February 2014)
Site Protection and Oil Spill Treatment at SEL-188: An Archeological Site in Kenai Fjords National Park, Alaska (Robert C. Betts, Christopher B. Wooley, Charles M. Mobley, James C. Haggarty and Aron Crowell, 1991)
Sound Source Audibility Study 2008-2010: Kenai Fjords National Park NPS Natural Resource Technical Report NPS/NRSS/NRTR—2013/799 (September 2013)
State of the Park Report, Kenai Fjords National Park, Alaska State of the Park Series No. 42 (2017)
Vegetation monitoring – Southwest Alaska Network: 2013 Annual Report – Baseline Sampling in Coastal Forests of Kenai Fjords NPS Natural Resource Data Series NPS/SWAN/NRDS—2014/675 (Amy E. Miller and James K. Walton, June 2014)
Handbooks ◆ Books

Videos