The Hill Country of Texas, home of the Johnson family for over a century, is an in-between place. To the east are softer, well-watered lands. To the west stretch high plains, plateaus, and deserts. The Hill Country bears the traits of both regions.
In season, flowing streams lace terraced hills covered with wildflowers. Small valleys with scattered farms and fat cattle nestle below ragged skylines of rock and cedar. It is a pastoral paradise where nature blends gently with snug houses made from the limestone of the hills, symbolizing a partnership between inhabitants and land.
But there are other seasons and other cycles. Summer storms sweep violently through these hills, battering them with thunder and hail, ripping the valleys with cloudburst floods. Winter winds come down from the plains, whipping the ridges, driving people and animals to shelter. Heat and drought smite this borderland. When dry spells last too long, the ever-green Texas oaks drop their leaves and languish for a while, dormant until the rains come back.
A Landscape Shapes a Leader Out of this place came a man who personified these many, often conflicting moods. A man of great gentleness and violent energy. A man sometimes effusive and joyous, at home in a crowd. A man sometimes withdrawn, in lonely battle with his own blizzards and droughts. He was the 36th President of the United States, 1963-69.
Lyndon Baines Johnson was a president whose roots and early experience bridged the gap between the old America of local frontiers, crossroads, and close neighbors, and the new America of world power, big cities, and unknown neighbors. His deepest motive as a public man was to make people neighbors again. His greatest monument is his 40-year record of achievement in serving this goal—as teacher, public official, and elder statesman.
His presidency came during an era of national stress bred by the Vietnam War and the social upheavals of the sixties. No man exercising power during any strife-filled period has run the gauntlet of such forces unscathed. President Johnson's origins and temperament put him in direct confrontation with these powerful currents. He was a man who denied the notion that problems cannot be solved. In the spirit of his frontier heritage, he joined the battle with optimistic faith that solutions and controls would follow from his efforts. History as tragedy was foreign to his nature.
From these different arenas of an action-filled life—arenas he could control and those he could not—emerged a man who strove mightily, who won great successes, and yet, despite his powerful will, sustained great disappointments. Here, in the land of his birth and youth—the place he kept coming back to—are some reminders of this man, the places and things and people he loved, the home to which he returned.
The myths and realities of Johnson's frontier heritage helped shape both his life and what was written about him. History was a present force in the Johnson family. The forebears who had made that heritage tutored the child. He sat in the lap of a cattle-drover grandfather who had "pointed them north" on the Chisholm Trail. He peered under the log cabin where his own grandmother and infant aunt had hidden from raiding Comanches. Heroes who had wrested homes from the wilderness reminisced on his front porch.
A Hill Country Boyhood His boyhood home in Johnson City and the settlement of his ancestors a short walk away embody a part of this older America that nourished the child and molded a large part of the man. Here are the places and the images that helped structure President Johnson's view of how the world ought to be.
Lyndon was five when his father moved the family into the comfortable house on Elm Street in 1913. Growing up in Johnson City was a mixture of hard reality and childhood adventure. Beside the never-ending chores, he found time to do the things most kids did: breaking his arm falling out of the barn, playing first base and pitcher on sandlot and school teams, riding a borrowed donkey to the Pedernales River, and occasionally getting into trouble.
Lyndon's mother and father each had a profound influence on the lanky youngster. Rebekah was one of few college-educated women and took her family and civic responsibilities seriously. She imparted to Lyndon, his brother, and his three sisters a belief in the necessity of education and a compassion for human needs. His father, Sam Johnson, a state legislator, taught his children the facts of political life in the tradition of agrarian liberalism. By 1927, when Lyndon left for college, he had already begun to shape his ideas and values about the world around him. They were the foundation that sustained his later beliefs and purpose as he wrestled with the incredible complexities of modern America and the world as president.
A Sense of Belonging The years in the house on Elm treet were formative for youna Lyndon but it is at the LBJ Ranch—the Texas White House—that the full impact of Lyndon Johnson's energy and power can be felt. Here as president, as entrepreneur, as lord-of-the-manor rancher, he surrounded himself with family and friends. Within this inner circle, he used yarns and anecdotes to proclaim proudly the virtues of good upbringing and hard work, the virtues that helped him create this grand spread in the center of his ancestral homeland. He regaled visitors with his own sense of place, made real by green pastures, prize cattle, and an imposing ranch house.
Some guests, perhaps because of their host's unstinting joy and hospitality, went away a bit envious of this man who so obviously belonged. But this homestead was much more than a showplace for power and pride. It was an operating ranch, where events could be controlled. Here a man who loved action could set a task, get it going, and get it done. It was a healing place far removed from the turbulence of Washington. Here, too, were the ancestral cemetery, the place where Lyndon was born, the house where he visited his revered grandfather, and the one-room school where he started the long trek from Texas Hill Country boy to world leader.
At the LBJ Ranch one senses the contrasts that lived on in the man: the child who chewed a blade of grass and wondered if it would rain and if the river would rise, the man who strode forth on the world stage, came back to work his ranch, and finally joined his ancestors.
Visiting Lyndon Johnson's Texas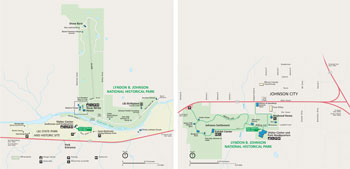 (click for larger map)
"All the World is Welcome Here"
Lyndon B. Johnson National Historical Park includes many properties associated with President Johnson's life. The Johnson family's hope was to preserve these properties for visitors from around the world and local communities.
The park's two districts—one in Johnson City and another at the LBJ Ranch near Stonewall—document the origins, ancestry, and life of the 36th President of the United States.
LBJ Ranch
The famous LBJ Ranch is about 14 miles west of Johnson City. Visits to the ranch are by self-guiding driving tour. Get a driving permit and tour route map at the LBJ State Park and Historic Site Visitor Center on Highway 290 east of Stonewall. You may purchase an audio tour on CD at the bookstore. On your drive through the ranch you will see sites that help tell Lyndon Johnson's life story.
First is the one-room Junction School that Lyndon attended at age four. A quarter of a mile away is the reconstructed LBJ Birthplace. Across the road lies the Johnson Family Cemetery, where generations of Johnsons are buried, including President Johnson and Lady Bird Johnson. Stop also at the home of Sam Ealy Johnson, Sr., LBJ's grandfather. At the Show Barn visit with staff who manage the ranch and care for the registered Hereford cattle, descendants of LBJ's original herd.
A visit to the ranch isn't complete without visiting the Texas White House, where the mat at the front door reads: "All the World Is Welcome Here." Access to the house is by ranger-guided tour only (fee). Tour tickets are sold in the Airplane hangar that now serves as the National Historical Park visitor center.
For reservations and information, visit www.nps.gov/lyjo.
Johnson City
Stop first at the park visitor center for information about the park and to see exhibits and two films: LBJ the President and Lady Bird Johnson. A sales area offers educational materials. Then walk to Johnson's Boyhood Home, where lessons learned by the young Lyndon would impact his presidency.
Walk to the nearby Johnson Settlement where restored 1800s structures provide a glimpse of Texas Hill Country history and President Johnson's frontier heritage. An unstaffed exhibit center includes pictures and artifacts. Also within easy walking distance is the Withers & Spauldings General Store, where exhibit showcase Johnson City's influence on the budding politician.
Related Sites
LBJ State Park and Historic Site
The park, on the south side of the Pedernales River, is the gateway to the LBJ Ranch. The ranch is on the north side. The park include the Sauer-Beckmann living history farm, a museum, amphitheater, walking trails, and a wildlife viewing area; and a swimming pool (seasonal), tennis courts, baseball diamond, and other recreational opportunities like fishing and kayaking. The park is on US Highway 290 between Johnson City and Frederickburg. For reservations and information visit www.tpwd.state.tx.us.
LBJ Presidential Library and Museum
The National Archives and Record Administration operates the LBJ Presidential Library on the campus of the University of Texas at Austin. It is both a center of scholarly research and a historical museum. Three floor of exhibits highlight President Johnson's long public career: www.lbjlibrary.org.
Lady Bird Johnson Wildflower Center
Lady Bird Johnson and actress Helen Hayes founded an organization in 1982 to protect and preserve North America's native plants and natural landscapes. This special place in southeast Austin introduces people to the beauty and diversity of wildflowers and other native plants. The wildflower center brings Mrs. Johnson's vision to life with public gardens, woodlands, and sweeping meadows, and hosts international research: www.wildflower.org.
Nearby Attractions
Pedernales River Nature Park, managed by the Lower Colorado River Authority, is in Johnson City just off US Highway 281 North. The park provides a serene picnicking spot. Other recreational activities include walking, jogging, fishing, and kayaking: www.lcra.org/parks.
Pedernales State Park, Blanco State Park, and Enchanted Rock State Natural Area provide various recreational opportunities and camping: www.tpwd.state.tx.us.
Fredericksburg, west of the park, reflects the rich cultural legacy of the German immigrants who arrived in central Texas in the 1840s. Here is the National Museum of the Pacific War, whose exhibits commemorate the hard-fought Pacific campaigns of World War II and honor the achievements of Fredericksburg native and wartime Pacific Fleet Admiral Chester W. Nimitz.
Luckenbach is a short drive from the LBJ Ranch. An eclectic blend of bikers, cowboys, and tourists enjoy live music events at this popular Hill Country spot.
About Your Visit
Safety
We want your visit to be pleasant and rewarding. Please observe a few safety precautions:
• Enjoy looking at the animals but do not pet or feed them. Stay off the corral fences and keep a safe distance from the animals.
• Children under 14 must be accompanied by a responsible adult in all buildings.
• Texas summers are hot; drink plenty of fluids.
• Fire ant stings are painful; stay on marked trails.
• For firearms regulations check the park website.
Emergencies call 911
Accessibility
We strive to make our facilities, services, and programs accessible to all; call or check our website. Service animals are welcome.
Source: NPS Brochure (2013)
Establishment

Lyndon B. Johnson National Historical Park — December 28, 1980
Lyndon B. Johnson Historic Site — December 2, 1969



For More Information
Please Visit The

OFFICIAL NPS
WEBSITE
Brochures ◆ Site Bulletins ◆ Trading Cards

Documents
A Market-Oriented Analysis of Visitors to the Lyndon B. Johnson National and State Historical Parks Cooperative Park Studies Unit Technical Report No. 3 (Allan S. Mills and Daniel E. Wegner, October 1, 1986)
"Creative Conservation:" The Environmental Legacy of Pres. Lyndon B. Johnson, 1963-1969 (Derek L. Tanner, Kyle L. Walker, Brooke Privette, Amanda M. Rock, Rayanna Hoeft and Helen D. Johnson, January 2020)
Cultural and Natural Resource Management Plan, Lyndon B. Johnson National Historical Park (October 1996)
Cultural Landscapes Inventory: Agricultural Complex, Lyndon B. Johnson National Historical Park (2006)
Cultural Landscapes Inventory: Johnson Family Farm Historic Area, Lyndon B. Johnson National Historical Park (2006)
Cultural Landscapes Inventory: Texas White House, Lyndon B. Johnson National Historical Park (2006)
Exotic Plant Monitoring Data Summary: 2013, Lyndon B. Johnson National Historical Park (Tomye Folts-Zettner and Heidi Sosinski, 2014)
Final General Management Plan / Environmental Impact Statement, Lyndon B. Johnson National Historical Park, Johnson City, Texas (March 1999)
Fishes, Amphibians, Reptiles, and Mammals of Lyndon B. Johnson National Historical Park, Gillespie and Blanco Counties, Texas Draft Final Report (Michael Patrikeev, June 10, 2004, revised November 23, 2004)
Foundation Document, Lyndon B. Johnson National Historical Park, Texas (February 2014)
Foundation Document Overview, Lyndon B. Johnson National Historical Park, Texas (February 2015)
General Management Plan Amendment/Environmental Assessment: LBJ Ranch Unit, Lyndon B. Johnson National Historical Park (July 2010)
Geologic Map of Lyndon B. Johnson NHP (January 2008)
Geologic Resource Evaluation Report, Lyndon B. Johnson National Historical Park NPS Natural Resource Report NPS/NRPC/GRD/NRR-2008/024 (T.L. Thornberry-Ehrlich, February 2008)
"Guarding an Impulsive Mover:" A Development History of the U.S. Secret Service Command Post, LBJ National Historical Park, Gillespie County, Texas (Jennifer Cobb, Kendra DeHart, Jaime Espensen-Sturges, Michael McFadden, Madelyn Patlan, Jennifer Paul, Josh Weber and Christi Westbrook, January 2012)
Historic Resource Study: Lyndon B. Johnson and the Hill Country 1937-1963, Lyndon B. Johnson National Historical Park Southwest Cultural Resources Center Professional Papers No. 3 (Edwin C. Bearss, 1984)
Historic Structure Report: Texas White House, Lyndon B. Johnson National Historic Park, Texas Southwest Cultural Resources Center Professional Papers No. 4 (Edwin C. Bearss, October 1986)
National Register of Historic Places Nomination Form
Lyndon B. Johnson Boyhood Home (W.E. Brown, March 1966)
Natural Resource Condition Assessment, Lyndon B. Johnson National Historical Park NPS Natural Resource Report NPS/SOPN/NRR-2016/1139 (Kimberly Struthers, Patricia Valentine-Darby, Nina Chambers, Allyson Mathis, Robert E. Bennetts, Tomye Folts-Zettner, February 2016)
Negotiating for the Environment: LBJ's Contributions to the Environmental Movement (Nancy M. Germano, extract from Federal History, Issue 9, ©Society for the History in the Federal Government, 2017)
"Our Heart's Home": A Historic Resource Study of the Texas White House Intermountain Cultural Resources Center Professional Paper No. 60 (Hal K. Rothman, 1996)
Protecting the National Parks in Texas Through Enforcement of Water Quality Standards: an Exploratory Analysis NPS Technical Report NPS/NRWRD/NRTR-94/18 (Ronald A. Kaiser, Steven E. Alexander and J. Porter Hammitt, November 1994)
Vegetation Classification and Mapping Project Report, Lyndon B. Johnson National Historical Park NPS Natural Resource Technical Report NPS/SOPN/NRTR-2007/073 (Dan Cogan, May 2007)
Handbooks ◆ Books

Videos
Lyndon B. Johnson National Historical Park - Stonewall - Texas