Sparkling waters. Cool forests. Wildlife. Gold! For many years these treasures enticed people to the area. In 1965, to preserve this place of beauty, Congress authorized 42,000 acres as Whiskeytown National Recreation Area. Stop for a minute and look around. Are the treasures still there? We invite you to explore—discover your own treasures at Whiskeytown.
The Treasures of Whiskeytown
Whiskeytown Lake nestles among the hills and valleys of the Klamath Mountains. Geologic forces created steep and rugged terrain. Heavy winter rains, long dry summers, and frequent wildfires create diverse habitats, from old-growth forests to oak woodlands and chaparral. Over 1,100 plant and animal species, many with colorful names, live here: gray pine and blue oak, black bear and rainbow trout, purple finch and yellow warbler.
Native Americans found their own treasures here—acorns, fish, deer, and other plants and animals—that sustained their way of life for thousands of years. The discovery of gold nearby in 1848, only months after it was found farther south at Sutter's Mill, brought fortune hunters. Today we value this area's water, wildlife habitat, recreational opportunities, and the power-generating facilities of the Central Valley Project. Will these treasures last? That depends on how hard we all work to protect the park.
President John F. Kennedy dedicated Whiskeytown Dam in 1963, noting that when "we set aside recreational areas, we can be sure they will be used." But, he asked, "What kind of a country will [future Americans] find? How much recreation will be possible for them? I think if we make the right decisions now, they will be grateful to us. ... " Why not join in? Help us preserve Whiskeytown for you and for future generations.
Wintu
For centuries Wintu Indians enjoyed a prosperous life here. They gathered acorns, hunted elk and deer, and fished for trout and salmon. Skilled at crafts, Wintu fashioned tools from obsidian and wove baskets so tightly they could cook liquids in them. Although the Gold Rush era nearly destroyed the Wintu, their heritage lives today.
Gold Rush and Early Settlers
For most '49ers the big strike was always in the next shovelful. Those who combined hard work with luck, and succeeded, were exceptions.
Charles Camden and Levi Tower became friends and partners in San Francisco in spring 1850. They sailed in search of the Trinity River's mouth, then traveled overland to Whiskeytown's northern diggings. Camden built a one-room cabin and a mining operation, sawmill, and water ditches. Later he erected toll roads and bridges. Around the cabin, he built a much larger home, Camden House, the park's only surviving historic structure. Here visitors can learn about life during the California Gold Rush.
Tower made his fortune by providing food and shelter to miners. He then invested his profits in the 21-room Tower House luxury hotel, gardens, and orchards.
Central Valley Project
In 1935 the Central Valley Project began to move water from northern California to drier areas farther south. At Whiskeytown engineers blasted a 10½-mile-long, 17½-foot-diameter tunnel through solid granite to divert water from the Trinity to the Sacramento river system. The resulting lake brought many benefits, like recreational opportunities, flood control, hydroelectric power, and a dependable water supply.
A World-Class Watershed?
When a watershed is healthy, the ground is like a sponge. It absorbs winter's heavy rains. Spring-fed creeks cascade into rivers and lakes. Only occasional heavy storms cause mudslides or sediment runoff.
But at Whiskeytown, all is not well. Past logging and mining damaged the watershed, reduced vegetation, altered drainage courses, and eroded soils. Mudslides and rain torrents—carrying sediment—occur more often, reducing water quality and fish habitat.
Can nature fix itself? Maybe, if we can wait decades or centuries. But can we wait? We need clean water now. The National Park Service places a high priority on restoring this watershed to meet the needs of its community of people, plants, fish, and other wildlife.
Enjoy Your Park
Most people come to Whiskeytown for the reservoir's cool water. You can also visit historic water ditches and the Camden House, from the Gold Rush era. You can walk to waterfalls, stroll through old-growth forests, and hike or drive a four wheel-drive vehicle to the summit of Shasta Bally. Explore your park—its lake, historic areas, and mountain landscape.
On the Lake Whiskeytown Lake features a 36-mile shoreline and a surface area of 3,200 acres. The reservoir remains full in summer and provides exceptional water recreation in a beautiful mountain setting.
Activities Boating, canoeing, kayaking, fishing, sailing, scuba diving, swimming, wading, water skiing, wakeboarding, and windsurfing.
On the Land About 39,000 acres surround the lake. Mountain trails through shaded corridors and year-round creeks offer a break from summer heat.
Activities Birding, camping, hiking, gold panning, horseback riding, mountain biking, nature study, photography, picnicking, sightseeing, and wildlife viewing.
Exploring Whiskeytown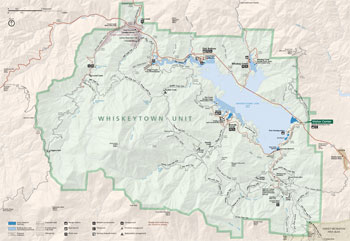 (click for larger map)
Visitor Center Open daily, the visitor center offers information, publications, maps, a bookstore, and exhibits.
Interpretive Activities Rangers offer walks, talks, kayak tours, and evening programs in summer. Check bulletin boards, park website, or at the visitor center for scheduled activities.
Water Sports You may kayak, swim, boat, waterski, scuba dive, sail, and canoe. • Scuba divers must be certified and have proper equipment. • Federal and state boating rules apply. Ask for Regulations and California Boating Tips. Stay alive. Wear a lifejacket. Observe all restrictions. Note: Personal watercraft (PWC), like jet skis, are prohibited. • Launch ramps are at Oak Bottom, Whiskey Creek, and Brandy Creek. • Oak Bottom has two small stores, a snack bar (summer), and a marina with boat rentals. • Brandy Creek has a lifeguarded beach, a small store, and kayak and paddle boat rentals (summer).
Hiking, Mountain Biking, Horseback Riding The land around Whiskeytown Lake provides many opportunities for these activities. Mountain biking and horseback riding are allowed on most trails. Get trail use information at the visitor center or park website.
Fishing Fishing is permitted from a boat or the shore. Species include rainbow and brown trout; largemouth, smallmouth, and spotted bass; and kokanee salmon. California fishing license required. Inquire about park-specific restrictions.
Gold Panning Register for gold panning at the visitor center ($1.00 fee). Only recreational gold panning is allowed. Ask for details.
Camping Oak Bottom tent campground has fire grates and central restrooms. Facilities at Oak Bottom RV campground include a central restroom, dump station, and water but no hookups. Oak Bottom beach restrooms have hot showers (fee). Brandy Creek has RV camping (self-contained units only); dump station and water provided; no hookups or restrooms. 14-day camping limit applies May 15 to September 15; 30-day limit applies the rest of the year.
Primitive/Backcountry Camping Whiskeytown's primitive campgrounds—permit required (fee)—have fire rings, tables, food storage lockers, and restrooms (except at Coggins Park). Backcountry sites and backpack camping require backcountry use permit (free). Ask for camping regulations when you ge your permit.
Explore the Backcountry The backcountry has many miles of trails and unpaved dirt and gravel roads. Four-wheel-drive vehicles are recommended on all dirt and gravel roads. Motorized vehicles must be street legal and are prohibited off-road. Use caution and common sense on these roads. If you have vehicle trouble, stay on the road when going for help. Contact the visitor center for winter closures, current road conditions, and information about trails.
Fees Buy daily, weekly, and annual passes and gold panning and primitive camping permits at the visitor center. Whiskeytown accepts all National Parks and Federal Recreational Lands passes. Display passes on your dashboard.
Regulations and Safety See the safety tips in the park newspaper. Know the regulations: your safety is your responsibility! • Fires are allowed only in fire grates. Fire use may be restricted if fire danger is extreme. • Pets must be leashed at all times. Pets are not allowed on beaches or at picnic areas at Oak Bottom, Brandy Creek, East Beach, and Whiskey Creek Group Picnic Area. • Alcohol and smoking are also prohibited at the above beaches and picnic areas. • Never swim alone. Watch children closely in and near the water. • Don't feed park animals. • Store food in bear-proof lockers or out of sight in a secured vehicle. • All natural and cultural resources are protected by federal law. • For firearms regulations check the park website.
Accessibility We strive to make our facilities, services, and programs accessible to all. For information check our website.
Emergencies call 911
Source: NPS Brochure (2014)
Establishment

Whiskeytown National Recreation Area — October 21, 1972 (established)
Whiskeytown–Shasta–Trinity National Recreation Area — November 8, 1965 (authorized)



For More Information
Please Visit The

OFFICIAL NPS
WEBSITE
Brochures ◆ Site Bulletins ◆ Trading Cards

Documents
Accessibility Self-Evaluation and Transition Plan Overview, Whiskeytown National Recreation Area, California (March 2016)
Assessment of Natural Resource and Watershed Condition, Redwood National and State Parks, Whiskeytown National Recreation Area, Oregon Caves National Monument NPS Natural Resource Report NPS/NRPC/WRD/NRR-2011/335 (Richard T. Golightly, Christine D. Hamilton and Sharon H. Kramer, March 2011)
Fire Management Plan/Draft Environmental Impact Statement, Whiskeytown National Recreation Area (February 2003)
Foundation Document, Whiskeytown National Recreation Area, California (July 2014)
Foundation Document Overview, Whiskeytown National Recreation Area, California (July 2014)
From the White House to Whiskeytown: An Administrative History of the Creation of Whiskeytown National Recreation Area (Jim Milestone, 2003)
General Management Plan & Environmental Impact Statement, Whiskeytown National Recreation Area (July 1999)
Geochemical Investigation of Source and Saline Groundwater at Springs Associated with Puccinellia howellii Habitat, Whiskeytown National Recreation Area, Shasta County, California NPS Technical Report NPS/NRPC/WRD/NRTR-2007/375 (Tom Culhane and Larry Martin, July 2007)
Geologic Resource Evaluation Report, Whiskeytown National Recreation Area NPS Natural Resource Report NPS/NRPC/GRD/NRR-2007/008 (T.L. Thornberry-Ehrlich, June 2007)
Historic Resource Study: Whiskeytown National Recreation Area, California (HTML edition) (Anna Coxe Toogood, May 1978)
Historic Structure Report: Tower House Historic District, Historical and Architectural Data Section, Whiskeytown National Recreation Area, California (Anna Coxe Toogood and David G. Henderson, May 1973)
Human Use Issues and Whiskeytown: Vistior Perceptions of Management and Impacts (Martha E. Lee and Donald R. Field, May 1988)
Integrated Aquatic Community and Water Quality Monitoring of Wadeable Streams in the Klamath Network — Annual Report: 2011 results from Whiskeytown National Recreation Area and Lassen Volcanic National Park NPS Natural Resource Technical Report NPS/KLMN/NRTR—2014/904 (Eric C. Dinger, and Daniel A. Sarr, August 2014)
Interim Orchard Management Plan: Tower House Historic District, Whiskeytown National Recreation Area (July 2016)
Junior Ranger Scavenger Hunt, Whiskeytown National Recreation Area (Date Unknown)
Klamath Network Landbird Monitoring Annual Report: 2009 Results from Oregon Caves National Monument and Whiskeytown National Recreation Area NPS Natural Resource Data Series NPS/KLMN/NRDS—2010/043 (Jaime L. Stephens, John D. Alexander and Sean R. Mohren, April 2010)
Klamath Network Landbird Monitoring Annual Report: 2012 results from Lassen Volcanic National Park, Oregon Caves National Monument, and Whiskeytown National Recreation Area NPS Natural Resource Data Series NPS/KLMN/NRDS—2013/536 (Jaime L. Stephens and Sean R. Mohren, August 2013)
Land Cover and Land Use Monitoring: 2016 Results for Whiskeytown National Recreation Area NPS Natural Resource Data Series NPS/KLMN/NRDS-2017/1096 (Jace Ives, Allison Snyder, Elizabeth Edson, Jacob King, Lorin Groshong and Sean Mohren, April 2017)
Monitoring Vegetation Composition, Structure, and Function in Whiskeytown National Recreation Area and Lassen Volcanic National Park: Fiscal Year 2012 Annual Report NPS Natural Resource Data Series NPS/KLMN/NRDS-2014/628 (Sean B. Smith and Daniel Sarr, February 2013)
Museum Management Plan, Whiskeytown National Recreation Area (Mary Benterou, Kent Bush, H. Dale Durham, Clinton Kane and James O' Barr, October 2002)
Park Newspaper (The Whiskeytown Nugget): 2002 • 2003 • Summer Supplement 2003 • Winter 2003 • 2004 • 2006 • 2007 • 2008 • 2009 • 2010 • 2011 • 2012 • 2013 • 2014 • 2015 • 2016 • 2018
Recreation Places: A Description of Recreation Sites at Whiskeytown CPSU/OSU 86-3 (Randall Stark, Martha E. Lee, Donald R. Field, Charles van Riper III and Michael C. Avery, 1986)
Vegetation Community Monitoring: 2015 Results From Whiskeytown National Recreation Area and Lassen Volcanic National Park NPS Natural Resource Data Series NPS/KLMN/NRDS—2016/1051 (Sean B. Smith, August 2016)
Visitor Crowding and Conflict at Whiskeytown: A Carrying Capacity Approach (Martha E. Lee, Donald R. Field and Kristen S. Martinson, October 1988)
Wadeable Streams Monitoring: 2014 results from Whiskeytown National Recreation Area and Lassen Volcanic National Park NPS Natural Resource Report NPS/KLMN/NRR—2017/1536 (Eric C. Dinger, October 2017)
Whiskeytown — An Overview of the Visitor and the Recreation Resource (Marty E. Lee, Donald R. Field, Kristen Martinson and Alan Gross, December 1986)
Handbooks ◆ Books

Videos