JULY 2—DEVIL'S DEN AND LITTLE ROUND TOP
---
An aide found Col. Strong Vincent's brigade nearby and sent it to the hill. Hood's Alabamians and Texans attacked the hill as Vincent's brigade took position on its south slope. Vincent's gallant men repulsed two attacks made from Round Top's north slope. At the same time Texans, Georgians, and the 3rd Arkansas Regiment attacked the Union position at Devil's Den and in Rose's Woods beyond. "The whole line was alive with burning powder," recalled a Maine officer at Devil's Den. Capt. James F. Smith, whose New York battery was at Devil's Den, yelled to his cannoneers, "Give them shell! give them solid shot! Damn them, give them anything!" The Rebels hit the Federals at Devil's Den in front and flank and drove them from it, capturing three of Smith's guns. Once Devil's Den was in Confederate hands, Hood's men could attack Little Round Top from the southwest, as well as up its south slope, and flank Vincent's line on the right. Success and the hill seemed in their grasp, but Vincent's men, notably those of the 20th Maine Regiment on Vincent's left, held them off until Brig. Gen. Stephen H. Weed's brigade and two Fifth Corps batteries reached the hill and rendered it secure.
MATHEW BRADY PHOTOGRAPH OF LITTLE ROUND TOP TAKEN ON JULY 15, 1863 (USAMHI)
---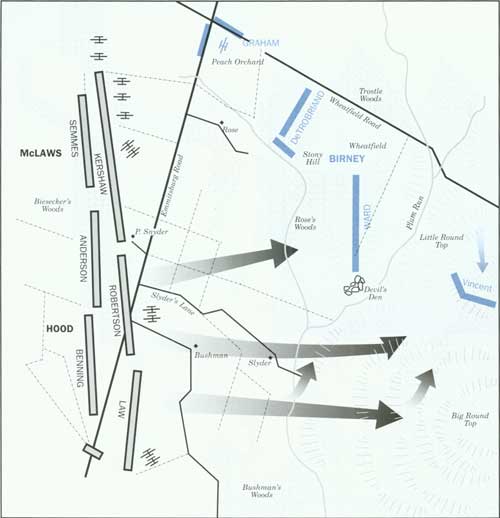 (click on image for a PDF version)
JULY 2, 1863, HOOD ATTACKS LITTLE ROUND TOP AND DEVIL'S DEN
At 4 P.M. Hood's division advances. The right of the division passes over Big Round Top to attack Little Round Top, which is initially undefended. The center and right of the division strike Union 3rd Corps troops defending the ridge-line running north from Devil's Den. Union troops of Colonel Strong Vincent's brigade are hurried to defend Little Round Top by General Gouverneur K. Warren.
---
This was vicious fighting. In spite of a seeming lack of direction resulting from Hood's being wounded at the outset of the attack, the Confederate brigades had outnumbered their foe at specific points and had fought magnificently. No man did better than Private Wilson J. Barbee, one of Hood's couriers, who stood on a boulder near Devil's Den and fired rifles passed up to him until Federal bullets knocked him from the rock three times. On the Union side, Vincent and Weed received mortal wounds on Little Round Top as did Col. Patrick O'Rorke of the 140th New York Regiment. Several other ranking officers were killed or wounded in this fight, but none fell more conspicuously than Lt. Col. William T. Harris of the 2nd Georgia, who led his men into the "gorge" at Devil's Den and Col. A. Van Horn Ellis and Maj. James Cromwell of the 124th New York. Saying, "the men must see us today," the latter mounted their horses to lead a counterattack from above Devil's Den and were soon shot from their saddles.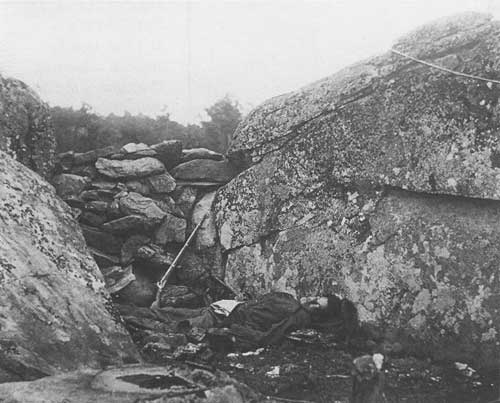 A FALLEN CONFEDERATE SHARPSHOOTER AT DEVIL'S DEN (CWL)
---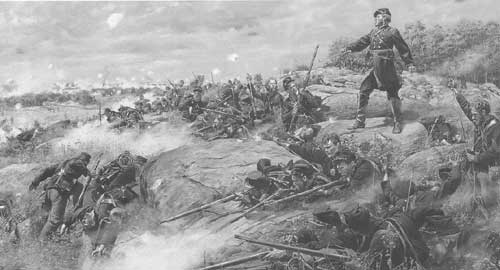 COLONEL STRONG VINCENT ON LITTLE ROUND TOP (PAINTING BY DON TROIANI. PHOTOGRAPH COURTESY OF HISTORICAL ART PRINTS, SOUTHBURY, CT.)
---