Saving the Glades
A wood stork silently wades shallow waters like a drum major in slow motion. Bill submerged, its great head sweeps the shallow, murky waters. Look closely: this dramatic wading bird is endangered. Its decline symbolizes what vast environmental threats stalk today's Everglades. Recent changing sea level exposed South Florida, whose bedrock is only 100,000 years old and overlain by sediments no older than 6,000 years. No park elevation tops eight feet above sea level. "River of Grass" was the name given this gently sloping landscape by conservationist Marjory Stoneman Douglas in the 1940s. In the park this river still flows slowly toward bay and gulf, but its grandeur is threatened. This is the first national park that was created to protect a threatened ecological system.
This subtropical region's only source of water is the rain that falls on it. But extensive canal and levee systems now shunt off much life-giving water before it reaches Everglades National Park. At times water control structures at the park boundary are closed. and no water nourishes the wood stork's habitat. Or, alternately, water control structures are opened and the human-managed floodwaters inundate nests or eggs of Everglades creatures and disperse the seasonal concentrations of the wading birds' prey. Pollutants from agriculture and other human activities only add to these problems. Agricultural runoff alters natural vegetation patterns. High levels of mercury haunt all levels of the food web, from fish in marshes, through raccoons and alligators, to Florida panthers, a species so endangered that not even 10 persist in the park. A panther found dead here had mercury levels toxic to humans. Everglades alone of US national parks holds three world designations: International Biosphere Reserve, World Heritage Site, and Wetland of International Importance. But how much longer will "River of Grass" be an apt description?
After years of drainage and alterations, efforts to save the remaining Everglades and to restore a semblance of their original function are underway. In 1989 Congress extended the eastern park boundary to protect the eastern Shark River Slough, which is historically important to sustain the park's biological abundance and diversity. Then, in the Comprehensive Everglades Restoration Plan, Congress authorized the world's largest environmental restoration project. Requiring 30 years to accomplish, the plan seeks to return water to more natural patterns of quantity, timing, and distribution throughout the South Florida ecosystem. Federal and state funds support this unprecedented effort. As waters return to the natural system, it will also be important to address serious water quality issues.
The park was created in 1947 to save part of the Glades, but its future depends on a healthier, more naturally functioning ecosystem in the entire region, where burgeoning human population thirsts for the same water that wood storks need to survive. We must create a balance among the competing demands of urban, industrial, and agricultural development, with a restored Everglades as its centerpiece. Nothing is yet saved for good; the Everglades' fate remains our mandate.
We Need Water!
National parks are not islands—outside events shape their fates. Water management is the key issue for the Everglades, whose watershed begins in the Kissimmee River basin in central Florida.
Summer storms flooding there once sent a shallow, wide river flowing southward to the Gulf of Mexico. Elaborate water controls now disrupt the natural flow, but without clean water at the critical seasons and in the right quantities, the Everglades will die.
Threats to the Park
Regional Growth
South Florida development has made people and the Everglades ecosystem compete for a finite water supply. each day, 800 people move to Florida; 39 million people vacation here some years; 12 million come in winter's dry season when water supplies naturally drop. The historic Everglades—four-fifths lies outside the park—feels this population pressure. Only California, New York, and Texas today outstrip Florida in population.
The Freshwater Cycle
South Florida fresh water comes from rain on the Kissimmee River basin and southward, mostly between May and October. Evaporation, transpiration, and runoff consume four-fifths of the 40 to 65 inches per year.
Slow and rain-driven, the natural freshwater circulation cycle historically built up in shallow Lake Okeechobee (it averages 12 feet deep and covers 730 square miles.) Thus began the flow of the 50-mile-wide, shallow River of Grass. One to three feet deep in the slough's center, but six inches deep elsewhere, it flowed south 100 feet per day across the Everglades sawgrass toward the mangrove estuaries of the Gulf of Mexico. A six month dry season then followed.
Everglades plants and animals are adapted to alternating wet and dry seasons. Disrupting the water cycle ruins crucial feeding and nesting conditions for wildlife.
Fire's Historic Role
Everglades ecosystems evolved with natural fire and are adapted to its patterns. But fire may pose new threats—as water shortages make plants and soils newly vulnerable to fires that are more destructive than they used to be.
Demand for Water
Florida's daily population increase of 800 residents creates new demands to supply 200,000 more gallons of fresh water every day. Added square miles of building and paving reduce rainwater penetration info aquifers, the water bearing layers below ground that store water that wells may tap. Many residents of Florida's west coast drink desalinated weter now. The freshwater supplies aren't enough even for piping practical distances. Agriculture not only makes demands on the water supply but threatens it. One dairy cow will create as much raw waste every day as 20 city residents.
A variety of agricultural runoffs pollute weter supplies with excesses of nitrogen, phosphorous, pesticides, herbicides, and fungicides. Depleting the fresh water in coastal areas can make salt water intrude into inland aquifers. A freshwater head from rain normally creates positive pressure keeping salt water out of coast aquifers. But as freshwater supplies go down, salt water can intrude, with dire consequences both for water supplies and the soil's ability to grow plants. Humans cannot drink salt water, which can also destroy plumbing and a variety of appliances.
Water Management
Four water management factors are critical to the Everglades and its wildlife.
Quality
Water runoff from farms brings excess nitrates and phosphates into the park. These reduce beneficial algae and promote unnatural growth of marsh vegetation.
Quantity and Timing
When too much water enters the park at the wrong season, alligator nests are flooded, and wading birds can't find concentrated sources of food for feeding young.
Distribution
With too little water, much of the park can't produce small aquatic organisms that anchor the food web.
For over 100 years the area of the Everglades that gets inundated has been drastically reduced. An eastern park addition will be inundated again to increase wildlife food sources.
Water Quality
In park waters, excess nutrients from agriculture runoff destroy the mats of composite algae known as periphyton. The algae are primary producers in the Everglades food web and provide food and oxygen for small aquatic organisms. In the dry season mats of algae hold critical moisture that helps many small organisms, including some fish eggs and snails, survive the dry months until rains come again. Saltwater intrusion also changes water quality. When the freshwater supply runs low, saline water penetrates the aquifer and upsets the ecological system.
Mercury pollution from unknown sources is also a growing problem.
Impact on Plants and Animals
Problems with the quality, quantity, timing, and distribution of water ripple throughout the Everglades. Numbers of wading birds nesting in southern Everglades colonies declined 93 percent since the 1930s—from 265,000 to only 18,500. Endangered wood storks declined from 5,000 nesting birds in the 1960s to as few as 500 nesting birds in the 1980s. Also threatened are rich Florida Bay nurseries for the state's shellfish industry.
Wet and Dry Seasons
Many animals have adapted to alternating wet and dry seasons. When water supply manipulations are ill-timed with natural patterns, disaster can result. Alligators build nests at the high-water level. If more water is released into the park, their nests are flooded and eggs destroyed. Endangered snail kites eat aquatic apple snails. Low-water levels, human-caused or natural, reduce snail and snail kite populations. In the early 1960s just 20 to 25 snail kites were left in North America, because of prolonged drought. The snails lay eggs above water in the wet season. If managers release more water, then snails fail to reproduce.
Invasive Species
Native trees, like mangrove and cypress, are being replaced by invasive (introduced) species from other countries. Florida largemouth bass share nesting beds with tilapia and oscars, African and South American fish. As the Everglades yields to human-introduced plants and fish, native species are diminished.
The Wood Stork as Indicator Species
Because of ecosystem changes, wood storks were listed as federal Endangered Species in 1984. How it feeds explains why. It feeds not by sight but by touch, tacto-location, in shallow, often muddy water full of plants. The fish can't be seen.
Walking slowly forward the stork sweeps its submerged bill from side to side. Touching its prey, mostly small fish, the bill snaps shut with a 25-millisecond reflex action, the fastest reflex known for vertebrate species.
Only seasonally drying wetlands concentrate—mostly in drying ponds—enough fish to provide the 440 pounds that a wood stork pair requires in a breeding season.
When human water management upsets the natural wetlands cycles, wood storks fail to nest successfully.
Migratory Bird Routes
Migratory birds, like Cape may warblers, peregrine falcons, bobolinks, and swallows, use Everglades National Park as a crucial wintering area or place to stop to rest.
Exploring the Everglades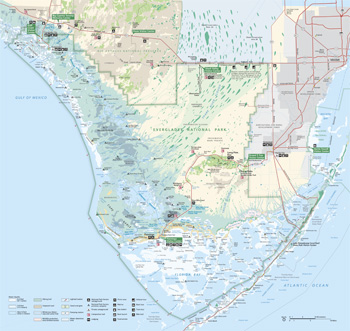 (click for larger map)
Make one of the park's four visitor centers your first stop here. The staff can answer questions about facilities and activities and help you plan how to best use your time. Informative publications about south Florida national parks are sold at visitor centers. An entrance fee is charged at the main park entrance and at Shark Valley on the Tamiami Trail.
The best way to see the park is to take time to walk the boardwalks and trails along the main park road and to join in ranger-led events. Naturalists give talks and lead hikes, canoe trips, tram tours, and campfire programs. Ask at a visitor center for schedules; events may change daily. At Everglades City the Gulf Coast Visitor Center is the park's western saltwater gateway. Narrated boat tours explore pristine Ten Thousand Islands and coastal mangrove. At Shark Valley the wildlife-viewing tram tour through sawgrass prairie includes a stop at a 65-foot tower for spectacular views. Birding and alligator viewing rank among the park's best here.
Activities and Facilities Walking Trails Experience the diversity of Everglades environments by walking short, wheelchair-accessible trails from parking areas throughout the park. At Royal Palm the Anhinga Trail, a ½-mile loop trail, offers one of the best opportunities to view wildlife, including alligators and birds, up close. The Gumbo Limbo Trail, a ½-mile loop, winds through a jungle-like tropical hardwood hammock. Along the main park road the Pinelands Trail, a ½-mile loop, explores a subtropical pine forest maintained by fire. The pinelands are the most diverse land habitat in south Florida. At Pa-hay-okee Overlook a ½-mile boardwalk leads to an observation tower with a panoramic view of the River of Grass. A ½-mile boardwalk at Mahogany Hammock crosses the Glades and loops through a subtropical tree island with massive mahogany trees. The West Lake Trail, a ½-mile boardwalk, loops deep into a forest of salt-tolerant, prop-rooted mangrove trees. At Flamingo's Eco Pond a short walk offers possible wildlife-viewing. At Shark Valley the Bobcat Boardwalk, a ¼-mile walk from the visitor center, loops through sawgrass prairie and a bayhead. At Otter Cave a one-mile round trip from the visitor center enters a subtropical hardwood hammock.
Check at the park visitor centers for more information about accessibility, longer hiking trails, biking, boating, fishing, canoeing, and the Wilderness Waterway.
Camping Long Pine Key and Flamingo campgrounds offer drinking water, picnic tables, grills, restrooms, dump-stations, and tent and trailer sites. Warmwater showers and electrical hookups are available at Flamingo; fees are charged in winter. Recreational vehicles are permitted. Wilderness camping permits are required for all backcountry sites and are issued no more than 24 hours in advance; fees are charged seasonally.
Lodging lodging is not available in the park now but can be found outside the park.
Regulations and Safety
Please help us protect the Everglades by practicing good outdoor manners. Put litter in trash receptacles; backcountry users must carry out all their litter. Observe safety and courtesy rules and enjoy your visit in a way that lets others enjoy theirs. Report fires, accidents, violations, or unusual incidents to a park ranger. Plants and Animals After years of protection many animals, like alligators, lose their natural fear of people. You can view them up close, but this does not mean they are tame. They are wild. Do not disturb or feed wildlife. Even friendly looking animals like raccoons can be dangerous. Watch for poisonous snakes: diamondback and pygmy rattlesnakes, water moccasins, and coral snakes. Large, non-poisonous, invasive Burmese pythons are very dangerous. Do not damage, remove, or disturb plants. Plants and animals are protected by law. Watch for poisonous plants: poison ivy, poisonwood, and manchineel. Hiking Off Trails Off-trail hiking or wading is permitted parkwide. Watch your footing; mucky soil, sharp-edged pinnacle rock, and holes make walking tricky. Show someone your schedule and planned route before you leave. Driving Maximum driving speed is 55 miles per hour; reduced speeds are posted. Pull completely off roadways onto the wide shoulder to view wildlife. Drive slowly and alertly to avoid hitting animals crossing roads. Fire, Pets, and Hunting Be careful with fires and do not smoke on trails. Use self-contained cooking stoves at backcountry campsites. Pets must be physically restrained and are not allowed on trails, in amphitheaters, or at backcountry campsites. Hunting is prohibited; for firearms regulations see the park website. Airboats, Swamp Buggies, and All-Terrain Vehicles Use of these special vehicles is prohibited in most areas of the park. Check with a ranger. Personal Watercraft Operating personal watercraft—like wave runner, jet ski, sea-doo, or wet bikes—is prohibited in all park waters Cultural Resources All cultural and historic artifacts in the park are protected by law.
Wilderness Waterway
A well-marked inland water route runs from Flamingo to Everglades City. Sequentially numbered markers guide you along its 99 miles (160 kilometers). Boats over 18 feet (6 meters) long or with high cabins and windshields should not attempt the route because of narrow channels and overhanging foliage in some areas. The route takes a minimum of six hours with an outboard motor or seven days by canoe. One-day round trips are not advised. Campsites are available on the route; backcountry permits are required.
Coe Visitor Center to Areas in the Park
| | | |
| --- | --- | --- |
| Royal Palm | 4 mi | 6 km |
| Long Pine Key | 6 mi | 10 km |
| Pinelands | 7 mi | 11 km |
| Pa-hay-okee Overlook | 13 mi | 21 km |
| Mahogany Hammock | 20 mi | 32 km |
| Paurotis Pond | 24 mi | 39 km |
| Nine Mile Pond | 27 mi | 43 km |
| West Lake | 31 mi | 50 km |
| Flamingo Visitor Center | 38 mi | 61 km |
| Florida Bay Ranger Station | 38 mi | 61 km |
| Chekika | 26 mi | 42 km |
| Shark Valley Visitor Center | 50 mi | 80 km |
| Gulf Coast Visitor Center | 92 mi | 148 km |
Coe Visitor Center to Other Areas
| | | |
| --- | --- | --- |
| Homestead | 11 mi | 18 km |
| Miami international Airport | 45 mi | 72 km |
| Key West | 135 mi | 217 km |
Message to Boaters
For safe boating, National Ocean Survey charts are indispensable. Charts 11430, 11432, 11433, 11451 are for sale at the Coe Visitor Center, Flamingo, and in the Everglades City area. Keys and beaches in Florida Bay are closed to landings unless otherwise designated. Commercial fishing is prohibited in the park. Recreational fishing requires a license in both fresh water and salt water. Where backcountry camping is allowed, a camping permit is required.
Source: NPS Brochure (2014)
Establishment

Wetland of International Importance — June 4, 1987
World Heritage Site — October 24, 1979
Wilderness Designation — November 10, 1978
International Biosphere Reserve — October 26, 1976
Everglades National Park — December 6, 1947



For More Information
Please Visit The

OFFICIAL NPS
WEBSITE
Brochures ◆ Site Bulletins ◆ Trading Cards

Documents
A Review of Fishery Management Options and Proposed Rules for Everglades National Park (c1979)
Aerial Survey of Boater Use in Everglades National Park Marine Waters: Florida Bay and Ten Thousand Islands NOAA Technical Memorandum NMFS-SEFSC-581 (Jerald S. Ault, Steven G. Smith, David McClellan, Natalia Zurcher, Ashley McCrea, Nathan R. Vaughn and James A. Bohnsack, August 2008)
An Examination of the Modified Water Deliveries Project, the C-111 Project, and the Experimental Water Deliveries Project: Hydrologic Analyses and Effects on Endangered Species (Thomas J. Van Lent, Ray W. Snow and Fred E. James, January 1999)
Analysis for water level data for Everglades National Park, Florida USGS Open-File Report 72-54 (T.J. Buchanan and J.H. Hartwell, 1972)
Annual Fisheries Reports
Annual Fisheries Report (1995), Everglades National Park (Thomas W. Schmidt, Mario Alvarado, John Kalafarski and Marnie Lounsbury, April 1996)
Annual Fisheries Report (1996), Everglades National Park (Thomas W. Schmidt, Mario Alvarado and John Kalafarski, April 1997)
Annual Fisheries Report (1997), Everglades National Park (Thomas W. Schmidt, Mario Alvarado and John Kalafarski, May 1998)
Annual Fisheries Report (1998), Everglades National Park (Thomas W. Schmidt, Gabriel A. Delgado and John Kalafarski, June 1999)
Annual Fisheries Report (1999), Everglades National Park (Thomas W. Schmidt, Gabriel A. Delgado and John Kalafarski, June 2000)
2000 Annual Fisheries Report, Everglades National Park (Thomas W. Schmidt, Jason Osborne and John Kalafarski, December 2001)
Year 2001 Annual Fisheries Report, Everglades National Park (Thomas W. Schmidt, Jason Osborne, John Kalafarski and Chris Greene, December 2002)
Year 2002 Annual Fisheries Report, Everglades National Park (Thomas W. Schmidt, Jason Osborne and John Kalafarski, September 2003)
Year 2003 Annual Fisheries Report, Everglades National Park (Jason Osborne, Thomas W. Schmidt and John Kalafarski, August 2004)
Year 2004 Annual Fisheries Report, Everglades National Park (Jason Osborne, Thomas W. Schmidt and John Kalafarski, September 2005)
Year 2005 Annual Fisheries Report, Everglades National Park (Jason Osborne, Thomas W. Schmidt and John Kalafarski, September 2006)
Annual Hydrology Review: Everglades National Park and Big Cypress National Preserve, 1976 South Florida Research Center Report T-505 (Paul W. Rose, September 1977)
Annual Hydrology Review: Everglades National Park and Big Cypress National Preserve, 1977 South Florida Research Center Report T-531 (Paul W. Rose and Peter C. Rosendahl, August 1978)
Applications of Multispectral Remote Sensing Techniques to Hydrobiological Investigations in Everglades National Park (Aaron L. Higer, Fred J. Thomson, Norma S. Thomson and Milton C. Kolipinski, January 1970)
Appraisal of Water Quality Needs and Criteria for Everglades National Park (June 1971)
Argentine Black and White Tegu (Salvator merianae) can survive the winter under semi-natural conditions well beyond their current invasive range (Scott M. Goetz, David A. Steen, Melissa A. Miller, Craig Guyer, Jack Kottwitz, John F. Roberts, Emmett Blankenship, Phillip R. Pearson, Daniel A. Warner and Robert N. Reed, extract from PLoS ONE, Vol. 6(3), March 10, 2021)
Baseline Ambient Sound Levels in Everglades National Park (Cynthia Lee and John MacDonald, November 2012)
Biodiversity of Birds in Everglades National Park NPS Natural Resource Report NPS/EVER/NRR-2015/1042 (Tonya M. Howington, September 2015)
Biodiversity of Fish in Everglades National Park NPS Natural Resource Report NPS/EVER/NRR-2015/1065 (Tonya M. Howington, October 2015)
Biodiversity of Mammals in Everglades National Park NPS Natural Resource Report NPS/EVER/NRR-2015/1056 (Tonya M. Howington, October 2015)
Biodiversity of Reptiles and Amphibians in Everglades National Park NPS Natural Resource Report NPS/EVER/NRR-2015/1068 (Tonya M. Howington, October 2015)
Biogeochemical study of the pinelands in Everglades National Park, Florida USGS Open-File Report 95-7 (Larry L. Jackson, P.H. Briggs, L.P. Gough and K.W. Stolte, 1995)
Bicycle Trail System Study, Phase 1: Corridor Study, Alternatives and Environmental Assessment: Everglades National Park, Florida (October 1989)
Chief Park Naturalist Reports: 1949-1959, 1962-1965, 1966-1969
Chief Park Ranger Reports: 1958, 1959, 1960, 1961, 1962, 1963, 1964, 1965, 1966, 1967-1968
Climate Change and South Floria's National Parks...portrait of a changing landscape (undated)
Coastal Landscape and Channel Evolution Affecting Critical Habitats at Cape Sable, Everglades National Park, Florida (Harold R. Wanless and Brigitte M. Vlaswinkel, June 15, 2005)
Descriptions and Preliminary Report on Sediment Cores from the Southwest Coastal Area, Everglades National Park, Florida USGS Open-File Report 2005-1360 (G. Lynn Wingard, Thomas M. Cronin, Charles W. Holmes, Debra A. Willard, Carlos A. Budet and Ruth E. Ortiz, 2005)
Diatom paleoecology Pass Key core 37, Everglades National Park, Florida Bay USGS Open-File Report 98-522 (Laura Pyle, S.R. Cooper and J.K. Huvane, 1998)
Ecology of Native Vertebrates of Everglades National Park: A Research Proposal Submitted to the National Geographic Society (August 1964)
Environmental Impact of the Big Cypress Swamp Jetport (September 1969)
Everglades Wildguide: Natural History Handbook (Jean Craighead George, 1972)
Florida Bay Map and Guide: Undated • 2012
Flow Velocity, Water Temperature, and Conductivity at Selected Locations in Shark River Slough, Everglades National Park,Florida; July 1999 - July 2003 USGS Data Series 110 (Raymond W. Schaffranek and Ami L. Riscassi, 2005)
Flow-Velocity, Water-Temperature and Conductivity Data Collected in Shark River Slough, Everglades National Park, During 1999-2000 and 2000-2001 Wet Seasons USGS Open-File Report 2002-159 (Ami L. Riscassi and R.W. Schaffranek, 2002)
Flow Velocity, Water Temperature, and Conductivity in Shark River Slough, Everglades National Park, Florida: August 2001-June 2002 USGS Open-File Report 2003-348 (Ami L. Riscassi and Raymond W. Schaffranek, 2003)
Flow Velocity, Water Temperature, and Conductivity in Shark River Slough, Everglades National Park, Florida: June 2002-July 2003 USGS Open-File Report 2004-1233) (Ami L. Riscassi and Raymond W. Schaffranek, 2004)
Food Habits and Nesting Success of Wood Storks in Everglades National Park in 1974 Natural Resources Report No. 16 (John C. Ogden, James A. Kushlan and James T. Tilmant, 1978)
Foundation Document, Everglades National Park, Florida (October 2017)
Foundation Document Overview, Everglades National Park, Florida (January 2017)
Geologic Resource Evaluation Report, Everglades National Park NPS Natural Resource Report NPS/NRPC/GRD/NRR-2008/047 (T.L. Thornberry-Ehrlich, September 2008)
Geophysical mapping of the freshwater/saltwater interface in Everglades National Park, Florida USGS Fact Sheet 173-96 (1996)
Gulf Coast Paddling Guide (2012)
Helicopter electromagnetic data from Everglades National Park and surrounding areas, Florida: collected 9-14 December 1994 USGS Open-File Report 2002-101 (David V. Fitterman and Maria Deszcz-Pan, 2002)
Historic Resource Study for Everglades National Park (John C. Paige, 1986)
Hurricane Andrew, 1992: The National Park Service Response in South Florida, Big Cypress National Preserve, Biscayne National Park, and Everglades National Park (August 1994)
Hydrobiological characteristics of Shark River estuary, Everglades National Park, Florida USGS Open-File Report 71-199 (B.F. McPherson, 1970)
Hydrogeologic data related to establishment of a pumping station in the Everglades National Park, Florida USGS Open-File Report 69-11 (C.A. Appel and Howard Klein, 1969)
Hydrologic characteristics of estuarine river systems within Everglades National Park USGS Fact Sheet 2004-3129 (Clinton Hittle, Eduardo Patino, and Mark Zucker, 2004)
Hydrologic Impacts of L-31(W) on Taylor Slough, Everglades National Park South Florida Research Center Report T-612 (January 1981)
Interaction between ground water and surface water in Taylor Slough and vicinity, Everglades National Park, South Florida; study methods and appendixes USGS Open-File Report 2000-483 (Judson W. Harvey, J.M. Jackson, R.H. Mooney and Jungyill Choi, 2000)
Joven Guardaparque (Spanish), Biscayne National Park/Big Cypress National Preserve/Everglades National Park (2007)
Junior Ranger, Biscayne National Park/Big Cypress National Preserve/Everglades National Park (2013)
Length-based risk analysis of management options for the southern Florida USA multispecies coral reef fish fishery (Jerald S. Ault, Steven G. Smith, Matthew W. Johnson, Laura Jay W. Grove, James A. Bohnsack, Gerard T. DiNardo, Caroline McLaughlin, Nelson M. Ehrhardt, Vanessa McDonough, Michael P. Seki, Steven L. Miller, Jiangang Luo, Jeremiah Blondeau, Michael P. Crosby, Glenn Simpson, Mark E. Monaco, Clayton G. Pollock, Michael W. Feeley, Alejandro Acosta, extract from Fisheries Research, Vol. 249, February 9, 2022)
Lightning gaps in the mangrove forest of Everglades National Park USGS Fact Sheet 2004-3016 (Kevin R.T. Whelan and Thomas J. Smith III, 2004)
Master Plan, Everglades National Park, Florida (May 1979)
May Mann Jennings and Royal Palm State Park (Linda D. Vance, extract from The Florida Historical Quarterly, Vol. LV No. 1, July 1976, ©Florida Historical Society)
Measuring Taylor Slough boundary and internal flows, Everglades National Park, Florida USGS Open-File Report 2001-225 (G.M. Tillis, 2001)
Molluscan fauna from core 25B, Whipray Basin, central Florida Bay, Everglades National Park USGS Open-File Report 2001-143 (Carleigh A. Trappe and G. Lynn Brewster-Wingard, 2001)
National Register of Historic Places Nomination Forms
Mud Lake Canal (Ryan J. Wheeler, May 2005)
Nike Missile Site HM-69 (Diana E. Welling and Jennifer Dickey, March 19, 2004)
Natural Resource Condition Assessment, Everglades National Park NPS Natural Resource Report NPS/EVER/NRR-2019/1991 (Jed Redwine, Andrea Atkinson, Alice Clarke, Dale McPherson and Carol Mitchell, September 2019)
Observations of Aedes taeniorhynchus dispersal in extreme South Florida and the Everglades National Park (Frederick W. Harden and Henry S. Chubb, extract from Mosquito News, September 1960)
Park Newspaper (Pa-Hay-Okee): Winter 1987
Park Stories/Parks Guide: 2003-2004 • 2004-2005 • 2005-2006
Physical, Biological and Geological Character of the Area South of C-111 Canal In Extreme Southeastern Everglades National Park, Florida (Durbin C. Tabb, Taylor R. Alexander, Terence M. Thomas and Nancy Maynard, 1967)
Potential Ecological Consequences of Climate Change in South Floria and the Everglades: 2008 Literature Synthesis Resource Evaluation Report, SFNRC Technical Series 2009:1 (2009)
Preliminary analysis of down-core biotic assemblages Bob Allen Keys, Everglades National Park, Florida Bay USGS Open-File Report 95-628 (G. L. Brewster-Wingard, S.E. Ishman, T. M. Cronin, L.E. Edwards, D.A. Willard and R.B. Halley, 1995)
Preliminary paleontologic report on core 37 from Pass Key, Everglades National Park, Florida Bay USGS Open-File Report 98-122 (G. L. Brewster-Wingard, S.E. Ishman, N.J. Waibel, D.A. Willard, L.E. Edwards and C.W. Holmes, 1998)
Preliminary paleontologic report on cores 19A and 19B, from Russell Bank, Everglades National Park, Florida Bay USGS Open-File Report 97-460 \(G. L. Brewster-Wingard, S.E. Ishman, D.A. Willard, L.E. Edwards and C.W. Holmes, 1997)
Prospectus: Accommodations, Facilities and Services in Everglades National Park — Flamingo Area (July 5, 1974)
Recreational Saltwater Fisheries Report 2019: Everglades National Park NPS Natural Resource Data Series NPS/EVER/NRDS-2021/1329 (Christopher J. Kavanagh, Jason Osborne and John Kalafarski, June 2021)
Relation of Water Level and Fish Availability to Wood Stork Reproduction in the Southern Everglades, Florida USGS Open-File Report 75-434 (James A. Kushlan, John C. Ogden and Aaron L. Higer, 1975)
Research Plan of Study Submitted to the Florida Panther Interagency Committee Technical Subcommittee (William B. Robertson, Jr. and Oron L. Bass, Jr., 1986)
Results of time-domain electromagnetic soundings in Everglades National Park, Florida USGS Open-File Report 99-426 (D.V. Fitterman, Maria Deszcz-Pan and C.E. Stoddard, 1999)
Scientific Studies in the Coastal and Estuarine Areas of Everglades National Park: An Annotated Bibliography South Florida Research Center Research/Resources Management Report SER-91/02 (T.W. Schmidt, 1991)
Severe mammal declines coincide with proliferation of invasive Burmese pythons in Everglades National Park (Michael E. Dorcas, John D. Willson, Robert N. Red, Ray W. Snow, Michael R. Rochford, Melissa A. Miller, Walter E. Meshaka, Jr., Paul T. Andreadis, Frank J. Mazzotti, Christina M. Romagosa and Kristen M. Hart, extract from Proceedings of the National Academy of Sciences, Vol. 107 No. 7, February 14, 2012)
South Florida Natural Resources Center
Alligator Production Suitability Index Model (GATOR-PSIM v. 2.0): Ecological and Design Documentation Ecological Model Report/SFNRC Technical Series 2014:1 (2014)
An Assessment of the Interim Operational Plan Resource Evaluation Report/SFNRC Technical Series 2005:2 (2005)
Behavioral Observations of the Cape Sable Seaside Sparrow from an Acoustic Array Resource Evaluation Report/SFNRC Technical Series 2017:1 (2017)
Contaminant Assessment and Risk Evaluation Project: Summary Report (2016)
Ecological Targets for Western Biscayne National Park Resource Evaluation Report/SFNRC Technical Series 2006:2 (April 2006)
Estimates of Flows to Meet Salinity Targets for Western Biscayne National Park Resource Evaluation Report/SFNRC Technical Series 2008:2 (June 2008)
Evaluation and Application of the TIME Model v2.0: Restoration Alternatives and Sea Level Rise in Everglades National Park Hydrologic Model Report/SFNRC Technical Series 2013:1 (2013)
Everglades National Park: 2013 State of Conservation Resource Evaluation Report/SFNRC Technical Series 2013:2 (2013)
Everglades National Park: 2013: Indicators of Integrity Status and Trends Report/SFNRC Technical Series 2013:3 (2013)
Everglades National Park: 2015 State of Conservation Resource Evaluation Report/SFNRC Technical Series 2015:1 (2015)
Hypersalinity in Florida Bay: A Low-Dimensional Nonlinear Model Hydrologic Model Report/SFNRC Technical Series 2016:2 (2016)
Joint Report to Congress: Everglades Water Quality Resource Evaluation Report/SFNRC Technical Series 2005:1 (2005)
Patterns of Propeller Scarring of Seagrass in Florida Bay Resource Evaluation Report/SFNRC Technical Series 2008:1 (2008)
Potential Ecological Consequences of Climate Change in South Florida and the Everglades: 2008 Literature Synthesis Resource Evaluation Report/SFNRC Technical Series 2009:1 (2009)
Salinity and Hydrology of Florida Bay: Status and Trends 1990-2009 Status and Trends Report/SFNRC Technical Series 2012:1 (2012)
Tamiami Trail Modifications: Next Steps Project - Summary of Findings and Draft Environmental Impact Statement Project Evaluation Report/SFNRC Technical Series 2010:1 (2010)
A Preliminary Report on Rare Plant Species in the Flora of National Park Service Areas of South Florida South Florida Research Center Report M-548 (Lloyd L. Loope and George N. Avery, 1979)
Annual Research Plan: Fiscal Year 1981 South Florida Research Center Report M-594 (July 24, 1980)
Cape Sable Sparrow Management Plan South Florida Research Center Report M-660 (James A. Kushlan, Oron L. Bass, Jr., Lloyd L. Loope, William B. Robertson, Jr., Peter C. Rosendahl and Dale L. Taylor, April 1982)
Investigations of Rodent Damage to the Thatch Palms Thrinax morrisii and Thrinax radiata on Elliott Key, Biscayne National Park, Florida South Florida Research Center Report M-589 (James T. Tilmant, September 1980)
Status of the Osprey in Everglades National Park South Florida Research Center Report M-679 (Oron L. Bass, Jr. and James A. Kushlan, August 1982)
Management Recomendations for Juvenile Spiny Lobsters, Panulirus argus in Biscayne National Monument, Florida South Florida Research Center Report M-530 (Gary E. Davis, August 1978)
The Status of the Schaus Swallowtail and the Bahama Swallowtail Butterflies in Biscayne National Park South Florida Research Center Report M-649 (William F. Loftus and James A. Kushlan, January 1982)
Water Management Plan: Turner River Restoration South Florida Research Center Report M-621 (Peter C. Rosendahl and David A. Sikkema, April 1981)
Abundance and Distribution of Ichthyoplankton in Florida Bay and Adjacent Waters Report SFRC-87/01 (Allyn B. Powell, Donald E. Hoss, William F. Hettler, David S. Peters, Larry Simoneaux and Stephanie Wagner, 1987)
Age and Growth of Four Everglades Fishes Using Otolith Techniques Report SFRC-83/03 (P. William Haake and John Mark Dean, May 1983)
Aspects of the Population Dynamics & Biology of the Stone Crab (Menippe mercenaria) in EVER & BISC as Determined by Trapping Report SFRC-86/04 (T.M. Bert, J. Tilmant, J. Dodrill and G.E. Davis, 1986)
Distribution and Abundance of Fish Communities Among Selected Estuarine and Marine Habitats in Everglades National Park Report SFRC-87/02 (Gordon W. Thayer, William F. Hettler, Jr., Alexander J. Chester, David R. Colby and Patti J. McElhaney, 1987)
Early Life History of Spotted Seatrout, Red Drum, Gray Snapper, and Snook in Everglades National Park Report SFRC-86/07 (Edward S. Rutherford, Thomas W. Schmidt and James T. Tilmant, 1986)
Evaluation of the Management of Problem Alligators in Everglades National Park Report SFRC-83/00 (Terri Jacobsen and James A. Khuslan, October 1983)
Fire Effects on Flowering and Fruiting Patterns of Understory Plants in Pinelands of EVER Report SFRC-83/04 (Lance Gunderson, Dale Taylor and Jim Craig, August 1983)
Geologic Structure of the Surficial Aquifer System Underlying EVER and the BICY Report SFRC-85/02 (Martha Jarosewich and Joel Wagner, March 1985)
Guidelines for Proposal Submissions; Appendix A of Restoring Wetlands on Abandoned Agricultural Lands in Everglades National Park, a Strategic Plan for Guiding the Research, Monitoring, and Management of the "Hole-in-the-Donut" Restoration Report SFRC-97-003 (Robert F. Doren, 1997)
Hydrologic Effects of the 1984 through 1986 L-31 Canal Drawdowns on the Northern Taylor Slough Basin of Everglades National Park Report SFRC-88/01 (Robert A. Johnson, Joel I. Wagner, Deborah J. Grigsby and Virginia A. Stern, 1988)
Impact of Wet Season & Dry Season Prescribed Fires on Miami Pock Ridge Pineland, EVER Report SFRC-86/06 (James R. Snyder, 1986)
Litterfall in Pinelands of Everglades National Park Report SFRC-85/01 (Alan Herndon and Dale Taylor, March 1985)
Long Term Recovery of Experimental Off-Road Vehicle Impacts and Abandoned Old Trails in the Big Cypress National Preserv Report SFRC-86/09 (Michael J. Duever, Lawrence A. Riopelle and Jean M. McCollom, December 1986)
Mowry Canal (C-103): Water Quality and Discharge into Biscayne Bay, Florida, 1975-1981 Report SFRC-83/06 (Daniel J. Scheidt and Mark D. Flora, October 1983)
Old Field Succession in Everglades National Park Report SFRC-87/03 (Pamela Krauss, 1987)
Population Structure, Food Habits, and Spawning Activity of Gray Snapper, Lutjanus griseus, in EVER Report SFRC-83/02 (Edward S. Rutherford, Edith B. Thue and David G. Buker, April 1983)
Response of a Muhlenbergia Prairie to Repeated Burning: Changes in Above-ground Biomass Report SFRC-86/05 (Alan Herndon and Dale Taylor, 1986)
Restoring Wetlands on Abandoned Agricultural Lands in Everglades National Park, a Strategic Plan for Guiding the Research, Monitoring, and Management of the "Hole-in-the-Donut" Restoration Report SFRC-97-002 (Robert F. Doren, D.L. Childers, T.V. Armentano, W.J. Platt, C. Horvitz, M. Norland and B. Sparkman, 1997)
Status of Exotic Woody Species in Big Cypress National Preserve Report SFRC-83/07 (Lance H. Gunderson, December 1983)
Status of the Eastern Indigo Snake in Southern Florida National Parks and Vicinity Report SFRC-83/01 (Todd M. Steiner, Oron L. Bass, Jr. and James A. Kushlan, January 1983)
Summary of Fires in Everglades National Park and Big Cypress National Preserve, 1981 Report SFRC-84/01 (Robert F. Doren and Regina M. Rochefort, June 1984)
The Vegetation of Long Pine Key, Everglades National Park Report SFRC-83/05 (Ingrid Olmsted, William B. Robertson, Jr., Jill Johnson and Oron L. Bass, Jr., August 1983)
Vegetation Cover Types of Shark River Slough, Everglades NP Derived from LANDSAT Thematic Mapper Data Report SFRC-86/03 (Lance H. Gunderson, David P. Brannon and Gary Irish, January 1986)
Vegetation of Shark Slough, Everglades National Park Report SFRC-97-001 (Ingrid Olmsted and Thomas V. Armentano, April 1997)
Water Management in Taylor Slough and Effects on Florida Bay Report SFRC-93-03 (Thomas Van Lent, Robert Johnson and Robert Fennema, November 1993)
A Bibliography of Schinus, Melaleuca, and Casuarina Exotic Genera in South Florida SFRC Report T-682 (Jill Johnson and Ingrid Olmsted, November 1982)
A Bibliography of South Florida Botany SFRC Report T-600 (Lloyd L. Loope, August 1980)
A Bibliography of South Florida Wading Birds SFRC Report T-514 (James A. Kushlan, M. Christine Baumann and Linda C. McEwan, 1978)
A Bibliography of the Hydrology of the Everglades and the Big Cypress Swamp, Florida SFRC Report T-501 (Linda A. DeMauro, September 1977)
A Summary of Estuarine and Marine Water Quality Information, EVER, BISC, and Adjacent Estuaries, 1879 to 1977 SFRC Report T-519 (Thomas W. Schmidt and Gary E. Davis, August 1978)
A Survey and Baseline Analysis of Aspects of the Vegetation of Taylor Slough, Everglades National Park SFRC Report T-586 (Ingrid C. Olmsted, Lloyd L. Loope and Richard E. Rintz, April 1980)
A Survey and Inventory of the Plant Communities in the Pinecrest Area, Big Cypress National Preserve SFRC Report T-655 (Lance Gunderson and Lloyd L. Loope, March 1982)
A Survey and Inventory of the Plant Communities in the Raccoon Point Area, Big Cypress National Preserve SFRC Report T-665 (Lance H. Gunderson and Lloyd L. Loope, June 1982)
A Survey of Fire History and Impact in Tropical Hardwood Hammocks in the East Everglades and Adjacent Portions of EVER SFRC Report T-592 (Lloyd L. Loope and Nancy H. Urban, April 1980)
Age, Growth, and Mortality of the Common Snook, Centropomus undecimalis (Bloch), in Everglades National Park SFRC Report T-683 (Edith B. Thue, Edward S. Rutherford and David G. Buker, December 1982)
An Analysis of Rainfall in Shark Slough SFRC Report T-646 (Rose M. Lew, Mark D. Flora and Peter C. Rosendahl, January 1982)
An Analysis of Surface Water Nutrient Concentrations in Shark River Slough, 1972-1980 SFRC Report T-653 (Mark D. Flora and Peter C. Rosendahl, March 1982)
An Application of LANDSAT Multispectral Imagery for the Classification of Hydrobiological Systems, Shark River Slough, Everglades National Park, Florida SFRC Report T-544 (Paul W. Rose and Peter C. Rosendahl, 1979)
An Environmental Study of Everglades Mink (Mustela vison) SFRC Report T-555 (Andrew T. Smith, 1980)
An Inventory of Plant Communities of the Turner River Area, Big Cypress National Preserve, Florida SFRC Report T-648 (Lance Gunderson, Lloyd L. Loope and William R. Maynard, January 1982)
An Inventory of the Plant Communities in the Levee-28 Tieback Area, Big Cypress National Preserve SFRC Report T-664 (Lance H. Gunderson and Lloyd L. Loope, May 1982)
An Inventory of the Plant Communities within the Deep Lake Strand Area, Big Cypress National Preserve SFRC Report T-666 (Lance H. Gunderson and Lloyd L. Loope, June 1982)
Annual Hydrology Review: Big Cypress National Preserve 1977 SFRC Report T-575 (Paul W. Rose, David A. Sikkema and Peter C. Rosendahl, January 1980)
Annual Hydrology Review: Everglades National Park and Big Cypress National Preserve, 1976 SFRC Report T-505 (Paul W. Rose, September 1977)
Annual Hydrology Review: Everglades National Park 1977 SFRC Report T-531 (Paul W. Rose and Peter C. Rosendahl, August 1978)
Annual Hydrology Review: Everglades National Park and Big Cypress National Preserve Water Year 1978 SFRC Report T-611 (Paul W. Rose, Rose M. Lew and Peter C. Rosendahl, January 1981)
Biomass and Primary Production of Microphytes and Macrophytes in Periphyton Habitats of the Southern Everglades SFRC Report T-662 (Joan A. Browder, et. al, May 1982)
Butterflies of Everglades National Park SFRC Report T-588 (Barbara Lenczewski, June 1980)
Colonial Bird Monitoring in South Florida National Parks SFRC Report T-513 (1978)
Colonial Birds in South Florida National Parks, 1977-1978 SFRC Report T-538 (Oron L. Bass, Jr., April 1979)
Distribution and Abundance of Flora in Limestone Rockland Pine Forests of Souteastern Florida SFRC Report T-547 (Lloyd L. Loope, David W. Black, Sally Black and George N. Avery, 1979)
Distribution and Habitat of the Red-cockaded Woodpecker in Big Cypress National Preserve SFRC Report T-613 (Gary A. Patterson and William B. Robertson, Jr., March 1981)
Endemic Taxa in the Flora of South Florida SFRC Report T-558 (George N. Avery and Lloyd L. Loope, July 1980)
Feasibility of the Establishment of a Captive-Breeding Poplation of the American Crocodile SFRC Report T-509 (John L. Behler, January 1978)
Fire History and Fire Records for Everglades National Park 1948-1979 SFRC Report T-619 (Dale L. Taylor, April 1981)
Fishery Data Management Handbook, Everglades National Park, 1979 SFRC Report T-546 (Gary E. Davis and Edith B. Thue, June 1979)
Hydrologic Impacts of L-31(W) on Taylor Slough, Everglades National Park SFRC Report T-612 (Paul W. Rose, Mark D. Flora and Peter C. Rosendahl, January 1981)
Impact of 22 Years of Fire on Understory Hardwood Shrubs in Slash Pine Communities within Everglades National Park SFRC Report T-640 (Dale L. Taylor and Alan Herndon, September 1981)
Impact of Fire Exclusion and Invasion of Schinus terebinthifolius on Rockland Pine Forests of Southeastern Florida SFRC Report T-645 (Lloyd L. Loope and Vicki L. Dunevitz, October 1981)
Investigations of Early Plant Succession on Abandoned Farmlands in Everglades National Park SFRC Report T-644 (Lloyd L. Loope and Vicki L. Dunevitz, October 1981)
Mortality Associated with Declawing Stone Crabs, Menippe mercenaria SFRC Report T-522 (Gary E. Davis, Douglas S. Baughman, James D. Chapman, Donal MacArthur and Alan C. Pierce, 1978)
Off-Road Vehicles and Their Impacts in the Big Cypress National Preserve SFRC Report T-614 (Michael J. Duever, John E. Carlson and Lawrence A. Riopelle, March 1981)
Osmoregulation of Crocodiles in Everglades National Park SFRC Report T-599 (William A. Dunson, June 1980)
Perspective on the Ecological Causes and Effects of Algal Composition of Southern Everglades Periphyton SFRC Report T-643 (Joan A. Browder, et. al, October 1981)
Plants of Big Cypress National Preserve: A Preliminary Checklist of Vascular Plants SFRC Report T-587 (David W. Black and Sally Black, April 1980)
Plants of Everglades National Park: A Preliminary Checklist of Vascular Plants SFRC Report T-574 (George N. Avery and Lloyd L. Loope, January 1980)
Phenology of Flowering and Fruiting in Plant Communities of Everglades NP and Biscayne NM, Florida SFRC Report T-593 (Lloyd L. Loope, June 1980)
Population Characteristics, Food Habits and Spawning Activity of Spotted Seatrout, Cynoscion nebulosus, in Everglades National Park, Florida SFRC Report T-668 (Edward Rutherford, Edith Thue and David Buker, June 1982)
Schinus in Successional Ecosystems of Everglades National Park SFRC Report T-676 (John J. Ewel, Dennis S. Ojima, Dori A. Karl and William F. DeBusk, August 1982)
Shark Slough Water Level Correlation Analysis SFRC Report T-618 (Robert J. Probst and Peter C. Rosendahl, April 1981)
Specific Conductance and Ionic Characteristics of the Shark River Slough, Everglades National Park, Florida SFRC Report T-615 (Mark D. Flora and Peter C. Rosendahl, April 1981)
Status of the Cape Sable Sparrow SFRC Report T-672 (Oron L. Bass, Jr. and James A. Kushlan, June 1982)
Status of the Gopher Tortoise in Everglades National Park SFRC Report T-669 (James A. Kushlan and Frank J. Mazzotti, June 1982)
Structure S-12 Water Distribution to Everglades National Park SFRC Report T-650 (Joel I. Wagner and Peter C. Rosendahl, February 1982)
Summary of Fires in Everglades National Park and Big Cypress National Preserve 1977 and 1978 SFRC Report T-565 (Dale L. Taylor, 1980)
Summary of Fires in Everglades National Park and Big Cypress National Preserve, 1979 SFRC Report T-595 (Dale L. Taylor, July 1980)
Summary of Fires in Everglades National Park and Big Cypress National Preserve, 1980 SFRC Report T-663 (Dale L. Taylor and Robert F. Doren, May 1982)
The Nest Environment of the American Crocodile (Crocodylus acutus) SFRC Report T-671 (Peter L. Lutz and Ann Dunbar-Cooper, June 1982)
The Status of Florida Tree Snails (Liguus fasciatus), Introduced to Everglades National Park SFRC Report T-622 (Archie L. Jones, Erwin C. Winte and Oron L. Bass, Jr., April 1981)
Tropical Hardwood Hammocks of the Interior of Everglades National Park and Big Cypress National Preserve SFRC Report T-604 (Ingrid C. Olmsted, Lloyd L. Loope and Charles E. Hilsenbeck, November 1980)
Twenty-Nine Year Synopsis of the Coot Bay Christmas Bird Count, Everglades National Park SFRC Report T-605 (William Bolte and Oron L. Bass, Jr., December 1980)
Vegetation Map of Taylor Slough, Everglades National Park SFRC Report T-566 (Richard E. Rintz and Lloyd L. Loope, 1978)
Vegetation Map of the Coastal Region between Flamingo and Joe Bay of Everglades National Park SFRC Report T-603 (Robert P Russell, Lloyd L. Loope and Ingrid C. Olmted, 1980)
Vegetation of Southern Coastal Region of Everglades National Park between Flamingo and Joe Bay SFRC Report T-620 (Ingrid C. Olmsted, Lloyd L. Loope and Robert P. Russell, April 1981)
Wintering Waterfowl in Everglades National Park SFRC Report T-670 (James A. Kushlan, Oron L. Bass, Jr. and Linda C. McEwan, June 1982)
Spatial and Temporal Dynamics in the Everglades Ecosystem with Implications for Water Deliveries to Everglades National Park (Lance H. Gunderson, University of Florida, 1992)
Superintendent's Annual Reports: 1981 • 1982 • 1983 • 1984 • 1985 • 1986 • 1987 • 1997 • 1998 • 1999 • 2000 • 2006
Superintendent's Annual Report (South Florida Research Center): 1987
Superintendent's Monthly Reports: 1947-1948, 1949, 1951-1952, 1953-1954, 1955-1956, 1957-1958, 1959-1960, 1961-1962, 1963, 1964-1965, 1966, 1967
The Food Habits and Nesting Success of Wood Storks in Everglades National Park in 1974 Natural Resources Report No. 16 (John C. Ogden, James A. Kushlan and James T. Tilmant, 1978)
The Marjory Stoneman Douglas Wilderness: Research, Everglades National Park (April 2009)
The Response of Experimental Channels in Everglades National Park to Increased Nitrogen and Phosphorus Loading, Data Report: Chemistry and Primary Productivity Water Resources Report No. 86-6 (Mark D. Flora, David R. Walker, Kenneth A. Burgess, Daniel J. Scheidt and Ramona G. Rice, July 1986)
The road to flamingo: an evaluation of flow pattern alterations and salinity intrusion in the lower glades, Everglades National Park USGS Open-File Report 2002-59 (M.A. Stewart, T.N. Bhatt, R.J. Fennema, and D.V. Fitterman, 2002)
The Royal Palm — Roystonea Regia (John K. Small, reprint from Journal of the New York Botanical Garden, 1928)
The Vegetation of Everglades National Park: Final Report NPS Natural Resource Report NPS/SFCN/NRR-2021/2256 (Pablo L. Rui, Theodore N. Schall, Robert B. Shamblin and Kevin R.T. Whelan, May 2021)
Thermal stability of an adaptable, invasive ectotherm: Argentine giant tegus in the Greater Everglades ecosystem, USA (Andrea F. Currylow ,  Michelle A.M. Collier, Emma B. Hanslowe, Bryan G. Falk, Brian S. Cade, Sarah E. Moy, Alejandro Grajal-Puche, Frank N. Ridgley, Robert N. Reed and Amy A. Yackel Adams, extract from Ecosphere, Vol. 12(9), September 2021)
Ti Gad Pak (Creole), Biscayne National Park/Big Cypress National Preserve/Everglades National Park (2007)
Trip Planner: 2003-2004 • 2004-2005 • 2005-2006 •2006-2007 • 2007-2008 • 2007-2008: Spanish edition
Vegetative resistance to flow in South Florida; summary of vegetation sampling in Taylor Slough, Everglades National Park, September 1997-July 1998 USGS Open-File Report 2001-102 (N.B. Rybicki, J.T. Reel, H.A. Ruhl, P.A. Gammon and Virginia Carter, 2001)
Wading Bird Nesting in the Everglades Annual Reports: 2012 • 2013 • 2014 • 2016 • 2017 • 2019 • 2020 (Audubon Florida)
Water flow and nutrient flux from five estuarine rivers along the southwest coast of Everglades National Park, Florida, 1997-2001 USGS Scientific Investigations Report 2004-5142 (V.A. Levesque, 2004)
Water quality in Big Cypress National Preserve and Everglades National Park, 1960-2000 USGS Fact Sheet 097-03 (Benjamin F. McPherson and Ronald L. Miller, 2004)
Water Quality in Big Cypress National Preserve and Everglades National Park - Trends and Spatial Characteristics of Selected Constituents USGS Water-Resources Investigations Report 2003-4249 (Ronald L. Miller, Benjamin F. McPherson, Robert Sobczak and Christine Clark, 2004)
Wilderness on the Edge: A History of Everglades National Park (Robert W. Blythe, Organization of American Historians, September 2017)
Wilderness Trip Planner: 2009 • 2011 • 2015
Handbooks ◆ Books

Videos