A Wilderness of Rock
Canyonlands preserves a wilderness of rock at the heart of the Colorado Plateau. Water and gravity, this land's prime architects, cut flat layers of sedimentary rock into hundreds of canyons, mesas, buttes, fins, arches, and spires. At center stage are two canyons carved by the Green and Colorado rivers. Surrounding the rivers are vast, very different regions: Island in the Sky on the north, The Maze on the west, and The Needles on the east. They share a common primitive spirit and Wild West atmosphere. Few people knew these remote lands and rivers well when the national park was established in 1964. Only Native Americans, cowboys, river explorers, and uranium prospectors had dared enter this rugged corner of southeastern Utah. Canyonlands remains largely untrammeled—its roads mostly unpaved, trails primitive, and rivers free-flowing. Bighorn sheep, coyotes, and other native animals roam its 527 square miles. Canyonlands is wild America.
Island in the Sky
Views from Island in the Sky reach from the depths of the Green and Colorado rivers to the mountaintops and above. Across canyon after canyon they stretch to the horizon 100 miles distant. Island in the Sky—a broad mesa wedged between the Green and Colorado—is Canyonlands' observation tower. From it you see vistas of dimensions hard to comprehend. Closest to the mesa's edge is the White Rim, a nearly continuous sandstone bench 1,200 feet below the Island. Another 1,000 feet beneath z are the rivers, shadowed by sheer canyon cliffs. Beyond them lie The Maze and The Needles.
Outside the park three mountain ranges break the land's flat-topped pattern. To the east rise the La Sals; to the south the Abajos; to the southwest the Henrys. Rain that skips Canyonlands' arid soil keeps these mountains mantled in forests of pine and fir. On the Island, vegetation is more sparse. Fields of Indian ricegrass and other grasses and pinyon-juniper forests survive on fewer than 10 inches of rain a year. Coyotes, squirrels, and ravens, hawks, and smaller birds share these lands' food. Cattle and horses once grazed here; abandoned water troughs and fences recall those bygone days.
Rocky ledges leading down to and below White Rim are favored habitat for desert bighorn sheep. From the Island mesa these sheep look like tan, fly-sized specks. Only the most sharp observers spy them. Trails around the Island are good places to see wildlife, especially at dawn or dusk and in cooler months. Trails lead to striking vistas, to arches and other remarkable geological features. Geologists might single out Upheaval Dome as the oddest geologic feature on Island in the Sky. At 1,500 feet deep it looks not like a dome but like a crater. How was it formed? A recent theory does indeed suggest the cause was a meteor hit. Whatever its origin, today's landform of a jagged-edged crater is the result of erosion.
Explorations From US 191 take UT 313 south to Island in the Sky. A paved road continues across the Island. Facilities: visitor center, 4-wheel-drive roads, self-guiding and primitive trails, developed camping, primitive campsites (backcountry permit required), picnic areas, overlooks, roadside and trailside exhibits, ranger talks and programs (seasonal), and commercial tours from nearby towns. Water is available March to October at Island in the Sky Visitor Center; entrance fee and camping fees are charged. Open year-round.
The Maze
The Maze District is Canyonlands at its wildest. One of the nation's most remote areas, The Maze itself is a 30-square-mile puzzle in sandstone. Nearby are the Land of Standing Rocks, Ernies Country, The Doll House, and The Fins, which offer assorted oddly shaped towers, buttes, and mesas. Travelers to this wilderness of broken rock, scant water, and stunted junipers find solitude, silence, and challenges that call for self-reliance.
The 600-foot descent into the canyons of The Maze plunges you into this country's heart. To the northwest, Horseshoe Canyon Unit contains some of North America's most significant rock art. The Great Gallery Pictographs, the best known of Horseshoe Canyon's panels, include life-sized figures left by hunter-gatherers over 2,000 years ago. Also impressive are spring wildflowers, sheer sandstone walls, and the mature cottonwood groves along the intermittent stream in the canyon bottom.
Explorations From UT 24 or 95 take the 2- and 4-wheel-drive routes east to The Maze. Facilities: 4-wheel-drive roads, primitive hiking routes, primitive campsites (backcountry permit and fee required), overlooks, commercial tours from nearby towns. No water is available.
The Needles
Contrasting names in The Needles District reflect how diverse this land is: Devils Kitchen and Angel Arch, Elephant Hill and Caterpillar Arch, Gothic Arch and Paul Bunyans Potty. Its landforms of sculptured rock spires, arches, canyons, grabens, and potholes startle you. The Needles—rock pinnacles banded in red and white—are dominant. Earth movements fractured the rock; water and freezing and thawing eroded it as today's jumbled terrain.
Grassy meadows, like the 960-acre Chesler Park, contrast with The Needles' bare rock, and arches lend the region an unusual touch. Like Arches National Park, The Needles District boasts a fascinating collection of natural rock spans. Druid Arch, in upper Elephant Canyon, stands over 100 feet high. On the other hand, Wooden Shoe Arch has only a small tunnel-like opening. Other arches have caterpillar and wedding ring shapes.
Most arches lie hidden in backcountry canyons as the rich rewards of long hikes or trips by 4-wheel-drive to see them. The Grabens can also be reached by 4-wheel-drive. To reach these vertical-walled, grass-carpeted valleys you must negotiate Elephant Hill—its steep inclines and sharp switchbacks test the skills of even the most accomplished drivers. Past The Grabens, roads and trails lead to Confluence Overlook, 1,000 feet above where the Green and Colorado rivers meet.
Throughout this country Ancestral Puebloans grew corn, squash, and beans, hunted deer and bighorn, and gathered native seeds, fruits, and roots. Their advanced culture was part of those peoples who built the great stone pueblos of Mesa Verde in Colorado and Chaco Canyon in New Mexico. You see traces of the Ancestral Puebloans in all but a few canyons in The Needles. Many stone and mud dwellings and storehouses are remarkably well-preserved.
Tower Ruin, built on a ledge in a side canyon of Horse Canyon, is a superb example of Ancestral Puebloan architecture. These people, like the Archaic hunters and gatherers here centuries before them, also left records as petroglyphs etched into and pictographs painted on cliff walls. What the figures, faces, handprints, and other images may mean is largely a mystery. Unfortunately many pots, tools, and other items the prehistoric peoples crafted are gone, stolen by looters. Please leave artifacts in place.
Explorations From US 191 take UT 211 west to The Needles. The paved road continues into the park. Facilities: visitor center, 4-wheel-drive roads, self-guiding and primitive trai ls, developed campground, primitive campsites (backcountry permit and fee required), overlooks, campground programs (seasonal), and commercial tours from nearby towns. Water is available year-round. Entrance and camping fees are charged. Open year-round.
The Rivers
John Wesley Powell wrote his impressions of this region on his pioneering boat trip down the Green and Colorado rivers in 1869: "We glide along through a strange, weird, grand region. The landscape everywhere, away from the river, is of rock." Remarkably, over 100 years later these rivers still run wild.
Above their confluence, the Green and Colorado meander through sheer-walled canyons. Below it the combined waters start on a 14-mile rush through Cataract Canyon rapids—one of the nation's most treacherous whitewater stretches. It rivals any in the Grand Canyon. The rivers' dual personalities satisfy both those content with a quiet float and those eager for a challenging river run.
The rivers attract varied wildlife. Deer, beavers, bobcats, and migratory birds find shelter in the riverside cottonwoods and willows. Hanging gardens of maidenhair fern, monkeyflower, and columbine cling to 1,200-foot cliffs along water seepage lines. A lazy pace best serves watching life along the rivers. Cliffside stone structures and rock art are scattered along the rivers. Enjoy but don't destroy this cultural heritage.
Explorations Boating is popular above and below the Confluence. Permits and fees are required for all river trips. River access is near the towns of Green River and Moab. Guided whitewater trips are available. Self-guiding flatwater canoe trips on the river are also popular.
Travel Information for Your Enjoyment and Safety
"Come to our wilderness but be ready to rough it," advised Canyonlands' first superintendent Bates Wilson. That's still good advice. Be sure to stop at the Moab or Monticello information centers or any park visitor center or ranger station. All park offices offer brochures, hiking and driving guides, books, topographic maps, and park conditions reports and post the activity schedule. Service animals are welcome. For firearms regulations see the park website.
Climate The region has hot summers, pleasant spring and fall months, and cool winters. Low humidity offsets summer heat. Precipitation is scant; mostly late summer to early fall thunderstorms. Snow falls in winter. Temperatures are:
---

Summer
daytime: 80 to 100°F
night: 50 to 60°F

---

Spring, Fall
daytime: 60 to B0°F
night: 20 to 50°F

---

Winter
daytime: 30 to 50°F
night: 0 to 20°F

---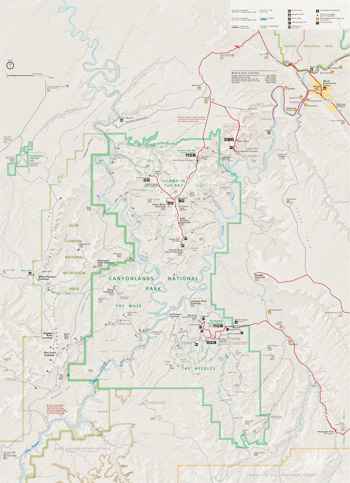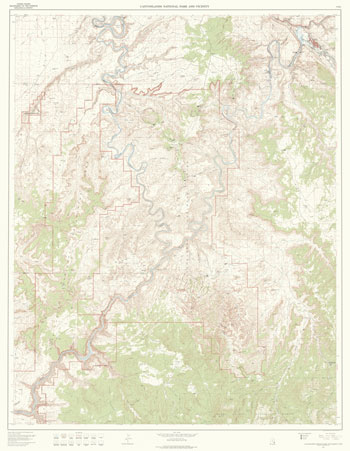 (click for larger maps)
To Explore on Your Own By Road Paved and 2-wheel-drive dirt roads at Island in the Sky and in The Needles lead to natural features, overlooks, trailheads, picnic areas, and developed campgrounds. The 4-wheel-drive roads offer day trips to trips longer than a week. You can drive White Rim Road's 100 miles in two days or explore for many days. Primitive campsites are along many roads. A backcountry permit and fee are required for overnight trips. Always carry food, water, and tools for emergencies. In remote areas, travel with a second vehicle. Vehicles and bicycles must stay on designated roads.
By Trail Short walks and long hikes lead to some outstanding features. Short trails (under one mile) at Island in the Sky and in The Needles lead to overlooks, arches, geologic features, and archeological sites. Some offer wayside exhibits, or brochures at trailheads or visitor centers. Longer trails penetrate wilder regions. Trails are generally primitive, rugged, strenuous, and marked only by rock cairns. Do not hike alone. Stay on trails. Carry a map and plenty of water. Camping requires a backcountry permit.
By River Motorboats, rafts, and canoes can navigate either the Colorado and Green rivers' quiet upper waters or Cataract Canyon's tumultuous rapids. Boat launch sites are north of the park near the towns of Moab and Green River. Takeout is generally by jet boat shuttle from the Confluence (for flatwater trips) or Hite on Lake Powell. There are no services along the river. Permits are required for all trips through Cataract Canyon and overnight flatwater trips.
Guided Tours Commercial tour guides in the nearby towns offer 4-wheel-drive and mountain bike tours, hiking trips, and river float trips year-round. Tours vary widely for the area covered, length, cost, and amenities. Reservations are usually required. Contact the park for a list of National Park Service concessioners.
Campgrounds and Picnic Areas Two modestly developed campgrounds are open year-round, first-come, first-served. Willow Flat at Island in the Sky and Squaw Flat in The Needles have picnic tables, grills, and toilets. Squaw Flat has water; Willow Flat has no water. Fees charged. Reserve group campsites on line.
Primitive campsites (no water) are along the 4-wheel-drive roads and other remote areas. Backcountry permits and fees are required for primitive camping. Picnic areas at Island in the Sky have tables, grills, and toilets but no water. Picnic areas in The Needles have tables only.
Fees, Permits, and Reservations Entrance fees are charged at Island in the Sky and The Needles. All overnight backcountry stays require permits, including 4-wheel-drive or mountain-bike camping, and river trips (fees charged). Day-use permits are required for vehicles, bikes, and horses in Horse/Salt Creek and Lavender canyons and may be required on other roads.
District visitor centers issue permits (fees charged). Reservations are recommended and can be made online. Reservation staff answer questions and assist with trip planning Monday-Friday, 8 am to noon (mountain time). For more information see the park website.
Safety and Regulations Be prepared for heat! Take one gallon of drinking water per person per day. Avoid overexertion. • Use extreme caution at overlooks and all cliff edges. Be careful on slickrock surfaces, which can be icy in winter. • It's easy to get stranded. Stay with companions in the backcountry; separation can mean getting lost. If you are lost, stay where you are. Wandering endangers your life and makes finding you difficult. • Pets must be leashed at all times and are prohibited on trails, at overlooks, or in the backcountry. • Flash floods can occur without warning. Never camp in a dry wash or drive across a flooded area. • Stay on trails to protect fragile desert soil. • Avoid overexposure to cold, wet conditions that can lead to hypothermia. • Lightning is a serious threat. If a thunderstorm is near, avoid overlooks; get back in your vehicle and close the windows. • Park trails are primitive and generally unmaintained. • Federal laws protect all natural and cultural features. Do not pick flowers, collect rocks, or disturb wildlife. • Help preserve Native American structures, rock art, historic sites, and other artifacts. Leave them undisturbed. Report suspicious behavior to a ranger. • Launching, operating, or landing an unmanned aircraft, such as a drone, is prohibited.
Accessibility We strive to make our facilities, services, and programs accessible to all. For information go to a visitor center, ask a ranger, call, or check our website.
Emergencies call 911
Exploring the Wild Canyonlands
Travel Advisory Services are limited.
Drinking water is not available in The Maze or at Willow Flat. It is available at Island in the Sky Visitor Center March-October only and at The Needles Visitor Center year-round. Water is available at Squaw Flat March-October. Drink one gallon of water per person per day in this semi-arid climate.
Food, gasoline, stores, and lodging are not available in any of the districts in the park.
Full services are found in Moab, Green River, Monticello, Hanksville, and nearby towns.
Stop at a visitor center to check on park road and trail conditions; weather events can make an area impassable. Detailed maps and guides of the 4-wheel-drive roads and hiking trails are available. For longer trips topographic maps sold at the park visitor centers are essential.
A regular passenger vehicle can negotiate unpaved 2-wheel-drive roads. Roads for 4-wheel-drive vehicles are too steep, rocky, rough, sandy, or hazardous for 2-wheel-drive vehicles.
Weather can make unpaved roads impassable. Ask a ranger for more information about park road conditions.
Bicycles and all motor vehicles must stay on roads. They are not allowed on any hiking trails.
Source: NPS Brochure (2016)
Establishment

Canyonlands National Park — September 12, 1964



For More Information
Please Visit The

OFFICIAL NPS
WEBSITE
Brochures ◆ Site Bulletins ◆ Trading Cards

Documents
A Stratified Random Sample of the Cultural Resources in the Canyonlands Section of the Moab District BLM Cultural Resources Series No. 1 (Richard A. Thompson, 1979)
Annotated Checklist of Vascular Flora, Canyonlands National Park NPS Natural Resource Technical Report NPS/NCPN/NRTR-2009-221 (Walter Fertig, Sarah Topp and Mary Moran, June 2009)
Annual Report: 1986 — Cooperative National Park Resources Studies Unit (December 31, 1986)
Archaic Foragers and Ancestral Puebloans of Canyonlands National Park Canyonlands Archeological Project Report No. 5 (Alan R. Schroedl and Nancy J. Coulam, P-III Associates, Inc., November 2021)
Archeological Resources of Canyonlands, Capitol Reef and Arches National Parks and Natural Bridges National Monument, Southeastern Utah: Vol. I (1978)
Archeological Resources of Canyonlands, Capitol Reef and Arches National Parks and Natural Bridges National Monument, Southeastern Utah: Vol. II (1978)
Backcountry Monitoring Program, Canyonlands National Park (K. Kitchell and J. Connor, August 10, 1984)
Biological and Hydrological Surveys of Springs Along the Colorado River, Utah and Arizona: Surveys of Springs in the Colorado River Drainage in Arches National Park, Canyonlands National Park, Glen Canyon National Recreation Area, and Grand Canyon National Park — Part I Final Report (John R. Spence, February 2004)
Biological and Hydrological Surveys of Springs Along the Colorado River, Utah and Arizona: Surveys of Springs in the Colorado River Drainage in Arches National Park, Canyonlands National Park, Glen Canyon National Recreation Area, and Grand Canyon National Park — Part II - Appendices (A1-A5) Final Report (John R. Spence, February 2004)
Biological and Hydrological Surveys of Springs Along the Colorado River, Utah and Arizona: Surveys of Springs in the Colorado River Drainage in Arches National Park, Canyonlands National Park, Glen Canyon National Recreation Area, and Grand Canyon National Park — Part II - Appendices (A6) Final Report (John R. Spence, February 2004)
Biological and Hydrological Surveys of Springs Along the Colorado River, Utah and Arizona: Surveys of Springs in the Colorado River Drainage in Arches National Park, Canyonlands National Park, Glen Canyon National Recreation Area, and Grand Canyon National Park — Part II - Appendices (A7-A9) Final Report (John R. Spence, February 2004)
Canyon Country: A Geologic Guide to the Canyonlands Travel Region Utah Geological Survey Public Information Series 34 (1996)
Canyonlands National Park and the Organic Act: Balancing Resource Protection and Visitor Use (David A. Watts, September 2008)
Closing the Road to Chesler Park: Why Access to Canyonlands National Park Remains Limited (Clyde L. Denis, extract from Utah Historical Quarterly, Vol. 84 No. 4, 2016; ©Utah State Historical Society)
Cultural Resource Investigations Near White Crack, Island-in-the Sky District, Canyonlands National Park, UtahCultural Resources Selections, Intermountain Region No. 11 (Betsy L. Tipps, Andre D. La Fond, and Robert I Birnie, 1996)
Cultural Resource Inventory and Testing in the Salt Creek Pocket and Devils Lane Areas, Needles District, Canyonlands National Park, Utah Selections from the Division of Cultural Resources, Rocky Mountain Region No. 1 (Betsy L. Tipps and Nancy J. Hewitt, 1989)
Cultural Resource Inventory in Butler Flat, Needles District, Canyonlands National Park, Utah (Betsy T. Tipps, ed., 1996)
Dead Horse Point in Rainbow Land (Josephine Fabian, extract from Utah Historical Quarterly, Vol. 26 No. 3, 1958; ©Utah State Historical Society)
Depositional environments of the White Rim Sandstone Member of the Permian Cutler Formation, Canyonlands National Park, Utah USGS Bulletin 1592 (Brenda A. Steele, 1987)
Distributional Checklist of Rodents in Canyonlands National Park, Utah (David M. Armstrong, Occasional Papers, The Musem, Texas Tech University, No. 59, August 17, 1979)
Federal Park Policy in Utah: The Escalante National Monument Controversy of 1935-1940 (Elmo R. Richardson, extract from Utah Historical Quarterly, Vol. 33 No. 2, Spring 1965; ©Utah State Historical Society)
Field Investigation Report, Proposed Needles Recreation Area, Utah (September 1959, rev. August 1960)
Foundation Document, Canyonlands National Park, Utah (August 2013)
Foundation Document Overview, Canyonlands National Park, Utah (August 2013)
From Controversy to Compromise to Cooperation: The Administrative History of Canyonlands National Park (Samuel J. Schmieding, 2008)
Geologic Resource Evaluation Report, Canyonlands National Park NPS Natural Resource Report NPS/NRPC/GRD/NRR-2005/003 (K. KellerLynn, September 2005)
Historic Resource Study, Canyonlands National Park, Arches National Park and Natural Bridges National Monument (Western Historical Studies, Inc., Steven F. Mehls and Carol Drake Mehls, July 15, 1986)
Historic Resource Study: Cattle Raising in the Canyons, Canyonlands National Park, Utah (James Sheire, August 1972)
Holocene Archaeology near Squaw Butte, Canyonlands National Park, Utah Selections from the Division of Cultural Resources, Rocky Mountain Region No. 7 (Betsy L. Tipps, 1995)
Junior Ranger Explorer Guide, Canyonlands National Park (Date Unknown)
Movement patterns, behavior, and habitat use of razorback sucker stocking into the Green River at Canyonlands National Park, Utah USGS Open-File Report 99-107 (D.K. Foster and Gordon Mueller, 1999)
National Register of Historic Places Nomination Forms
Cowboy Cave (S. Mehls, April 23, 1986)
D.C.C.&P. Inscription B (S. F. Mehls, September 16, 1986)
Julien Inscription (S. F. Mehls, September 16, 1986)
Kirk's Cabin (S. Mehls, April 28, 1986)
Kolb Inscription (S. F. Mehls, July 16, 1986)
Lost Canyon Cowboy Camp (S. Mehls, April 27, 1986)
Murphy Trail (S. Mehls, April 18, 1986)
Opening the Road to Chesler Park: How Al Scorup Inadvertently Helped Create Canyonlands National Park (Clyde L. Denis, extract from Utah Historical Quarterly, Vol. 88 No. 2, 2020; ©Utah State Historical Society)
Park Newspaper: 2001 • 2002 • 2003 • 2004 • 2005 • 2006 • 2007 • 2008 • 2013 • 2014 • 2015 • 2016 • 2017 • 2018 • 2019 • 2020 • 2021 (Vol. 1) • 2021 (Vol. 2) • 2022
Particle-Size, CaCO3, chemical, magnetic, and age data from surficial deposits in and around Canyonlands National Park, Utah USGS Open-File Report 2005-1186 (Harland L. Goldstein, Richard T. Reynolds, Marith C. Reheis, James Yount, Paul Lamothe, Helen Roberts and John McGeehin, 2005)
Proposed Canyonlands National Park in Utah, S.27 (April 25, 1963)
Protecting Canyonlands: Anatomy of a National Park Struggle in Southeastern Utah, USA (Natalie S. Mumich, Geoffrey L. Buckley, Yolonda Youngs and Tatyana Martello, extract from Social Sciences, Vol. 9 No 10, 2020)
Rock Formations in the Colorado Plateau of Southeastern Utah and Northern Arizona USGS Professional Paper 132-A (C.R. Longwell, H.D. Miser, R.C. Moore, Kirk Bryan and Sidney Paige, 1932)
Shaded Relief Map: Canyonlands National Park & Vicinity, UT Scale: 1:62,500 (USGS, 1995)
Surficial geologic map of the Loop and Druid Arch quadrangles, Canyonlands National Park, Utah USGS Miscellaneous Field Studies Map 2411 (George H. Billingsley, Debra L. Block and Tracey J. Felger, 2002)
The Archeology of Horseshoe Canyon (undated)
The Canyonlands National Park Controversy, 1961-64 (Thomas G. Smith, extract from Utah Historical Quarterly, Vol. 59 No. 3, 1991; ©Utah State Historical Society)
The depositional environment and petrology of the White Rim Sandstone Member of the Permian Cutler Formation, Canyonlands National Park, Utah USGS Open-File Report 82-204 (B. A. Steele-Mallory, 1982)
The geologic story of Canyonlands National Park USGS Bulletin 1327 (S.W. Lohman, 1974)
Topographics Map: Canyonlands National Park & Vicinity, UT Scale: 1:62,500 (USGS, 1995)
Two-Dimensional Computer Modeling of Green River at Dinosaur National Monument and Canyonlands National Park (Dan Gessler and Eric Moser, July 19, 2001)
Vascular Plant Species Discoveries in the Northern Colorado Plateau Network: Update for 2008-2011 NPS Natural Resource Technical Report NPS/NCPN/NRTR-2012/582 (Walter Fertig, Sarah Topp, Mary Moran, Terri Hildebrand, Jeff Ott and Derrick Zobell, May 2012)
Vertebrate Paleontology in Utah Utah Geological Survey Miscellaneous Publication 99-1 (David D. Gillette, ed., 1999)
Late Paleozoic Amniotes and Their Relatives from Utah and Northeastern Arizona, with Comments on the Permian-Pennsylvanian Boundary in Utah and Northern Arizona (Stuart S. Sumida, R. Eric Lombard, David S. Berman and Amy C. Henrici)
Water quality and quantity of selected springs and seeps along the Colorado River corridor, Utah and Arizona: Arches National Park, Canyonlands National Park, Glen Canyon National Recreation Area, and Grand Canyon National Park, 1997-98 USGS Open-File Report 2003-496 (Howard E. Taylor, John R. Spence, Ronald C. Antweiler, Kevin Berghoff, Terry I. Plowman, Dale B. Peart and David A. Roth, 2004)
Water Quality Data Analysis and Interpretation for Spring Monitoring Sites, Southeast Utah Group NPS Technical Report NPS/NRWRD/NRTR-96/77 (Barry A. Long and Rebecca A. Smith, August 1996)
Water resources of part of Canyonlands National Park, southeastern Utah USGS Open-File Report 72-363 (C.T. Sumsion and E.L. Bloke, 1972)
Handbooks ◆ Books

Videos
Canyonlands National Park, Utah (in HD)