Water is the attraction at Chickasaw National Recreation Area, whether it takes the form of springs, streams, or lakes. At Little Niagara and Rock Creek, shaded streams beckon waders and swimmers. Veterans Lake calls anglers to test their skills. Lake of the Arbuckles provides excellent motorboating, skiing, sailing, fishing, and swimming.
Chickasaw's mineral springs result from water passing through underground rock layers that form a canoe-shaped structure called a syncline. Water enters the high point of this formation and travels downhill. Pressure then forces the water up through fissures in the rock layers. Some rock layers contain sulphur and bromine; water coming through these layers collects the minerals, becoming mineral water. Water passing through rock layers without these minerals is considered fresh water.
Folklore tells of ancient people who called this place "Peaceful Valley of Rippling Waters." Many believed that the waters had healing powers.
In the early 1800s the federal government began to move American Indians—Choctaw, Chickasaw, and others—from east of the Mississippi River to this area. In 1855, land that is now part of the national recreation area was deeded to the Chickasaw Nation.
By the late 1890s settlers had built a town at Sulphur Springs. Its hotels and bathhouses promoted the waters' medicinal qualities. Concerned that overuse would deplete the area's unique natural resource, local residents sought to preserve the springs. To that end, in 1902 the Chickasaw and Choctaw nations sold the springs and a 640-acre buffer to the Department of the Interior. Senator Orville Hitchcock Platt of Connecticut sponsored the legislation establishing it as Sulphur Springs Reservation. Senator Platt died in 1905; in 1906 the reservation boundaries were expanded and the name changed to Platt National Park. In the 1930s the Civilian Conservation Corps built pavilions, roads, trails, and waterfalls and planted over 500,000 trees in the park. In 1976 Platt National Park, Arbuckle Recreation Area, and additional lands were combined to create this nearly 10,000-acre recreation area. The legislation creating the new area stipulated that it be named Chickasaw National Recreation Area to commemorate the Chickasaw Nation's cooperation in establishing the park in 1902.
The Prairie All prairies have common traits. They exist on flat or rolling terrain. Rainfall averages between 10 and 40 inches per year and is concentrated, so every year has both wet and dry periods. Constant winds evaporate moisture and contribute to the dryness—and winds spread fire. A natural force, fire weakens or kills trees, but most grasses survive and as a result may grow better. Although called "The Great American Desert," this mixed-grass prairie once fed the large buffalo herds of the West. Stretching from the Dakotas to north-central Texas, these grasslands have historically supported a variety of wildlife. Today many plant and animal species live here, including buffalo grass, Indian grass, roadrunners, and coyotes.
The Edge As you travel through Chickasaw watch how habitats change from eastern woodland to prairie and back to woodland again. Where these habitats meet there are more plant and animal species than in either woodland or prairie habitat alone. Known as the "edge effect," this increase in species results from the increased food and shelter choices where habitats overlap. At the edges woodland sumac and wild turkeys live amid prairie yucca and bobwhite quail. The cardinal's eastern range overlaps the scissor-tailed flycatcher's mid-continent range. These woodland and prairie edges are the best places to see wildlife.
The Woodland In Chickasaw's forests you will find many trees—sycamore, oak, hickory, walnut, pecan, and more. But a forest is more than trees. By looking carefully you can discover other residents of the forest habitat. Dead trees and the forest floor provide homes to many species. You can see fungi on decaying leaves and tree trunks. Trails through the park's forested area give hikers a chance to see wildlife and their traces. Watch for tracks left by nocturnal animals, owl pellets, and other signs of nighttime activity. Armadillos appear in the early evening, shuffling alongside trails. Alert forest visitors may be rewarded with glimpses of beaver, gray fox, skunks, hawks, or raccoons.
About Your Visit
Chickasaw National Recreation Area has activities all year. Stop at the Travertine Nature Center for exhibits, a park film, books, and information about the area's history, wildlife, and geology. Activities include nature walks, ranger talks, and seasonal programs. Check the website for current hours.
Park Administration The National Park Service manages the area, provides for recreational uses, and cares for the park's natural and cultural features. Open weekdays except federal holidays. National Park Service ranger stations are in the Platt Historic District and at Lake of the Arbuckles (at The Point and Buckhorn).
Activities Afloat
Swimming Streams are cold and clear all year. Do not use soap or shampoo in streams. At lakes, swim in boat exclusion areas. Never swim alone, near fishing docks, near boat ramps, after dark, or from an unanchored boat.
Watersports Personal watercraft (PWC) are permitted from sunup to sundown on Lake of the Arbuckles. Waterskiers must be accompanied by two people: the boat operator and a spotter. Wear an approved life preserver (PFD) at all times.
Fishing Lake of the Arbuckles and Veterans Lake have wheelchair-accessible docks. Rods and reels only on Veterans Lake; state license required.
Boating Boats and canoes all share the waves. Use designated ramps. Federal and state laws apply. Do not overload boats. Keep safety equipment in good working order. Do not refuel craft when on the water. Be safe—alcohol, drugs, and boating do not mix. Wear an approved PFD. Launch permits are required to use boat ramps (fee).
Activities Ashore
Picnicking Picnic areas have tables and grills. You can reserve Buckhorn and Veterans Lake picnic pavilions at www.recreation.gov.
Camping Most campsites are first-come, first-served (fee). Register and pay at the campground. Some campsites may be reserved at www.recreation.gov. Buckhorn and The Point have wheelchair-accessible sites.
Hiking The park maintains over 20 miles of trails, from short, level strolls to steep, uneven climbs.
Planning Your Visit
Emergencies call 911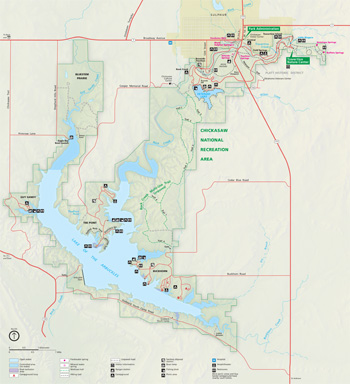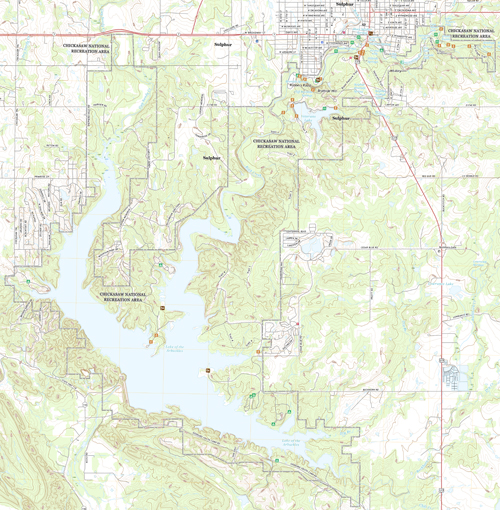 (click for larger maps)
Things To See and Do Outdoors or in, you'll find activities here that are right for you. Streams and lakes attract boaters, swimmers, and anglers. Forests and prairies reward hikers, photographers, and campers. At Travertine Nature Center you can see live animals and experience nature up close.
Food, Lodging, Services Food, lodging, gasoline, rentals, and services are available at Sulphur and Davis.
Climate Summers are hot and humid; winters mild. Thunderstorms are common April through July.
Springs Fresh Water Antelope and Buffalo springs, with a daily combined flow of about 5 million gallons, feed Travertine Creek. Mineral Water Hillside, Pavilion, Black Sulphur, and other springs produce mineral water. The National Park Service neither substantiates nor denies claims about the the water's therapeutic values.
Swimming/Wading Know your limits. Don't swim if you're tired, chilled, or overheated. Glass containers are prohibited along creeks. Wear shoes when wading. Don't dive from waterfalls or stream banks. Swimming and wading are prohibited east of Little Niagara. Don't place rope swings in trees.
Park Trails Highlights Trails vary in difficulty and length. Bicycles and pets are prohibited east of Travertine Nature Center.
Antelope and Buffalo Springs Easy; 1.2 miles, roundtrip. Follow Travertine Creek's gentle, rippling waters to the springs.
Travertine Creek Easy; 1.5 miles, one-way. This trail follows the creek between Pavilion Springs and the Travertine Nature Center.
Bison Pasture Moderate: 1.9 miles, loop. Watch for bison (buffalo). Do not enter fenced area.
Rock Creek Multiuse Four trails, 2.1 to 4.4 miles, one-way. This network of hiking, bicycling, and horse trails passes through an area where eastern deciduous forest meets western mixed-grass prairie.
Veterans Lake Easy; 2.9 miles, loop. Upland prairie and riparian areas surround Veterans Lake. This trail is concrete-paved. Enjoy a hardwood forest, mixed-grass prairie, and beaches.
Campgrounds The park has six campgrounds with over 400 campsites. All campgrounds have tables, grills, restrooms, and water. Camp in designated sites only. Maximum stay is two weeks. A limited number of individual and group sites can be reserved; www.recreation.gov.
Platt Historic District has three campgrounds: Cold Springs, Central, and Rock Creek. All three are suited for tent camping and small campers. No electric hookups. A sanitary disposal station is outside Rock Creek near Bromide Pavilion.
Lake of the Arbuckles has three campgrounds: Buckhorn, The Point, and Guy Sandy. Buckhorn and The Point have lakeside campsites, limited electric hookups, showers, and a sanitary disposal station.
Accessibility We strive to make our facilities, services, and programs accessible to all; call or check our website for details.
Safety and Regulations Stay alert. Your safety is your responsibility. Observe posted speed limits. Stay on roads. Don't stop, park, or wash vehicles in low-water crossings. Never drive through flooded creek crossings. • Pets must be leashed and attended. Pets are prohibited in buildings and swimming areas. • Campfires are allowed only in designated areas; extinguish fires completely. • Copperheads, cottonmouths, and rattlesnakes live here. Watch where you put your hands and feet. • Do not feed or approach wildlife. • Federal law protects all natural and cultural features. • Hunt and fish only in designated areas in season. Federal and state laws apply. State licenses required. Trapping is prohibited. For hunting, fishing, and firearms regulations see www.nps.gov/chic. • More safety information at www. nps.gov/chic/planyourvisit/safety.htm.
Source: NPS Brochure (2020)
Establishment

Chickasaw National Recreation Area — March 17, 1976
Platt National Park — June 29, 1906
Sulphur Springs Reservation — July 1, 1902



For More Information
Please Visit The

OFFICIAL NPS
WEBSITE
Brochures ◆ Site Bulletins ◆ Trading Cards

Documents
A History of Platt National Park (Perry E. Brown, 1954)
An Ethnohistory of the Relationship between the Community of Sulphur, Oklahoma and Chickasaw National Recreation Area (Jacilee Wray and Alexa Roberts, July 29, 2004)
Archeological Survey within the Chickasaw National Recreation Area, Murray County, Oklahoma Midwest Archeological Center Technical Report Series No. 108 (Alan J. Osborn and Ralph J. Hartley, 2008)
Bringing Nature into Focus: The Travertine Nature Center at Platt National Park (Cynthia Savage, extract from Chronicles of Oklahoma, Vol. 89 No. 4, Winter 2011-20122; ©Oklahoma Historical Society)
Cultural Landscape Report: Platt Historic District, Chickasaw National Recreation Area (Heidi Hohmann and Katarzyna Grala, 2004)
Cultural Landscapes Inventory: Antelope and Buffalo Springs, Chickasaw NRA - Travertine District (2007)
Cultural Landscapes Inventory: Bromide Springs/Bromide Hill, Chickasaw NRA - Travertine District (2007)
Cultural Landscapes Inventory: Central Campground, Chickasaw NRA - Travertine District (2007)
Cultural Landscapes Inventory: Cold Springs Campground, Chickasaw NRA - Travertine District (2007)
Cultural Landscapes Inventory: Little Niagara Falls/Travertine Island, Chickasaw NRA - Travertine District (2007)
Cultural Landscapes Inventory: Pavilion Springs, Hillside Spring, HQ/Maint Area, Chickasaw NRA - Travertine District (2007)
Cultural Landscapes Inventory: Rock Creek Campground, Chickasaw NRA - Travertine District (2007)
Cultural Landscapes Inventory: Walnut Grove, Chickasaw NRA - Travertine District (2007)
Foundation Document, Chickasaw National Recreation Area, Oklahoma (March 2017)
Foundation Document Overview, Chickasaw National Recreation Area, Oklahoma (January 2017)
General Management Plan: Chickasaw National Recreation Area (July 1979)
General Management Plan: Chickasaw National Recreation Area (February 2008)
Geologic Resources Inventory Report, Chickasaw National Recreation Area NPS Natural Resource Report NPS/NRPC/GRD/NRR-2015/1008 (J.P. Graham, August 2015)
Gravity investigations of the Chickasaw National Recreation Area, south-central Oklahoma USGS Open-File Report 2006-1083 (Daniel S. Scheirer and Allegra Hosford Scheirer, 2006)
Historic Resource Study: The Great Health Giving Mecca and Summer Resort: Platt National Park, The Early Years (Douglas C. McChristian, June 2003)
Impacts of Visitor Spending on the Local Economy: Chickasaw National Recreation Area, 2005 (Daniel J. Stynes, June 2008)
In Praise of Platt Or, What is a 'Real' National Park? (Jacllee Wray and Alexa Roberts, extract from The George Wright Forum, Vol. 15 No. 1, 1998)
Junior Ranger Book, Chickasaw National Recreation Area (Date Unknown)
Map of Platt National Park, Murray County, Oklahoma USGS (March 1909)
Natural Resource Condition Assessment, Chickasaw National Recreation Area NPS Natural Resource Report NPS/SOPN/NRR-2016/1137 (Kimberly Struthers, Nina Chambers, Patricia Valentine-Darby, Allyson Mathis, Donna Shorrock, Noel Osborn, Robert E. Bennetts and Tomye Folts-Zettner, February 2016)
Oklahoma Outdoor Ranger (Date Unknown)
Paleontological Resource Inventory at Chickasaw National Recreation Area, Oklahoma (Madison L. Armstrong, Alysia S. Korn, Vincent L. Santucci and Justin Tweet, extract from New Mexico Museum of Natural History Bulletin 74, 2016)
Paleontological Resources Inventory (Public Version), Chickasaw National Recreation Area NPS Natural Resource Report NPS/CHIC/NRR-2016/1276 (Alysia S. Korn, Madison L. Armstrong, Vincent L. Santucci and Justin Tweet, August 2016)
Park Newspaper (The Oklahoma Update): June 2009 • January 2010 • Summer 2010 • Winter 2010 • Fall 2011 • Winter 2011 • Spring 2012 • Spring 2013 • Fall 2013 • Summer 2014
Platt National Park (Czarina C. Conlan, extract from Chronicles of Oklahoma, Vol. 4 No. 1, March 1926; ©Oklahoma Historical Society)
Platt National Park (Chickasaw National Recreation Area) - Superintendent Annual Reports, 1913, 1914, 1915
Platt National Park: Environment and Ecology (Ballard M. Barker and William Carl Jameson, ©University of Oklahoma Press, 1975)
Platt National Park — The Healing Waters Know Your Service No. 16 (1940)
Platt National Park: The Play-Ground of The Southwest (M.J. Barnett, H.O. Watts and W.E. Branch, eds., 1930)
Report of the Superintendent of the Platt National Park: 1913 (HTML edition) (Will J. French, 1913)
Report of the Superintendent of the Platt National Park: 1914 (HTML edition) (R.A. Sneed, 1914)
Report of the Superintendent of the Platt National Park: 1915 (HTML edition) (R.A. Sneed, 1915)
The Life and Times of the First Applicants to Platt National Park, 1906-1919 (J. Justin Castro and Lindsay Compton, extract from Chronicles of Oklahoma, Vol. 91 No. 2, Summer 2013; ©Oklahoma Historical Society)
Vegetation Classification and Mapping at Chickasaw National Recreation Area NPS Natural Resource Technical Report NPS/SOPN/NRTR-2010/286 (David Salas, Tomye Folts-Zettner, Roger W. Sanders and Jim Drake, February 2010)
Water quality and possible sources of nitrogen and bacteria to rock and travertine creeks, Chickasaw National Recreation Area, Oklahoma, 2004 USGS Scientific Investigations Report 2005-5279 (Carol J. Becker, 2006)
Handbooks ◆ Books

Videos
Oklahoma Oasis (1974)