MCLEMORE'S COVE
---
Unable to defend the line of the Tennessee River successfully, Braxton Bragg believed his best chance for victory lay in using the mountains around Chattanooga to defeat William Rosecrans's army in detail. Thus, when Federal units crossed Lookout Mountain and threatened his railroad to Atlanta, Bragg evacuated Chattanooga on September 8 and initiated his own campaign of maneuver. Moving southward toward LaFayette, Georgia, Bragg learned that a Federal column was entering McLemore's Cove, a V-shaped valley formed by Lookout Mountain and a spur named Pigeon Mountain. The northern end of the valley was open, and several gaps provided access to the valley from the east. With his army screened by Pigeon Mountain, Bragg saw an opportunity to destroy the Federals in the cove before they could receive assistance. Accordingly, at 11:45 P.M. on September 9, he ordered Lieutenant General Daniel Harvey Hill, whose corps guarded the gaps in Pigeon Mountain, to send a division into the cove toward Davis Cross-Roads. At the same time Major General Thomas Hindman was to enter the cove from the north and also drive toward Davis Cross-Roads. The proposed victim of Bragg's plan was Major General James Negley's division of George Thomas' XIV Corps. Convinced that Bragg was in wild retreat, Rosecrans had pressured Thomas to accelerate his pursuit. Although Negley was twelve hours ahead of Brigadier General Absalom Baird's division, he entered the cove through Stevens Gap on September 9. Negley's orders were to cross the cove, penetrate Dug Gap in Pigeon Mountain, and drive on LaFayette. He began the movement at 10 A.M. on September 10.
While Negley's 4,600 troops marched across the cove, Bragg's plan began to unravel, Receiving his orders late, Harvey Hill uncharacteristically claimed he was unable to participate. In contrast, Hindman moved promptly and by 6 A.M. was only four miles north of Davis Cross-Roads with 6,500 men. Without Hill, Hindman became overcautious and spent the remainder of the day moving only one mile further. Bragg, meanwhile, reinforced Hindman with Major General Simon Buckner's corps. When Buckner arrived at 5 P.M., the normally aggressive Hindman outnumbered Negley three to one, yet he did not resume the advance. Told of the Confederate concentration by friendly citizens, Negley that night withdrew his main body to a defensive position just east of the crossroads. By the next morning, when Hindman resumed his tentative advance, Baird's division had arrived. As Hindman inched forward and some of Hill's men advanced from Pigeon Mountain, Negley replaced his division with Baird's and began a withdrawal to Stevens Gap. Apprised of the Federal retreat, Hindman pushed forward but clashed only briefly with Baird's rear guard. Incensed that his subordinates had bungled an opportunity to cripple Rosecrans's largest corps, Bragg angrily ordered Confederate forces to evacuate McLemore's Cove. Surrendering the initiative to Bragg, Rosecrans now abandoned all thought of pursuit and attempted to concentrate his scattered corps. Although Bragg would try again to defeat the Federals before that concentration could be completed, his best opportunity to do so was lost at McLemore's Cove.
Back at LaFayette Bragg saw another offensive opportunity when Forrest reported that Federal units were moving across his front. This time the mission went to Polk, whose corps was concentrated near Rock Spring Church north of LaFayette. Polk's orders were simple: attack at dawn on September 13. When morning came without any evidence of battle, Bragg rode to the scene. He found no attack in progress and little evidence of one in preparation. When Polk's skirmishers finally advanced, they found no Federals in their front. Angry at another apparent failure to destroy an exposed portion of the Army of the Cumberland, Bragg returned to LaFayette. Although he believed Polk had irresponsibly squandered an opportunity for victory, in fact none existed on September 13. The Federals detected by Forrest had been the remainder of Crittenden's corps moving from Ringgold to join Wood's division at Lee and Gordon's Mill. By the morning of September 13 Crittenden's concentration at the mill was complete and the fleeting chance for Confederate success was gone.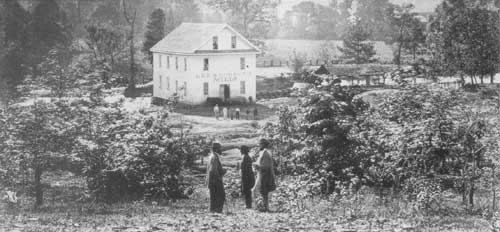 LEE AND GORDON'S MILL. AT THE CROSSING OF THE CHATTANOOGA-LAFAYETTE ROAD OVER CHICKAMAUGA CREEK, BECAME ONE OF THE PRINCIPAL LANDMARKS OF THE BATTLEFIELD. A POSTWAR MILL STRUCTURE OCCUPIES THIS SITE TODAY. (LC)
---
At LaFayette Bragg learned of Federal units at Alpine, twenty miles to the south west. Coupled with known Federal concentrations in McLemore's Cove and at Lee and Gordon's Mill, these forces could be interpreted as evidence of a massive double envelopment by the Federal army. In reality McCook was scrambling to withdraw from Alpine, while Thomas and Crittenden crouched defensively in their respective enclaves. To Bragg, however, his position appeared precarious. Ever since the evacuation of Chattanooga, Bragg's reserve stocks of food and ammunition had been on railroad cars parked around Resaca, Georgia, more than twenty difficult miles to the east. Those stores needed protection, particularly if the army had to fight a large engagement near LaFayette. With the enemy seemingly closing upon him, with his subordinates unable or unwilling to do his bidding, and with his logistical arrangements extremely tenuous, Bragg could hardly look with equanimity upon the future. The only encouraging news was an unofficial report that troops were arriving in Atlanta from Virginia with orders to reinforce the Army of Tennessee.
For the next four days both armies labored to improve their respective positions. Abandoning the offensive, Rosecrans attempted to consolidate his scattered units, including elements of Granger's Reserve Corps, before withdrawing to Chattanooga. If the Confederates left him alone, he could soon muster a field force of slightly more than 62,000 effectives. At a council of war on September 15 Bragg's corps commanders all agreed that a drive toward Chattanooga offered the best chance for success. In preparation for an advance Bragg relocated his base from Resaca to Catoosa Station near Ringgold. Around 3:00 A.M. on the morning of September 17 he learned officially that Lieutenant General James Longstreet was bringing a large contingent of troops to join him. Often proposed, the transfer of the First Corps of the Army of Northern Virginia to the western theater had finally been authorized by Jefferson Davis on September 6, but Burnside's capture of Knoxville on September 2 had blocked the direct route from Virginia. Longstreet's 12,000 men had been forced to detour over a succession of railroads in the lower South, nearly doubling their transit time. In hopes that more of Longstreet's men would become available for the offensive, Bragg postponed the advance for one day.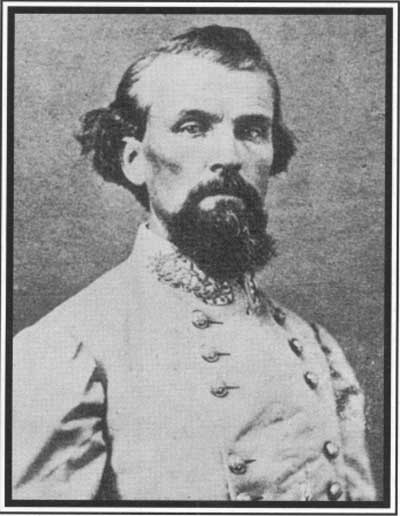 BRIGADIER GENERAL NATHAN BEDFORD FORREST (LC)
---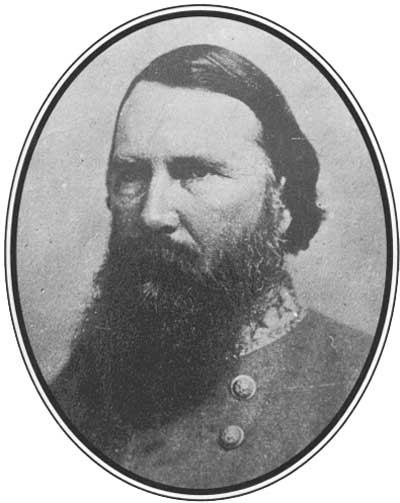 LIEUTENANT GENERAL JAMES LONGSTREET (LC)
---
On September 17 the last of McCook's corps reached the foot of Stevens Gap, permitting Thomas to begin edging northward toward Crittenden's position. That day Bragg rescheduled his offensive for the morning of September 18. If Longstreet were there by that time, well and good; if not, he could wait no longer. Bragg proposed to move most of the Army of Tennessee northward beyond the Federal left flank at Lee and Gordon's Mill, then cross Chickamauga Creek and drive southward, pushing the Army of the Cumberland back into McLemore's Cove. The final operations order specified four crossings over the Chickamauga from north to south: Brigadier General Bushrod Johnson's division at Reed's Bridge; Walker's Reserve Corps at Alexander's Bridge or Byram's Ford; Buckner's corps at Thedford's Ford; and Polk's corps at Dalton's Ford, Hill's corps would anchor the army's left, while Forrest and Wheeler covered the army's northern and southern flanks respectively.
On September 17 the Army of Tennessee numbered just under 60,000 effectives, organized in four infantry and two cavalry corps. While the troops were as good as the Confederacy had to offer, their leaders were a mixed bag. Lieutenant General Leonidas Polk, 57, the senior corps commander, was a West Point graduate but had spent virtually his entire life in the Episcopal ministry. A friend of Jefferson Davis but an inveterate opponent of Bragg, Polk tended to obey orders in a maddeningly cavalier fashion. In contrast, Lieutenant General Daniel Harvey Hill, 42, was a professional soldier and a strong fighter. His querulous personality, however, made him a difficult subordinate. Major General Simon Buckner, 40, was sulking over the loss of his department and had retreated into passivity. Among the infantry commanders, only Major General William Walker, 46, the aggressive commander of the newly formed Reserve Corps, seemed to have no animosity against his chief. Dashing Major General Joseph Wheeler, 27, had Bragg's confidence but had repeatedly failed to see beyond romantic saber charges. Dour Brigadier General Nathan Bedford Forrest, 42, perhaps the most competent of all, held both Wheeler and Bragg in contempt. Such men were now about to lead the Army of Tennessee into battle.
Early on the morning of September 18 Brigadier General Bushrod Johnson put his troops into motion, Initially taking the wrong road from Ringgold he eventually got his command headed west on the Reed's Bridge Road. As he neared an insignificant stream named Peavine Creek, his advance guard encountered Federal cavalry pickets who fired and withdrew to their supports. Johnson had found Colonel Robert Minty's brigade, whose mission was to deny the Reed's Bridge crossing to the Confederates. Outnumbered five to one Minty eventually retreated across the bridge but was pursued too closely to destroy it. When Johnson pushed quickly across the damaged span, Minty withdrew. Resuming his advance, Johnson soon reached William Jay's steam sawmill. There the Jay's Mill Road continued south to Alexander's Bridge, while the Brotherton Road ran southwest to join the main highway between LaFayette and Chattanooga. Johnson had just started his troops on the Brotherton Road when Major General John Hood joined the column from Catoosa Station. Taking command, Hood ordered Johnson to use the Jay's Mill Road instead and the column resumed its march in the gathering darkness.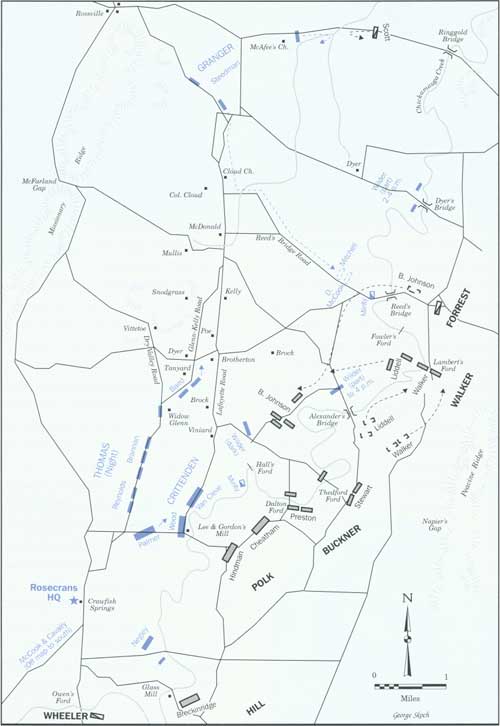 (click on image for a PDF version)
FRIDAY, SEPTEMBER 18, 1863
Bragg failed to count on stiff Union resistance at the Chickamauga crossings of Reed's and Alexander's bridges. At 7:00 A.M., September 18, 1863, at Peavine Creek, Minty's brigade met elements of Bushrod Johnson's division. Minty was slowly forced back to Reed's Bridge by noon. Minty continued to delay until mid-afternoon when elements of Forrest's cavalry corps caused him to withdraw. The Confederates then crossed the bridge and turned south near Jay's steam sawmill, en route toward Lee and Gordon's Mill.

At Alexander's Bridge. at noon, Walker's Reserve Corps met Wilder's brigade, and Eli Lilly's battery. Walker was not able to cross and had to reach the west side of the creek at another point, Lambert's Ford, but not until 4:30.

Bushrod Johnson's approach from the north forced Wilder from Alexander's Bridge. Wilder withdrew in front of Bushrod Johnson and stopped the Confederates short of the Lafayette Road at dark, east of the Viniard Farm. During the night Thomas's corps marched to the Kelly Farm area.
---
Several miles south of Johnson, Walker's Reserve Corps attempted to force its own crossing of the Chickamauga. Alexander's Bridge was defended by elements of Wilder's mounted infantry brigade. Unlike Minty, Wilder placed his primary line of defense west of the creek. The firepower of his repeating rifles gave him confidence that he could hold his position against great odds. Unaware of his technological inferiority, Walker attacked Wilder with a brigade of Brigadier General St. John Liddell's division. Although the unit suffered 105 casualties, it could make no progress. Having learned a hard lesson, Walker left Wilder's front and headed northward to Byram's Ford, an unguarded crossing a mile downstream. There, far behind schedule, he finally got his units across the creek and turned south in accordance with Bragg's plan. Learning that Minty's loss of Reed's Bridge had compromised his left flank, Wilder meanwhile withdrew to the southwest and established a new blocking position east of the LaFayette Road.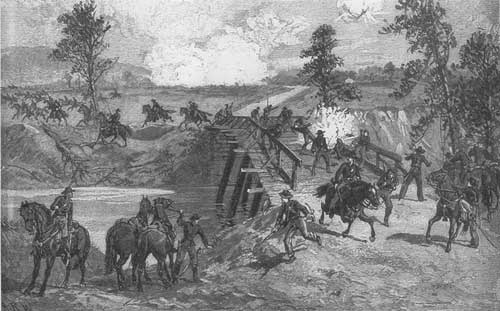 REED'S BRIDGE WAS AN IMPORTANT CROSSING POINT OF CHICKAMAUGA CREEK. A.R. WAUD'S ILLUSTRATION SHOWS FORREST"S CAVALRY DRIVING MINTY'S UNION CAVALRY FROM THE SITE ON SEPTEMBER 18, 1863. (LC)
---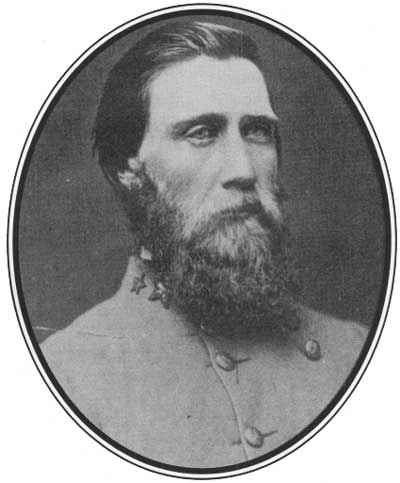 GENERAL JOHN BELL HOOD (LC)
---
As darkness fell on September 18, Bragg's offensive was seriously behind its projected timetable. Johnson's division had marched southward on the Viniard-Alexander Road until it halted in front of Wilder's blockade. Walker had finally gotten his two small divisions west of the creek, but his troops were scattered for a mile along the road behind Johnson. Buckner had managed to push only one brigade across the creek at Thedford's Ford, Polk was still facing Crittenden at Lee and Gordon's Mill, while Hill's corps guarded crossing sites even further south. Nevertheless, Bragg believed he had successfully turned the Federal flank and next day would be able to descend upon Crittenden in a massive coordinated attack. Unknown to Bragg, Rosecrans during the afternoon unwittingly invalidated that assumption by ordering Thomas to pass behind Crittenden and march northward throughout the night. Rosecrans's decision placed the Federal army's left flank far north of where Bragg expected to find it when the battle opened on the next day.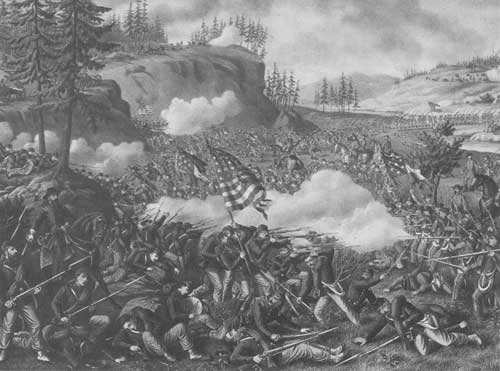 A COMMON MISCONCEPTION OF THE BATTLE OF CHICKAMAUGA WAS THAT IT WAS FOUGHT ALONG THE BANKS OF CHICKAMAUGA CREEK. THIS KURZ AND ALLISON LITHOGRAPH, CREATED BY ARTISTS NOT PRESENT AT THE BATTLE, HELPED REINFORCE THIS IMPRESSION. (LC)
---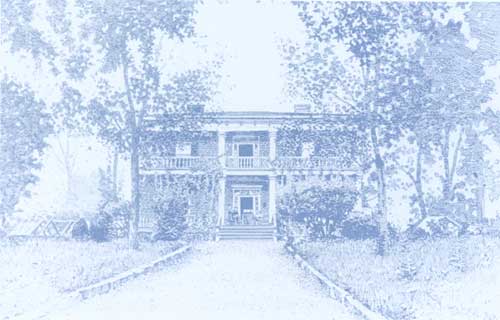 ROSECRANS'S HEADQUARTERS ON SEPTEMBER 17 AND 18, 1863, WAS THIS HOUSE AT CRAWFISH SPRINGS. IT ALSO SERVED AS A UNION HOSPITAL. (BL)
---
Early on September 19, thirsty Federal soldiers from Colonel Daniel McCook's brigade of Granger's Reserve Corps pushed beyond their picket line in search of water near Jay's Mill. McCook's men had moved from their camp near Rossville, Georgia, on the previous day in response to Minty's call for assistance. Arriving near Jay's Mill long after Minty had departed, McCook had captured several prisoners who indicated their unit had recently crossed Reed's Bridge. Unwilling to approach the bridge at night, McCook established a defensive position several hundred yards northwest of Jay's Mill and waited for daylight. A similar distance south of the mill, pickets from the First Georgia Cavalry also waited for morning. Under orders to screen Hood's right and rear, Brigadier General Henry Davidson of Forrest's Cavalry Corps had encountered McCook's pickets and recoiled in the darkness. At dawn Davidson sent the First Georgia forward again and they soon struck some of McCook's men at a small spring near the mill. McCook meanwhile had sent a regiment to destroy Reed's Bridge, but again it was only damaged.
Ordered back to Rossville by Granger, McCook withdrew with Davidson's cavalrymen in pursuit. At the LaFayette Road he found Thomas, whose leading elements had just arrived after an all-night march from Crawfish Springs. McCook reported that a single Confederate infantry brigade had crossed Chickamauga Creek and was trapped on the west side. In response, Thomas ordered Brigadier General John Brannan's division to destroy the Confederate unit. Brannan deployed Colonel Ferdinand Van Derveer's brigade on the Reed's Bridge Road and Colonel John Croxton's brigade on a woods path on Van Derveer's right. Colonel John Connell's brigade followed the leading brigades as a reserve. Around 7:30 A.M. Davidson's men encountered Croxton's skirmishers and sent them fleeing to their main body. In turn, the horsemen recoiled from Croxton's advancing regiments. Seeing the panic-stricken cavalrymen dashing from the woods, Forrest formed Davidson's dismounted troopers in a defensive line just west of Jay's Field. Croxton brought his five regiments up to face Davidson and the battle was on.