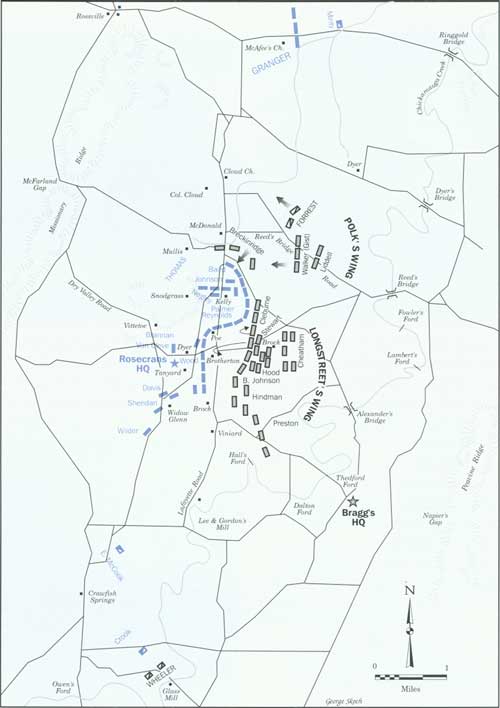 (click on image for a PDF version)
MORNING TO 11:00 A. M., SUNDAY, SEPTEMBER 20, 1863
During the night the Union army pulled back to defensive positions closer to the Lafayette Road. Thomas, in immediate command of the Union left requested additional troops to prevent the Confederates from cutting the Union routes to Chattanooga. Rosecrans put Negley's division in motion to the left.

Bragg's plan, as General Thomas anticipated, was to attack the northern section of the Union line and prevent Federal movement to Chattanooga. Polk's wing did not attack until 9:30 A.M.. Despite some initial success by Breckinridge, poor coordination and lack of support prevented the Confederates from achieving their objectives. The advance of Breckinridge's division would prompt Federal units to leave their positions farther south in the Union line, to reinforce the threatened northern end.

Cleburne's division attacked alone against Union breastworks on a mile-wide front. Only Stewart's Division of Longstreet's wing was engaged by 11:00 A.M.
---
At 9:30 A.M., as Negley headed north, Breckinridge's division began the movement that signaled the beginning of Bragg's attack. Breckinridge advanced with the brigades of Brigadier Generals Benjamin Helm, Marcellus Stovall, and Daniel Adams arrayed in one long line. On the left, Helm's Kentucky Brigade soon encountered the Federal position at the point where it began to bend back to the west. Thomas's men had worked all night felling trees to create a makeshift breast-work, and the effort now paid dividends. Some of the Kentuckians halted, and when Helm tried to energize them he was mortally wounded. Helm's loss rendered his brigade ineffective for the remainder of the day. On Helm's right, however, Stovall and Adams pressed ahead against light resistance. Approaching the Rossville-McFarland's Gap Road intersection, Stovall and Adams shattered Brigadier General John Beatty's brigade of Negley's division, spread thinly across a division-sized sector. Realizing he was beyond the Federal flank, Breckinridge turned southward and began to advance along both sides of the LaFayette Road.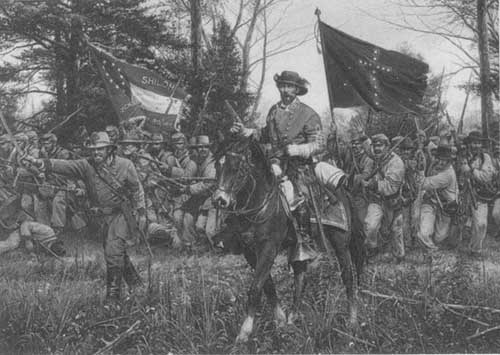 CONFEDERATE BRIGADIER GENERAL BENJAMIN HARDIN HELM WAS MORTALLY WOUNDED WHILE LEADING HIS BRIGADE OF KENTUCKIANS AT CHICKAMAUGA. (TRIUMPH AT CHICKAMAUGA BY JOHN PAUL STRAIN. PHOTO COURTESY OF NEWMARK PUBLISHING, LOUISVILLE, KENTUCKY)
---
Brushing aside Beatty's fleeing remnants, Stovall and Adams charged toward the rear of Thomas's Kelly Field perimeter. On their way they swept by the left flank of Colonel Joseph Dodge's brigade, which made no effort to check the Confederate advance. Just as Stovall's men entered the Kelly Field a fresh Federal unit burst from the woods on their right. Colonel Ferdinand Van Derveer's brigade of Brannan's division had been called north from its reserve position as soon as Thomas knew the Confederate attack was serious. Now Van Derveer's men appeared just in front of Stovall's jubilant Confederates. Wheeling to their left, Van Derveer's regiments fired a volley and charged, driving Stovall's soldiers back in confusion. At the same time, Colonel Timothy Stanley's brigade of Negley's division met Adams's brigade west of the LaFayette Road and halted its advance as well. Adams was wounded and left behind as his brigade also withdrew to its starting point. Bragg's plan had finally been executed with two small brigades, but without assistance they were unable to exploit their momentary advantage.
Breckinridge's troops were unsupported because Cleburne's division had been halted by Thomas's barricades. Cleburne had launched his attack soon after Breckinridge but had made no progress against the divisions of Baird, Johnson, Palmer, and Reynolds. In addition, the misalignment of Confederate units had caused two of Cleburne's brigades to become entangled with Stewart's division of the left wing. The confusion was so great that Deshler's brigade was forced to circle to the north before again beginning its advance. When it did assault the Federal works, it made no greater progress than Polk's and Wood's brigades on either side. While checking his men's cartridge boxes, Deshler was disemboweled by a shell. Colonel Roger Mills quickly assumed command, got the men under cover, found some ammunition, and maintained the fire. Nevertheless, no further advance would be made by Cleburne's division. Some distance to the rear, Cheatham's division waited in the woods. It too had been forced from the line by finding left wing troops in its way.
Breckinridge's success and Cleburne's failure opened a wide gap in the middle of Hill's corps. To fill the hole, Hill requested Brigadier General States Rights Gist's brigade, one of Walker's units which had just arrived from Catoosa Station. Gist had been given command of Walker's division, making Colonel Peyton Colquitt the new brigade commander. When called forward, Colquitt advanced without skirmishers because he thought friends were in front, Following much the same route as Helm's brigade an hour earlier, Colquitt's men blundered across the face of Thomas's line. In less than thirty minutes the brigade was wrecked and Colquitt was killed. Walker himself brought the remainder of the division forward to rescue Colquitt's remnants. Unsatisfied, Hill threw Govan's brigade of Liddell's division around the corner of the Federal line in an effort to support Breckinridge. Meeting Stovall's and Adams's men retreating, Govan soon followed them as Federal units counterattacked. By noon, except for Cheatham's idle men, the right wing had fought itself out.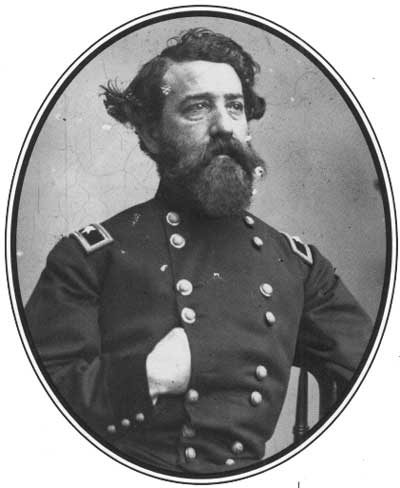 BRIGADIER GENERAL JOHN MILTON BRANNAN (LC)
---
Although it failed, Polk's attack sent shock waves down the length of Rosecrans's battle line. Breckinridge's momentary success caused Thomas to dispatch staff officers far and wide for aid. One of those officers, Captain Sanford Kellogg, reached Brannan's division with such a message not long after 10:00 A.M. Brannan was in line west of the Poe Field, sandwiched between Reynolds's division to the north and Wood's division to the south. His reserve brigade was already moving toward Thomas; if his remaining brigades left the line, the flanks of the adjacent units would be exposed. Rather than create such a hole, Brannan and Kellogg sought Reynolds's counsel. Accepting the necessity for action, Reynolds approved the movement but sent Kellogg to inform Rosecrans of the risks he was assuming. Kellogg found Rosecrans and his staff on a small knoll at the west edge of the Dyer Field. Assuming that Brannan had already left the line, Rosecrans instantly instructed his senior aide-de-camp, Major Frank Bond, to send the following order to Brigadier General Wood: "The general commanding directs that you close up on Reynolds as fast as possible, and support him."
Written at 10:45 A.M., the order was in Wood's hands within five minutes. McCook was present when the order arrived. Aware that Brannan was still on his left, Wood did not understand the context of the order. Further, the order contained two mutually exclusive directives. In the military terminology of the day, to "close up on" another unit usually meant to move adjacent to it, while to "support" meant to get behind it. Because Brannan's presence prevented literal execution of the first directive. Wood's only recourse was to leave the line, march around Brannan, and form behind Reynolds. If Wood moved "as fast as possible," he would leave a gap in the army's battle line that the Confederates could exploit. Could he afford to take such a risk? Because the order was peremptory, could he afford not to? McCook solved Wood's dilemma by arguing that Rosecrans's view of the situation must be superior to theirs and that instant obedience was required. In addition, he offered to replace Wood with Twentieth Corps units. His doubts resolved, Wood ordered his division from the line.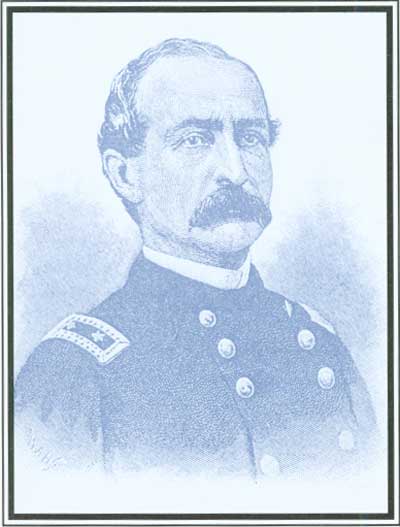 MAJOR GENERAL THOMAS JOHN WOOD (BL)
---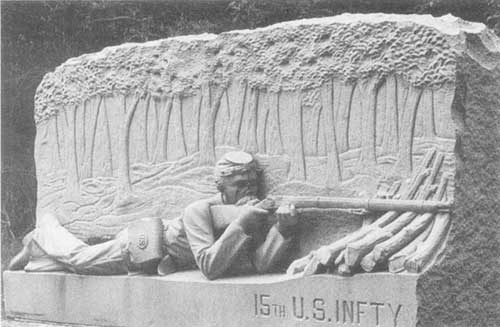 THE 15TH U.S. INFANTRY REGIMENT HELPED STOP THE ATTACKS OF CONFEDERATE BRIGADES SUCH AS HELM'S AND PEYTON H. COLQUITT'S WHILE BEHIND LOG BREASTWORKS. (NPS)
---
---
As Rosecrans juggled units, Bragg saw his control of events slipping away. His dawn attack had begun four hours late, and now the sequential advance of divisions had broken down.
---
As Rosecrans juggled units, Bragg saw his control of events slipping away. His dawn attack had begun four hours late, and now the sequential advance of divisions had broken down. Like Rosecrans, Bragg issued a peremptory order based upon inadequate information. Couriers dashed in all directions carrying Bragg's directive that all commands advance, regardless of the situation. In response, Major General Alexander Stewart, commanding Longstreet's right division, ordered his three brigades forward without reference to the wing commander. Storming westward across the Poe Field, Brown's, Clayton's, and Bate's brigades entered a ring of fire from Brannan's and Reynolds's divisions. Assisted by part of Wood's brigade, some of Stewart's men pushed across the LaFayette Road, momentarily crumbled Brannan's right flank, and stampeded Van Cleve's division in Brannan's rear. When a Federal counterattack erased the gain, the wreckage of Stewart's command receded across the field to its starting point. There would be no breakthrough for Stewart's division this day.
Longstreet also responded to Bragg's peremptory attack order, but at his own pace. While waiting for Polk's attack, he had attempted to place his old corps in the front line, but he had succeeded only in fouling the advance of half of the right wing. Bushrod Johnson's division now stood astride the Brotherton Road, with Stewart's division on its right and Hindman's division on its left. Behind Johnson, whose division was arrayed in two echelons, Law's (formerly Hood's) division waited, also in two echelons. Behind Law, Brigadier General Joseph Kershaw's two-brigade contingent of Major General Lafayette McLaws's division also straddled the road. While Longstreet managed the left wing, Hood handled this three-division column. Held in reserve behind Hindman was Brigadier General William Preston's division of Buckner's corps. Stewart's hasty advance had caught Longstreet by surprise, and he briefly with held the order to commence the attack. At last, satisfied that all was ready, Longstreet gave the signal and at 11:10 A.M. Johnson's division began to move. It was headed straight for that part of the Federal line being evacuated by Wood's division.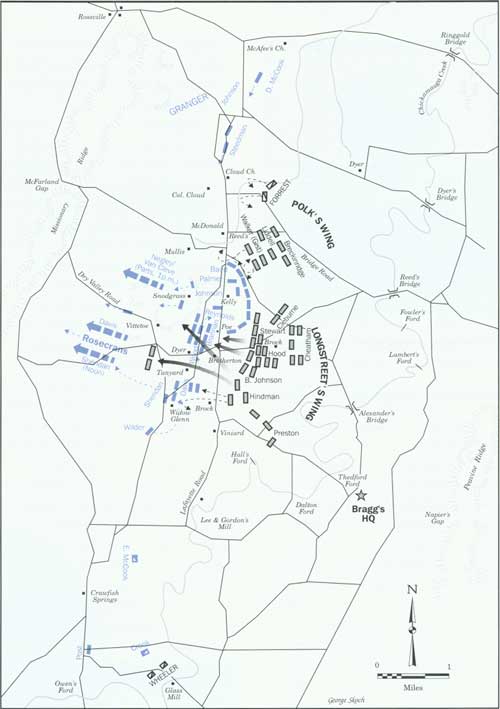 (click on image for a PDF version)
11:00 A.M. TO MID-AFTERNOON. SUNDAY SEPTEMBER 20, 1863
The bulk of Longstreet's wing advances as most of the Federal line at the southern end of the field, is in motion to the north. Davis's and Sheridan's Union divisions are driven from the field. Parts of Negley's and Van Cleve's divisions escort Federal artillery to Chattanooga. Other Federal divisions suffer severely, but their remnants remain on the field.

By noon, Johnson's and Hindman's Confederate divisions have advanced to the Dry Valley Road.

By mid-afternoon, outside of skirmishing, there is little action against the Federal left at the Kelly Farmstead.
---
Brushing aside the skirmishers Wood had left behind, Fulton's brigade flowed around the Brotherton House into the gap in the Federal line. On Fulton's right McNair's brigade also made headway, although it met stiff opposition from part of Connell's brigade of Brannan's division. Entering the woods beyond the Brotherton Field, Johnson's men soon found themselves at the eastern edge of the Dyer Field. In Johnson's words, "the scene now presented was unspeakably grand." Seemingly in panic, Federal troops were running in all directions. At the far side of the field stood several artillery batteries, but they were without infantry support. Still, their frowning presence caused a few moments hesitation. The spell was broken by the arrival of Colonel Cyrus Sugg's (formerly Gregg's) brigade, which flanked the guns on their right, and by the impetuous advance of Sheffield's brigade, now commanded by Colonel William Perry. Although McNair was wounded, his men joined the grand rush for the guns. Arriving late but willing to share in the credit was Robertson's brigade. Of the twenty-six cannon on the ridge, fifteen fell to the Confederates.
Many of the troops who abandoned the artillerymen belonged to Buell's brigade of Wood's division. Last to leave the line, Buell's regiments had been caught in column and smashed. Wood's remaining brigades did not share Buell's fate. Barnes's brigade reached Thomas's Kelly Field perimeter with little difficulty. Following Barnes was Harker's brigade, which had just left the Dyer Field when Wood halted it. Seeing the debacle behind him, Wood ordered Harker to counterattack into the field. The brigade's sudden appearance on the flank of the Confederates milling around the captured artillery caused them to break for the rear. McNair's, Perry's, and Robertson's brigades momentarily dissolved into a churning mass as they sought shelter in the woods east of the field. Seeing the rout, Hood ordered Kershaw to deal with Harker, then spurred his horse toward Robertson's Texans, his old brigade. Just as he reached them, a bullet struck his right thigh and unhorsed him. He was quickly evacuated to a hospital near Alexander's Bridge, where his shattered leg was amputated.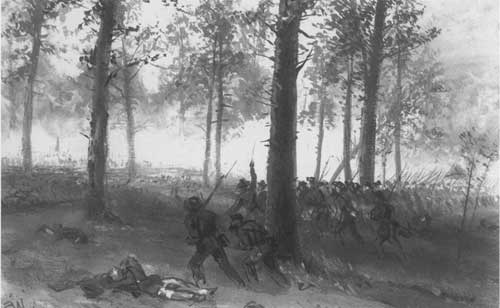 CONFEDERATE CHARGE AGAINST THOMAS'S LINE, ILLUSTRATION BY A.R. WAUD. (LC)
---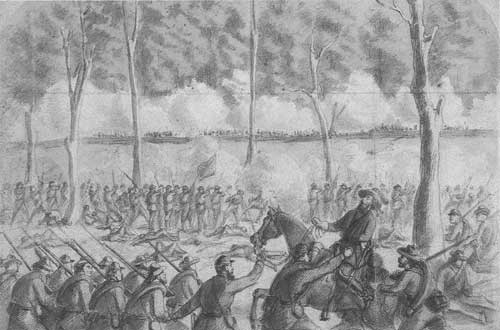 SKETCH BY FRANK VIZETELLY OF THE WOUNDING OF GENERAL HOOD. (COURTESY OF THE HOUGHTON LIBRARY, HARVARD UNIVERSITY)
---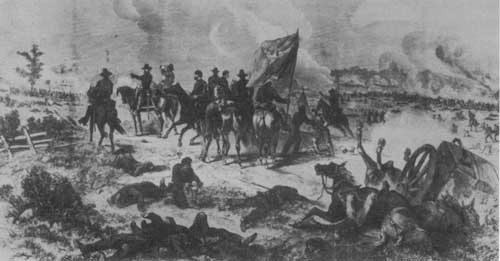 ROSECRANS AND STAFF SURVEY A CONFEDERATE ASSAULT ON THEIR LINES AT CHICKAMAUGA. (LC)
---
---
With Hood incapacitated and Longstreet busy elsewhere, several Confederate brigades dallied while the battle raged with great ferocity just beyond their positions.
---
As Kershaw advanced, Wood ordered Harker to make a fighting withdrawal. In the face of increasing pressure, the brigade slowly made its way from the field. Kershaw followed, driving the retreating Federals to the open ridge near the house of George Washington Snodgrass. He then maneuvered his own and Humphreys's brigades into position for an assault on the ridge. He received no assistance from Perry and Robertson, whose brigades gradually recovered their organization during the afternoon but took no further part in the action. Nor would he receive aid from Benning's brigade, which had turned north soon after crossing the LaFayette Road. Driving the two brigades of Brannan's division from the edge of the Poe Field, Benning's men faced northward near the burning Poe House and halted for the afternoon. With Hood incapacitated and Longstreet busy elsewhere, several Confederate brigades dallied while the battle raged with great ferocity just beyond their positions.
In the southern part of Longstreet's sector, Hindman's division encountered more serious opposition than Hood. On the right Brigadier General Zachariah Deas's brigade drove back both Carlin's and Heg's (now Colonel John Martin's) brigades of Davis's division. Entering the south end of the Dyer Field, Deas's exultant troops also shattered Colonel Bernard Laiboldt's brigade of Sheridan's division. Hastily thrown into action by McCook while still in column, Laiboldt's regiments had no chance to defend themselves and fled to the west. Deas's advance was checked only by Sheridan's remaining brigades, Brigadier General William Lytle's and Colonel Nathan Walworth's (formerly Bradley's). Lytle's brigade especially made a strong stand on a ridge west of the Dyer Field. A noted poet from Cincinnati, Lytle had acquaintances among the senior leaders of both armies. Now, as he directed his brigade, he was struck by several bullets and killed. Outflanked and without their leader, Lytle's men also streamed westward down the ridge.
Hindman's left brigade, Brigadier General Arthur Manigault's, initially encountered little opposition as it crossed the large field east of the Widow Glenn's. Manigault's right regiments participated in defeating Walworth's brigade, and his left units were on the verge of capturing the Glenn House when disaster struck. Quickly advancing from its reserve position four hundred yards to the southwest, Wilder's brigade struck Manigault's men a devastating blow. Aided by the Thirty-ninth Indiana Mounted Infantry, also armed with repeating rifles, Wilder sent Manigault's brigade reeling backward across the field. Wilder then cast about for additional targets. Just as he decided to attack the flank of Longstreet's penetration, Assistant Secretary of War Dana appeared. Dana excitedly announced that the battle was lost and demanded to be taken to Chattanooga. By the time Wilder was able to calm Dana and send him off with a small escort, the opportunity for offensive action had passed. Reluctantly, he ordered his men to withdraw westward.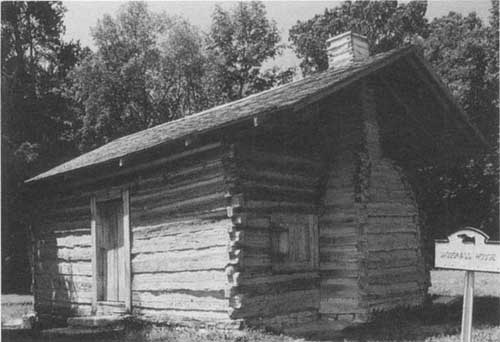 A CABIN STILL MARKS THE SITE OF THE SNODGRASS HOMESTEAD ON THE CHICKAMAUGA BATTLEFIELD. (NPS)
---

MILITARY ARTIST JAMES WALKER INTERVIEWED PARTICIPANTS IN THE BATTLE AND VISITED THE FIELD BEFORE PAINTING THE FIGHTING AT SNODGRASS HILL. THE ACTION IS DEPICTED FROM A POSITION NORTHEAST OF THE SNODGRASS HOMESTEAD.
---
Wilder's departure removed the last organized Federal unit from the southern half of the battlefield. Sheridan's and Davis's divisions had momentarily disintegrated and were fleeing with their commanders toward Missionary Ridge. Rosecrans himself was leaving the field, as were McCook and Crittenden. Each had attempted to rally broken units but had failed. McCook then chose an escape route that would eventually take him over Missionary Ridge into Chattanooga Valley. Rosecrans, Garfield, and others left the field via the road through McFarland's Gap. Near the gap Rosecrans and Garfield paused, eventually deciding that Rosecrans would go to Chattanooga and prepare its defenses while Garfield tried to reach Thomas. Crittenden, meanwhile, also passed through McFarland's Gap. There he met Colonel John Parkhurst, provost marshal of the Fourteenth Corps, who had rallied more than a thousand fleeing soldiers. Offering them to Crittenden, Parkhurst was shocked when the corps commander refused the command and continued to the rear. Crittenden was not alone; everywhere men in blue uniforms hastened toward Chattanooga.