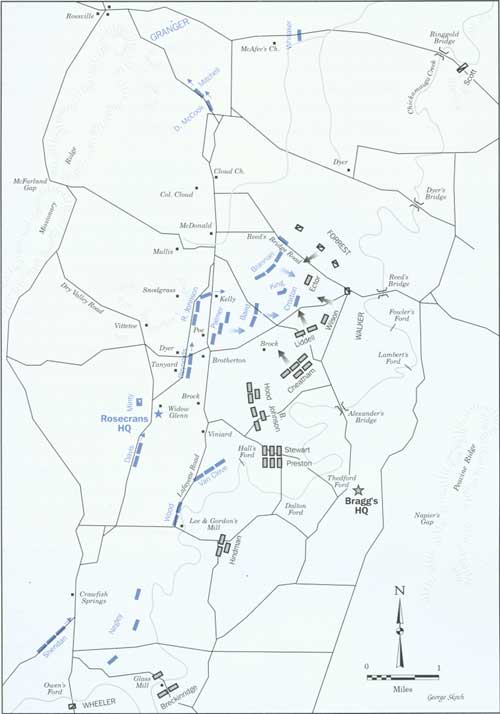 (click on image for a PDF version)
7 A.M. TO NOON, SATURDAY, SEPTEMBER 19, 1863
Believing he could capture an isolated Confederate infantry brigade near Jay's Mill, Thomas sent Brannan's division eastward from the Kelly Farm. Instead, Brannan surprised Forrest's cavalry. Forrest was soon reinforced by Walker's infantry division. Baird's division relieved Brannan's, only to be driven off by Liddell.

These movements indicated the general pattern of the fighting on September 19. The battle would flow from north to south as each side fed one division at a time into the fight. Most divisions marched from the south to the north before turning toward their enemy. By accident or design, many units would strike their adversary's southern flank, or in turn be struck in their own southern flank.
---
Unable to determine Forrest's strength, Croxton cautiously engaged the Confederates but did not resume his advance. Riding in search of reinforcements, Forrest found Bragg and Walker near Alexander's Bridge and requested the loan of an infantry unit. Walker provided Colonel Claudius Wilson's brigade, which moved north around 9:00 A.M. Hitting Croxton's flank, Wilson forced the Federal commander to change front to protect his right. About the same time that Wilson went into action, Forrest deployed Colonel George Dibrell's brigade to protect his own right flank. Advancing dismounted in the vicinity of the Reed's Bridge Road, Dibrell's men encountered Van Derveer's brigade and were halted by its fire. To meet this new threat, Forrest commandeered Brigadier General Matthew Ector's brigade of the Reserve Corps without Walker's knowledge. Ector replaced Dibrell, but he too was unable to drive Van Derveer from his position. Forrest had stabilized the Confederate line, but he could not gain ground against Brannan's division.
When Brannan's troops began to exhaust their ammunition, Thomas sent Brigadier General Absalom Baird's division to their assistance. Like Brannan before him, Baird advanced westward through the woods with two brigades in his front line and one in reserve. Coming upon Croxton's weary men, Brigadier General John King's brigade relieved them and continued the battle against their mostly unseen opponents. Unique in the Army of the Cumberland, King's brigade consisted entirely of regular army units. Extending King's line southward was Colonel Benjamin Scribner's brigade, while Colonel John Starkweather's brigade remained in reserve. North of Baird, Van Derveer's brigade and part of Connell's brigade maintained their original position on the road. Like Forrest, Thomas had now stabilized his battle line; unlike Forrest, whose forces were small and weakly armed, Thomas had enough combat power in Brannan's and Baird's divisions to drive the Confederates, Accordingly, Scribner and King gained ground against Wilson and Ector.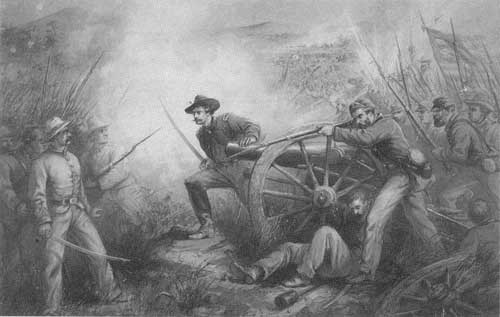 THIS ROMANTICIZED PAINTING BY THOMAS MAST DEPICTS THE MOMENT WHEN LIEUTENANT GEORGE W. VAN PELT'S BATTERY A, FIRST MICHIGAN LIGHT ARTILLERY, WAS OVERRUN BY THE CONFEDERATE DIVISION OF ST. JOHN R. LIDDELL. (COURTESY OF CHICAGO HISTORICAL SOCIETY)
---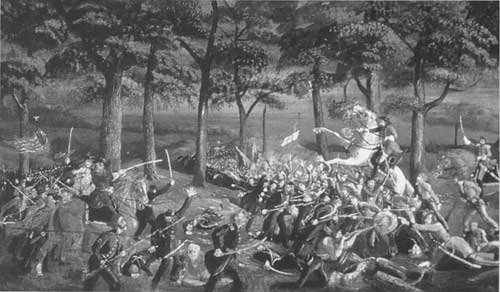 HAND-TO-HAND COMBAT AT THE BATTLE LINES IS CAPTURED IN THIS PAINTING BY WILLIAM TRAVIS. (COURTESY OF SMITHSONIAN INSTITUTION)
---
Nearer the action than Rosecrans who was just leaving Crawfish Springs, Bragg could influence the situation more quickly than his opponent. Thus when he committed Liddell's division to the fight, Thomas had no fresh force immediately available to counter it. Forming Colonel Daniel Govan's and Brigadier General Edward Walthall's brigades along the Alexander's Bridge Road, Liddell sent them toward Baird's right flank. First to be hit was Scribner's brigade on the west edge of the Winfrey Field, Facing in two directions when Liddell's men came screaming down upon them, Scribner's regiments disintegrated. Liddell next encountered Starkweather's brigade, which also broke for the rear in panic. Baird's last hope was King's brigade, but King too was caught changing formation and the regulars fled north through Van Derveer's brigade. Van Derveer waited grimly for Liddell's men to appear through the underbrush, then unleashed a tremendous volley in their faces. Winded after their long advance, Liddell's brigades sullenly withdrew. Their departure was hastened by the return of Croxton's brigade, which pushed Liddell's exhausted troops eastward beyond the Winfrey Field.
The respite gained by Liddell's repulse was fleeting, as Bragg now threw another division into the fight. Major General Benjamin Cheatham's five-brigade division was the largest in the Army of Tennessee. Part of Polk's corps, Cheatham around 7:00 A.M. had crossed to the west bank of the Chickamauga at Dalton's Ford. Ordered northward by Bragg around 11:00 A.M., the division was now available to extend the Confederate line. As Liddell's division halted its withdrawal, Cheatham's men began to form on its left. Cheatham placed three brigades in his front line, from left to right the units of Brigadier Generals Marcus Wright, Preston Smith, and John Jackson. In the division's second line were the brigades of Brigadier Generals Otho Strahl and George Maney. As soon as his command was formed in line of battle, Cheatham advanced. He soon encountered Croxton's brigade and, far overlapping its line, easily began to push it westward. By 12:30 P.M. Cheatham had gained the crest of a slight ridge 400 yards west of the intersection of the Alexander's Bridge and Brotherton roads.
No sooner was Croxton's brigade out of Cheatham's sight than it was replaced by Brigadier General Richard Johnson's division of McCook's corps. Johnson had begun the day in McLemore's Cove but had been ordered forward in haste by Rosecrans. Placed under Thomas's command, Johnson was told to form a line of battle and advance eastward. Moving in the traditional formation of two brigades forward and one in reserve, Johnson arrived just as Cheatham chased Croxton's men toward the LaFayette Road. Johnson's front line, Colonel Philemon Baldwin's and Brigadier General August Willich's brigades, struck Jackson's Brigade and halted its pursuit of Croxton. For a time Jackson held his own against the more numerous Federals, but with his ammunition running low and casualties depleting his ranks, he called for aid. Cheatham replaced Jackson with Brigadier General George Maney's small brigade. Maney's men were no match for two Federal brigades, and when both of his flanks collapsed he hastily withdrew. Meanwhile, Johnson's division regained the Winfrey Field and some woods to the south.

THE CREATION OF THE FIRST NATIONAL MILITARY PARK
---
"Be it enacted by the Senate and House of Representatives of the United States of America in Congress assembled, That for the purposes of preserving and suitably marking for historical and professional military study the fields of some of the most remarkable maneuvers and most brilliant fighting in the war of the rebellion." Thus begins the legislation that established Chickamauga and Chattanooga National Military Park as the first so designated park on August 19, 1890.
The idea of establishing a National Military Park began with General Ferdinand Van Derveer, an officer of the Army of Cumberland, on his second visit to the battlefield, the first being on two bloody days in September 1863. He was a Washington newspaper correspondent for the Cincinnati Commercial Gazette when he returned to Chickamauga in June 1888. It was during a series of letters to the newspaper that the idea to preserve Chickamauga Battlefield began to take form. "The survivors of the Army of the Cumberland should awake to great pride in this notable field of Chickamauga. Why should it not, as well as eastern fields, be marked by monuments, and its lines be accurately preserved for history? There was no more magnificent fighting during the war than both armies did there. Both sides might well unite in preserving the field where both, in a military sense, won such renown.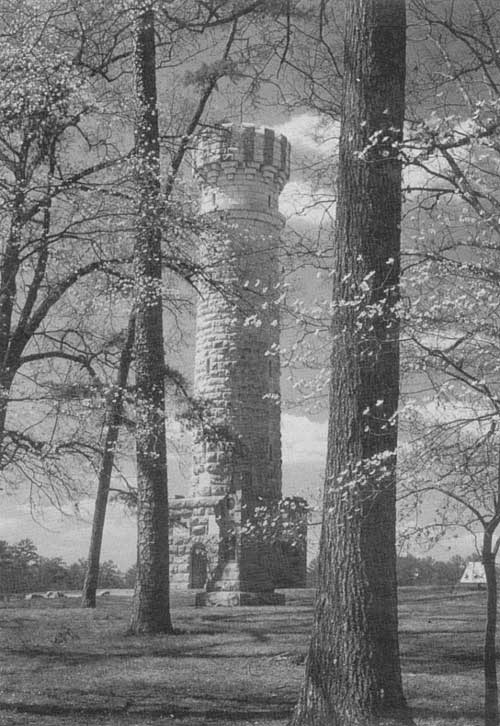 THE WILDER BRIGADE MONUMENT WAS ERECTED AT THE SITE OF THE WIDOW GLENN'S HOUSE, WHICH WAS ROSECRANS'S HEADQUARTERS ON SEPTEMBER 19, 1863. (NPS)
---
Whereas Gettysburg at the time had only the Union side represented, it was proposed that Chickamauga have both Union and Confederate positions marking the field, making it most unique and at the same time providing a healing process.
When the Society of the Army of the Cumberland met a few weeks later, a committee was formed whose purpose was to initiate a movement for the purchase of the ground where the Battle of Chickamauga was fought. It was recommended that monuments be placed to mark the location of the troops that fought there and that it be preserved similar to Gettysburg.
At the first meeting of the newly formed committee in Washington on February 13, 1889, it was agreed to invite the Confederate veterans of the battle of Chickamauga who were in Washington at the time. The united committee became known as the Joint Chickamauga Memorial Association.
The objectives of the association were declared in the charter to be "to mark and preserve the battle field of Chickamauga, on which were fought the actions of September eighteenth, nineteenth, and twentieth, Anno Domini, one thousand eight hundred and sixty-three, together with the natural and artificial features, as they were at the time of said battle, by such memorial stones, tablets, or monuments as a generous people may aid to erect, to commemorate the valor displayed by American soldiers on that field."
On September 19, 1889, a joint meeting of Union and Confederate veterans was called to be held in Chattanooga to consider the subject of the Chickamauga Park. Many notable veterans of the Battle of Chickamauga gave addresses that day, exactly 26 years after the battle, among them Union General William Rosecrans. Rosecrans's speech best instills the feelings of the veterans at that time. He begins: "This occasion is one for which you will look through history in vain to find a second. To-day twenty-six years ago began the great bloody battle of Saturday, the 19th day of September, 1863, within twelve miles of this place, and the survivors of that battle, both Blue and Gray, and the people who to-day enjoy the fruits which grew out of that battle, are assembled together to consider how they shall make it a national memorial ground, which people of all time shall come and visit with the interest due to the greatness of the events which occurred on that battle ground. One of the most noble features to me of this occasion is this: It is very difficult to find in history an instance where contending parties in after years meet together in perfect amity. It took great men to win that battle, but it takes greater men still, I will say morally greater, to wipe away all the ill feeling which naturally grows out of such a contest." Following Rosecrans's address General Henry Van Ness Boynton (a Union colonel at Chickamauga), spoke of making Chickamauga a "western Gettysburg, [but] the lines of both armies should be equally marked."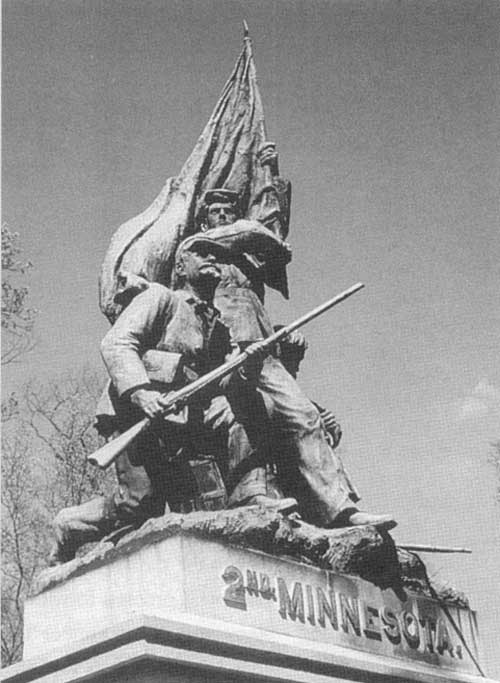 THE SECOND MINNESOTA MONUMENT ON SNODGRASS HILL IS ONE OF FOUR MONUMENTS ERECTED TO THIS REGIMENT IN CHICKAMAUGA AND CHATTANOOGA NATIONAL MILITARY PARK. (NPS)
---
On September 20, 1889 a huge barbecue was held in Crawfish Springs, Georgia (present day Chickamauga). The barbecue was attended by 12,000 people, making it one of the largest barbecues held in the South. This festive occasion culminated the charter to establish Chickamauga battlefield as a park. Representatives from each state which had troops at Chickamauga were chosen as incorporators.
Some of the land was acquired through the aid of Congress. Additional acreage was requested on Lookout Mountain and Missionary Ridge to commemorate the Battle of Chattanooga. Collectively, the acquired land was to be preserved as Chickamauga and Chattanooga National Military Park.
The bill to establish Chickamauga and Chattanooga National Military Park passed through the House in twenty-three minutes. In the Senate the bill moved even faster, a mere twenty minutes. That same night the bill was taken to President Benjamin Harrison and signed. The bill provided for fifteen square miles.
On September 19 and 20, 1895, Chickamauga and Chattanooga National Military Park was formally dedicated. It was the nation's first national military park and set a precedent for subsequent national military parks. As stated in the enabling legislation, the battlefield was used for military study and the War Department was in charge until 1933. In 1933 the reigns of jurisdiction were passed over to the National Park Service, which has been the caretaker ever since.
THE MONUMENTS ALONG POSTWAR BATTLELINE ROAD MARK UNION POSITIONS ON SEPTEMBER 20, 1863. (NPS)
---
Shortly after Johnson arrived, several more Federal units reached the field. At Lee and Gordon's Mill Major General John Palmer's division received orders around 11:00 A.M. to assist the Fourteenth Corps. On reaching the battlefield, Palmer placed the brigades of Brigadier General William Hazen, Brigadier General Charles Cruft, and Colonel William Grose in a single line. Crashing southeastward into the forest, the division soon encountered Smith's and Wright's Confederates. Taking the brunt of Palmer's attack in the Brock Field, Smith called for relief and was replaced by Strahl's brigade. No better able to stand the Federal fire than Smith, Strahl's men soon withdrew also. Following Palmer's division up the LaFayette Road were two brigades of Brigadier General Horatio Van Cleve's division of the Twenty-first Corps. They soon appeared on the left flank of Wright's brigade. Brigadier General Samuel Beatty's brigade soon wrecked Wright's command and it joined Cheatham's other units in retreat. South of Beatty, Colonel George Dick's brigade extended the Federal line. Beyond Dick, Colonel Edward King's brigade of Major General Joseph Reynolds's division also faced eastward in the woods. In the field south of George Brotherton's modest cabin Reynolds gathered several batteries as a reserve.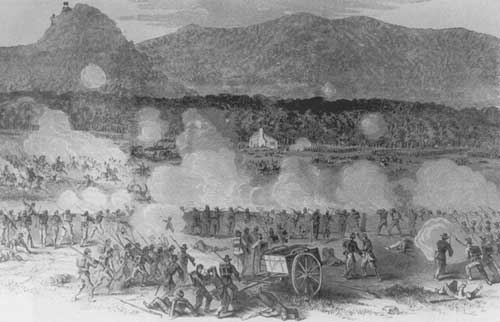 THE ATTACK OF STEWART'S CONFEDERATE DIVISION ON SEPTEMBER 19, 1863, RELIEVED THE PRESSURE ON THE LEFT FLANK OF BENJAMIN FRANKLIN CHEATHAM. (USAMHI)
---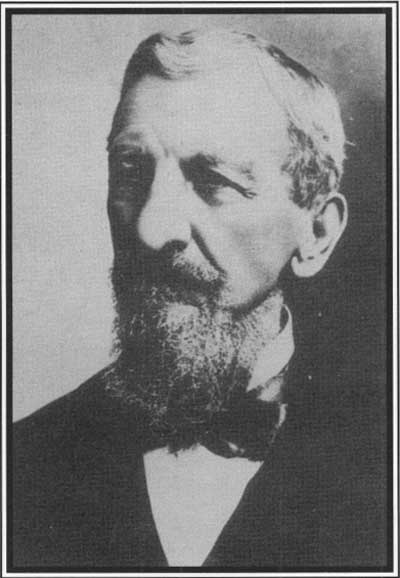 A POSTWAR PHOTO OF GENERAL ALEXANDER PETER STEWART. WHO WOULD BECOME ONE OF THE FIRST COMMISSIONERS OF THE CHICKAMAUGA BATTLEFIELD PARK. (NPS)
---