If we in the Congress do not act, the majestic area where sea and bay and land meet in a glorious symphony of nature will be doomed.

—US Rep. Phillip Burton, 1972
For city dwellers, it's not always easy to experience national parks without traveling long distances. A new idea emerged in the early 1970s: Why not bring parks to the people? In 1972 Congress added two urban expanses to the National Park System: Golden Gate National Recreation Area in the San Francisco Bay area and its eastern counterpart Gateway National Recreation Area in New York and New Jersey.
At nearly 81,000 acres, Golden Gate National Recreation Area is the nation's largest national park unit in an urban setting. It extends well north and south of San Francisco. Along with other public lands and waters in the region, it is recognized by the United Nations as Golden Gate Biosphere Reserve. Offshore, Gulf of the Farallones and Monterey Bay national marine sanctuaries protect ocean habitat and many threatened and endangered species, while allowing for compatible human uses. The national recreation area's role as the Bay Area's backyard continues to evolve in ways its early proponents never imagined. Renewable energy powers public buildings and transportation. People of all abilities use accessible trails and other facilities, engaging in activities that promote health and wellness. Volunteers do everything from conducting tours to helping restore native habitat.
Come here for the natural cathedral of coast redwoods at Muir Woods or to experience for yourself the harsh conditions on Alcatraz Island. But don't overlook the out-of-the-way places to savor the scents of bay laurel and sage, cool morning fog, waves crashing on the headlands, or a tapestry of native spring wildflowers. Golden Gate National Recreation Area invites you to enjoy, explore, and find your own way to experience the parks at the Golden Gate.
Experience Your Parks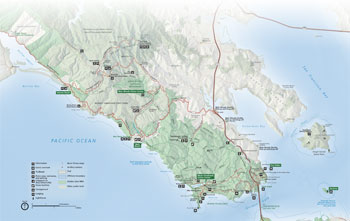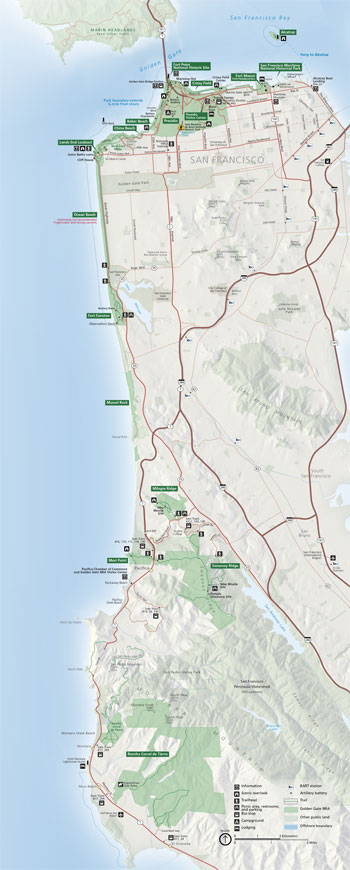 (click for larger maps)
WHERE TO BEGIN
Golden Gate National Recreation Area includes Alcatraz, Fort Point National Historic Site, Muir Woods National Monument, and dozens more natural and historic places. There are visitor information centers at Alcatraz, Fort Point National Historic Site, Golden Gate Bridge Pavilion, Land's End, Marin Headlands, Muir Woods National Monument, Pacifica, and Presidio.
Information and schedules are available on site or at www.nps.gov/goga. For a calendar of events and interactive trip planning map, go to www.parksconservancy.org.
Alcatraz Reservations highly recommended: www.alcatrazcruises.com. Ferries leave from Pier 33. Be advised that America the Beautiful Pass does not cover ferry ride.
Muir Woods National Monument Limited parking! To spend more time among the coast redwoods and less time in your car, visit early in the day. On summer weekends, take the Muir Woods Shuttle: www.marintransit.org/routes/66.
Getting Around MUNI buses (www.sfmta.com) serve most park sites in the city and the Marin Headlands. MUNI lines connect to other systems in the Bay Area (www.bart.gov), Marin County (goldengate.org); East Bay (www.actransit.org); and Peninsula (www.caltrain.com and www.smctd.com).
HIGHLIGHTS FOR TWO HOURS OR LESS
• Spot whales at Muir Beach Overlook during their winter migration (December-February).
• Tour the Cold War-era Nike Missile Site in the Marin Headlands.
• Scan the sky for migratory birds of prey (raptors) soaring above Marin Headlands on Hawk Hill (in fall).
• Touch the historic 16-inch gun at Battery Townsley in Marin Headlands.
• Watch the sun set over the ocean at Cliff House.
• Take a cell phone tour of Fort Baker, an Endicott-period army post from the early 1900s.
• Play with interactive exhibits at the Golden Gate Bridge plaza.
• Walk around restored wetlands at Crissy Field.
• Learn about two centuries of Presidio military life on a ranger-guided tour.
• Discover what makes Fort Point noteworthy and collect an NPS Civil War trading card.
• Explore the ruins of Sutro Baths and nearby Sutro Heights Gardens.
• Enjoy spectacular views of the Golden Gate at one of the many overlooks.
• Walk the Esplanade at Ocean Beach.
• Take a history walking tour of Fort Mason.
• Take a wildflower walk at Fort Funston (in spring).
• Look for red-legged frogs in ponds at Mori Point.
IF YOU HAVE A HALF DAY OR MORE
• Hike from the ocean to the top of Montara Mountain (2,000 feet) at Rancho Corral de Tierra.
• Find the Bay Discovery Site on Sweeney Ridge where Spanish explorer Gaspar de Portolà first saw San Francisco Bay in 1769.
• Join in the Junior Ranger program at Alcatraz. Reserve tickets ahead!
• Bicycle along the waterfront from San Francisco Maritime National Historical Park across the Golden Gate Bridge to Battery Spencer—and panoramic views of the city.
• Catch fish at Fort Point, Baker Beach, or Ocean Beach.
• Camp at Kirby Cove, with a panoramic view of the Golden Gate.
• Take the rocky trail out to the Point Bonita Lighthouse (limited hours).
• Spot wrens, jays, spotted owls, and other wild creatures among the coast redwoods at Muir Woods National Monument.
• Hike, bike, or ride a horse to the ocean on the Tennessee Valley Trail.
• Spend the day at Stinson Beach, the park's only lifeguarded beach.
MORE THINGS TO KNOW
For a Safe Visit Federal laws protect all natural and cultural features in the park. Please enjoy things in their natural habitat and leave them undisturbed. • Dogs are allowed in most areas of the park; check the park website for area-specific regulations. Clean up waste. • Be prepared and dress in layers. Weather is unpredictable. • For a full list of regulations, including firearms information, check the park website.
Accessibility We strive to make our facilities, services, and programs accessible to all. For additional information ask a ranger, check at a visitor center, visit the park website.
Camping The park has four campgrounds, tents only. Bicentennial, Hawk Hill, and Haypress are small with limited services. Kirby Cove accommodates larger groups; reserve ahead at www.recreation.gov. Rob Hill in the Presidio must be reserved through the Presidio Trust at www.presidio.gov.
Volunteers In Parks Golden Gate National Recreation Area has one of the largest and most diverse Volunteers In Parks (VIP) communities in the nation. Visit www.nps.gov/goga/supportyourpark.
Park Partners The park works closely with Golden Gate National Parks Conservancy and dozens of other park partners to enhance the experiences of visitors and build community support. For a full list of park partners, visit www.nps.gov/goga/planyourvisit/partners.
Source: NPS Brochure (2014)
Establishment

Golden Gate National Recreation Area — October 27, 1972



For More Information
Please Visit The

OFFICIAL NPS
WEBSITE
Brochures ◆ Site Bulletins ◆ Trading Cards

Documents
A Good Life: Dairy Farming in the Olema Valley: A History of the Dairy and Beef Ranches of the Olema Valley and Lagunitas Canyon, Golden Gate National Recreation Area and Point Reyes National Seashore, Marin County, California (D.S. (Dewey) Livingston, 1995)
Abbreviated Cultural Landscape Report: Merrie Way & The Lands End Street Railways Final Draft (John Martini, January 2006)
Abbreviated Historic Structures Report: Fort Barry Balloon Hangar and Motor Vehicle Sheds (Jane Lehman, John Martini, Aviva Litman and Rudy Carrasquilla, May 2007)
Acoustical Monitoring Report 2007/2008, Golden Gate National Recreation Area NPS Natural Resource Technical Report NPS/NRSS/NRTR/2013/711 (March 2013)
Administrative History of the Golden Gate National Recreation Area (Hal K. Rothman and Daniel J. Holder, 2001)
Afro-Americans, the San Francisco Bay Area,, and the Golden Gate National Recreation Area, 1850-1960 (Douglas Henry Daniels, March 13, 1980)
Aquatic Park: Cultural Landscape Report, San Francisco Maritime National Historical Park (2010)
Building Inventory: Fort Baker Physical History Report (Building 679) (1999)
California's National Parks in Peril: The Threats of Climate Disruption (Stephen Saunders and Tom Easley, ©The Rocky Mountain Climate Organization and Natural Resources Defense Council, October 2010, all rights reserved)
Chinese and GGNRA, 1849-1949: Guests of Choice, Guests of Necessity (L. Eve Armentrout-Ma, 1975)
Climate Change in the National Parks of the San Francisco Bay Area, California, USA (Patrick Gonzalez, July 11, 2016)
Coastal Scrub and Prairie Wildlife Inventory, Golden Gate National Recreation Area, California (Judd A. Howell, undated)
Coastal Watershed Assessment for Golden Gate National Recreation Area and Point Reyes National Seashore NPS Natural Resource Report NPS/PWR/NRR-2013/641 (Anitra Pawley and Mui Lay, March 2013)
Cultural Landscape Inventory: United States Coast Guard Fort Point Station Historic District ()
Cultural Landscape Report for Fort Baker, Golden Gate National Recreation Area (July 2005)
Cultural Landscape Report for Fort Mason, Golden Gate National Recreation Area — Volume One: Site History, Existing Conditions and Analysis Olmsted Center for Landscape Preservation (Amy Hoke and Eliot Foulds, September 2004)
Cultural Landscape Report for Forts Baker, Barry, and Chronkhite, Golden Gate National Recreation Area — Volume I: Site History (John Auwaerter, 2016)
Cultural Landscape Report for Upper Fort Mason, Golden Gate National Recreation Area — Volume II: Treatment Strategy Olmsted Center for Landscape Preservation (Christoper M. Beagan and H. Eliot Foulds, 2012)
Cultural Landscape Report: Sutro Historic District, Volume 2 (Land and Community Associates, September 1993)
Cultural Landscapes Inventory, Fort Baker (c2010)
Cultural Landscapes Inventory, Fort Mason Historic District (c2010)
Cultural Landscapes Inventory, Point Bonita Historic District (c2010)
Cultural Landscapes Inventory, Ranch A/B (Miwok Stables) (2008)
Cultural Landscapes Inventory, Ranch M (Golden Gate Dairy) (2008)
Cultural Landscapes Inventory, Sutro Historic District (c2010)
Cultural Resource Reports and Site Treatments: Rodeo Valley Stables (April 30, 2013)
Ethnohistory and Ethnogeography of the Coast Miwok and Their Neighbors, 1783-1840 (Randall Milliken, June 2009)
Final General Management Plan/Environmental Impact Statement, Golden Gate National Recreation Area/Muir Woods National Monument: Volume I (January 2014)
Final General Management Plan/Environmental Impact Statement, Golden Gate National Recreation Area/Muir Woods National Monument: Volume II (January 2014)
Foundation Document, Golden Gate National Recreation Area, California (May 2017)
Foundation Document Overview, Golden Gate National Recreation Area, California (January 2017)
General Management Plan Amendment / Draft Environmental Impact Statement, Point Reyes National Seashore / North District of Golden Gate National Recreation Area (August 2019)
General Management Plan Amendment / Draft Environmental Impact Statement, Point Reyes National Seashore / North District of Golden Gate National Recreation Area: Appendices (August 2019)
General Management Plan Amendment / Final Environmental Impact Statement, Point Reyes National Seashore / North District of Golden Gate National Recreation Area (September 2020)
General Management Plan Amendment / Final Environmental Impact Statement, Point Reyes National Seashore / North District of Golden Gate National Recreation Area (September 2020)
Geologic Resources Inventory Report, Golden Gate National Recreation Area, including Fort Point National Historic Site and Muir Woods National Monument NPS Natural Resource Report NPS/NRSS/GRD/NRR-2016/1266 (Rebecca Port, August 2016)
Geology and Natural History of the San Francisco Bay Area: A Field-Trip Guidebook USGS Bulletin 2188 (Philip W. Stoffer and Leslie C. Gordon, eds., 2001)
Group Guide to Your National Park Next Door: Golden Gate National Recreation Area (1979)
Historic Furnishings Report: Fort Cronkhite: Barracks (Building 1059) and Mess Hall (Building 1049), Golden Gate National Recreation Area (William L. Brown III and Walter H Bradford, 2005)
Historic Furnishings Report: Fourth Army Intelligence School, Golden Gate National Recreation Area (Mary Grassick, 1999)
Historic Resource Study: A Civil History of Golden Gate National Recreation Area and Point Reyes National Seashore, California — Volume 1 (Anna Coxe Toogood, June 11980)
Historic Resource Study: A Civil History of Golden Gate National Recreation Area and Point Reyes National Seashore, California — Volume 2 (Anna Coxe Toogood, June 1980)
Historic Resource Study for Golden Gate National Recreation Area in San Mateo County: Sweeney Ridge, Rancho Corral de Tierra (and the Montara Lighthouse Station), Mori Point, Phleger Estate, Milagra Ridge (2010)
Historic Resource Study: Forts Baker, Barry, Cronkhite of Golden Gate National Recreation Area, California (Erwin N. Thompson, November 1979)
Historic Resource Study, Seacoast Fortifications, San Francisco Harbor, Golden Gate National Recreation Area (Erwin N. Thompson, May 1979)
Historic Structure Report: Civil War Barracks — Bldg. No. FM-240, Fort Mason, Golden Gate National Recreation Area, California (Norma T. Camarena and Erwin N. Thompson, September 1980)
Historic Structure Report: Fort Mason Officers Club (May 2005)
Historic Structure Report: San Francisco Port of Embarkation (Architectural Resources Group, February 1991)
Historic Structure Report: San Francisco Port of Embarkation (Architectural Resources Group, February 1991)
Historic Structure Report: The Cliff House, Golden Gate National Recreation Area (1987)
Historic Structure Report: Western Grounds, Old Parade Ground, MacArthur Avenue, Fort Mason, Golden Gate National Recreation Area (R. Patrick Christopher and Erwin N. Thompson, September 1980)
Hydrogeology of the Muir Beach Community Services District Well Site, Frank Valley, Redwood Creek, California, Golden Gate National Recreation Area NPS Technical Report NPS/NRWRD/NRTR-2000/265 (Larry Martin, April 2000)
Junior Ranger Activity Book — Beach Buddies, Golden Gate National Recreation Area (Date Unknown)
Junior Ranger Activity Book — Marin Headlands, Golden Gate National Recreation Area (Date Unknown)
Letterman Hospital: "Work for the Sake of Mankind" — A Summary of Its Significance and Integrity (April 1994)
Long-term Monitoring of Coho Salmon and Steelhead Trout During Freshwater Life Stages in Coastal Marin County
Long-Term Coho Salmon & Steelhead Trout Monitoring in Coastal Marin County: Summer 2004 Monitoring Progress Report PORE-NR/WR-05/04 (Brannon J. Ketcham, Kirsten M. Leising and Michael Reichmuth, August 11, 2005)
Long-term Coho Salmon and Steelhead Trout Monitoring in Coastal Marin County: 2008 Annual Monitoring Report NPS Natural Resource Technical Report NPS/SFAN/NRTR—2011/460 (Sarah Carlisle, Michael Reichmuth, Allison Dedrick, Christopher Brown and Brannon Ketcham, June 2011)
Long-term Monitoring of Coho Salmon and Steelhead Trout During Freshwater Life Stages in Coastal Marin County: 2009 Annual Report NPS Natural Resource Report NPS/SFAN/NRR—2016/1212 (Michael Reichmuth, Sarah Carlisle, Allison Dedrick and Angela Rodoni, May 2016)
Long-term Coho Salmon & Steelhead Trout Monitoring in Coastal Marin County: Smolt Trapping 2010 Progress Report NPS Natural Resource Data Series NPS/SFAN/NRDS—2010/200 (Allison Dedrick, Sarah Carlisle, Michael Reichmuth and Angela Rodoni, October 2012)
Long-term Monitoring of Coho Salmon and Steelhead Trout During Freshwater Life Stages in Coastal Marin County: 2011 Annual Report NPS Natural Resource Report NPS/SFAN/NRR—2015/969 (Sarah Carlisle and Michael Reichmuth, May 2015)
Long-term Monitoring of Coho Salmon and Steelhead Trout During Freshwater Life Stages in Coastal Marin County: 2012 Annual Report NPS Natural Resource Technical Report NPS/SFAN/NRTR—2014/887 (Sarah Carlisle, Michael Reichmuth, Katelyn Jordan and Kelly Church, July 2014)
Long-term Monitoring of Coho Salmon and Steelhead Trout During Freshwater Life Stages in Coastal Marin County: 2013 Annual Report NPS Natural Resource Report NPS/SFAN/NRR—2015/956 (Sarah Carlisle and Michael Reichmuth, April 2015)
Long-term Monitoring of Coho Salmon and Steelhead During Freshwater Life Stages in Coastal Marin County: 2014 Annual Report NPS Natural Resource Report NPS/SFAN/NRR—2016/1142 (Sarah Carlisle, Michael Reichmuth and Brentley McNeill, March 2016)
Long-term Monitoring of Coho Salmon and Steelhead During Freshwater Life Stages in Coastal Marin County: 2015 Annual Report NPS Natural Resource Report NPS/SFAN/NRR—2017/1392 (Sarah Carlisle, Michael Reichmuth and Brentley McNeill, February 2017)
Long-term Monitoring of Coho Salmon and Steelhead During Freshwater Life Stages in Coastal Marin County: 2016 Annual Report NPS Natural Resource Report NPS/SFAN/NRR—2018/1577 (Sarah Carlisle, Brentley McNeill and Michael Reichmuth, February 2018)
Long-term Monitoring of Coho Salmon and Steelhead During Freshwater Life Stages in Coastal Marin County: 2017 Annual Report (Revised with Costs) NPS Natural Resource Report NPS/SFAN/NRR—2020/2190 (Michael Reichmuth, Brentley McNeill and Sarah Carlisle, November 2020)
Long-term Monitoring of Coho Salmon and Steelhead During Freshwater Life Stages in Coastal Marin County: 2018 Annual Report (Revised with Costs) NPS Natural Resource Report NPS/SFAN/NRR—2020/2192 (Brentley McNeill, Michael Reichmuth and Alex Iwaki, November 2020)
Monitoring Northern Spotted Owls on Federal Lands in Marin County, California
Monitoring Northern Spotted Owls on Federal Lands in Marin County, California: 2007 Annual Report NPS Natural Resource Technical Report NPS/PWR/SFAN/NRTR—2008/089 (Heather J. Jensen, Dawn B. Adams, William W. Merkle and David T. Press, January 2008)
Monitoring Northern Spotted Owls on Federal Lands in Marin County, California: 2009 Annual Report NPS Natural Resource Technical Report NPS/SFAN/NRTR—2011/432 (David Press, William W. Merkle and Heather J. Jensen, February 2011)
Monitoring Northern Spotted Owls on Federal Lands in Marin County, California: 2010–2011 Report NPS Natural Resource Technical Report NPS/SFAN/NRTR—2012/606 (David Press, William W. Merkle, Heather Jensen, Francis Taroc and Taylor Ellis, July 2012)
Monitoring Northern Spotted Owls on Federal Lands in Marin County, California: 2012 Report NPS Natural Resource Technical Report NPS/SFAN/NRTR—2013/829 (Taylor Ellis, Emily Schultz and David Press, December 2013)
Monitoring Northern Spotted Owls on Federal Lands in Marin County, California: 2013 Report NPS Natural Resource Report NPS/SFAN/NRR—2016/1180 (Taylor Ellis and Kaitlin Harrigan, March 2016)
Monitoring Northern Spotted Owls on Federal Lands in Marin County, California: 2014-2015 Report NPS Natural Resource Report NPS/SFAN/NRR—2017/1474 (Taylor D. Ellis, July 2017)
Monitoring Northern Spotted Owls on Federal Lands in Marin County, California: 2016 Report NPS Natural Resource Report NPS/SFAN/NRR—2017/1487 (Taylor D. Ellis, July 2017)
Monitoring Northern Spotted Owls on Federal Lands in Marin County, California: 2017 Report NPS Natural Resource Report NPS/SFAN/NRR—2018/1677 (Taylor D. Ellis, July 2018)
Monitoring Northern Spotted Owls on Federal Lands in Marin County, California: 2018 Report NPS Natural Resource Report NPS/SFAN/NRR—2020/2088 (Taylor D. Ellis, March 2020)
National Register of Historic Places Nomination Forms
Aquatic Park Historic District (James P. Delgado, February 1, 1984)
Bateria San Jose, Punta Medanos, Battery Yerba Buena, Point San Jose, Black Point, Post of Point San Jose, Fort Mason (Erwin N. Thompson, November 4, 1977)
C. A. Thayer (Schooner) (James P. Delgado and Gordon S. Chappell, June 30, 1978)
Camera Obscura (Denise Bradley, October 23, 2000)
Ferryboat Eureka (formerly Ukiah) (Stephen Haller, June 10, 1984)
Fort Miley Military Reservation (Point Lobos Military Reservation) (Erwin N. Thompson, January 12, 1979)
Forts Baker, Barry and Cronkhite (Thomas Lile, March 26, 1973)
Haslett Warehouse (Edward N. Michael, December 17, 1974)
Pumping Station No. 2, San Francisco Fire Department Auxiliary Water Supply System (Gordon Chappell, April 10, 1975)
Sailing Ship Balclutha (James P. Delgado, December 30, 1983)
San Francisco Port of Embarkation, U.S. Army (Erwin N. Thompson, July 8, 1984)
Scow Schooner Alma (James P. Delgado and Kevin J. Foster, July 1, 1987)
Six-Inch Rifled Gun No. 9, Model of 1905, on Disappearing Carriage, No. 2, Model of 1903 (Gordon S. Chappell, May 5, 1978)
Steam Schooner Wapama (Tongass) (James P. Delgado and Allen W. Welts, February 28, 1973, December 17, 1982)
The History and Significance of the Adolph Sutro Historic District (James P. Delgado, Denise Bradley, Paul M. Scolari and Stephen A. Haller, 2000)
Tugboat Hercules (Stephen Haller, November 27, 1984)
Native Component Grasslands of the Marin Headlands NPS Natural Resource Technical Report NPS/SFAN/NRTR-2013/832 (Robert J. Steers and Heather L. Spaulding, December 2013)
Natural Resource Condition Assessment, Golden Gate National Recreation Area NPS Natural Resource Report NPS/GOGA/NRR-2019/2031 (John Battles, Anne Eschtruth, James Bartolome and John Sanders, eds., October 2019)
New Area Study of Alternatives: Sweeney Ridge, California (June 1979)
New Area Study of Alternatives: Sweeney Ridge, California (Executive Summary) (June 1979)
Northern Spotted Owl Inventory on Federal Lands in Marin County: 2006 Annual Report NPS Natural Resource Technical Report NPS/PWR/SFAN/NRTR—2007/006 (Heather J. Jensen, Dawn B. Adams and William W. Merkle, October 2006)
Ohlone/Costanoan Indians of the San Francisco Peninsula and their Neighbors, Yesterday and Today (Randall Milliken, Laurence H. Shoup and Beverly R. Ortiz, June 2009)
Pacific Harbor Seal (Phoca vitulina richardii) Monitoring at Point Reyes National Seashore and Golden Gate National Recreation Area
Pacific Harbor Seal (Phoca vitulina richardii) Monitoring at Point Reyes National Seashore and Golden Gate National Recreation Area: 2007 Annual Report NPS Natural Resource Technical Report NPS/SFAN/NRTR—2008/118 (Kristen Truchinski, Erin Flynn, David Press, Dale Roberts and Sarah Allen, June 2008)
Pacific Harbor Seal (Phoca vitulina richardsi) Monitoring at Point Reyes National Seashore and Golden Gate National Recreation Area: 2008 Annual Report NPS Natural Resource Technical Report NPS/SFAN/NRTR—2009/267 (Erin Flynn, David Press, Sarah Codde, Dale Roberts and Sarah Allen, November 2009)
Pacific Harbor Seal (Phoca vitulina richardsi) Monitoring at Point Reyes National Seashore and Golden Gate National Recreation Area: 2009 Annual Report NPS Natural Resource Technical Report NPS/SFAN/NRTR—2010/345 (Sarah Codde, David Press, Dale Roberts and Sarah Allen, June 2010)
Pacific Harbor Seal (Phoca vitulina richardsi) Monitoring at Point Reyes National Seashore and Golden Gate National Recreation Area: 2010 Annual Report NPS Natural Resource Technical Report NPS/SFAN/NRTR—2011/465 (Sarah Codde, David Press, Dale Roberts and Sarah Allen, June 2011)
Pacific Harbor Seal (Phoca vitulina richardsi) Monitoring at Point Reyes National Seashore and Golden Gate National Recreation Area: 2011 Annual Report NPS Natural Resource Technical Report NPS/SFAN/NRTR—2012/611 (Sarah Codde, David Press, Dale Roberts and Sarah Allen, August 2012)
Pacific Harbor Seal (Phoca vitulina richardsi) Monitoring at Point Reyes National Seashore and Golden Gate National Recreation Area: 2012 Annual Report NPS Natural Resource Technical Report NPS/SFAN/NRTR—2013/806 (Sarah Codde and Sarah Allen, October 2013)
Pacific Harbor Seal (Phoca vitulina richardsi) Monitoring at Point Reyes National Seashore and Golden Gate National Recreation Area: 2013 Annual Report NPS Natural Resource Report NPS/SFAN/NRR—2015/919 (Sarah Codde and Sarah Allen, February 2015)
Pacific Harbor Seal (Phoca vitulina richardii) Monitoring at Point Reyes National Seashore and Golden Gate National Recreation Area: 2014 Annual Report NPS Natural Resource Report NPS/SFAN/NRR—2015/1082 (Sarah Codde and Sarah Allen, November 2015)
Pacific Harbor Seal (Phoca vitulina richardii) Monitoring at Point Reyes National Seashore and Golden Gate National Recreation Area: 2015 Annual Report NPS Natural Resource Report NPS/SFAN/NRR—2017/1516 (Sarah Codde and Sarah Allen, September 2017)
Pacific Harbor Seal (Phoca vitulina richardii) Monitoring at Point Reyes National Seashore and Golden Gate National Recreation Area: 2016 Annual Report NPS Natural Resource Report NPS/SFAN/NRR—2018/1719 (Sarah Codde and Sarah Allen, September 2018)
Pacific Harbor Seal (Phoca vitulina richardii) Monitoring at Point Reyes National Seashore and Golden Gate National Recreation Area: 2017-2018 Monitoring Seasons NPS Natural Resource Report NPS/SFAN/NRR—2020/2089 (Sarah Codde and Sarah Allen, March 2020)
Pacific Harbor Seal (Phoca vitulina richardii) Monitoring at Point Reyes National Seashore and Golden Gate National Recreation Area: 2019 Monitoring Season NPS Natural Resource Report NPS/SFAN/NRR—2020/2129 (Sarah Codde, May 2020)
Park News: Spring 2003 • Winter 2004-2005 • Spring 2006 • Summer 2006
Redwood Creek Watershed Assessment: Final Report (Stillwater Sciences & Horizon Water Environment, LLC, August 2011)
Riparian Landbird Monitoring in Golden Gate National Recreation Area and Point Reyes National Seashore Analysis and Synthesis Report through Winter 2011-12 NPS Natural Resource Technical Report NPS/SFAN/NRTR—2014/908 (Diana L. Humple and Elizabeth L. Porzig, September 2014)
Riparian Landbird Monitoring in Golden Gate National Recreation Area and Point Reyes National Seashore: Progress Report for 2011-12 NPS Natural Resource Data Series NPS/SFAN/NRDS—2014/709 (Scott Jennings and Diana L. Humple, October 2014)
Riparian Landbird Monitoring in Golden Gate National Recreation Area and Point Reyes National Seashore: Progress Report for 2013-2014 NPS Natural Resource Data Series NPS/SFAN/NRDS—2015/984 (Mark D. Dettling and Diana L. Humple, October 2015)
Riparian Landbird Monitoring in Golden Gate National Recreation Area and Point Reyes National Seashore: Progress Report for 2016-2017 NPS Natural Resource Data Series NPS/SFAN/NRDS—2020/1254 (Mark D. Dettling and Diana L. Humple, January 2020)
Rocks and Geology in the San Francisco Bay Region USGS Bulletin 2195 (Philip Stoffer, 2002)
Seacoast Fortifications Preservation Manual (Joe C. Freeman, Stephen A. Haler, David M. Hansen, John A. Martini and Karen J. Weitze, July 1999)
Sea Level is Rising Now! Crissy Field, Golden Gate National Recreation Area (undated)
Shipwreck Survey of a Portion of Ocean Beach, San Francisco, to Locate the Remains of the United States Revenue Cutter C.W. Lawrence Golden Gate National Recreation Area Maritime Archeological Publication Series No. 2 (James P. Delgado, Larry Murphy and Roger E. Kelly, February 1984)
Submerged cultural resources assessment: Golden Gate National Recreation Area, Gulf of the Farallones National Marine Sanctuary, and Point Reyes National Seashore Southwest Cultural Resources Center Professional Papers No. 18 (James P. Delgado and Stephen A. Haller, 1989)
The Last Word In Airfields: A Special History Study of Chrissy Field, Golden Gate National Recreation Area (Stephen A. Haller, 1994)
The Last Word in Airfields: A Special History Study of Crissy Field, Presidio of San Francisco, California (Stephen A. Haller, 1994)
The Park that Makes Its Own Weather: An Administrative History of Golden Gate National Recreation Area (Hal K. Rothman, 2002)
The Road Inventory of Golden Gate National Recreation Area (March 1999)
The Top of the Peninsula: A History of Sweeney Ridge and the San Francisco Watershed Lands, San Mateo County, California — Historic Resource Study, Golden Gate National Recreation Area (Marianne Babal, 1990)
Upper Fort Mason: Cultural Landscape Report, Golden Gate National Recreation Area, National Park Service, Volume II: Treatment Strategy. Cultural Landscape Report Olmsted Center for Landscape Preservation (Christopher M. Beagan, 2012)
What We Have We Shall Defend: An Interim History and Preservation Plan for Nike Missile Site SF-88L, Fort Barry, California (John A. Martini and Stephen A. Haller, 1998)
Handbooks ◆ Books

Videos