Wisconsin's northernmost landscape juts out into Lake Superior as the scenic archipelago of 22 Apostle Islands. Long a vacation mecca, the area realized new recreational value in 1970 when Congress named 20 of the islands and 2,500 acres of the peninsula as a national lakeshore managed by the National Park Service. In 1986, Long Island was also included. The region has long been a home to the Ojibwe (Chippewa) people. Early French fur traders called this region the Chequamegon (pronounced She-wah'-me-gon), an Ojibwe word meaning "soft beaver dam." The fur trade, mainly in beaver pelts, was one of the region's longest lasting commercial enterprises. Among these forested, sheltered islands on the world's most expansive freshwater lake, traders built posts for shipping furs bound for Europe via Montreal and, later, down the Mississippi River. Shipping itself, symbolized by the lakeshore's light stations, became an economic mainstay making eastern and midwestern markets accessible to local fishing, quarrying, logging, mining, and tourism enterprises. Today's national lakeshore offers myriad water and wilderness recreation pursuits amid occasional glimpses of past human activity on the islands. The beaver, superbly adapted to a woodland waterways environment, symbolizes the region's ecological makeup and its early exploitation. Loggers cut conifers and deciduous trees extensively in the late 19th and early 20th centuries. The sandstone cliffs on the lake's edge were quarried as building materials for the Midwest's growing cities. As industries following the fur trade rose and fell, an ebb and flow of tourists pilgrimaged here for the beauty and lakeshore recreation of the Apostle Islands and Bayfield Peninsula. That tradition continues today.
The Lake
Lake Superior defines the Apostle Islands—it shapes their ecosystems and sustains life in the region. At 350 miles long, 160 miles wide, and 1,332 feet deep, Lake Superior is the world's largest expanse of fresh water, containing nearly 10 percent of the world's fresh surface water. This mass affects weather patterns and serves as a barrier that helps determine the composition and distribution of island species.
The Land
About one billion years ago, streams carried sand into the region that eventually solidified into sandstone. In the past two million years, glaciers scoured the sandstone, enlarged channels and valleys, and deposited thick layers of gravel, sand, and clay. Lake Superior continues to sculpt these landmasses by carving sandstone cliffs, eroding earthen bluffs, and creating one of the most diverse collections of sandy shorelines in the Great Lakes.
The Edge
The stories of the Apostle Islands are revealed along their "edges"—where water meets land, field meets forest, culture meets culture, and the past meets the future. Shorelines produce the islands' most spectacular scenery. Abundant resources have attracted many cultures to the region. The national lakeshore protects evidence of the past while preserving processes that sustain the region's plant and animal life for the future.
Fur Trade
From about 1660 to 1840 this was a major fur trading center. European demand for robes and felt hats made from beaver pelts fostered a lucrative trade. At first traders exchanged knives, needles, cookpots, and other goods for furs trapped by Native people. Later, fur companies hired trappers and voyageurs who hauled the goods in 25-and 36-foot birchbark canoes on the 2,500-mile "voyageurs' highway." For a decade in the mid-1800s Frances Hopkins traveled the traditional canoe routes of Canada with her husband, painting pictures of voyageurs.
Ojibwe People
According to their stories, Ojibwe people have lived in this area since the 1400s. They hunted and gathered food on many islands but regard Madeline Island as their ancestral home.
Quarrying
Shoreline sandstone supplied brownstone for urban Midwest buildings for about 30 years, beginning in 1869. Quarry pits remain on the islands of Stockton, Hermit, and Basswood. Easy access to boat transport made quarrying economical until extraction costs increased and architectural styles changed. The old Bayfield County courthouse, built of brownstone in 1883, houses the Apostle Islands National Lakeshore Visitor Center and park headquarters.
Light Stations and Old-Growth Forest
Between 1857 and 1891 six light stations were built on the Apostle Islands to safely guide ships to Lake Superior ports. The lights saved lives, but they protected more than ships and crews. The islands lie on the edge where northern hardwood forests of sugar maple, yellow birch, oak, and hemlock meet boreal forests of balsam fir, spruce, and paper birch. Reserves established near lighthouses on Devils, Outer, Raspberry, and Sand Islands to provide firewood for keepers resulted in the protection of some of the best examples of old-growth forests in the region.
Tourism
The Apostle Islands have long attracted people to Lake Superior's shore to enjoy recreational experiences. Excursion steamboats, then railroads, brought tourists to Bayfield and the islands beginning in the mid-18505. Tourism and recreation were important elements leading to the establishment of Apostle Islands National Lakeshore.
The Fishery
No one can say when someone pulled the first silvery fish from Lake Superior, but lake trout, whitefish, and herring have sustained individuals, families, and tribes for generations. Since the 19th century, commercial fisheries have shipped tons of fish to market packed on ice harvested from the lake.
Logging
The forested islands attracted lumbermen in the mid-1800s, when population gains spurred a demand for timber construction. Pine logs were rafted across the lake to sawmills at Bayfield, Washburn, and Ashland. After exhausting white pine and hemlock, loggers cut hardwoods, an industry that lasted into the 1950s. Today, maturing forests are again covering the islands.
Modern Fishing
Nets began to come up empty in the 1950s, as the parasitic sea lamprey sucked the life out of lake trout and the fishery. Decades of work by biologists and limited takes by anglers have allowed fish populations to recover. The boats of commercial fishermen and recreational anglers are once again common sights among the islands.
Bird Habitat
The Apostle Islands provide crucial breeding habitat for a diversity of birds. More than 150 bird species nest here, including bald eagles. Most of these species are migratory; nearly two thirds of them winter in Central or South America. The islands also serve as rest stops for birds crossing the lake in spring and fall.
Exploring Apostle Islands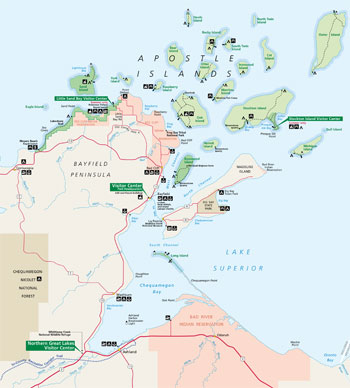 (click for larger map)
Lakeshore Map and Guide
Visitor Center In Bayfield the old county courthouse houses the Apostle Islands National Lakeshore Visitor Center. Here visitors can view audiovisual programs and exhibits portraying the park's history, natural history, and recreation opportunities. Books, maps, nautical charts, and other publications are offered for sale by a nonprofit group that supports the park's information and visitor services programs.
Little Sand Bay Visitor Center is open from June to September with exhibits, sales items, and an information desk. Stockton Island Visitor Center is open daily in summer as a self-service facility with intermittent staffing. Park rangers and volunteers have radio contact with the mainland. Rangers on park patrol boats and the U.S. Coast Guard monitor marine channel 16 to answer questions or respond to emergencies.
Programs and Activities Schedules for ranger-led activities are available at Apostle Islands National Lakeshore visitor centers or from any ranger. Events include fish camp and lighthouse tours, nature walks, and the junior ranger and campfire programs.
Cultural and Natural Features All natural, historic, and archeological features are protected. Native berries and nuts may be gathered by hand for personal consumption. Dead wood on the ground in forested areas or unvegetated beach areas may be collected for firewood. Chainsaws may not be operated in the park. Rock collecting is not permitted. Leave any historic or archeological artifacts where you find them.
Accommodations and Services Island campsites are the only overnight facilities within the lakeshore. Nearby communities have motels, restaurants, and stores. Campgrounds with a range of facilities are run by private, tribal, city, county, state, and national forest entities.
Respect Property Rights Some cabins and docks within national lakeshore boundaries are privately occupied. Respect the rights of the occupants; do not trespass.
Pets All pets must be on a leash—no longer than six feet—and under control at all times. They must not be left unattended. Pets are prohibited on excursion boats.
Hiking Hiking trails are available on the mainland and many islands. Trails range from South Twin's ¼-mile trail to Stockton's 14.5 miles. Oak Island's interesting topography, overlook, and backcountry camping opportunities make its 11.5 miles of trails popular with hikers. If you get lost, stay near the water's edge and signal for help. Hiking near cliffs can be dangerous because of slippery rock. Backcountry hikers—tell a ranger of your plans and report in when you return.
Camping Camping permits are required for all camping in Apostle Islands National Lakeshore. A camping permit fee is charged. Permits allow campers to reserve campsites in advance. For information on permits, campsite location, facilities, areas closed to camping, and fees, check the "Camping" brochure. Practice "Leave No Trace" outdoor skills. Pack out all trash. Build fires in fire receptacles where provided. Bears may be found throughout the islands. Food must be secured in bear-resistant storage lockers, in galley areas of boats, or hung out of reach.
Wintertime Winter activities are increasing in popularity. Park hiking trails may be used for skiing and snowshoeing. Over-ice travel is permitted, but extreme caution is recommended because conditions can be unpredictable and hazardous. Snowmobiles may be operated only on approved routes in the park. Winter campers should register at the park headquarters visitor center in Bayfield. Winter's beauty masks harsh conditions that pose extreme dangers to the unwary and unprepared. Temperatures of -10°F and wind chill factors of -30°F are not uncommon. Up to 100 inches of snow fall each year.
Hunting Hunting and trapping are allowed in designated areas of the national lakeshore. Special regulations apply that may differ from published state regulations. Wisconsin state licenses or certain tribal identification cards are required. Contact park rangers for information regarding authorized dates, times, and locations.
Red Cliff Indian Reservation Lands owned by the Red Cliff Band of Lake Superior Chippewas are adjacent to the mainland portion of the national lakeshore. The Red Cliff community is three miles north of Bayfield. Facilities and services include a casino, marina, boat launch ramp, and campground (fees).
Madeline Island Not part of the national lakeshore, Madeline Island attractions include Big Bay State Park and the Madeline Island Historical Museum. Car ferries—printed schedules available—run from spring breakup to winter freeze.
Fees A camping permit fee is charged. Additional user fees may be charged for overnight camping and boating and for guided lighthouse tours. Please see a ranger or www.nps.gov/apis for details. Eighty percent of all fees collected stay at Apostle Islands and are used to improve interpretation, resource protection, and facilities.
Boat Trips A variety of excursion trips (fee) to and through the islands depart from Bayfield daily in summer. Water taxis (fee) can be contracted to provide service from Bayfield to island points for one to six passengers. Obtain information on schedules and rates for boat trips and services from the visitor center in Bayfield.
Boating Boat launch facilities are available at Little Sand Bay and at several locations outside the national lakeshore boundary. Marinas in the area offer equipment, gear, fuel, mooring, and storage for boats up to 60 feet long. Obey posted regulations and information signs. Rent sailboats and arrange daylong and half-day trolling trips for trout and salmon at area marinas. Floatplanes and personal watercraft (jet skis) may not be operated in park waters.
Scuba Diving Shipwrecks and sea caves are among the diving opportunities here. A free permit is required to scuba dive in park waters. The permit can be obtained at the park's mainland visitor centers. Do not disturb or remove artifacts; all are protected by law. Divers must display a dive flag.
Sea Kayaking Sea kayaking is a popular way to explore islands close to the mainland. Good launch sites are found at Little Sand Bay and Meyers Beach. Equipment rentals and lessons are available in Bayfield.
Fishing Islands offer no inland fishing, but Lake Superior provides good sport fishing for lake, brown, and rainbow trout and other salmon species. Peninsula streams harbor brook, rainbow, and brown trout and spawning salmon. A Wisconsin fishing license and a trout stamp are required; state regulations apply. Refuge areas are closed to fishing.
Swimming Lake Superior waters seldom are warm enough for comfortable swimming except in shallow, protected bays. Swimming within 100 feet of public docks is prohibited within the national lakeshore. Underwater hazards make diving from rocky shorelines dangerous. No lifeguards are on duty.
Drinking Water Warning Filter or boil lake water for at least two minutes before drinking. Do not pollute the lake with soap, fish entrails, human waste, or other contaminants. Holding Tanks and Bilges Pumping of holding tanks and oily bilges into the lake violates state and federal regulations, which are strictly enforced here.
WARNING, Dangerous Waters. Lake Superior waters are dangerously cold, and sudden storms arise. The lake's history is replete with shipwrecks and violent storms. Small boats, canoes, and kayaks should be used with extreme caution on Lake Superior. Just offshore, 50°F waters can cause even strong swimmers to suffer hypothermia in 15 minutes. Swimming is not recommended in Lake Superior. Keep an eye on the weather even on calm days. Before you set out, get the current weather forecast from the U.S. Coast Guard Station at Bayfield or at an island ranger station. The marine weather frequency on your marine radio is 162.55 MHz (Duluth). For safe navigation you should refer to NOAA nautical charts #14973 or #14966.
Source: NPS Brochure (2004)
Establishment

Gaylord Nelson Wilderness — December 8, 2004
Apostle Islands National Lakeshore — September 26, 1970



For More Information
Please Visit The

OFFICIAL NPS
WEBSITE
Brochures ◆ Site Bulletins ◆ Trading Cards

Documents
50th Anniversary Junior Ranger Activity Guide, Apostle Islands National Lakeshore (2020)
A Guide to Apostle Islands National Lakeshore, Wisconsin: Handbook #141 (1988)
A Unique Collection of Islands: The Influence of History, Politics, Policy and Planning on the Establishment of the Apostle Islands National Lakeshore (Harold C. Jordahl, Jr., April 1994)
Acoustic Monitoring for Bats at Apostle Islands National Lakeshore: Data Summary Report, 2015–2019 NPS Natural Resource Data Series NPS/GLKN/NRDS—2021/1320 (Katy R. Goodwin and Alan A. Kirschbaum, April 2021)
Aquatic Studies in National Parks of the Upper Great Lakes States: Past Efforts and Future Directions NPS Technical Report NPS/NRWRD/NRTR-2005/334 (Brenda Moraska Lafrancois and Jay Glase, July 2005)
Archeological Investigations at Little Sand Bay Visitor Center area Apostle Islands National Lakeshore Midwest Archeological Center Archeology Report Series No. 15 (Dawn Bringleson, 2017)
Archeological Excavations at the Manitou Fish Camp, Apostle Islands National Lakeshore Midwest Archeological Center Technical Report Series No. 4(Jeffrey J. Richner, 1991)
Assessment of Coastal Water Resources and Watershed Conditions at Apostle Islands National Lakeshore (Wisconsin) NPS Natural Resource Technical Report NPS/NRWRD/NRTR-2007/367 (George J. Kraft, Christine Mechenich, David J. Mechenich and Stanely W. Szczytko, April 2007)
Bat Monitoring Protocol for the Great Lakes Inventory and Monitoring Network — Version 1.0 (NPS Natural Resource Report NPS/GLKN/NRR-2020/2126 (Katy G. Goodwin, May 2020)
Bi-Annual Research and Monitoring Report, Apostle Islands National Lakeshore (Peggy Burkman and Julie Van Stappen, c2004)
Biological Studies and Mapping of Shoreline Rock Pools in Three Lake Superior National Parks NPS Natural Resource Technical Report NPS/MWRO/NRTR—2014/907 (Alexander T. Egan, Toben Lafrancois, Mark B. Edlund, Leonard C. Ferrington, Jr. and Jay Glase, September 2014)
Changes in Lake Superior ice cover at Bayfield, Wisconsin (Forrest Howk, extract from Journal of Great Lakes Research, v35 n1, March 2009, ©Elsevier, Inc., all rights reserved)
Climate Change and National Parks (Bob Krumenaker, February 11, 2017)
Climate Change and the Apostle Islands: A Park Perspective (Bob Krumenaker, extract from Ranger, Summer 2007, ©Association of National Park Rangers)
Climate Change Impacts to the Great Lakes: Lessons from Lake Superior and the Apostle Islands (Bob Krumenaker, 2014)
Climate Change Scenario Planning Workshop Summary, Apostle Islands National Lakeshore, April 23-24, 2015 (Jonathan Star, Nicholas Fisichelli, Gregor Schuurman, Leigh Welling, Richard Rood and Laura Briley, 2015)
Climate Change Vulnerability Assessment for Terrestrial Ecosystems at Apostle Islands National Lakeshore NPS Natural Resource Report NPS/APIS/NRR-2020/2121 (Stephen Handler, Peggy Burkman, Julie Van Stappen, Sarah E. Johnson, Eric Epstein, Ryan O'Connor, Gregor W. Schuurman, Alexia Prosperi, Laura J. Briley, Dave Cooper, Matthew J. Cooper, Rob Croll, Ulf Gafvert, Louis R. Iverson, Bob Krumenaker, Brent M. Lofgren, Nisogaabo Ikwe Melonee Montano, Hannah Panci, Damon Panek, Linda R. Parker, Matthew P. Peters, Kristen M. Schmitt, Christopher W. Swanston and Naomi Tillison, May 2020)
Contaminants in Bald Eagle Nestlings at Apostle Islands National Lakeshore, Mississippi National River and Recreation Area, and the St. Croix National Scenic Riverway - Data Summary, 2006-2008 NPS Natural Resource Data Series NPS/GLKN/NRDS-2009/001 (Bill Route and Rebecca Key, June 2009)
Cultural Landscape Report and Environmental Assessment, Raspberry Island Light Station, Apostle Islands National Lakeshore, Bayfield County, Wisconsin (National Park Service, HRA Gray & Pape LLC and Woolpert LLP, November 2004)
Cultural Landscape Report — Historic Structure Report: Introduction and Overall Development History, Volume I, Apostle Islands National Lakeshore Light Stations of Michigan Island, Outer Island, Devils Island, Long Island and Sand Island (Anderson Hallas Architects, PC, July 2011)
Cultural Landscape Report — Historic Structure Report: Michigan Island CLR/HSR, Volume II, Apostle Islands National Lakeshore Light Stations of Michigan Island, Outer Island, Devils Island, Long Island and Sand Island (Anderson Hallas Architects, PC, July 2011)
Cultural Landscape Report — Historic Structure Report: Outer Island CLR/HSR, Volume III, Apostle Islands National Lakeshore Light Stations of Michigan Island, Outer Island, Devils Island, Long Island and Sand Island (Anderson Hallas Architects, PC, July 2011)
Cultural Landscape Report — Historic Structure Report: Devils Island CLR/HSR, Volume VI, Apostle Islands National Lakeshore Light Stations of Michigan Island, Outer Island, Devils Island, Long Island and Sand Island (Anderson Hallas Architects, PC, July 2011)
Cultural Landscape Report — Historic Structure Report: Long Island CLR/HSR, Volume V, Apostle Islands National Lakeshore Light Stations of Michigan Island, Outer Island, Devils Island, Long Island and Sand Island (Anderson Hallas Architects, PC, July 2011)
Cultural Landscape Report — Historic Structure Report: Sand Island CLR/HSR, Volume VI, Apostle Islands National Lakeshore Light Stations of Michigan Island, Outer Island, Devils Island, Long Island and Sand Island (Anderson Hallas Architects, PC, July 2011)
Cultural Landscapes Inventory: Devils Island Light Station (July 2014)
Cultural Landscapes Inventory: Hadland Fish Camp (June 2014)
Cultural Landscapes Inventory: Hansen Fishery/Farm (July 2014)
Cultural Landscapes Inventory: Hokenson Brothers Fishery (July 2014)
Cultural Landscapes Inventory: Long Island Light Station (June 2014)
Cultural Landscapes Inventory: Manitou Fish Camp (July 2014)
Cultural Landscapes Inventory: Michigan Island Light Station (July 2014)
Cultural Landscapes Inventory: Outer Island Light Station (July 2014)
Cultural Landscapes Inventory: Raspberry Island Light Station, Apostle Islands National Lakeshore (1999)
Cultural Landscapes Inventory: Rocky Island Fishing/Summer Community, Apostle Islands National Lakeshore (1999)
Cultural Landscapes Inventory: Sand Island Light Station (July 2014)
Deer Hunting on the Apostle Islands (Ben F. Waskow and George A. Curran, extract from Wisconsin Conservation Bulletin, October 1954)
Development Concept Plan and Environmental Assessment for Little Sand Bay, Apostle Islands National Lakeshore (Draft Revised, January 2002)
Draft General Management Plan / Wilderness Management Plan / Environmental Impact Statement, Apostle Islands National Lakeshore, Wisconsin (July 2009)
Draft Wilderness Study / Environmental Impact Statement, Apostle Islands National Lakeshore, Wisconsin (June 2003)
Early Agriculture Within the Boundaries of the Apostle Islands National Lakeshore: An Overview of Bear, Ironwood, Michigan, Oak, Otter, Raspberry, Rocky, South Twin and Stockton Islands and the Mainland Unit (Additional Information for Basswood Island Also Included) (Arnold R. Alanen, June 1985)
Erosion Control at Outer Island Light Station, Revised Environmental Assessment (Woolpert LLP, April 2003)
Farming the Lake Superior Shore: Agriculture and Horticulture on the Apostle Islands, 1840-1940 (Arnold R. Alanen and William H. Tishler, Wisconsin Magazine of History, Vol. 79 No. 3, Spring 1996, ©Wisconsin Historical Society)
Fire Management Plan for Apostle Islands National Lakeshore (Draft, February 2005)
Fire, Vegetation, and Water-level History from the Stockton Island Tombolo, Apostle Islands National Lakeshore NPS Natural Resource Report NPS/APIS/NRR—2021/2221 (Robert K. Booth, Matthew G. Huff, Julia A. Bebout, Elizabeth A. Lynch and Gregor W. Schuurman, February 2021)
Flora and Vegetation of the Apostle Islands National Lakeshore and Madeline Island, Ashland and Bayfield Counties, Wisconsin (Emmett J. Judziewicz and Rudy G. Koch, The Michigan Botanist, Vol. 32 No. 2, March 1993)
Foundation Document Overview, Apostle Islands National Lakeshore, Wisconsin (January 2017)
General Management Plan: Apostle Islands National Lakeshore, Wisconsin (September 1989)
General Management Plan, Environmental Assessment: Apostle Islands National Lakeshore, Wisconsin Draft (June 1989)
General Management Plan, Wilderness Management Plan, Environmental Impact Statement: Apostle Islands National Lakeshore, Wisconsin (April 2011)
Geologic Map of Apostle Islands NL, Wisconsin (2015)
Geologic Resources Inventory Report, Apostle Islands National Lakeshore NPS Natural Resource Report NPS/NRSS/GRD/NRR-2015/972 (Trista L. Thornberry-Ehrlich, May 2015)
Great Lakes Junior Ranger Activity Book (Date Unknown)
Historical Context Study: Great Lakes Navigation and Navigational Aids (Theodore J. Karamanski, 2017)
Historic Furnishing Study, Package No. 150: Hokenson Fishing Dock, Apostle Islands National Lakeshore, Wisconsin (David L. Fritz, February 1984)
Historic Furnishings Report: Raspberry Island Light Station--Apostle Islands National Lakeshore (David H. Wallace, 1989)
Historic Resource Study, Hokenson Fishing Dock, Apostle Islands National Lakeshore, Wisconsin (David L. Fritz, February 1984)
Historic Structure Report, Architectural Data Section, Package No. 150: Hokenson Fish Dock Buildings, Apostle Islands National Lakeshore, Little Sand Bay, Wisconsin (Michele M. Benda, November 1978)
Historic Structure Report, Historical Data Section, Package No. 150: Hokenson Fishing Dock, Apostle Islands National Lakeshore, Wisconsin (David L. Fritz, February 1984)
Historic Structure Report: Raspberry Island Lighthouse (Historic Structure 08-103A), Apostle Islands National Lakeshore, Wisconsin (Quinn Evans Architects, December 2000)
Impacts of Visitor Spending on the Local Economy: Apostle Islands National Lakeshore, 2004 (Daniel J. Stynes, July 2006)
Implementation of a long-term vegetation monitoring program at Apostle Islands National Lakeshore NPS Natural Resource Technical Report NPS/GLKN/NRTR-2012/613 (Suzanne Sanders and Jessica Grochowski, August 2012)
Inventory of Nearshore Fish Population Densities and Community Structures at Apostle Islands National Lakeshore and Isle Royale National Park NPS Natural Resource Technical Report NPS/GLKN/NRTR-2009/163 (Owen T. Gorman and Seth A. Moore, February 2009)
Junior Ranger Activity Guide, Apostle Islands National Lakeshore (2011)
Long-Range Interpretive Plan, Apostle Islands National Lakeshore (September 2002)
Monitoring Water Quality of Inland Lakes, Great Lakes Network, 2009 and 2010: Data Summary Report NPS Natural Resources Data Series NPS/GLKN/NRDS-2011/163 (Joan E. Elias and Richard A. Damstra, May 2011)
Monitoring Water Quality of Inland Lakes, Great Lakes Network, 2011: Data Summary Report NPS Natural Resources Data Series NPS/GLKN/NRDS-2012/363 (Joan E. Elias and Richard A. Damstra, September 2012)
Monitoring Water Quality of Inland Lakes, Great Lakes Network, 2012: Data Summary Report NPS Natural Resources Data Series NPS/GLKN/NRDS-2014/629 (Richard A. Damstra, David Vander Meulen and Joan Elias, March 2014)
National Register of Historic Places Nomination Forms
Apostle Islands Lighthouses (Herschel L.D. Parnes, 1975)
Bass Island Brownstone Company (Herschel L.D. Parnes, July 23, 1975)
Hadland Fishing Camp (Herschel L.D. Parnes, July 17, 1975)
Hokenson Fishing Dock (Herschel L.D. Parnes, July 21, 1975)
Manitou Camp (Kathleen Lidfors and Jill York, May 1981, revised August 1982)
Rocky Island Historic Distrit (Christine C. Baker, Robert W. Mackreth and Katy E. Holmer, May 30, 2007)
Sevona Cabin (Herschel L.D. Parnes, July 18, 1975)
Shaw Farm (Herschel L.D. Parnes, August 5, 1975)
Natural Resource Highlights: Spring 2009 • Winter 2009/2010 • Summer 2010 • Spring 2011
New Wildernesses Can Be Created: A Personal History of the Gaylord Nelson Wilderness at Apostle Islands National Lakeshore (Bob Krumenaker, extract from The George Wright Forum, v22 n3, 2005)
Park Newspaper/Newsletter (Around the Archipelago): 2001 • 2004 • 2005 • 2006 • 2007 • 2008 • 2009 • 2010 • 2011 • 2012 • 2013 • 2014 • 2015 • 2016 • 2017 • Spring 2018
People and Places: A Human History of the Apostle Islands, Historic Resource Study of Apostle Islands National Lakeshore (Jane C. Busch, 2008)
Physical and biological parameters, Little Sand Bay, Apostle Islands National Lakeshore, and relationships to various docking designs: Phase II (Center for Lake Superior Environmental Studies of the University of Wisconsin-Superior, September 15, 1975)
Podcast: Climate Change, Apostle Islands National Lakeshore (undated)
Proceedings of the fourth annual research conference; Apostle Islands National Lakeshore, October 29, 1982 (Terry Daulton, ed., 1982)
Rapid warming of Lake Superior (Jay Austin, February 2007)
Resource Briefs
Bats of Apostle Islands National Lakeshore (6/2016)
Bees in the Park (4/2013)
Birds and Climate Change (2018)
Capture our Context: New Walkway and Archaeological Survey (10/2015)
Deer Hunting in the Apostle Islands National Lakeshore (10/2016)
Invasive Plant Management in the Apostle Islands (9/2015)
Monitoring Vegetation in the Apostle Islands (3/2012)
Monitoring Water Quality in the Apostle Islands (2/2009)
Piping Plovers in the Apostle Islands National Lakeshore (11/2020)
Sandcapes — Healthy or Not? (11/2011)
Status of Martens on the Apostle Islands (2015)
Status of Martens on the Apostle Islands (2016)
Winged Pigweed Invades Piping Plover Habitat (11/2011)
Rewilding the Islands: Nature, History and Wilderness at Apostle Islands National Lakeshore (James W. Feldman, University of Wisconsin-Madison, 2004)
Report of Two Day Underwater Survey of Selected Historical Sites at Apostle Islands Lakeshore with Considerations for Future Research (Kate Lidfors, Thom Holden, Ellen Mauer, Jerry Livingston and Larry Murphy, 1982)
Safety, Environmental Management, and Sustainability, Apostle Islands National Lakeshore Superintendent's Order #31 (March 27, 2013)
Small mammal inventory of the Apostle Islands National Lakeshore and the St. Croix National Scenic Riverway Great Lakes Network Report GLKN/2005/03 (Gus Smith and Emily Fawver, 2005)
Songbird Monitoring in the Great Lakes Network Parks: 2014-2018 NPS Natural Resource Report NPS/GLKN/NRR-2021/2217 (Samuel G. Roberts, Zachary S. Ladin, Elizabeth L. Tymkiw, W. Gregory Shriver and Ted Gostomski, January 2021)
Submerged Cultural Resources Site Report: NOQUEBAY - Apostle Islands National Lakeshore Southwest Cultural Resources Center Professional Papers No. 7 (Toni Carrell, 1985)
Sustainability Best Management Practices, Apostle Islands National Lakeshore (August 2008)
The 1992 Archeological Survey of Long Island, Lake Superior, Apostle Islands National Lakeshore Midwest Archeological Center Technical Report Series No. 47 (Vergil E. Noble, 1996)
The Apostle Islands and the Lumbering Frontier (Charles Twining, Wisconsin Magazine of History, Vol. 66 No. 3, Spring 1983; ©Wisconsin Historical Society)
The Archeological Investigation of Four Lighthouse Complexes at the Western End of Lake Superior: The 1988 Testing Program Within Apostle Islands National Lakeshore Midwest Archeological Center Technical Report Series No. 8 (Vergil E. Noble, 1993)
The Challenging Past and Precarious Future of Canada Yew (Taxus canadensis) in the Apostle Islands National Lakeshore NPS Natural Resource Report NPS/APIS/NRR-2021/2251 (Sarah E. Johnson, Jordan S. Mead, Matthew J. Widen and Emily E. Leonard, April 2021)
The Sandstone Quarries of the Apostle Islands: A Historical Narrative (Kathryn Bishop Eckert, 1985)
The Shaw-Hill Farm Site On Sand Island (Apostle Islands National Lakeshore): Biographical and Site-Related Information (Arnold R. Alanen, June 1990)
Treatments for Cultural Landscapes and Historic Structures of the Light Stations of Michigan, Outer, Devils, Long, and Sand Islands: Environmental Assessment (March 2011)
Understanding the Science of Climate Change: Talking Points — Impacts to the Great Lakes (NPS Natural Resource Report NPS/NRPC/CCRP/NRR-2010/247 (Amanada Schramm and Rachel Loehman, September 2010)
Water resources of the Apostle Islands National Lakeshore, Northern Wisconsin Water-Resources Investigation Report 87-4220 (William J. Rose, 1988)
"What do you do up here?": Tales of a Lake Superior Lighthouse Keeper (Jim Feldman, Wisconsin Magazine of History, Vol. 84 No. 4, Summer 2001; ©Wisconsin Historical Society)
What's New / What's Cool (Newsletter): 2013 • 2014 • 2015 • 2016
Wilderness Study / Environmental Impact Statement, Final, Apostle Islands National Lakeshore, Wisconsin (March 2004)
Wisconsin's Changing Climate: Impacts and Adaptation (Wisconsin Initiative on Climate Change Impacts, Nelson Institute for Environmental Studies, University of Wisconsin-Madison and the Wisconsin Department of Natural Resources, Madison, Wisconsin, 2011)
Zebra Mussel (Dreissena polymorpha) Distribution in Apostle Islands National Lakeshore: SCUBA-based Search and Removal Efforts: 2019–2020 NPS Natural Resource Report NPS/APIS/NRR—2022/2379 (Toben Lafrancois, Mark Hove and Jay Glase, May 2022)
Handbooks ◆ Books

Videos
Apostle Islands National Lakeshore (Robert J. Krumenaker, 2014)