A thin broken strand of islands curves out into the Atlantic Ocean and back again in a sheltering embrace of North Carolina's mainland coast and offshore sounds. For thousands of years these barrier islands—North Carolina's Outer Banks—have survived onslaughts of wind and sea. Their long stretches of beach, sand dunes, marshes, and woodlands are set aside as Cape Hatteras National Seashore. It can be a lonely place; you may walk the beach unseen except by shore birds looking for a meal. It can be a place of discovery; you may visit the 1870 Cape Hatteras Lighthouse, one of many monuments to our encounter with the sea. It can be a wild place; you may be buffeted by a gale or surprised by the honking of large flocks of migrating geese. And it can be an exciting place for surf fishing, swimming, beachcombing, canoeing, sailing, surfing, and snorkeling. Part land, part sea, Cape Hatteras offers rewards from each.
Where Land and Sea Merge
Cape Hatteras lies at the ocean's edge. But no well-defined boundary marks where sea ends and land begins. Land and sea work in an uneasy alliance here. They share many valuable resources, but the sea rules barrier islands and few places escape its influence. Take a moment to discover this seaside kingdom.
Dwarfed, odd-shaped trees may catch your eye. Severely pruned by salt-laden winds, they are just one example of how the sea affects living things. Closer by the sea, shore birds patrolling the beach for food are fun to watch. Some catch small fish or crabs carried by waves. Others probe sand or search under shells for clams, worms, or insects. Hiking through the maritime forests you briefly leave the sea behind. These woodlands of oak, cedar; and yaupon holly grow on the islands' higher; broader, somewhat protected parts.
Bright red holly berries and wildflowers enliven the mostly green, brown, and blue landscape. It is a landscape that is usually peaceful—but not always. Storms sometimes batter the islands with fierce winds and waves. Over the years you can witness the retreat of the shoreline from these violent attacks.
For the tiny ghost crab who lives on the beach in a wave-washed underground burrow survival is a matter of adaptation, of adjusting to meet the demands of the land and sea.
In protected sounds west of the islands you can find excellent opportunities for crabbing and clamming. The ocean also harbors a bounty of life-channel bass, pompano, sea trout, bluefish, and other popular fish. Wintering snow geese, Canada geese, ducks, and many other bird species populate the islands. Best times for birding are during fall and spring migrations and in winter.
Salt marshes are food sources for birds and other animals year-round. Here the sound waters meet the marsh twice each day as tides come and go, exchanging and replenishing nutrients. At the edge of the ocean you stand always on the threshold of a new experience.
Graveyard of the Atlantic
Treacherous waters off the coast of the Outer Banks bear the name Graveyard of the Atlantic, a grim but fitting epithet. Over 600 ships wrecked here as victims of shallow shoals, storms, and war. Diamond Shoals, a bank of shifting sand ridges hidden beneath a turbulent sea off Cape Hatteras, has never promised safe passage for ships. But seafarers often risked the shoals to take advantage of the north- or south-flowing currents passing nearby. Many never reached their destination.
Fierce winter nor'easters and tropics-born hurricanes drove many ships aground, including the schooner G. A. Kohler in 1933. Other ships were lost in wars. World War II German submarines sank so many Allied tankers and cargo ships here that the waters earned a second sobering name—Torpedo Junction.
In the past 400 years the graveyard has claimed many lives, but island villagers saved many. As early as the 1870s villagers served in the U.S. Life Saving Service. Others staffed lighthouses built to guide mariners. Later, when the U.S. Coast Guard became guardian of the nation's shores, many residents joined its ranks. When rescue attempts failed, villagers buried the dead and salvaged shipwreck remains. Few ships wreck today, but storms still uncover the ruins of the old wrecks that lie along the beaches of the Outer Banks.
Exploring Cape Hatteras
Touring the Islands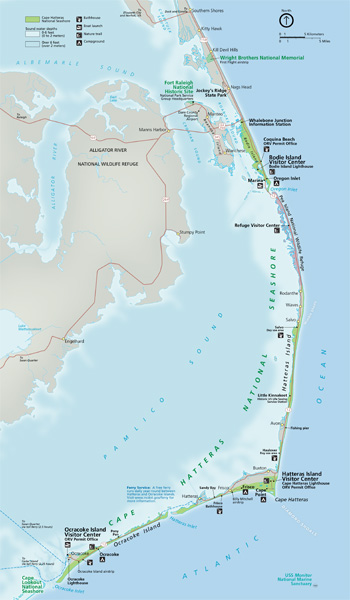 (click for larger map)
Cape Hatteras National Seashore stretches north to south across three islands, Bodie, Hatteras, and Ocracoke. N.C. Hwy. 12, a narrow, paved road, and Hatteras Inlet ferry link the islands. The highway goes through eight villages that reflect the nearly 300-year history of the Outer Banks. The villages are not part of the park. For more information stop at any park visitor center. Activity schedules are available. For places to camp, fish, swim, and hike.
Bodie Island Bodie Island Lighthouse, built in 1872, still has its original 1st-order Fresnel lens (not open for climbing). Bodie Island marshes teem with waterbirds, visible from a viewing platform near the lighthouse. See the sportfishing catch-of-the-day at Oregon Inlet Marina when off-shore boats return in late afternoon.
Hatteras Island Built in 1870, Cape Hatteras Lighthouse is the world's tallest brick lighthouse—l98.5 feet (open for climbing in summer). The nearby Buxton Woods Nature Trail winds through the maritime woods. Multiple access areas to Pamlico Sound let you explore the Seashore's marshes and wetlands.
Ocracoke Island This isolated island and its small harbor village retain much of their early charm and character. Visit the Pony Pen to see descendents of a horse herd that once freely roamed the island. Ocracoke Lighthouse, built in 1823, is North Carolina's oldest operating lighthouse (not open for climbing). Because it is close to the Gulf Stream, the island offers excellent shelling opportunities.
Camping
The four park campgrounds, Oregon Inlet, Cape Point, Frisco, and Ocracoke are open in summer; contact the park for opening and closing dates. You can reserve Ocracoke campsites for June, July, and August by calling the National Park Service reservation system. All other campsites are first-come, first-served. Camping fees are charged. Camping is allowed only in designated campgrounds. All campgrounds have cold showers, drinking water, tables, fire grills, and modern restrooms. (No utility hookups.) Dumping stations are near Oregon Inlet, Cape Point, and Ocracoke campgrounds. Sand and wind conditions require longer-than-normal tent stakes. Shade awnings and insect netting will make your camping more enjoyable.
Access, Safety, and Regulations
Motorists can reach the park from the north via U.S. 158 or from the west via U.S. 64 and 264. Two toll ferries travel from the mainland to Ocracoke. Reach the one from Swan Quarter N.C., via U.S. 264, and the one from Cedar Island, N.C., via U.5. 70. From Swan Quarter the ferry trip takes 2½ hours; from Cedar Island 2¼ hours. Reservations are recommended.
Take these tips for a safe visit Unlike swimming pools or lakes, the ocean has strong currents that can make swimming dangerous. If this is your first ocean visit, ask a ranger about swimming safety. Use lifeguarded beaches when possible. Rip currents can pull you straight out into the ocean. If caught in a rip current don't fight the current to return to shore. Instead, swim parallel to shore until you are out of the current then swim to shore. Winds blow floating devices out to sea. Breaking waves can dislocate shoulders. Sand can abrade skin. Broken necks and paralysis can result from riding waves and being thrown into the sand headfirst. Ocracoke and Avon have limited medical services, and the nearest hospital is in Nags Head.
Bright sun, water, and sand can make you sunburn quickly. Brief exposure, light clothing, and sunblock are recommended. Use effective repellent for mosquitoes and other insect pests, and netting for camping. Wear shoes when on sand or in campgrounds. In winter wear warm, wind-resistant clothing—high humidity and northerly winds intensify the cold.
Hurricanes may occur from June to November. Don't take storms or nor'easters lightly at any time of the year. N.C. Hwy. 12 may overwash. Officials try to warn you in time to leave areas if a storm threatens.
Your pet is welcome at the park, but must be on a six-foot leash and under your control at all times. Pets are not allowed on designated swim beaches or in resource closures or buildings. Don't leave pets unattended and please clean up after them. Service animals are welcome in the park.
Always walk—never drive—across barrier dunes to sand beaches. Park your car in designated areas to avoid getting stuck in soft sand. Vehicles properly equipped to drive on soft sand must use access ramps. Check at park visitor centers for regulations on off-road vehicle travel. Bicyclists must use extreme caution; there are no established bike trails in the park.
Firearms For firearms regulations, check at the visitor center or visit the park website.
Source: NPS Brochure (2011)
Establishment

Cape Hatteras National Seashore — Jan. 12, 1953 (established)
Cape Hatteras National Seashore — Aug. 17, 1937 (authorized)



For More Information
Please Visit The

OFFICIAL NPS
WEBSITE
Brochures ◆ Site Bulletins ◆ Trading Cards

Documents
1973 Buxton Beach Nourishment Project: An Annotated Photographic Atlas, Cape Hatteras National Seashore, North Carolina (Robert Dolan, Bruce Hayden, Preston Riddel and John Ponton, Coastal Research Associates, February 1974)
A History of the Cape Hatteras Light Station, Cape Hatteras National Seashore, North Carolina (F. Ross Holland, Jr., September 30, 1968)
Assessment of Coastal Water Resources and Watershed Conditions at Cape Hatteras National Seashore, North Carolina NPS Natural Resource Technical Report NPS/NRWRD/NRTR-2006/351 (Michael A. Mallin, Matthew R. McIver and Virginia L. Johnson, May 2006)
Atlantic National Seashores in Peril: The Threats of Climate Disruption (Stephen Saunders, Tom Easley, Dan Findlay and Kathryn Durdy, ©The Rocky Mountain Climate Organization and Natural Resources Defense Council, August 2012, all rights reserved)
Beach and Sand Dune Erosion Control at Cape Hatteras National Seashore: A Five-Year Review (1956-1961) (Edward Nash, 1962)
Beach Erosion and Beach Nourishment, Cape Hatteras, North Carolina Natural Resource Report No. 4 (Robert Dolan, 1972)
Birds of the Bodie Island Pond and the Roadside Ponds and Marshes, Cape Hatteras National Seashore, North Carolina CPSU Technical Report No. 46 (Jim Boone, April 1988)
Coastal Erosion at Cape Hatteras: A Lighthouse in Danger NPS Research/Resources Management Report SER-65 (Lorance Dix Lisle and Robert Dolan, 1983)
Coastal Vulnerability Assessment of Cape Hatteras National Seashore (CAHA) to Sea-Level Rise USGS Open-File Report 2004-1064 (Elizabeth A. Pendleton, E. Robert Thieler and S. Jeffress Williams, 2005)
Cultural Landscape Report: Bodie Island Light Station, Cape Hatteras National Seashore (Susan Hitchcock, August 2014)
Cultural Landscape Report, Cape Hatteras Light Station (Susan Hart Vincent, 2003)
Dune Stabilization and Beach Erosion, Cape Hatteras National Seashore, North Carolina Natural Resource Report No. 5 (Robert Dolan and Paul Godfrey, 1972)
Ethnohistorical Description of the Eight Villages adjoining Cape Hatteras National Seashore and Interpretive Themes of History and Heritage, Volume 1 (Impact Assessment, Inc. November 2005)
Ethnohistorical Description of the Eight Villages adjoining Cape Hatteras National Seashore and Interpretive Themes of History and Heritage, Volume 2 (Impact Assessment, Inc. November 2005)
Foundation Document, Cape Hatteras National Seashore, North Carolina (September 2011)
Foundation Document Overview, Cape Hatteras National Seashore, North Carolina (January 2015)
General Management Plan/Development Concept Plan/Amended Environmental Assessment, Cape Hatteras National Seashore, North Carolina (January 1984)
Geologic Resources Inventory Report, Cape Hatteras National Seashore NPS Natural Resource Report NPS/NRPC/GRD/NRR-2015/964 (C.A. Schupp, May 2015)
Historic Furnishings Report: Little Kinnakeet Life-Saving Station (1874-1915)/Coast Guard Station (1915-1954), Cape Hatteras National Seashore, North Carolina (David H. Wallace, 1991)
Historic Grounds Study: Little Kinnakeet Life-Saving and Coast Guard Station, Cape Hatteras National Seashore (Harry H. Sloat, August 1988)
Historic Furnishings Report: Principal Keeper's Quarters, Cape Hatteras Light Station, Cape Hatteras National Seashore, North Carolina (David H. Wallace, 1991)
Historic Resource Study, Cape Hatteras National Seashore (Louis Torres, 1985)
Historic Resource Study: Pea Island Life-Saving Station, Rodanthe, North Carolina, Coast Guard Station #177 (Douglas Stover, 2008)
Historic Structure Report: Bodie Island Coast Guard Station, Cape Hatteras National Seashore (Joseph K. Oppermann, 2005)
Historic Structure Report: Bodie Island Life Saving Station & Boat House, Cape Hatteras National Seashore (Joseph K. Oppermann, 2005)
Historic Structure Report: Bodie Island Lighthouse & Oil House, Cape Hatteras National Seashore (December 2004)
Historic Structure Report: Bodie Island Light Station, Double Keepers Quarters, Cape Hatteras National Seashore (Joseph K. Oppermann, 2009)
Historic Structure Report: Hatteras Light Station Double Keepers' Quarters, Cape Hatteras National Seashore (Rebecca Cybularz, December 2017)
Historic Structure Report: Hatteras Light Station Oil House, Cape Hatteras National Seashore (Rebecca Cybularz, December 2017)
Historic Structure Report: Hatteras Light Station Principal Keeper's Quarters, Cape Hatteras National Seashore (Rebecca Cybularz, December 2017)
Historic Structure Report, Historical Data Component: Little Kinnakeet Life-Saving Station and Coast Guard Station, Cape Hatteras National Seashore (Jerome A. Greene, September 1987)
Historic Structures Report: Ocracoke Light Station, Cape Hatteras National Seashore (John K. Oppermann, December 2015)
History of the Establishment of Cape Hatteras National Seashore Recreational Area (July 13, 1961)
Man's Impact on the Outer Banks of North Carolina Natural Resource Report No. 3 (Robert Dolan, 1972)
Monitor Builders: A Historical Study of the Principal Firms and Individuals Involved in the Construction of USS Monitor (William N. Still, Jr., 1988)
National Register of Historic Places Nomination Forms
Bodie Island Lifesaving/Coast Guard Station (HS-1A, HS-1B, HS-1c, HS-100A) (Philip Noblitt and Mary Ann Peckham, March 1, 1977)
Bodie Island Light Station (Candice Clifford, July 2002)
Cape Hatteras Light Station (Ralph E. Eshelman and Candice Clifford, July 26, 1997)
Hatteras Weather Bureau Station (Old) (Ronald D. Warfield, February 15, 1977)
Ocracoke Historic District (Genevieve and Tim Keller and M. Ruth Little, 1987, 1990)
Ocracoke Light Station (HS-0-1A, HS-0-1B) (Ronald G. Warfield, January 24, 1977)
Natural Resource Condition Assessment, Cape Hatteras National Seashore NPS Natural Resource Report NPS/CAHA/NRR-2021/2257 (Andy J. Nadeau, Kathy Allen and Andy Robertson, May 2021)
Natural Resource Management Plan, Cape Hatteras National Seashore (undated)
Ocracoke Light Station Rehabilitation Project Environmental Assessment (March 2022) — Newsletter #1 (Spring 2021) — Newsletter #2 (March 2022)
Park Newspaper (In The Park): Summer 1983 • Summer 2009 • 2020
Prospectus of Cape Hatteras National Seashore, North Carolina (March 1938)
Recommendations on Repair of Hatteras Lighthouse (Charles R. Manning and William W. Austin, July 24, 1977)
Report of Investigation Relative to the Proposed Cape Hatteras National Seashore Recreational Area (N.C. Cape Hatteras Seashore Commission, July 20, 1950)
Report on Complete Inspection of Cape Hatteras National Lighthouse (TECH-FAB, Inc., January 24, 1980)
Saving the Cape Hatteras Light Station from the Sea (Paul C. Cloyd, 1999)
Sea Turtle Monitoring and Management at Cape Hatteras National Seashore: 2017 Annual Report NPS Natural Resource Report NPS/CAHA/NRR-2018/1652 (Paul Doshkov, Konrad Losch, William Thompson, Jocelyn Wright, Carolyn Campbell and Nicholas Sweeney, May 2018)
Sediment Management Framework: Final Environmental Impact Statement, Cape Hatteras National Seashore (March 2021)
Shorebird Monitoring and Management at Cape Hatteras National Seashore: 2017 Annual Report NPS Natural Resource Report NPS/CAHA/NRR-2018/1651 (Paul Doshkov, Konrad Losch, William Thompson, Jocelyn Wright and Amber Rhodes, May 2018)
Shoreline Changes Along the Outer Banks of North Carolina Technical Report 70-5 (Linwood Vincent and Robert Dolan, 1970)
State of the Park Report, Cape Hatteras National Seashore, North Carolina State of the Park Series No. 33 (2016)
Study for a National Seaside including Kill Devil Hill, Hatteras, Cape Lookout, Fort Macon Area (Louis P. Croft, 1934)
Study for a National Seashore Park Covering in a General Way the Region from Virginia Beach to Hatteras Inlet and the Dismal Swamp and Specifically Reporting on the Area from Kitty Hawk to Oregon Inlet (Louis P. Croft, undated)
Terrestrial Vegetation Monitoring at Cape Hatteras National Seashore: 2019 Data Summary NPS Natural Resource Data Series NPS/SECN/NRDS-2022/1341 (M. Forbes Boyle and Elizabeth Rico, January 2022)
The Creation and Establishment of Cape Hatteras National Seashore: The Great Depression through Mission 66 (Cameron Binkley, August 2007)
The Disturbance History of Buxton Woods, Cape Hatteras, North Carolina CPSU Technical Report 16 (Susan P. Bratton and Kathryn Davison, October 1985)
The Road Inventory for Cape Hatteras National Seashore (Federal Highway Administration, August 1999)
The USS Monitor: In Situ Preservation and Recovery (John D. Broadwater, extract from Underwater Cultural Heritage at Risk: Managing Natural and Human Impacts, 2006, ©ICOMOS)
U.S. Weather Bureau Station Hatteras, North Carolina, Special Resource Study (Douglas Stover, 2007)
Vegetation Changes on Bodie Island, Cape Hatteras National Seashore, North Carolina NPS Southeast Region Research/Resources Management Report SER-85 (Ian Firth, June 1987)
Handbooks ◆ Books

Videos