Here at Harpers Ferry, where the Potomac River cuts through the Blue Ridge, you encounter the past and its stories in magnificent expanses and hidden quarters. In the force of these rushing waters George Washington envisioned military strength and chose Harpers Ferry as the site for a US Armory. Factories from the early 1800s witnessed innovations that fueled the Industrial Revolution. Here abolitionist John Brown struck a blow against slavery, and soon the Civil War trapped the town between North and South. In the wake of war's devastation, legendary Civil Rights leaders met at Storer College and claimed "every single right that belongs to a freeborn American."
From The Point, where the two rivers meet, you can see the V-shaped water gap. People on the move found their way through this natural corridor—first American Indians, then European settlers. Robert Harper started a ferry across the Potomac here in 1747. By the early 1800s the rivers powered the armory complex and commercial mills. The revolutionary method of manufacturing with interchangeable parts was perfected at the Halls Island rifle factory. See Industry Museum, US Armory site, and Virginius and Halls islands.
In October 1859, determined to arm enslaved people and spark rebellion, John Brown and his followers seized the armory and several other strategic points. The raid failed, with most men killed or captured. Brown's trial and execution focused attention on the issue of slavery and propelled the nation toward civil war. John Brown's Fort stands near its original location; nearby is the John Brown Museum.
Explore wartime Harpers Ferry at Civil War and 1862 Battle of Harpers Ferry exhibits. Visit the battle sites where Gen. Thomas J. "Stonewall" Jackson forced the war's largest surrender of US troops at Bolivar Heights, Schoolhouse Ridge, and the Murphy-Chamber's Farm.
John Brown's raid made Harpers Ferry a symbol of freedom. Visit Black Voices and John Brown Museum. After the war Baptist missionaries founded Storer College to educate students of any race, male or female. Meet alumni like Don Redman and Coralie Franklin Cook in the Storer College exhibit and explore the former Storer College Campus. Harpers Ferry also attracted national Civil Rights leaders and organizations. Visit the Niagara Movement exhibit and the Murphy-Chambers Farm.
Stroll on a level riverside path; climb to a hilltop vista point; join up with the long-distance Appalachian Trail, C&O Canal towpath, or Potomac Heritage Trail. A climb to Jefferson Rock, Loudoun Heights, or Maryland Heights will reward you with vistas of the town and its dramatic natural setting.
Visiting Harpers Ferry National Historical Park
The park is open dawn to dusk every day except Thanksgiving, December 25, and January 1. To visit the Lower Town, park at the visitor center and take the shuttle bus or walking trail. Stop at the visitor center or the Lower Town information center to plan your visit and get site maps of individual park areas and trails. Lower Town buildings are open until 5 pm daily.
EXPLORE THE PARK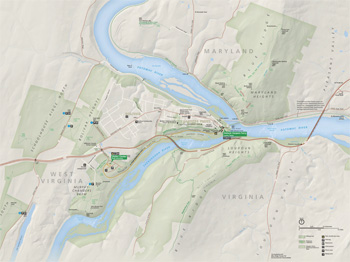 (click for larger map)
Lower Town 1800s town, John Brown's Fort, armory site, period shops, films, exhibits, Appalachian Trail, C&O Canal, confluence of Potomac and Shenandoah rivers. Shopping and restaurants nearby. See detailed map on other side.
Virginius and Halls Islands Ruins of 1800s industrial complex, scenic views, trails.
Jefferson Rock Steep steps and trail to panoramic river view.
Camp Hill Harper Cemetery, restored historic buildings, Storer College campus, Curtis Freewill Baptist Church, scenic views, trails.
Maryland Heights Panoramic view of Lower Town, Union fortifications, trails.
Loudoun Heights Panoramic river views, trails.
SELF-GUIDING BATTLEFIELD DRIVING TOUR
Exhibit panels at sites give detailed information.
Bolivar Heights Site of five Civil War engagements. Panoramic views, trail.
Lower Bolivar Heights Site of 1862 skirmish near present-day road. Earthworks, trail.
Schoolhouse Ridge North Site of Gen. Stonewall Jackson's line during 1862 battle. Trail.
Schoolhouse Ridge South Site of Confederate flanking maneuver in 1862 battle. Trail.
Murphy-Chambers Farm Civil War and civil rights stories came together here. Panoramic views, trails.
ACCESSIBILITY
We strive to make our facilities, services, and programs accessible to all. For information ask at the visitor center or check our website.
SAFETY
Use caution as you explore the park. Rivers can be swift and dangerous. • Lower Town roads are open to car, bus, and truck traffic. • Some park trails go through rugged backcountry. Be prepared.
PARK REGULATIONS
Federal laws protect all natural and cultural features in the park. • For firearms laws and policies, and for additional park regulations, visit our website.
Source: NPS Brochure (2015)
Establishment

Harpers Ferry National Historical Park — May 29, 1963
Harpers Ferry National Monument — June 30, 1944



For More Information
Please Visit The

OFFICIAL NPS
WEBSITE
Brochures ◆ Site Bulletins ◆ Trading Cards

Documents
A Comprehensive History of Armory Dwelling Houses of the U.S. Army at Harper's Ferry, Virginia, 1798-1884 in Three Volumes: Volume I A History of the Construction, Repair, Improvement, and Acquisition of Armory Dwelling Houses, 1798-1841 (Charles W. Snell, November 1981)
A Descriptive Catalog and Directory of 187 Armory Dwelling Houses, 1841-1852, of the U.S. Armory at Harper's Ferry, Virginia, Including Rents Collected, 1823 to 1851 A History of Armory Dwelling Houses, Volume II (Charles W. Snell,, September 1981)
A Historic Resource Study for Storer College, Harpers Ferry, West Virginia (Gloria Gozdzik, Susan Bergeron, James Jewell, Jack McKivigan and Sandra Palmer, January 2002)
A History of Harpers Ferry (W.C. Everhart, undated)
A History of the Physical Plant of the U.S. Armory at Harpers Ferry, Virginia: It's Evolution and Development — Part I (Charles W. Snell, August 1980)
A Physical History of the Plant of the United States Armory at Harper's Ferry, Virginia, 1794 to 1885: Its Evolution, Development, Destruction, and Disposal — Volume II: Reconstruction of the Armory, 1842-1851 (Charles W. Snell, April 1981)
A Physical History of the Plant of the United States Armory at Harper's Ferry, Virginia, 1794 to 1885: Its Evolution, Development, Destruction, and Disposal — Volume III: Reconstruction, Destruction, and Disposal of the Armory, 1852-1885 (Charles W. Snell, April 1981)
A Physical History of the U.S. Musket Factory Plant, 1794 to 1885, U.S. Armory at Harper's Ferry, Virginia — Volume I - 1794 to 1841: Establishment, Construction, and Development of the U.S. Musket Factory, Harpers Ferry National Historical Park, West Virginia (Charles W. Snell, July 1981)
A Physical History of the U.S. Musket Factory Plant, 1794 to 1885, U.S. Armory at Harper's Ferry, Virginia — Volume II - 1842-1885: Reconstruction, Destruction, and Disposal of the U.S. Musket Factory, Harpers Ferry National Historical Park, West Virginia (Charles W. Snell, July 1981)
A Preliminary Study of the Town of Harpers Ferry in 1859, Covering 250 Buildings (Charles W. Snell, April 24, 1958)
A Socioeconomic Atlas for Harpers Ferry National Historical Park and its Region (Jean E. McKendry, Adam J. Novak, Kimberly L. Treadway, Gary E. Machlis and Roger B. Schlegel, 2001)
An Ethnographic Overview and Assessment Study of Harpers Ferry National Historical Park (Megan Bailey, December 2017)
Archeological Investigation of the Armory Street, Lower Armory Grounds, Harpers Ferry Armory (46JF518) Occasional Report of the Regional Archeology Program No. 21 (Darlene Hassler and Justin Ebersole, 2016)
Archeological Investigations in the Backyards of Park Buildings 32 to 36, Harpers Ferry National Historical Park: The Package 116 Prehistoric Occupations National Capital Region Occasional Report No. 10 (Cari C. Young Ravenhorst, ec., 1994)
Archeological Views of the Upper Wager Block, A Domestic and Commercial Neighborhood in Harpers Ferry National Capital Region Occasional Report No. 11 (Jill Y. Halchin ed., 1994)
A History of the Island of Virginius 1751 to 1870 (Charles W. Snell, December 4, 1958)
A Social Science Plan for the Harpers Ferry Center (Gary E. Machlis and Lois H. Silverman, September 1997)
B & O Railroad Bridge Piers Stabilization Design Project, Harpers Ferry National Historical Park Assessment Data and Treatment Recommendations Report (Williamsport Historic Preservation Training Center, May 6, 1994)
Centennial Junior Ranger, Harpers Ferry National Historical Park (2015)
Cultural Landscape Report: Camp Hill, Harpers Ferry National Historical Park — Part 1: History, Existing Conditions & Analysis; Part 2: Treatment Exploration & Recommendations (June 2009)
Cultural Landscape Report for the United States Armory and Potomac Riverfront, Harpers Ferry National Historical Park (Allison A. Crosbie and Andrew S. Lee, 2009)
Cultural Landscape Report: Halls Island: United States Rifle Factory and the Shenandoah Riverfront (Deana R. Poss and Saylor Moss, September 20, 2010)
Cultural Landscape Report: Lockwood House, Harpers Ferry National Historical Park (Heritage Landscapes, June 2006)
Cultural Landscape Report: Lower Town, Harpers Ferry National Historical Park (Cathy Gilbert, Maureen De Lay Joseph and Perry Carpenter Wheelock, 1993)
Cultural Resources Assessment: The Murphy Farm in Jefferson County, West Virginia (Steven A. Stathakis, February 1999)
Data for Operational Histories of the U.S. Armories at Harper's Ferry, Virginia, and Springfield, Massachusetts, 1795 to 1860 (Charles W. Snell, January 1980))
Data for Operational Histories of the United States Armories at Harper's Ferry, Virginia, and Springfield, Massachusetts, 1793 to Sept. 30, 1837 (Charles W. Snell, January 1980)
Digital Geologic Map of the Harpers Ferry National Historical Park USGS Open-File Report 2000-297 (Scott Southworth, D.K. Brezinski, Randall C. Orndorff, Kerry M. Lagueux, and Peter G. Chirico, 2000)
Domestic Responses to Nineteenth-Century Industrialization: An Archeology of Park Building 48, Harpers Ferry National Historical Park National Capital Region Occasional Report No. 12 (Paul A. Shackel, ec., 1994)
Draft General Management Plan / Environmental Impact Statement, Harpers Ferry National Historical Park (August 2008)
Exterior Restoration and Interior Rehabilitation, Buildings 32, 33, 33, 34-35, 34A, and 36; Package No. HAFE 116 Specifications (Grieves Worrall Wright & O'Hatnick, Inc, March 30, 1993)
Foundation Document, Harpers Ferry National Historical Park, Maryland-Virginia-West Virginia (January 2016)
Foundation Document Overview, Harpers Ferry National Historical Park, Maryland-Virginia-West Virginia (January 2016)
General Management Plan, Harpers Ferry National Historical Park (September 2010)
Geology of the Harpers Ferry Quadrangle, Virginia, Maryland, and West Virginia USGS Bulletin 2123 (Scott Southworth and David K. Brezinski, 1996)
Geologic Resource Evaluation Report, Antietam National Battlefield, Chesapeake and Ohio Canal National Historical Park, & Harpers Ferry National Historical Park NPS Natural Resource Report NPS/NRPC/GRD/NRR-2005/005 (T.L. Thornberry-Ehrlich, January 2005)
HABS Drawings: White Hall (C.S. Dotts, 1958)
Harpers Ferry and the Story of John Brown: Study Guide (1991)
Harpers Ferry Becomes a Fortress, September 21, 1862 - October 3, 1863 (Charles W. Snell, December 16, 1959)
Harpers Ferry Floods (June 1957)
Harpers Ferry in the Civil War — 1862 (A.L. Sullivan, 1961)
Harpers Ferry Repels an Attack and Becomes the Major Base of Operations for Sheridan's Army, July 4, 1864, to July 27 1865 (Charles W. Snell, January 21, 1960)
Harpers Ferry, West Virginia: Contributions Towards A Physical History (James P. Noffsinger, November 1958)
Harper's Graveyard and the Pine Grove Cemetery, Camp Hill, 1803-1865 (Philip R. Smith, Jr., April 2, 1959)
Historical Base Map: Harpers Ferry (C.W. Snell, 1859)
Historic Building Report: Bldg. No. 48, An Armorer's Dwelling House, Lot No. 2, Shenandoah Street, Harpers Ferry National Monument: Part I and II (Charles W. Snell, October 31, 1958, revised December 30, 1958)
Historic Building Report, Part II: Bldgs. No. 12 and 12A, The Ann C. Stephenson Buildings, Harpers Ferry National Monument (Charles S. Snell, March 17, 1959)
Historic Building Report: Building No. 7, Harpers Ferry National Monument: Part I (Charles W. Snell, October 1, 1957)
Historic Building Report, Administrative Data Section: Frederick A. Roeder House (Bldg. No. 16), Harpers Ferry National Historical Park — Part I (Joseph E. Prentice, June 18, 1964)
Historic Building Report, Part II: Historical Data Section, Bldgs. No 16 and 16A, Frederick A. Roeder's House, Harpers Ferry National Monument (Charles W. Snell, April 3, 1959)
Historic Building Report for Building No. 18 (Marmion Hall), Part I, Harpers Ferry National Monument (Herbert H. Kissling, October 30, 1958)
Historic Building Report, Part I: Building No. 36, "New Master Armorer's Quarters", Harpers Ferry National Monument (Herbert H. Kissling, October 1, 1957, revised January 22, 1958)
Historic Building Report, Part I, for Buildings No. 38 & 39, The Tearney Buildings, Harpers Ferry National Monument (Charles S. Snell, June 24, 1958)
Historic Building Report, Part I, for Building No. 40, The William Richards Bldg., Harpers Ferry National Monument (Charles W. Snell, June 9, 1958)
Historic Building Report, Part I for Bldg. No. 48A, St. John's Protestant Episcopal Church, Harpers Ferry National Monument (Philip R. Smith, Jr., October 23, 1958, revised March 6 and May 6, 1959)
Historic Building Report, Part II: Historical Data Section, for Bldg. No. 48A, St. John's Protestant Episcopal Church, 1847-1895, Harpers Ferry National Monument (Philip R. Smith, Jr., May 25, 1959)
Historic Building Report:, Historical Data Section: The Alfred Burton Jewelry Shop (Bldg. No. 14), Harpers Ferry National Monument — Part II (Charles W. Snell, April 3, 1959)
Historic Building Report, Part I: The Anderson Buildings (Buildings No. 11 and 11A), Harpers Ferry National Monument (Raymond L. Ives, October 3, 1957)
Historic Building Report, Part I: The Burton Building (Building No. 14), Harpers Ferry National Monument (Raymond L. Ives, October 9, 1957)
Historic Building Report: The Burton Building (Building No. 14), Harpers Ferry National Monument — Part I (Raymond L. Ives, October 9, 1957)
Historic Building Report, Part I: The Downey Building (Building No. 15), Harpers Ferry National Monument (Raymond L. Ives, October 7, 1957)
Historic Building Report: The Gerard Wager Buildings (Buildings No. 9 and 8), Harpers Ferry National Monument — Part I (Raymond L. Ives, October 10, 1957)
Historic Building Report, Historical Data Section: The Gerard B. Wager Buildings (Bldgs. No. 9 and 8), Harpers Ferry National Monument — Part II (Charles W. Snell, March 18, 1959)
Historic Building Report, Part I: Building No. 1-A, The Harper House, Harpers Ferry National Monument (Charles W. Snell, May 12, 1958)
Historic Building Report, Part I (Revised): Building No. 43, The McCabe Marmion Building, Harpers Ferry National Monument (Herbert H. Kissling, April 14, 1960)
Historic Building Report, Historical Data Section: The John C. Unseld Buildings (Bldgs. No. 10 and 10-A), Harpers Ferry National Monument — Part I (Charles W. Snell, May 28, 1958)
Historic Building Report, Historical Data Section: The John E. Daingerfield House (Bldgs. No. 36 and 36A), Lot No. 2, Block B, Shenandoah Streeet, Harpers Ferry National Monument — Part II (Charles W. Snell, March 10, 1959)
Historic Building Report, Part I: Building No. 37, The John T. Rieley Building, Harpers Ferry National Monument (Charles W. Snell, June 30, 1958)
Historic Building Report: The Richards Building (Building No. 44) — Part I (Raymond L. Ives, October 14, 1957)
Historic Building Report, Historical Data Section: The Samuel Anin House (Bldgs. No. 34-35, 32, 33 and 34A), Lot No. 3, Block B, Shenandoah Street, Harpers Ferry National Monument — Part II (Charles W. Snell, March 4, 1959)
Historic Building Report: The Stephenson Buildings (Buildings No. 12 and 12A) — Part I (Charles W. Snell and Raymond L. Ives, October 8, 1957)
Historic Building Report, Historical Data Section: The Susan Downey House (Bldg. No. 15), Harpers Ferry National Monument — Part II (Charles W. Snell, March 27, 1959)
Historic Building Report, Historical Data Section: White Hall (Bldg. No. 7), Harpers Ferry National Monument — Part II (Charles W. Snell, March 30, 1959)
Historic Building Site Survey Report: History of Catholic School Lot, Presbyterian Church Lot, and Jefferson's Lot, Shenandoah Street 1796-1868, Harpers Ferry National Monument Shenandoah Street Studies Series No. 5 (Charles W. Snell, February 11, 1959)
Historic Building Site Survey Report: History of Wager Lots No. 35-43 (1751-1865), Harpers Ferry National Monument High Street Studies Series No. 2 (Arthur L. Sullivan, February 24, 1959)
Historic Buildings Site Survey Report for Bldg. No. 3 — Wager Lot No. 53 — High Street, "The Williams and Koonce Lots", Harpers Ferry National Monument (Charles W. Snell, July 29, 1958)
Historic Furnishings Report: Building 34/35--Harpers Ferry National Historical Site (Patricia Craig, Shelley Kaplan and Carol Petravage, 1995)
Historic Furnishings Report: Building 40, The Ready-Made Clothing Store, Harpers Ferry National Historical Park, Harpers Ferry, West Virginia (Carol A. Petravage and Karen Gladding, 1990)
Historic Furnishings Report: Buildings 16 and 7, Roeder's House and White Hall Tavern--Harpers Ferry National Historical Park, West Virginia (Carol A. Petravage, 1995)
Historic Furnishings Report: Exterior Furnishings of Lower Town Harpers Ferry, Harpers Ferry National Historical Park, Harpers Ferry, West Virginia (Sarah H. Heald, 1995)
Historic Grounds Report, Landscape Data Section on Portions of Shenandoah and Potomac Streets and the Arsenal Square, Harpers Ferry National Monument — Part II (Bruce B. Myers, May 1965)
Historic Resource Study: Business Enterprises and Commercial Development, Lower Town Area, 1803 to 1861, Harpers Ferry National Historical Park, West Virginia (Charles W. Snell, April 9, 1973)
Historic Resource Study, Brunswick, Maryland - Historical Data, Chesapeake and Ohio Canal National Historical Park, MD, DC, W VA (Edward D. Smith, January 1978)
Historic Resource Study: Short Hill Tract, Harpers Ferry National Historical Park (Andrew S. Lee, 2003)
Historic Resource Study: The U.S. Armory at Harpers Ferry (Andrew S. Lee, 2006)
Historic Structure Report, Architectural Data Section: Buildings 11 and 11a, William Anderson Buildings, Harpers Ferry National Historical Park (Sherry L. Stevens, July 1975)
Historic Structure Report: Part II, Architectural Data Section: Master Armorer's Quarters, Building No. 36, Harpers Ferry National Historical Park (Joseph R. Prentice, May 17, 1965)
Historic Structure Report for the Presbyterian Church, 1843-1868, Harpers Ferry National Monument (Charles W. Snell, June 9, 1959)
Historic Structure Report, Historical Data: The Edward Tearney Buildings — Bldgs. No. 38 and 39 on Wager Lot No. 50, Harpers Ferry National Historical Park, West Virginia (Charles S. Snell, October 1979)
Historic Structure Report, Historical Data: The Nichols/Williams Building, Building 3 on Wager Lots 53A-54B, Harpers Ferry National Historical Park, West Virignia (Charles W. Snell, February 1980)
Historic Structure Report, Historical Data: White Hall Tavern, Bldg. No. 7 on Subdivisions No. 2 and 4 of Wager Lot No. 15 (Charles W. Snell, April 1980)
Historic Structure Report, Historical Data: The William Richards Building, Bldg. No. 40, on Wager Lot No. 49, Harpers Ferry National Historical Park, West Virginia (Charles W. Snell, October 1979)
Historic Structure Treatment Report: Repair Damaged Stucco on Building #33, Harpers Ferry National Historical Park (c2006)
Historic Structures and Grounds Report for the U.S. Musket Factory, 1859-1861, U.S. Armory at Harper's Ferry, Virginia — Historical Data Section, Harpers Ferry National Historical Park, West Virginia (Charles W. Snell, August 1981)
Historic Structures Report, Historical Data Section: Building 37, The John T. Rieley Building 1865-1952, Harpers Ferry National Historical Park (Patricia Chickering, February 1993; Kira Ramakrishna, September 1990)
Historic Structures Report, Historical Data Section Update: Building 48, Harpers Ferry National Historical Park (Stan Bumgardner, May 30, 1991)
Historic Structures Report: The Philip Coons Building Sometimes Called the Masonic Hall Building (Building #44) — Part I - Architectural Data Section (Archie W. Franzen, October 1962)
Historic Structures (Ruins) Report, Part I for The Large and Small Arsenal Buildings, Harpers Ferry National Monument (Charles W. Snell, November 5, 1959)
Historic Structures Treatment Record: Preservation of the Historic Lockwood House (Phase I, FY2009-2010), Harpers Ferry National Historical Park (FY2009)
Historic Structures Treatment Record: Repair Alleys of Historic Buildings #35 & 36 (Preservation of Windows and Doors), Harpers Ferry National Historical Park (FY2007)
Historical Background Report: Baltimore and Ohio Railroad, Harpers Ferry Station (Andrew S. Lee, 2003)
Historical Study of Wager Lot No. 13, 1837-1856 (Charles W. Snell, September 15, 1958)
History of Lots No. 1 to 11, Block C, Shenandoah Street, 1796 to 1865, Harpers Ferry National Monument Shenandoah Street Studies Series No. 1 (Charles W. Snell, January 23, 1959)
History of Paymaster's Quarters, Camp Hill, ("Lockwood" House, Storer College), Harpers Ferry, 1848-1867 (Philip R. Smith, Jr., March 23, 1959)
History of the Lower Hall Island and of Captain John H. Hall's Rifle Factory, 1751 to 1841: Physical History, Volume I, Harpers Ferry National Historical Park, Harpers Ferry, West Virginia (Charles W. Snell, April 1981)
History of the Lower Hall Island and the U.S. Rifle Factory, 1842 to 1885: A Physical History, Volume II, Harpers Ferry National Historical Park, Harpers Ferry, West Virginia (Charles W. Snell, April 1981)
Impacts of Visitor Spending on the Local Economy: Harpers Ferry National Historical Park, 2005 (Daniel J. Stynes, May 2007)
John Brown's Fort: Historic Structure Report (Architectural Data), Harpers Ferry National Historical Park, Maryland-W. Virginia (W. Lewis Barlow IV, May 1976)
John Brown's Raid National Park Service History Series (William C. Everhart, Arthur L. Sullivan, et al., 1973)
Junior Ranger, Harpers Ferry National Historical Park (Date Unknown)
National Register of Historic Places Nomination Form
Harpers Ferry National Historical Park (Charles W. Snell and Barry Mackintosh, June 1980)
Natural Resource Condition Assessment, Harpers Ferry National Historical Park, National Capital Region NPS Natural Resource Report NPS/HAFE/NRR-2013/746 (Jane E. Thomas, Simon D. Costanzo, R. Heath Kelsey, William C. Dennison, Patrick Campbell, Mark Lehman, Megan Nortup, Mia Parsons and Dale Nisbet, December 2013)
Photographic Report, Proposed Harpers Ferry National Historic Site (Roy E. Appleman, March 17, 1950)
Preliminary Survey Report (Architectural) Prepared or the Rehabilitation of the Paymaster's House (Building No. 36, Shenandoah Street) Preliminary to Heating Plans, Harpers Ferry, West Virginia (Archie W. Franzen, October 10, 1957)
Research Report: History of Government Dwelling House No. 43, The First Paymaster's House, Block B, Lot 5, Shenandoah Street, 1800-1865, Harpers Ferry National Monument (Philip R. Smith, Jr., December 19, 1958, revised April 30, 1959)
Research Report: History of the Evangelican Lutheran Christ Church, Camp Hill, 1850-1868, Harpers Ferry National Monument (Philip R. Smith, Jr., March 31, 1959)
Research Report: History of the Large and Small Arsenals, 1796-1869, Block A, Lots 2, 3, 4, 5, 6, and 7 Shenandoah Street, Harpers Ferry National Monument (Philip R. Smith, Jr., April 29, 1959)
Research Report: History of the Methodist Episcopal Church, 1818-1868, and the Free Church, 1818-1845, Harpers Ferry National Monument (Philip R. Smith, Jr., October 23, 1958, revised March 16 and May 14, 1959)
Research Report: History of the Methodist Protestant Church and Odd Fellow Hall, Harpers Ferry, 1843-1868, Harpers Ferry National Monument (Philip R. Smith, Jr., October 23, 1958, revised March 12, 1959)
Research Report: St. Peter's Roman Catholic Church, 1830-1868, Harpers Ferry National Monument (Philip R. Smith, Jr., October 23, 1958, revised March 11, 1959)
Social and Economic History of Virginius Island (Frank B. Sarles, Jr., June 20, 1969)
Special Boundary Study: Newsletter, Harpers Ferry National Historical Park (June 1989)
Special Boundary Study: Newsletter, Harpers Ferry National Historical Park (October 1989)
Special History Study: A Compendium of the Commercial and Industrial Advertisements of the Business and Manufacturing Establishments of Harpers Ferry and the Island of Virginius, 1824-1861, Virginia (Charles W. Snell, April 1973)
Special History Study: Park Building 14, The Burton Jewelry Store, Harpers Ferry National Historical Park, Harpers Ferry, West Virginia (Patricia Chickering and Kira Ramakrishna, September 1990, November 1995)
Special History Study: Park Building 37: The John T. Reiley Building 1865-1952, Harpers Ferry National Historical Park, Harpers Ferry, West Virginia (Patricia Chickering, November 1995; Kira Ramakrishna, September 1990)
Stabilization/Preservation of the St. John's Episcopal Church Ruins, Harpers Ferry National Historical Park: Historic Structures Record of Treatment (FY 2004-2005)
The Acquisition and Disposal of Public Lands of the U.S. Armory at Harper's Ferry, West Virginia, 1796-1885 — Volume I: A Narrative History (Charles W. Snell, December 1979)
The Acquisition and Disposal of Public Lands of the U.S. Armory at Harper's Ferry, West Virginia, 1796-1885 — Volume II: U.S. Deeds for Harper's Ferry Lots, 1852 to 1887 (Charles W. Snell, December 1979)
The Acquisition and Disposal of Public Lands of the U.S. Armory at Harper's Ferry, West Virginia, 1796-1885 — Volume III: U.S. Documents relating to the Disposal of U.S. Armory Lands at Harper's Ferry, W. Va., 1867-1885 (Charles W. Snell, December 1979)
The Business Enterprises and Commercial Development of Harper's Ferry Lower Town Area, 1803-1861 (Charles W. Snell, April 9, 1973)
The Fortifications at Harpers Ferry, VA., in 1861 and Jackson's Attack, May 1862 (Charles W. Snell, February 9, 1960)
The Lockwood House: Birthplace of Storer College, Furnishings Study, Historical Data Section (Anna Coxe Toogood, January 3, 1969)
"To Preserve the Evidences of a Noble Past": An Administrative History of Harpers Ferry National Historical Park (Teresa S. Moyer, Kim E. Wallace and Paul A. Shackel, 2004)
Handbooks ◆ Books

Videos
Stroll down Main Street - Harpers Ferry National Historical Park, West Virginia (1969)