---
Contents

Foreword
Preface

Jesuit Foundations

Gray Robes for Black
1767-68

The Archreformer Backs Down
1768-72

Tumacácori or Troy?
1772-74

The Course of Empire
1774-76

The Promise and Default of the Provincias Internas
1776-81

The Challenge of a Reforming Bishop
1781-95

A Quarrel Among Friars
1795-1808

"Corruption Has Come Among Us"
1808-20

A Trampled Guarantee
1820-28

Hanging On
1828-56

Epilogue

Abbreviations
Notes
Bibliography

---
If you know just where to look, you can still see the ruins of historic Calabazas from four-lane Interstate 19, across the pond of the Nogales International Wastewater Treatment Plant. The roofless and weathered adobe, once a visita church and then the headquarters of Gándara's hacienda, blends in the distance with its backdrop of brown mesquite-studded hills.
A few miles farther north, alerted by signs, you cannot miss the hulking mission church so tenaciously laid up at poor Tumacácori by Fathers Gutiérrez, Estelric, and Liberós. Since 1908, the year Theodore Roosevelt proclaimed it a national monument by authority of the Antiquities Act, it has been reverently cared for. In 1974 the National Park Service pondered both "protection of the resource" and "interpretation"—how to dry out the perennially damp west wall of the structure and prepare for urbanization of the valley on the one hand, and on the other, how to evoke the spirit of the place as a living frontier community while relating it to the three cultures of the region. Part of the Tubac presidio's ruins in 1958 became Arizona's first state park. San Xavier del Bac, again an active Franciscan mission to the Pápago Indians, doubles as a Registered National Historic Landmark, drawing tens of thousands of visitors each year.
At the least, these mute physical vestiges of Hispanic Arizona are curiosities. They clash with the wastewater plants, the freeways, and the subdivisions. At best they cause us to ask questions about our historical environment. They force us to acknowledge cultural diversity as well as human continuity in the region. They bid us to read and to write history.
If there are truths to be learned from history, the local and regional varieties, well done, offer us our most intimate chance to grasp them first hand. No one well acquainted with the Arizona-Sonora frontier is likely to accept the "retroactive utopism" of "Native Americans" or "Chicanos" or "Anglos." Nor will he be so easily seduced by crusading "historians" and social "scientists" who project their social consciences back into the past.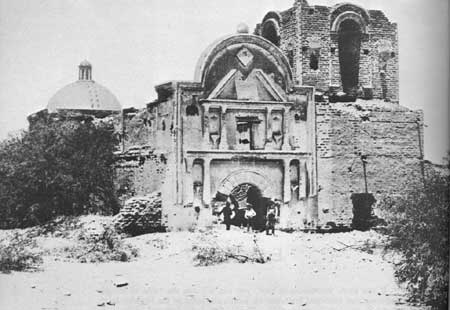 Tumacácori in 1889. George Roskruge photo. Courtesy Arizona Historical Society
Perhaps the greatest lesson of history, local as well as global, is that man—regardless of the length of his shadow, the hue of his skin, or the dignity of his estate—is possessed of a common, ambivalent nature. No matter how much he knows of the past, he is not freed from repeating it. Still, it is enlightening and reassuring—even entertaining—to know that he has been there before.