The Restless Giant
At the heart of Yellowstone's past, present, and future lies a SUPERVOLCANO. Huge volcanic eruptions occurred here, the latest about 631,000 years ago. The center of what is now the park collapsed, forming a 30- by 45-mile caldera, or basin. The heat powering those eruptions still fuels the park's geysers, hot springs, fumaroles, and mudpots.
The park's ECOSYSTEMS range from near-desert vegetation at the North Entrance to subalpine meadow and forest on Mount Washburn. They support a variety of habitats that sustain diverse wildlife like bison (buffalo), elk, grizzly and black bears, wolves, trumpeter swans, and Yellowstone cutthroat trout.
PEOPLE also have been part of Yellowstone for more than 13,000 years. Many Native American tribes still have deep connections here. Discover your own connections to the park as you explore its wonders.
The supervolcano feeds the world's largest group of HYDROTHERMAL FEATURES.
HOT SPRINGS are the most common hydrothermal features in the park. They vary from frothing mocha-like boiling water to clear and calm pools of tremendous depth. Surface water seeps underground, is heated by a deep source of magma, and rises to the surface as superheated water. Hot springs have no constrictions, so water rises, cools, and sinks freely.
GEYSERS erupt with steaming hot water. They are hot springs with narrow spaces in their plumbing, usually near the surface. The constrictions prevent water from circulating easily to the surface where heat would escape. The deepest circulating water can exceed the surface boiling point (199°F/93°C). The Old Faithful area has the most famous geysers; some eruptions can be predicted.
TRAVERTINE TERRACES are found at Mammoth Hot Springs, where the interactions of water and limestone create chalk-white travertine. These terraces are among the fastest changing features in the park, emerging quickly and drying up just as fast.
FUMAROLES (steam vents) are the hottest hydrothermal features in the park. The small amount of water in fumaroles flashes into steam before it reaches the surface. Fumaroles hiss, whistle, or thump if the steam pathway is restricted at the surface. They are easiest to see in cool weather. Look for fumaroles in the major hydrothermal areas.
MUDPOTS are acidic hot springs with a limited water supply. Acid from volcanic gases and microorganisms decompose the surrounding rock into clay and mud. Mudpot consistency and activity varies with the seasons and precipitation. You can see mudpots at Artists Paintpots, Norris Geyser Basin, Fountain Paint Pots, West Thumb Geyser Basin, and Mud Volcano.
EVERY CORNER of Yellowstone reveals the park's rich array of nature and history.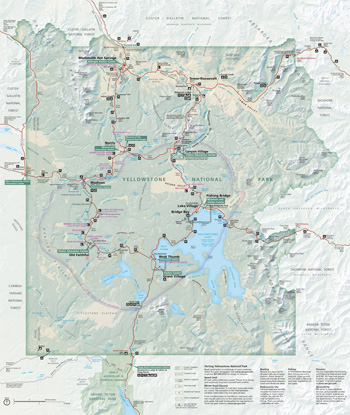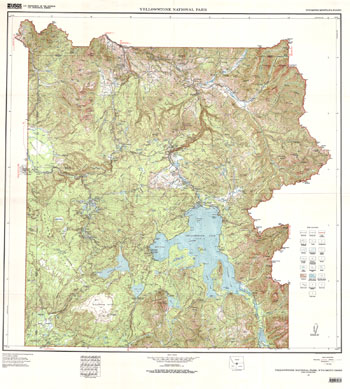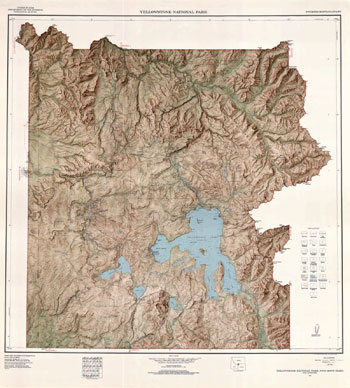 (click for larger maps)
MAMMOTH HOT SPRINGS features ever-changing travertine terraces and historic FORT YELLOWSTONE. A self-guiding tour explores the US Army's role in protecting the park in its first decades.
NORRIS GEYSER BASIN is the park's hottest, most dynamic geyser basin. It includes Steamboat, the world's tallest geyser. The nearby Museum of the National Park Ranger showcases the history of these iconic public servants.
MIDWAY GEYSER BASIN hosts the world's largest geyser, Excelsior, and the world's largest hot spring, Grand Prismatic. Boardwalks take you past these features, and a nearby trail leads you to an elevated view.
OLD FAITHFUL is more than its namesake world-famous geyser. You can view hundreds of other geysers and hot springs. Take a self-guiding tour of the historic district, which includes Old Faithful Inn.
WEST THUMB includes mudpots, boiling springs, and geysers that discharge into the chilly waters of Yellowstone Lake. At the GRANT VILLAGE Visitor Center, enjoy the scenery while you learn about the role of fire in Yellowstone.
LAKE VILLAGE offers vistas of Yellowstone Lake from the comfort of historic Lake Hotel. The lake is the largest high-elevation lake (above 7,000 feet) in North America. It is more than 400 feet deep with 141 miles of shoreline.
CANYON AREA features the colorful Grand Canyon of the Yellowstone River and the Upper and Lower falls from overlooks and walkways. Away from the rim, trails take you through meadows and grasslands.
The LAMAR VALLEY has been a wolf watching destination since wolves were reintroduced to Yellowstone in 1995. It is also home to herds of bison and elk, and many black and grizzly bears.
THE WONDER OF YELLOWSTONE'S WILDLIFE
You have the rare opportunity to view animals who are wild. They behave like their ancient ancestors. They eat the same foods, they migrate along the same routes, and they breed on the same cycles. When you watch animals in Yellowstone, you glimpse the world as it was before humans.
Animals are seldom seen in the dense, dark forest that covers most of the park. They are more easily seen in open areas, like meadows, where vegetation is shorter and more light is available.
Other tips
• Look at dawn and dusk when many animals are most active.
• Be quiet and listen for a few minutes; you might hear animals before you see them.
• Use binoculars or spotting scopes to observe animals while staying at a safe distance.
STAY SAFE WHILE WATCHING WILDLIFE
The animals living in Yellowstone are not tame. All of them are wild. Some seem to tolerate humans, but that can change without warning. We jeopardize their survival if we threaten their safety, the safety of their young, or interrupt their ability to get food. Yellowstone has rules to keep both wildlife and humans safe.
Never feed animals, not even small ones like chipmunks.
Store all food properly. Keep food, cooking tools, coolers, and trash in a bear-resistant container unless in immediate use. Animals who find food at picnic areas and campsites will come back, and can be dangerous.
Do not approach wildlife. You must stay at least 100 yards from bears and wolves, and 25 yards from bison, elk, and other animals.
Pay attention. Move away if an animal moves closer to you or changes its behavior due to your presence.
Be respectful. Do not surround, crowd, or disrupt an animal's path of movement.
STAY SAFE IN THERMAL AREAS
Yellowstone National Park also has rules to keep you safe as you visit its hydrothermal areas.
• Stay on boardwalks and designated trails.
• Do not push or shove other people.
• Keep your children close to you.
• Keep hands and feet out of the water.
Exploring Yellowstone
Find dates and hours of operation in the park newspaper and on www.nps.gov/yell.
Accessibility We strive to make facilities, services, and programs accessible to all. Ask at visitor centers for a free guide to wheelchair-accessible places in the park, or visit the park website.
Emergencies Call 911
Source: NPS Brochure (2020)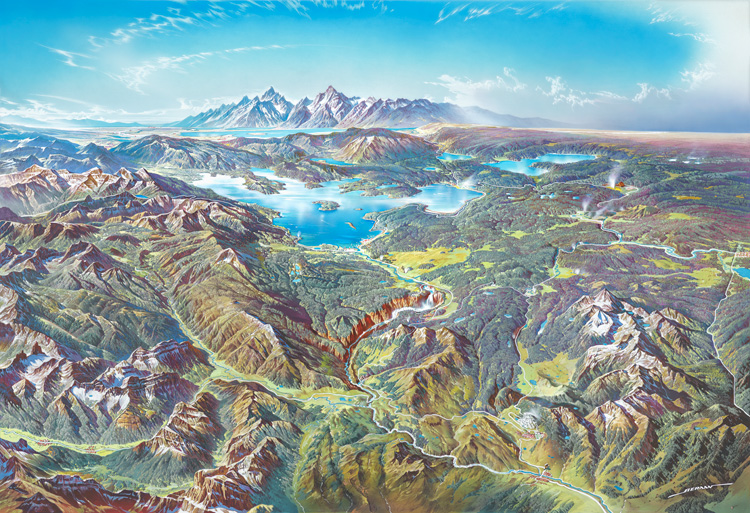 Heinrich Berann
Establishment

World Heritage Site — September 8, 1978
International Biosphere Reserve — October 26, 1976
Yellowstone National Park — March 1, 1872



For More Information
Please Visit The

OFFICIAL NPS
WEBSITE
Brochures ◆ Site Bulletins ◆ Trading Cards

Documents
North Entrance Project 525.2, Yellowstone National Park Final Report (C.A. Lord, 1930)
A Brief History of Black Americans in the Yellowstone National Park area, 1872-1907 (Lee Whittlesey, extract from Annals of Wyoming, Vol. 69 No. 4, Fall 1997; ©Wyoming State Historical Society)
A Brief History of the School at Mammoth Hot Springs, Yellowstone National Park, Wyoming (Lee H. Whittlesley, March 24, 2008)
A Concise History of Scientists and Scientific Investigations in Yellowstone National Park (Carl P. Russell, 1934)
A device for collecting down-hole water and gas samples in geothermal wells USGS Professional Paper 750-C, Geological Survey Research 1971 Chapter C (R.O. Fournier and A.H. Truesdell, 1971)
A field-trip guide to Yellowstone National Park, Wyoming, Montana, and Idaho-Volcanic, hydrothermal, and glacial activity in the region USGS Bulletin 2099 (Robert O. Fournier, R.L. Christiansen, R.A. Hutchinson and K.L. Pierce, 1994)
A History of the Old Faithful Area with Chronology, Maps, and Executive Summary (Lee H. Whittlesey, Elaine Skinner Hale and Sarah Bone, March 13, 2007)
A History of The Yellowstone National Park Chapel (1913-1963) (Aubrey L. Haines, ©A Christian Ministry in the National Parks, 1998)
A Review of Best Practices and Principles for Bison Disease Issues: Greater Yellowstone and Wood Buffalo Areas ABS Working Paper No. 3 (John S. Nishi, January 2010)
A Scientist in Yellowstone National Park: A 50-year adventure (©Thomas D. Brock, 2017)
A Suggested Plan for Controlling Destructive Bears (Francis D. LaNoue, March 4, 1933)
A Tall Tale Retold: The Influence of the Photographs of William Henry Jackson upon the Passage of the Yellowstone Park Act of 1872 (Howard Bossen, 1981)
A Water Wilderness: Battles over Values and Motorboats on Yellowstone Lake (Michael J. Yochim, extract from Historical Geography, Voil. 35, 2007, ©Geoscience Publications)
Alpine Vegetation Composition, Structure, and Soils Monitoring for Yellowstone National Park: 2011 Summary Report NPS Natural Resource Data Series NPS/ROMN/NRDS—2015/777 (Bernadette Kuhn, Travis Talbot and Joe Stevens, April 2015)
American Bison: Status Survey and Conservation Guidelines 2010 (C. Cormack Gates, Curtis H. Freese, Peter J.P. Gogan and Mandy Kotzman, eds., 2010, ©International Union for Conservation of Nature and Natural Resources)
American Indians and Yellowstone National Park: A Documentary Overview Yellowstone Center for Resources YCR-CR-02-1 (Peter Nabokov and Lawrence Loendorf, 2002)
An aeromagnetic survey in Yellowstone National Park; a web site for distribution of data USGS Open-File Report 2000-163 (2000)
An Open History of Fish and Fish Planting in Yellowstone National Park (R.J. Fromm, 1940)
Analyses of waters of the Yellowstone National Park, with an account of the methods of analysis employed USGS Bulletin 47 (Frank Austin Gooch and James Edward Whitfield, 1888)
Annual Reports for Yellowstone National Park (1872-1897)
Annual Reports for Yellowstone National Park (1898-1915)
Annual Reports for Yellowstone National Park (1916-1919)
Annual Reports for Yellowstone National Park (1920-1923)
Archaeological Investigation and Recording of the Historic Glen Creek to Mammoth Water Supply System (48YE754), Yellowstone National Park, Wyoming (Paul H. Sanders, March 2003)
Architecture of Yellowstone: A Microcosm of American Design (Rodd L. Wheaton, extract from Yellowstone Science, Fall 2000)
Army Era Records, Yellowstone National Park (Montana Memory Project)
Artist Point Overlook: Cultural Landscape Inventory Summary (2002)
Assessment of Imperfect Detection of Blister Rust in Whitebark Pine within the Greater Yellowstone Ecosystem NPS Natural Resource Report NPS/GRYN/NRR—2017/1457 (Wilson J. Wright and Kathryn M. Irvine, June 2017)
Backcountry Trip Planner: c2006 • 2008 • 2010 • 2012 • 2015 • 2018 • 2019
Bark Beetle and Wood Borer Infestation in the Greater Yellowstone Area During Four Postfire Years USFS Research Paper INT-RP-487 (Lynn A. Rasmussen, Gene D. Amman, James C. Vandygriff, Robert D. Oakes, A. Steven Munson and Kenneth E. Gibson, March 1996)
Beauty and the Beet: The Dam Battles of Yellowstone National Park (Michael J. Yochim, extract from Montana: The Magazine of Western History, Vol. 53 No. 1, Spring 2003)
Beaver Survey, Yellowstone National Park, 1996 YCR-NR-97-1 (1997)
Beaver Survey, Yellowstone National Park, 1998 YCR-NR-99-3 (1999)
Bibliography and brief history of studies by the U.S. Geological Survey in Yellowstone National Park, Wyoming, Idaho and Montana; 1965-1986 USGS Open-File Report 86-573 (K.E. Bargar and Daniel Dzurisin, 1986)
Bibliography of Snowmobile-Related Emissions and Air Quality Studies, Yellowstone National Park (November 9, 1999)
Biennial Scientific Conference on the Greater Yellowstone Ecosystem
1. Plants and Their Environments (1991)
2. The Ecological Implications of Fire in Greater Yellowstone (Jason M. Greenlee, ed., 1993; ©International Association of Wildland Fire)
3. Greater Yellowstone Predators: Ecology and Conservation in a Changing Landscape (1995)
4. People and Place: The Human Experience in Greater Yellowstone (1997)
5. Exotic Organisms in Greater Yellowstone: Native Biodiversity Under Siege (2001, ©Brigham Young University)
6. Yellowstone Lake: Hotbed of Chaos or Reservoir of Resilience: Proceedings (Roger J. Anderson and David Harmon, eds., 2002, ©Yellowstone Center for Resources and The George Wright Society)
7. Beyond the Arch: Community and Conservation in Greater Yellowstone and East Africa (2003)
8. Greater Yellowstone Public Lands: A Century of Discovery, Hard Lessons, and Bright Prospects: Proceedings (Alice Wondrak Biel, ed., 2006, Yellowstone Center for Resources)
9. The '88 Fires: Yellowstone and Beyond: Proceedings (Ronald E. Masters, Krista E.M. Gallery and Don G. Despain, eds., 2009, ©Tall Timbers Research, Inc.)
10. Questioning Greater Yellowstone's Future: Climate, Land Use, and Invasive Species: Proceedings (2010)
11. Greater Yellowstone in Transition: Linking Science and Decision Making Retrospective on the 11th Biennial Scientific Conference (Yellowstone Science, August 2014)
12. Crossing Boundaries: Science, Management & Conservation in the Greater Yellowstone: Program and Abstracts (2014)
13. Building on the Past, Leading into the Future: Sustaining the GYE in the Coming Century: Program and Abstracts (2016)
14. Tracking the Human Footprint: Program and Abstracts (2018)
Bison and Brucellosis in Yellowstone National Park: A Problem Analysis (William J. Barmore, July 1968)
Bison and Cattle Wars: The Battle for Public Lands in Greater Yellowstone (©Mark McBeth, 1998)
Bison limit ecosystem recovery in northern Yellowstone (Robert L. Bechta, William J. Ripple, J. Boone Kauffman and Luke E. Painter, extract from Food Webs, Vol 23, June 2020)
Boating on Yellowstone's Rivers: An Analysis and Assessment (April 1988)
Buildings and Related Structures Removed as a Part of MISSION 66 Development Program (1959)
Caldera Chronicles (USGS Yellowstone Volcano Observatory)
Canyon Automobile Camp: Yellowstone National Park (HTML edition) Reprint No. 1019 from the Public Health Reports (Isador W. Mendelsohn, 1925)
Characterization of organic matter in lake sediments from Minnesota and Yellowstone National Park USGS Open-File Report 2006-1053 (Walter E. Dean, 2006)
Chemical analyses of hot springs, pools, and geysers from Yellowstone National Park, Wyoming, and vicinity, 1980-1993 USGS Open-File Report 96-68 (J.M. Thompson and J.M. DeMonge, 1996)
Chemical analyses of hot springs, pools, geysers, and surface waters from Yellowstone National Park, Wyoming, and vicinity, 1974-1975 USGS Open-File Report 98-182 (James W. Ball, D. Kirk Nordstrom, Everett A. Jenne and Davison V. Vivit, 1998)
Chemical analyses of waters from the Boundary Creek thermal area, Yellowstone National Park, Wyoming USGS Open-File Report 81-1310 (J.M. Thompson and R.A. Hutchinson, 1981)
Chemical analysis of the waters of the Yellowstone National Park, Wyoming from 1965 to 1973 USGS Open-File Report 75-25 (J.M. Thompson, T.S. Presser, R.B. Barnes and D.B. Bird, 1975)
Chemical analysis of thermal waters in Yellowstone National Park, Wyoming, 1960-65 USGS Bulletin 1303 (Jack James Rowe, Robert O. Fournier and George Washington Morey, 1973)
Chemical analyses of waters from the Boundary Creek thermal area, Yellowstone National Park, Wyoming USGS Open-File Report 81-1310 (J.M. Thompson and R.A. Hutchinson, 1981)
Chemical analysis of the waters of the Yellowstone National Park, Wyoming from 1965 to 1973 USGS Open-File Report 75-25 (J.M. Thompson, T.S. Presser, R.B. Barnes and D.B. Bird, 1975)
Chemical studies of selected trace elements in hot-spring drainages of Yellowstone National Park USGS Professional Paper 1044-F (R.E. Stauffer, Everett A. Jenne and J.W. Ball, 1980)
Chloride flux and surface water discharge out of Yellowstone National Park, 1982-1989 USGS Bulletin 1959 (Daniel R. Norton and Irving Friedman, 1991)
Climatic implications of two pollen analyses from newly recognized rocks of latest Pliocene age in the Washburn Range, Yellowstone National Park, Wyoming USGS Bulletin 1455 (Gerald Martin Richmond, W. Mullenders and Mady Coremans, 1978)
Colter's Hell and Jackson's Hole (Merrill J. Mattes, 1962)
Conservationists and the Battles to Keep Dams Out of Yellowstone: Hetch Hetchy Overturned (Michael J. Yochim, extract from George Wright Society 6th Biennial Scientific Conference, 2002)
Coordination and Management Review: 1988 Greater Yellowstone Area Fire Situation (January 1989)
Correlation chart of Frontier Formation from Greenhorn Range, southwestern Montana, to Mount Everts in Yellowstone National Park, Wyoming USGS Miscellaneous Field Studies Map 2116 (R.G. Tysdal, T.S. Dyman, D.J. Nichols and W.A. Cobban, 1990)
Cultural Landscape Inventory, Level I: Bechler River Ranger Station Historic District Cultural Landscape (2004)
Cultural Landscape Inventory, Level I: Canyon Developed Area Cultural Landscape (2004)
Cultural Landscape Inventory, Level I: South Entrance Developed Area Cultural Landscape (2004)
Cultural Landscapes Inventory: Apollinaris Spring (2006)
Cultural Landscapes Inventory: Artist Point (2006)
Cultural Landscapes Inventory: Historic Game Ranch (2006)
Cultural Landscapes Inventory: Old Faithful Historic District (2009)
Cultural Landscape Inventory: Old Faithful Historic District, Yellowstone National Park (Shapins Belt Collins, May 2009)
Cultural Landscapes Inventory: Roosevelt Lodge Historic District, Yellowstone National Park (2008)
Cultural Landscapes Inventory: Stephens Creek (2002)
Cultural Landscapes Inventory: Tower Junction Ranger Station (2008)
Data used for calculating chloride flux out of Yellowstone National Park for the water years 1983-1999 USGS Open-File Report 2000-194 (Irving Friedman and Daniel R. Norton, 2000)
Descriptions and elevations for First-Order, Class II leveling bench marks, and Global Positioning System (GPS) coordinates and elevations between West Yellowstone, Montana and Old Faithful, Yellowstone National Park, Wyoming USGS Open-File Report 97-57 (K.M. Yamashita, E.T. Endo, M.K. Sako and D.E. Wieprecht, 1997)
Development Concept Plan: Old Faithful, Yellowstone National Park, Wyoming-Montana-Idaho (January 1985)
Digital geologic map of Yellowstone National Park, Idaho, Montana, Wyoming and vicinity USGS Open-File Report 99-174 (Robert L. Christiansen and Ronald R. Wahl, 1999)
Discover Yellowstone: Ranger-led Activities, July 14-29, 1989 (July 1989)
Discovery of two new super-eruption from the Yellowstone hotspot track (USA): Is the Yellowstone hotspot waning? (©Thomas R. Knott, Michael J. Branney, Marc K. Reichow, David R. Finn, Simon Tapster and Robert S. Coe, extract from Geology, April 16, 2020)
Discovery of Yellowstone Park (Nathaniel Pitt Langford, 1905)
Draft Backcountry Management Plan and Environmental Assessment, Yellowstone National Park (January 1994)
Early History of Yellowstone National Park and Its Relation to National Park Policies (HTML edition) (Louis C. Cramton, 1932)
Ecological Consequences of the 1988 Fires in the Greater Yellowstone Area Final Report (undated)
Ecological Issues on Reintroducing Wolves Into Yellowstone National Park Scientific Monograph NPS/NRYELL/NRSM-93/22 (Robert S. Cook, ed., 1993)
Ecology of the Coyote in the Yellowstone (HTML edition) Fauna of the National Parks of the United States Bulletin No. 4 (Adolph Murie, 1940)
Ecology of Ungulates and Their Winter Range in Northern Yellowstone National Park: Research and Synthesis, 1962-1970 (William J. Barmore, Jr., Yellowstone Center for Resources, 2003)
Enchanted Enclosure: The Army Engineers and Yellowstone National Park, A Documentary History (HTML edition) (Kenneth H. Baldwin, 1976)
Effects of 1988 Fires on Aquatic Systems of Yellowstone National Park (G. Wayne Minshall, Christopher T. Robinson and Deron E. Lawrence, May 1990)
Effects of bison on willow and cottonwood in northern Yellowstone National Park (Luke E. Painter and William J. Ripple, extract from Forest Ecology and Management, Vol. 264, January 15, 2012)
Effects of Grazing by Wild Ungulates in Yellowstone National Park NPS Technical Report NPS/NRYELL/NRTR/96-01 (Francis J. Singer, ed., 1996)
Effects of potential geothermal development in the Corwin Springs Known Geothermal Resources Area, Montana, on the thermal features of Yellowstone National Park USGS Water-Resources Investigations Report 91-4052 (M. L. Sorey, ed., 1991)
Effects of Snowmobile Use on Snowpack Chemistry in Yellowstone National Park, 1998 USGS Water-Resources Investigations Report 99-4148 (George P. Ingersoll, 1999)
Effects of Winter Recreation on Wildlife of the Greater Yellowstone Area: A Literature Review and Assessment (Greater Yellowstone Winter Wildlife Working Group, October 1999)
Elk on Yellowstone's Northern Range: Science, Management, and Controversy, 1900-1980 (James Pritchard, August 29, 1994)
Environmental and Occupational Exposure to Toxic Air Pollutants from Winter Snowmobile Use in Yellowstone National Park Final Report (Norman Y. Kado, Paul A. Kuzmicky and Robert A. Okamoto, 2001)
Eocene, Oligocene, and Miocene rocks and vertebrate fossils at the Emerald Lake locality, 3 miles south of Yellowstone National Park, Wyoming USGS Professional Paper 932-A (J.D. Love, Malcolm Carnegie McKenna and Mary R. Dawson, 1976)
Evaluation of Bear Management in Yellowstone National Park, 1977 Research Note No. 8 (Mary Meagher, February 10, 1978)
Evaluation of near-infrared spectra for detecting ammonium minerals at Shoshone Geyser Basin, Yellowstone National Park, Wyoming USGS Open-File Report 93-293 (M.D. Krohn, 1993)
Ferdinand Vandiveer Hayden and the Founding of the Yellowstone National Park U.S. Geological Survey INF-72-30 (1976)
Ferdinand Vandiveer Hayden and the Founding of the Yellowstone National Park U.S. Geological Survey (1980)
Final Reduction Report: 1961-62, Northern Yellowstone Elk Herd (Robert E. Howe, May 17, 1962)
Fire Growth Maps for the 1988 Greater Yellowstone Area Fires USDA Forest Service General Technical Report INT-304 (Richard C. Rothermel, Roberta A. Hartford and Carolyn H. Chase, January 1994)
Fire Recovery Program, Yellowstone National Park (undated)
Fish Planting Report, Yellowstone National Park (Maynard Barrows and Francis D. LaNoue, November 8, 1939)
Fishery Management Studies on Madison River System in Yellowstone National Park Special Scientific Report—Fisheries No. 307 (Norman G. Benson, Oliver B. Cope and oss V. Bulkley, May 1959)
Fishes of the Yellowstone National Park (HTML edition) Bureau of Fisheries Document No. 904 (Hugh M. Smith and William C. Kendall, 1921)
Fishing Bridge and the Yellowstone Ecosystem: A Report to the Director (November 1984)
Fishing-For-Fun and Not for Meat on Yellowstone Lake (Robert N. McIntyre, December 8, 1960)
Fishing Regulations, Yellowstone National Park (February 2006)
Flood estimates for ungaged streams in Glacier and Yellowstone National Parks, Montana USGS Water-Resources Investigations Report 83-4147 (R.J. Omang, Charles Parrett and J.A. Hull, 1983)
"For the Benefit and Enjoyment of the People": A History of Concession Development in Yellowstone National Park, 1872-1966 Yellowstone Center for Resources YCR-CR-2003-01 (Mary Shivers Culpin, 2003)
Forensic Evidence—Human Fatality along the Mary Mountain Trail of Yellowstone National Park on August 25, 2011 (Kerry Gunther, January 12, 2012)
Formation of travertine and siliceous sinter by the vegetation of hot springs, Ninth Annual Report of the United States Geological Survey to the Secretary of the Interior (Walter Harvey Weed, 1890)
Fort Yellowstone (Erwin Thompson, extract from The Denver Westerners Roundup, Vol. 34 No. 3, May-June 1978; ©Denver Posse of Westerners, all rights reserved)
Fossil Floras of Yellowstone National Park: Part I. Coniferous Woods of Lamar River Flora (Charles B. Read, extract from Carnegie Institution of Washington Publication No. 416, December 1930)
Fossil Forests of the Yellowstone National Park (HTML edition) (F.H. Knowlton, 1921)
Fossil Forests of the Yellowstone National Park (F.H. Knowlton, 1928)
Foundation Document, Yellowstone National Park, Wyoming, Montana, Idaho (May 2014)
Foundation Document Overview, Yellowstone National Park, Wyoming, Montana, Idaho (May 2014)
From Conflict to Resolution in the Two Big-Y Parks: Ending 20 Years of Controversy in Yellowstone and Yosemite (Michael J. Yochim, extract from The George Wright Forum, Vol. 32 No. 2, 2015)
From the Eyes of Yellowstone National Park Visitors: Current and Future Desired Conditions (©Glenna Jane Hartman, Master's Thesis University of Montana, May 2021)
Fur Traders and Trappers of the Old West (Merrill J. Mattes, 1947, Yellowstone Library and Museum Association)
Gardiner's Historic Resources (©Jard L. Infanger, 2013)
Geochemical processes and baselines for stream waters for Soda-Butte-Lamar Basin and Firehole-Gibbon Basin, Yellowstone National Park USGS Open-File Report 97-550 (W.R. Miller, A.L. Meier and P.H. Briggs, 1997)
Geochronology of the Late Cenozoic volcanism of Yellowstone National Park and adjoining areas, Wyoming and Idaho USGS Open-File Report 92-408 (J.D. Obradovich, 1992)
Geologic Field-Trip Guide to the Volcanic and Hydrothermal Landscape of the Yellowstone Plateau U.S. Geological Survey Scientific Investigations Report 2017-5022-P (Lisa A. Morgan, W.C. Pat Shanks, Jacob B. Lowenstern, Jamie M. Farrell and Joel E. Robinson, 2017)
Geologic Overview of a Bison-Carcass Site at Norris Geyser Basin, March 2004 (Hank Heasler and Cheryl Jaworowski, March 23, 2004)
Geological History of the Yellowstone National Park (HTML edition) (Arnold Hague, 1912)
Geological History of the Yellowstone National Park (Arnold Hague, 1928)
Geology and Thermal History of Mammoth Hotsprings, Yellowstone National Park, Wyoming USGS Bulletin 1444 (Keith E. Bargar, 1978)
Geology of pre-Tertiary rocks in the northern part of Yellowstone National Park, Wyoming, with a section on Tertiary laccoliths, sills, and stocks in and near the Gallatin Range, Yellowstone National Park USGS Professional Paper 729-A (E.T. Ruppel, 1972)
Geology of sedimentary rocks in southern Yellowstone National Park, Wyoming USGS Professional Paper 729-D (J.D. Love and W.R. Keefer, 1975)
Geology of Yellowstone National Park (July 2006)
Geysers of the Yellowstone National Park (Walter Harvey Weed, 1921)
Geysers of the Yellowstone National Park (Walter Harvey Weed, 1929)
Gold and other minor elements associated with the hot springs and geysers of Yellowstone National Park, Wyoming, supplemented with data from Steamboat Springs, Nevada USGS Bulletin 2001 (Donald Edward White, Chris Heropoulos and Robert O. Fournier, 1992)
Greater Yellowstone Climate Assessment: Past, Present, and Future Climate Change in Greater Yellowstone Watersheds (Steven Hostetler, Cathy Whitlock, Bryan Shuman, David Liefert, Charles Wolf Drimal and Scott Bischke, June 2021)
Greater Yellowstone in Peril: The Threats of Climate Disruption (Stephen Saunders, Dan Findlay and Tom Easley, ©The Rocky Mountain Climate Organization and Greater Yellowstone Coalition, September 2011, all rights reserved)
Greater Yellowstone Network Amphibian and Wetland Monitoring
Amphibian Monitoring in the Greater Yellowstone Network—Project Report 2007: Grand Teton and Yellowstone National Parks NPS Natural Resource Technical Report NPS/GRYN/NRTR-2009/151 (Debra A Patla and William R. Gould, January 2009)
Amphibian Monitoring in the Greater Yellowstone Network—Project Report 2008 and 2009: Yellowstone and Grand Teton National Parks NPS Natural Resource Data Series NPS/GRYN/NRDS-2010/072 (Debra A. Patla and Cathie Jean, August 2010)
Greater Yellowstone Network Amphibian Monitoring: 2010-2011 Annual Status Report NPS Natural Resource Data Series NPS/GRYN/NRDS-2012/332 (Debra Patla and Kristin Legg, June 2012)
Greater Yellowstone Network Amphibian Monitoring: 2012-2013 Biennial Status Report NPS Natural Resource Report NPS/GRYN/NRR—2016/1140 (Andrew Ray and Debra Patla, February 2016)
Greater Yellowstone Network Amphibian and Wetland Monitoring: Status Report for 2014, 2015, and 2016 NPS Natural Resource Report NPS/GRYN/NRR—2018/1638 (Debra Patla and Andrew Ray, May 2018)
Greater Yellowstone Network Amphibian and Wetland Monitoring: Status Report for 2017 and 2018 NPS Natural Resource Report NPS/GRYN/NRR—2020/2111 (Debra Patla and Andrew Ray, April 2020)
Greater Yellowstone Postfire Research Briefing Paper (October 1989)
Greater Yellowstone Public Lands: A Century of Discovery, Hard Lessons, and Bright Prospects 8th Biennial Scientific Conference on the Greater Yellowstone Ecosystem (Alice Wondrak Biel, ed., 2006)
Greater Yellowstone Network Water Quality Monitoring Annual Report
Greater Yellowstone Network Water Quality Monitoring Annual Report: October 2005–December 2006 NPS Natural Resource Technical Report NPS/GRYN/NRTR–2009/204 (Susan O'Ney, Jeff Arnold and Cassity Bromley, April 2009)
Greater Yellowstone Network Water Quality Monitoring Annual Report: January 2007-December 2008 NPS Natural Resource Data Series NPS/GRYN/NRDS-2009/013 (Susan O'Ney, Jeff Arnold, Cassity Bromley, Suzanna Carrithers, Emily B. Faivre, Denine Schmitz and Holly Sessoms, December 2009)
Greater Yellowstone Network Water Quality Monitoring Annual Report: January 2009–December 2009 NPS Natural Resource Data Series NPS/GRYN/NRDS—2011/310 (Susan O'Ney, Jeff Arnold, Cassity Bromley, Kim Hershberger and W. Adam Sigler, September 2011)
Greater Yellowstone's Mountain Ungulates: A contract in management histories and chalenges (P.J. White, Robert A. Garrott and Douglas E. McWhirter, eds., 2021)
Greenstone: Yellowstone National Park "...for future generations" (Vol. 1 Issue 2, June 2009)
Grizzly Bear Management Program Revised Draft Environmental Impact Statement, Yellowstone National Park, Wyoming-Montana-Idaho (September 1981)
Grizzly Bear Mortalities in the Yellowstone Ecosystem 1959-1987 (John J.Craighead, Kenneth R. Greer, Richard R. Knight and Helga Ihsle Pac, November 1988)
Ground Water at Grant Village Site Yellowstone National Park, Wyoming USGS Water-Supply Paper 1475-F (Ellis D. Gordon, Richard A. McCoullough and Edwin P. Weeks, 1962)
Ground-water investigations in Yellowstone National Park, October 1960 to October 1963 USGS Open-File Report 64-105 (M.E. Lowry and E.D. Gordon, 1964)
Guidebook of the Western United States: Park A: The Northern Pacific Route with a Side Trip to Yellowstone Park USGS Bulletin 611 (Marius R. Campbell et al., 1916)
Health Implications of Snowmobile Use in Yellowstone National Park (Sarah Janssen and Ted Schettler, March 2003)
Highlights of Yellowstone Geology With an Interpretation of the 1959 Earthquakes and their Effects in Yellowstone National Park (Yellowstone's Living Geology) Special Issue of Yellowstone Nature Notes Vol. XXXIII (William A. Fischer, June 1960, Yellowstone Library and Museum Association)
Historic Structure Report: Albright Visitor Center (Bachelor Officers' Quarters) Yellowstone National Park, Wyoming (CTA Inc., August 29, 2008)
Historic Structure Report: Fishing Bridge Men's Dormitory, Yellowstone National Park (A&E Architects, June 2012)
Historic Structure Report: Fort Yellowstone, Yellowstone National Park (David G. Battle and Erwin N. Thompson, May 1972)
Historic Structure Report for Haynes Auto Camp Picture Shop, Old Faithful, Yellowstone National Park (Sievert & Sievert Cultural Resources Consultants, January 4, 2007)
Historic Structures Report for U.S. Commissioner's House: Mammoth, Yellowstone National Park (Sievert & Sievert CRC, April 2011)
Historic Structure Report: Hamilton/Lake General Store, Yellowstone National Park (CTA Architects Engineers, June 26, 2008)
Historic Structure Report: Lake Area Fish Hatchery YCR-2008-06 (Sievert & Sievert CRC, 2009)
Historic Structure Report: Lake Yellowstone Hotel (A&E Architects, March 2009)
Historic Structure Report: Nichols Residence, Mammoth, Wyoming (CTA Architects Engineers, August 5, 2008)
Historic Structures Report for Mount Washburn Fire Lookout, Yellowstone National Park (Sievert & Sievert CRC, April 2011)
Historic Structure Report/Historical Data Section: Old Faithful Inn, Yellowstone National Park, Montana, Idaho, Wyoming (A. Berle Clemensen, January 1982)
Historic Structures Report: Fort Yellowstone HS-2 & HS-3 (Carl A. Ortiz, April 30, 1980)
Historic Structures Report: Fort Yellowstone Military Reservation, Mammoth Headquarters Area, Yellowstone National Park, Wyoming (Erwin N. Thompson and David G. Battle, 1970)
Historic Structures Report: Fort Yellowstone Power House, Mammoth Hot Springs, Yellowstone National Park, Wyoming (James R. McDonald Architects and Historical Research Associates, Inc., August 20, 1996)
Historic Structures Report: Lake Lodge, Yellowstone National Park (James R. McDonald Architects, July 1997)
Historic Structures Report: Norris Soldier Station, Yellowstone National Park (Aubrey L. Haines, Charles S. Pope and Erwin N. Thompson, 1969)
History and dynamics of glaciation in the northern Yellowstone National Park area USGS Professional Paper 729-F (K.L. Pierce, 1979)
History of pronghorn population monitoring, research, and management in Yellowstone National Park (Kim A. Keating, March 26, 2002)
History of the Park Ranger in Yellowstone National Park (undated)
Holocene geo-ecological evolution of Lower Geyser Basin, Yellowstone National Park (USA) (Christopher M. Schiller, Cathy Whitlock and Sabrina R. Brown, extract from Quaternary Research, Vol. 105, 2022)
Hot Spring Activity in the Geyser Basins of the Firehole River for the 1959 Season (George D. Marler, 1959)
Hot Spring Activity in the Geyser Basins of the Firehole River for the 1960 Season (George D. Marler, 1960)
Hydrocarbons in Thermal Areas, Northwestern Wyoming U.S. Geological Survey Professional Paper 644-B (J.D. Love and John M. Good, 1970)
Hydrogeology of the Old Faithful Area, Yellowstone National Park, Wyoming, and its Relevance to Natural Resources and Infrastructure USGS Open-File Report 2014-1058 (Duncan Foley, Robert O. Fournier, Henry P. Heasler, Bern Hinckley, Steven E. Ingebritsen, Jacob B. Lowenstern and David D. Susong, 2014)
Hydrology of Park County, Wyoming, exclusive of Yellowstone National Park USGS Water-Resources Investigations Report 93-4183 (M.E. Lowry, M.L. Smalley, K.L. Mora, R.G. Stockdale and M.W. Martin, 1993)
Hydrothermal alteration and self-sealing in Y-7 and Y-8 drill holes in northern part of upper Geyser Basin, Yellowstone National Park, Wyoming USGS Professional Paper 1054-A (Terry E.C. Keith, Donald Edward White and Melvin H. Beeson, 1978)
Hydrothermal alteration in research drill hole Y-3, Lower Geyser Basin, Yellowstone National Park, Wyoming USGS Professional Paper 1054-C (Keith E. Bargar and Melvin H. Beeson, 1985)
Hydrothermal alteration in research drill hole Y-6, Upper Firehole River, Yellowstone National Park, Wyoming USGS Professional Paper 1054-B (Keith E. Bargar and Melvin H. Beeson, 1984)
Identification of chondritic krypton and xenon in Yellowstone gases and the timing of terrestrial volatile accretion (Michael W. Broadley, Peter H. Barry, David V. Bekaert, David J. Bryne, Antonio Caracausi, Christopher J. Ballentine and Bernard Marty, extract from PNAS, Vol. 117 No. 25, June 23, 2020)
Impact of the 1988 Forest Fires on the Chemistry of Ground Water in Yellowstone National Park (Donald D. Runnells and Mary A. Siders, July 6, 1992)
Impacts of Visitor Spending on the Local Economy: Yellowstone National Park, 2006 (Daniel J. Stynes, May 2008)
Impacts of Visitor Spending on the Local Economy: Yellowstone National Park, 2011 NPS Natural Resource Report NPS/NRSS/EQD/NRR—2013/637 (Philip S. Cook, March 2013)
Increasing Snowmelt Rate on Park Roads (William H. Hendrickson, April 1971)
Insect Response to the 1988 Fires in Yellowstone National Park (Robert J. Lavigne, Jeffrey A. Lockwood, Scott R. Shaw and Tim Christiansen, March 20, 1992)
Interactive Ecology of Plants, Large Mammalian Herbivores and Drought in Yellowstone National Park (Douglas Alan Frank and Samuel J. McNaughton, May 1991)
Interagency Bison Management Plan for The State of Montana and Yellowstone National Park, Environmental Impact Statement (November 15, 2000)
Interim Report of the Greater Yellowstone Postfire Ecological Assessment Workshop (December 1, 1988)
Interim Report: Yellowstone National Park Northern Range Research (April 1992)
In-Use Emission Measurements of Snowmobiles and Snowcoaches in Yellowstone National Park Final Report (Gary A. Bishop, Daniel A. Burgard, Thomas R. Dalton and Donald H. Stedman, January 2006)
Inventory of Fish Species in the Snake River Watershed Within Yellowstone National Park NPS Natural Resource Technical Report NPS/GRYN/NRTR–2008/119 (Daniel L. Mahony, Mark A. Novak and Todd M. Koel, August 2008)
Inventory of the System of Backcountry Cabins and Stations (2005)
Isostatic gravity map and principal facts for 694 gravity stations in Yellowstone National Park and vicinity, Wyoming, Montana, and Idaho USGS Open-File Report 90-649-A (S.F. Carle, J.M. Glen, V.E. Langenheim, R.B. Smith and H.W. Oliver, 1990)
Isostatic gravity map and principal facts for 694 gravity stations in Yellowstone National Park and vicinity, Wyoming, Montana, and Idaho USGS Open-File Report 90-649-B (S.F. Carle, J.M. Glen, V.E. Langenheim, R.B. Smith and H.W. Oliver, 1990)
Isotope and chemical compositions of meteoric and thermal waters and snow from the greater Yellowstone National Park region USGS Open-File Report 2002-194 (Yousif K. Kharaka, James J. Thordsen and Lloyd D. White, 2002)
Junior Ranger, Yellowstone National Park (Date Unknown)
Landforms and Associated Surficial Materials of Yellowstone National Park (Henry Shovic, 1996)
Landscape Dynamics in the Greater Yellowstone Area NPS Natural Resource Technical Report NPS/GRYN/NRTR–2011/506 (Cheryl McIntyre and Cameron Ellis, November 2011)
Late Quaternary vegetation history of the Yellowstone Lake basin, Wyoming USGS Professional Paper 729-G (R.G. Baker, 1976)
Late-Quatenary Vegetational History of the Yellowstone Region (Cathy Whitlock, September 15, 1990)
Locations, descriptions, densities, and magnetic susceptibilities of rock samples collected for analyses of gravity and aeromagnetic anomalies in Yellowstone National Park, Wyoming, Idaho, and Montana USGS Open-File Report 98-247 (H.W. Oliver and R.L. Christiansen, 1998)
Long-Range Interpretive Plan: Executive Summary of Major Recommendations, Yellowstone National Park (May 2000)
Long-Range Interpretive Plan, Yellowstone National Park (June 2001)
Long-Term Sagebrush Population Dynamics and Ungulate Use at Selected Locations on the Northern Range of Yellowstone National Park YCR-NR-96-4 (Jack E. Norland and James J. Reardon, 1996)
Major and trace element analyses of drill cores from thermal areas in Yellowstone National Park, Wyoming USGS Open-File Report 84-373 (M.H. Beeson and K.E. Bargar, 1984)
Mammoth Roads Reconnaissance Surveys 1929 (A.O. Stinson, 1930)
Management Involving Grizzly Bears and Humans in Yellowstone National Park, 1970-73 — An Interim Report (Glen F. Cole, October 31, 1973)
Management Involving Grizzly Bears in Yellowstone National Park, 1970-72 NPS Natural Resources Report Number 7 (Glen F. Cole, 1976)
Management Status of Northern Elk Herd, Yellowstone National Park / Long-Range Management Plan for the Northern Yellowstone Elk Herd / 1960-61 Reduction Plan for Northern Yellowstone Elk Herd (November-December 1960)
Managing the "Matchless Wonders" A History of Administrative Development in Yellowstone National Park, 1872-1965: Historic Resource Study, Volume III/Park Administrative History, Part I Yellowstone Center for Resources YCR-2006-03 (Kiki Leigh Rydell and Mary Shivers Culpin, 2006)
Maps and Drawings, Yellowstone National Park (Montana Memory Project)
Master Plan, Yellowstone National Park (undated)
Master Plan, Final Environmental Statement (FES 74-31), Yellowstone National Park (June 1974)
Metal loading in Soda Butte Creek upstream of Yellowstone National Park, Montana and Wyoming; a retrospective analysis of previous research; and quantification of metal loading, August 1999 USGS Water-Resources Investigations Report 2001-4170 (B.G. Campbell, M.D. Petkewich, J.E. Landmeyer and F.H. Chapelle, 1996)
Monitoring Amphibian Populations in Yellowstone and Grand Teton National Parks Final Report (Charles R. Peterson, Edward D. Koch and Paul Stephen Corn, October 9, 1992)
Monitoring Five-Needle Pine on Bureau of Land Management Lands in Wyoming: Summary Report for 2013, 2014, 2016, 2017 NPS Natural Resource Report NPS/GRYN/NRR—2019/1931 (Erin Shanahan, Kathryn M. Irvine, Kristin Legg, Siri Wilmoth, Rob Daley and Joshua Jackson, May 2019)
Monitoring of thermal activity in southwestern Yellowstone National Park and vicinity, 1980-1993 USGS Bulletin 2067 (Irving Friedman, Daniel R. Norton and R.A. Hutchinson, 1993)
Monitoring of thermal activity in southwest Yellowstone National Park USGS Open-File Report 88-532 (Irving Friedman, Daniel R. Norton and R.A. Hutchinson, 1988)
Monitoring of thermal activity in the northern part of Yellowstone National Park and vicinity; Part 1, February 1985-June 1988 USGS Open-File Report 89-211 (Daniel R. Norton, Irving Friedman, Jana Mohrman and R.A. Hutchinson, 1989)
Monitoring Super-Volcanoes: Geophysical and Geochemical signals at Yellowstone and other caldera systems (Jacob B. Lowenstern, Robert B. Smith and David P. Hill, extract from Philosophical Transactions of the Royal Society A, v. 264 no. 1845, June 27, 2006)
Monitoring Visitor Reactions to the Recreational Fee Demonstration Program in Yellowstone National Park in 1999: A Summary of Output (Jerrilyn L. Thompson, David W. Lime, Joanna M. Rosendahl and Cynthia A. Warzecha, April 7, 2000)
Monitoring Whitebark Pine in the Greater Yellowstone Ecosystem
Monitoring Whitebark Pine in the Greater Yellowstone Ecosystem: 2011 Annual Report NPS Natural Resource Data Series NPS/GRYN/NRDS-2012/278 (Greater Yellowstone Whitebark Pine Monitoring Working Group, April 2012)
Monitoring Whitebark Pine in the Greater Yellowstone Ecosystem: 2012 Annual Report NPS Natural Resource Data Series NPS/GRYN/NRDS—2013/498 (Greater Yellowstone Whitebark Pine Monitoring Working Group, June 2013)
Monitoring Whitebark Pine in the Greater Yellowstone Ecosystem: 2013 Annual Report NPS Natural Resource Data Series NPS/GRYN/NRDS—2014/631 (Greater Yellowstone Whitebark Pine Monitoring Working Group, March 2014)
Monitoring Whitebark Pine in the Greater Yellowstone Ecosystem: 2014 Annual Report NPS Natural Resource Data Series NPS/GRYN/NRDS—2015/796 (Greater Yellowstone Whitebark Pine Monitoring Working Group, May 2015)
Monitoring Whitebark Pine in the Greater Yellowstone Ecosystem: 2015 Annual Report NPS Natural Resource Report NPS/GRYN/NRR—2016/1146 (Greater Yellowstone Whitebark Pine Monitoring Working Group, March 2016)
Monitoring Whitebark Pine in the Greater Yellowstone Ecosystem: 2016 Annual Report NPS Natural Resource Report NPS/GRYN/NRR—2017/1453 (Greater Yellowstone Whitebark Pine Monitoring Working Group, May 2017)
Monitoring Whitebark Pine in the Greater Yellowstone Ecosystem: 2017 Annual Report NPS Natural Resource Report NPS/GRYN/NRR—2018/1689 (Greater Yellowstone Whitebark Pine Monitoring Working Group, August 2018)
Monitoring Whitebark Pine in the Greater Yellowstone Ecosystem: 2018 Annual Report NPS Natural Resource Data Series NPS/GRYN/NRDS—2019/1225 (Greater Yellowstone Whitebark Pine Monitoring Working Group, May 2019)
Monitoring Whitebark Pine in the Greater Yellowstone Ecosystem: 2019 Annual Report NPS Natural Resource Data Series NPS/GRYN/NRDS—2020/1273 (Greater Yellowstone Whitebark Pine Monitoring Working Group, April 2020)
Monthly Narrative Report to Chief Architect: Report on E.C.W. Activities (Sanford Hill and Howard Gregg, May 27-June 27, 1937)
Movements of Coyotes From and To Yellowstone National Park Special Scientific Report: Wildlife No. 11 (Weldon B. Robinson and Maynard W. Cummings, December 1951)
Moving particles (bacteria?) in fluid inclusions from Yellowstone National Park, Wyoming USGS Open-File Report 90-489 (E. Bargar and Robert O. Fournier, 1991)
National Park Service Geologic Type Section Inventory, Greater Yellowstone Inventory & Monitoring Network NPS Natural Resource Report NPS/GRYN/NRR-2020/2198 (Tim Henderson, Vincent Santucci, Tim Connors and Justin S. Tweet, November 2020)
National Register of Historic Places Nomination Forms
Construction of the Road System in Yellowstone National Park, 1872-1966 (Mary Shivers Culpin, c1995)
Fort Yellowstone (R. Laurie Simmons and Thomas H. Simmons, September 29, 2000)
Grand Loop Road Historic District (Linda McClelland, December 23, 2003)
Lake Fish Hatchery Historic District (Susan A. Tenney, January 6, 1984)
Lake Hotel (Rodd L. Wheaton, March 12, 1991)
Lamar Buffalo Ranch (Mary Shivers Culpin, December 31, 1981)
Madison Museum (Mary Shivers Culpin, January 20, 1982)
Mammoth Hot Springs Historic District (R. Laurie Simmons and Thomas H. Simmons, September 25, 2000)
North Entrance Road Historic District (Mary Shivers Culpin, 2001)
Northeast Entrance Station (Laura Soulliere Harrison, 1985)
Norris, Madison, and Fishing Bridge Museums (Laura Soulliere Harrison, 1986)
Norris Museum/Norris Comfort Station (Mary Shivers Culpin, November 11, 1982)
Obsidian Cliff Kiosk (Mary Shivers Culpin, November 30, 1981)
Obsidian Cliff (Ann M. Johnson, January 28, 1993)
Old Faithful Historic District (Mary Shivers Culpin, March 16, 1981)
Old Faithful Inn (Laura Soullière Harrison, 1985)
Queen's Laundry Bath House (Lon Johnson, February 1, 2001)
Roosevelt Lodge Historic District (Mary Shivers Culpin, October 4, 1982)
Native Americans, the Earliest Interpreters: What is Known About Their Legends and Stories of Yellowstone National Park and the Complexities of Interpreting Them (Lee H. Whittlesey, extract from The George Wright Forum, Vol. 19 No. 3, 2002)
Natural & Cultural Resources Vital Signs 2013, Yellowstone National Park Yellowstone Center for Resources YCR-2013-03 (2013)
Natural Resource Vital Signs, 2011, Yellowstone National Park Yellowstone Center for Resources YCR-2011-07 (2011)
Natural Soundscape Monitoring in Yellowstone National Park, December 2004 - March 2005 (Shan Burson, December 15, 2005)
Natural Soundscape Monitoring in Yellowstone National Park, December 2008 - March 2009 (Shan Burson, October 2, 2009)
Nature and Culture at Fishing Bridge: A History of the Fishing Bridge Development in Yellowstone National Park YCR-2010-02 (Paul Schullery, 2010)
Nature Notes — Yellowstone National Park (1935-1960)
Nez Perce in Yellowstone, 1877 (G.E. Mernin, July 2006)
Obsidian Cliff, Yellowstone National Park Geological Survey 7th Annual Report (Joseph P. Iddings, 1888)
Of wolves and bears: Seasonal drivers of interference and exploitation competition between apex predators (Aimee Tallian, Andrés Ordiz, Matthew C. Metz, Barbara Zimmermann, Camilla Wikenros, Douglas W. Smith, Daniel R. Stahler, Petter Wabakken, Jon E. Swenson, Håkan Sand, Jonas Kindberg, extract from Ecological Monographs, 2022)
Old Faithful Inn: Centennial of a Beloved Landmark (Karen Wildung Reinhart, extract from Yellowstone Science, 12(2), Spring 2004
Oral Histories, Yellowstone National Park (Montana Memory Project)
Overcoming Obscurity: The Yellowstone Architecture of Robert C. Reamer (Ruth Quinn, extract from Yellowstone Science, 12(2), Spring 2004)
People and Place: The Human Experience in Greater Yellowstone 4th Biennial Scientific Conference on the Greater Yellowstone Ecosystem (Paul Schullery and Sarah Stevenson, eds., 2004)
Park Newspaper (Special Editions)
Centennial (2015)
Centennial (2016)
Greening Yellowstone (May 2009)
Old Faithful Visitor Education Center (April 2010)
The Yellowstone Fires of 1998 (2008)
Wildlife of Yellowstone (2012)
10 Years After: The Fires of 1988 (c2008)
Yellowstone's Northern Range (undated)
Return of the Wolf (undated)
Yellowstone Tracker (Defenders of Wildlife, Summer 2004)
150th Anniversary (Spring 2022)
Park Newspaper (Yellowstone Today)
1989: Summer
1991: Spring
1995: Spring • Summer • Fall • Winter
1996: Spring • Summer/Fall
1997: Winter
1998: Spring • Summer • Winter
1999: Fall
2002: Spring • Summer • Fall • Winter
2004: Spring • Summer • Fall • Winter
2005: Spring • Summer • Fall • Winter
2006: Spring • Summer • Fall • Winter
2007: Spring • Summer • Fall • Winter
2009: Spring • Summer • Winter
2010: Summer
2011: Fall
2015: Spring • Summer • Fall • Winter
2016: Spring • Summer • Fall • Winter
2017: Spring • Summer • Fall • Winter
Park Newspaper (Visitor Guide)
2018: August-September • September-November
2019: Spring • Summer • Winter
Parkwide Road Engineering Survey of the Yellowstone National Park Road System: Volume 1 Final Report (July 1987)
Parkwide Road Engineering Survey of the Yellowstone National Park Road System: Volume 2 Final Report (July 1987)
Parkwide Road Improvement Plan, Yellowstone National Park, Wyoming/Montana/Idaho (August 1992)
Past and Present Nez Perce Signage in Yellowstone National Park (Sarah Parker, March 7, 2007)
Photographs, Yellowstone National Park (Montana Memory Project)
Plants and their Environments: Proceedings of the First Biennial Scientific Conference on the Greater Yellowstone Ecosystem NPS Technical Report NPS/NRYELL/NRTR-93/XXX (Don G. Despain, ed., April 1994)
Population Demography of the Yellowstone National Park Bison Herds (Julie Ann Fuller, April 2006)
Post-Glacial Inflation-Deflation Cycles, Tilting, and Faulting in the Yellowstone Caldera Based on Yellowstone Lake Shorelines USGS Open-File Report 2002-142 (Kenneth L. Pierce, Kenneth P. Cannon, Grant A. Meyer, Matthew J. Trebesch and Raymond Watts, 2002)
Potential Application of Radiogenic Isotopes and Geophysical Methods to Understand the Hydrothermal System of the Upper Geyser Basin, Yellowstone National Park NPS Natural Resource Report NPS/YELL/NRR—2015/1077 (James B. Paces, Andrew J. Long and Karl Koth, November 2015)
Preliminary results of precise leveling and trilateration surveys in Yellowstone National Park, Wyoming, 1983-1984 USGS Open-File Report 86-265-A (Daniel Dzurisin and K.M. Yamashita, 1986)
Preliminary results of precise leveling and trilateration surveys in Yellowstone National Park, Wyoming, 1985 USGS Open-File Report 86-265-B (Daniel Dzurisin, K.M. Yamashita and Daniel J. Johnson, 1986)
Preliminary results of a precise leveling survey in Yellowstone National Park, Wyoming, September 1986 USGS Open-File Report 88-24 (Gary Stoopes and K.M. Yamashita, 1988)
Preliminary study of wastewater movement in Yellowstone National Park, Wyoming, July 1975 through September 1976 USGS Open-File Report 78-227 (Edward Riley Cox, 1976)
Preliminary study of wastewater movement in Yellowstone National Park, Wyoming, October 1976 through September 1977 USGS Open-File Report 79-684 (Edward Riley Cox, 1979)
Preliminary Survey of Burned Areas: Yellowstone National Park and Adjoining National Forests (October 1988)
Preservation and Management of Grizzly Bears in Yellowstone National Park (Glen F. Cole, November 1970)
Preserving the Beasts of Waste and Desolation: Theodore Roosevelt and Predator Control in Yellowstone
Problem of Surplus Elk in Yellowstone National Park (Curtis K. Skinner, 1950)
Progress Report of Coyote Study in Yellowstone National Park (Adolph Murie, 1938)
Pronghorn Distribution in Winter 2006 (Jim and Edna Caslick, March 17, 2006)
Protection of Native Yellowstone Cutthroat Trout in Yellowstone Lake — Yellowstone National Park, Wyoming NPS Technical Report NPS/NRWRD/NRTR-2003/314 (Patricia E. Bigelow, Todd M. Koel, Dan Mahony, Brian Ertel, Barb Rowdon and S. Thomas Olliff, May 2003)
Public acceptance of management actions and judgments of responsibility for the wolves of the southern Greater Yellowstone area: report to Grand Teton National Park USGS Open-File Report 2005-1408 (Jonathan G. Taylor, S. Shea Johnson and Lori B. Shelby, 2005)
Publications and Ephemera, Yellowstone National Park (Montana Memory Project)
Radioactivity of the Thermal Waters of Yellowstone National Park USGS Bulletin 395 (Herman Schlundt and Richard B. Moore, 1975)
Rambles in Wonderland: or, Up the Yellowstone and Among the Geysers, Cañons, Cataracts, Forests, Lakes, Mammoth Springs, Mud Volcanoes, and Boiling Caldrons of the National Park (Edwin J. Stanley, 1883)
Recommendations for Restoration and Rehabilitation of Turbidity and Sediment Impacts to the Sylvan Pass Hydrologic System NPS Natural Resource Report NPS/NRPC/NRR-2008/054 (Pete Penoyer, Gary Rosenlieb, Kevin Noon, Mike Wireman and John Thackston, August 2008)
Register of Buildings, Yellowstone National Park (March 1969)
Regulatory Water Quality Monitoring Annual Report for the Greater Yellowstone Network: June–September 2005 NPS Natural Resource Technical Report NPS/GRYN/NRTR—2009/203 (Susan O'Ney, April 2009)
Remote sensing in a water-resources study of Yellowstone National Park, Wyoming, Montana, and Idaho USGS Open-File Report 73-52 (Edward Riley Cox, 1973)
Remote Vaccination Program to Reduce the Prevalence of Brucellosis in Yellowstone Bison, Final Environmental Impact Statement (January 15, 2014)
Report on Bypass Roads for Old Faithful Geyser Basin (August 17, 1962)
Report of Committee on the Yellowstone Grizzlies (National Academy of Sciences, July 1974)
Report of Roadside Cleanup, Yellowstone National Park (1927)
Report of the Superintendent of the Yellowstone National Park to the Secretary of the Interior for the year (1872)
Report on Antelope Creek Buffalo Pasture (Rudolf L. Grimm, 1938)
Report on the Present Status of Wildlife Management in Yellowstone National Park with Suggested Recommendations for Future Treatment (Frank W. Childs, April 19, 1935)
Restoration of Natural Populations of Grizzly and Black Bears in Yellowstone National Park (Mary Meagher and Jerry R. Phillips, 1983)
Results of water-resources investigations through 1968 in Yellowstone National Park, Wyoming USGS Open-File Report 69-60 (Edward Riley Cox, 1969)
Results of weekly chemical and isotopic monitoring of selected springs in Norris Geyser Basin, Yellowstone National Park during June-September, 1995 USGS Open-File Report 2002-344 (R.O. Fournier, U. Weltman, D. Counce, L.D. White and C.J. Janik, 2002)
Road Guide for the Four-Season Road from Gardiner to Cooke City Through Yellowstone National Park (Paul Schullery, undated, Yellowstone Library and Museum Association)
Roadside Sites and Features: Inventory of Existing Conditions, Yellowstone National Park (Ervin Dunham, July-August 1994)
Scientific Assessment of Yellowstone National Park Winter Use (March 2011)
Sensitivity of alpine and subalpine lakes to acidification from atmospheric deposition in Grand Teton National Park and Yellowstone National Park, Wyoming USGS Scientific Investigations Report 2005-5023 (Leora Nanus, Donald H. Campbell and Mark W. Williams, 2005)
Shaded Relief Map: Yellowstone National Park, WY Scale: 1:125,000 (USGS, 1986)
Shoreline Erosion and Adaptation Strategies for Peale Island Cabin, Yellowstone National Park NPS Natural Resource Report NPS/NRSS/GRD/NRR-2014/858 (Rebecca L. Beavers, Courtney A. Schupp, Ian A. Slayton and Maria Caffrey, October 2014)
Sign Code Standards, Yellowstone National Park (January 1992)
Single Particle Analysis of Particulate Pollutants in Yellowstone National Park During Winter Snowmobile Season (Richard E. Peterson and Bonnie J. Tyler, undated)
Soils of Yellowstone National Park YCR-NRSS-96-2 \(Ann Rodman, Henry Shovie and David Thoma, 1996)
Snowplanes, Snowcoaches and Snowmobiles: The Decision to Allow Snowmobiles into Yellowstone National Park (Michael J. Yochim, extract from Annals of Wyoming, Summer 1998)
Some Economic Impacts of the 1988 Fires in the Yellowstone Area U.S. Forest Service Research Note INT-418 (Paul E. Polzin, Michael S. Yuan and Ervin G. Schuster, October 1993)
Status of Grizzly Bears within the Greater Yellowstone Ecosystem (August 17, 1982)
Status of Whitebark Pine in the Greater Yellowstone Ecosystem: A Step-trend Analysis Comparing 2004-2007 to 2008-2011 NPS Natural Resource Technical Report NPS/GRYN/NRTR—2014/917 (Erin Shanahan, Kristin Legg, Rob Daley, Kathryn M. Irvine, Dave Roberts and Andrea Litt, October 2014)
Status of Whitebark Pine in the Greater Yellowstone Ecosystem: A Step-Trend Analysis with Comparisons from 2004 to 2015 NPS Natural Resource Report NPS/GRYN/NRR—2017/1445 (Eric Shanahan, Kristin Legg and Rob Daley, May 2017)
Steam Explosions, Earthquakes, and Volcanic Eruptions — What's in Yellowstone's Future? USGS Fact Sheet 2005-3024 (2005)
Strategy for Bison Management in Yellowstone National Park (Agnès de Montjoye, March-August 2009)
Stratigraphic framework of the Absaroka Volcanic Supergroup in the Yellowstone National Park region USGS Professional Paper 729-C (H.W. Smedes and H.J. Prostka, 1972)
Submerged Resources Survey, Yellowstone National Park Submerged Resources Center Professional Reports No. 16/Cultural Resources Management Professional Paper 65 (James E. Bradford, Matthew A. Russell, Larry E. Murphy and Timothy G. Smith, 2003)
Summary of Preliminary Step-trend Analysis from the Interagency Whitebark Pine Long-term Monitoring Program—2004-2013 NPS Natural Resource Data Series NPS/GRYN/NRDS—2014/600 (Kristin Legg, Erin Shanahan, Rob Daley and Kathryn M. Irvine, January 2014)
Summary of Yellowstone Bear Protection and Management Policies (April 1977, rev. April 1979, June 1982)
Summer 2018 Visitor Use Survey, Yellowstone National Park Final Report (Otak, RRC Associates and University of Montana, November 2019)
Summer 2018 Visitor Use Survey, Yellowstone National Park: Executive Summary (Otak, RRC Associates and University of Montana, November 2019)
Summer Home Range and Population Size of Moose in Yellowstone National Park (HTML edition) Municipal University of Wichita Bulletin No. 28 (John F. McMillan, May 1954)
Superintendent's 2008 Report on Natural Resource Vital Signs, Yellowstone National Park Yellowstone Center for Resources YCR-2009-04 (2009)
Superintendent's Annual Report, Yellowstone National Park (1877-1976, not a complete annual record)
Superintendent's Annual Reports: 1984 • 1985 • 1986
Surficial geologic history of the Canyon Village Quadrangle, Yellowstone National Park, Wyoming, for use with Map I-652 USGS Bulletin 1427 (Gerald Martin Richmond, 1976)
Surficial geologic map of the Eagle Peak Quadrangle, Yellowstone National Park and adjoining area, Wyoming USGS IMAP 637 (G.M. Richmond and K.L. Pierce, 1972)
Surficial geologic map of the Frank Island Quadrangle, Yellowstone National Park, Wyoming USGS IMAP 642 (G.M. Richmond, 1974)
Surficial geologic map of the Huckleberry Mountain Quadrangle, Yellowstone National Park and adjoining area, Wyoming USGS IMAP 639 (G.M. Richmond, 1973)
Surficial geologic map of the Mammoth Quadrangle and part of the Gardiner Quadrangle, Yellowstone National Park, Wyoming and Montana USGS IMAP 641 (K.L. Pierce, 1973)
Surficial geologic map of the Mount Hancock Quadrangle, Yellowstone National Park and adjoining area, Wyoming USGS IMAP 636 (G.M. Richmond and K.L. Pierce, 1971)
Surficial geologic map of the Mount Holmes Quadrangle and parts of the Teepee Creek, Crown Butte and Miner quadrangles, Yellowstone National Park, Wyoming and Montana USGS IMAP 640 (K.L. Pierce, 1973)
Surficial geologic map of the Norris Junction Quadrangle, Yellowstone National Park, Wyoming USGS IMAP 650 (G.M. Richmond and H.A. Waldrop, 1975)
Surficial geologic map of the Pelican Cone Quadrangle, Yellowstone National Park and adjoining area, Wyoming USGS IMAP 638 (G.M. Richmond and K.L. Pierce, 1972)
Survey of Canyon Village Facilities for Yellowstone Park Company (Orr Pickering & Associates, November 1963)
Suspended-sediment concentration and pool sedimentation data for the Gibbon River, Yellowstone National Park, Wyoming, September 2000 through October 2001 USGS Open-File Report 2003-185 (Peter R. Wright and Ronald B. Zelt, 2003)
The Bechler River Ranger Station: A History of Preservation (Mike Yochim, November 2004)
The Bison of Yellowstone National Park (HTML edition) Scientific Monograph Series No. 1 (Margaret Mary Meagher, 1973)
The Buffalo Chip Resource Management Newsletter, Yellowstone National Park (2000-2005)
The Civilian Conservation Corps in Yellowstone National Park, 1933-1942 (Timothy R. Manns, May 27, 1981)
The Climate of Yellowstone and Grand Teton National Parks National Park Service Occasional Paper Number 6(Richard A. Dirks and Brooks E. Martner, 1982)
The Concept of Overgrazing and Its Application to Yellowstone's Northern Range (Michael B. Coughenour and Francis J. Singer, 1991)
The Development of Snowmobile Policy in Yellowstone National Park (Michael J. Yochim, University of Montana Thesis, 1998)
The Development of Snowmobile Policy in Yellowstone National Park (Michael J. Yochim, extract from Yellowstone Science, Vol. 7 No. 2, Spring 1999)
The Development of Yellowstone: Myths, Realities, and Uneasy Projects (Paul Schullery, extract from Annals of Wyoming, Vol. 69 No. 4, Fall 1997; ©Wyoming State Historical Society)
The Documentary Record of Wolves and Related Wildlife Species in the Yellowstone National Park Area Prior to 1882 (Paul Schullery and Leet Whittlesey, 1992)
The Elk of Grand Teton and Southern Yellowstone National Parks Research Report GRTE-N-1 (Glen F. Cole, 1969)
The Eruptive Rocks of Electric Peak and Sepulchre Mountain, Yellowstone National Park Geological Survey 12th Annual Report (Part I) (Joseph Paxson Iddings, 1890-91)
The Glaciation of the Yellowstone Valley North of the Park USGS Bulletin 104 (Walter Harvey Weed, 1893)
The Geologic Story of Yellowstone National Park (HTML edition) USGS Bulletin 1347 (William Richard Keefer, 1971)
The Greater Yellowstone Ecosystem Revisited: Law, Science, and the Pursuit of Ecosystem Management in an Iconic Landscape (Robert B. Keiter, extract from University of Colorado Law Review, Vol. 91 Issue 1, 2020)
The Greater Yellowstone Fires of 1988: Questions and Answers (undated)
The Greater Yellowstone Postfire Assessment (The Greater Yellowstone Coordinating Committee, March 1989)
The Greenstone: Sustainability Report 2012, Yellowstone National Park (2013)
The History and Current Status and Distribution of Beavers in Yellowstone National Park (Douglas W. Smith and Daniel B. Tyers, extract from Northwest Science, Vol. 86 No. 4, 2012)
The History of the Construction of the Road System in Yellowstone National Park, 1872-1966: Historic Resource Study Volume I (HTML edition) Selections from the Division of Cultural Resources No. 5, Rocky Mountain Region (Mary Shivers Culpin, 1994)
The Legend of Colter's Hell (Merrill J. Mattes, extract from The Brand Book, Vol. 3 No. 9, September 1947; ©Denver Posse of Westerners, all rights reserved)
The Lost History of Yellowstone (Richard Grant, Smithsonian Magazine, January 2021)
The Museum of the National Park Ranger: A Grant Prospectus (1990)
The Old Faithful Inn Turns 100 (2004)
"The place where Hell bubbled up": A History of the First National Park (HTML edition) (David A. Clary, 1972)
The Quaternary and Pliocene Yellowstone Plateau Volcanic Field of Wyoming, Idaho, and Montana USGS Professional Paper 729-G> (Robert L. Christiansen, 2001)
The question of recharge to the geysers and hot springs of Yellowstone National Park USGS Open-File Report 93-384 (R.O. Rye and A.H. Truesdell, 1993)
The Recent Winter Use History of Yellowstone National Park: How Should the National Park Service Envision Its Dual Mission? (Michael J. Yochim, extract from Annals of Wyoming, Winter 2001)
The Rediscovery of Colter's Hell and Other Research Adventures (Merrill J. Mattes, extract from The Denver Westerners Roundup, Vol. 29 No. 9, November-December 1973; ©Denver Posse of Westerners, all rights reserved)
The Reintroduction of Gray Wolves to Yellowstone National Park and Central Idaho: Final Environmental Impact Statement (1994)
The Reintroduction of Gray Wolves to Yellowstone National Park and Central Idaho: Final Environmental Impact Statement Summary (1994)
The Roosevelt Arch: A centennial history of an American icon (Lee H. Whittlesey and Paul Schullery, extract from Yellowstone Science, Summer 2003)
The State of Yellowstone Vital Signs and Select Park Resources 2017 Yellowstone Center for Resources YCR-2018-01 (2018)
The status, distribution, and management of mountain goats in the Greater Yellowstone Ecosystem (John W. Laudre, September 30, 1990)
The Washburn Yellowstone Expedition (Parts 1 and 2) (The Overland Monthly, Vol. 6 Nos. 5 & 6, May-June 1871)
The Wolves of Yellowstone NPS Natural Resources Report No. 14 (John Weaver, 1978)
The Yellowstone Fires: A Primer on the 1988 Fire Season (October 1, 1988)
The Yellowstone Fires: An Assessment of Economic Impacts (R.H. Briceland, January 3, 1990)
The Yellowstone Lake Crisis: Confronting a Lake Trout Invasion A Report to the Director of the National Park Service (John D. Varley and Paul Schullery, eds., Yellowstone Center for Resources, 1995)
The Yellowstone National Park (Hiram Martin Chittenden, 1895)
The Yellowstone News (NPS Employee Newsletter)
1993: 01-28
1994: 02-25 • 03-11 • 03-25 • 04-07 • 04-22 • 05-05 • 06-02 • 06-16 • 06-30 • 07-18 • 08-01 • 08-15 • 08-29 • 09-12 • 10-20 • 11-18 • 12-16
1995: 01-06 • 01-20 • 02-03 • 02-17 • 03-03 • 03-17 • 03-31 • 04-14 • 04-28 • 05-12 • 05-26 • 06-09 • 06-23 • 07-07 • 07-21 • 08-04 • 08-18 • 09-01 • 09-15 • 09-29 • 10-13 • 10-27 • 11-09 • 12-01 • 12-15
1996: 01-19 • 02-02 • 02-16 • 03-01 • 03-15 • 03-29 • 04-12 • 04-26 • 05-10 • 05-24 • 06-07 • 06-21 • 07-05 • 07-19 • 08-21 • 08-30 • 09-26 • 10-18 • 11-20 • 12-11
1997: 01-23 • 02-20 • 03-19 • 04-23 • 05-21 • 06-25 • 07-23 • 08-20 • 09-24 • 10-22 • 11-19
1998: 01-21 • 02-19 • 03-25 • 04-22 • 05-28 • 06-24 • 07-29 • 08-26 • 09-30 • 10-28 • 11-25
1999: 02-19 • 03-31 • 05-17 • 06-17 • 07-19 • 08-17 • 09-16 • 10-15 • 11-22
2000: 01-15 • 02-15 • 03-15 • 04-14 • 05-12 • 06-23 • 07-24 • 09-06 • 10-10 • 11-08 • 12-06
2001: 01-19 • 02-16 • 03-19 • 04-16 • 05-16 • 07-13 • 08-16 • 09-19 • 10-15 • 11-15 • 12-15
2002: 01-15 • 02-15 • 03-19 • 04-15 • 05-24 • 05-25 • 07-25 • 08-22 • 09-26 • 10-24 • 12-19
2003: 01-22 • 02-27 • 03-20 • 04-10 • 05-13 • 06-10 • 07-19 • 08-15 • 09-10 • 10-22 • 11-19
2004: June • July • August • September • October • December
The Yellowstone Paleontological Survey Yellowstone Center for Resources YCR-NR-98-1 (Vincent L. Santucci, 1998)
The Yellowstone Petrified "Forests" (Harold G. Coffin, extract from Origins, Vol. 24 No. 1, 1997, ©Geoscience Research Institute)
The Yellowstone Story: Genesis of the National Park Idea (Weldon F. Heald, extract from Utah Historical Quarterly, Vol. 28 No. 2, 1960; ©Utah State Historical Society)
Thermophilic Microorganism Survey, Yellowstone National Park YCR-NR-97-6 (August 1997)
Time-variation of hydrothermal discharge at selected sites in the western United States: implications for monitoring Journal of Volcanology and Geothermal Research (S.E. Ingebritsen, D.L. Galloway, E.M. Colvard, M.L. Sorey and R.H. Mariner, 2001)
Tracking Changes in Yellowstone's Restless Volcanic System USGS Fact Sheet 100-03 (2004)
Trail Construction & Maintenance Guide, Yellowstone National Park (1980)
Trailer Coach Facilities (June 1954)
Trailside Notes for the Motorist and Hiker — Number One: Mammoth to Old Faithful (HTML edition) (Yellowstone Library and Museum Association, 1935)
Trailside Notes for the Motorist and Hiker — Number Two: Old Faithful to Yellowstone Lake and Fishing Bridge Museum; and from Fishing Bridge Museum to Mammoth Hot Springs (HTML edition) (Yellowstone Library and Museum Association, 1939)
Traveling to the Park: Diaries of the Yellowstone Experience (Lovina Johnson and Margaret Gehrke, extract from Annals of Wyoming, Vol. 69 No. 4, Fall 1997; ©Wyoming State Historical Society)
Trees and Flowers of Yellowstone National Park (Frank E.A. Thone, 1923)
Trends in vital signs for Greater Yellowstone: application of a Wildland Health Index (Andrew J. Hansen and Linda Phillips, extract from Ecosphere, Vol. 9(8), August 2018)
Use of dye tracing to determine ground-water movement to Mammoth Crystal Springs, Sylvan Pass area, Yellowstone National Park, Wyoming USGS Scientific Investigations Report 2006-5126 (Lawrence E. Spangler and David D. Susong, 2006)
Variability in geyser eruptive timing and its causes: Yellowstone National Park (S. Rojstaczer, D.L. Galloway, S.E. Ingebritsen and D.M. Rubin, Geophysical Research Letters, Vol. 30, No. 18, 2003)
Vascular Plant Inventory of Selected Alpine Areas in Yellowstone National Park NPS Natural Resource Technical Report NPS/GRYN/NRTR—2012/651 (Jennifer Whipple, December 2012)
Victims or Victors: Yellowstone and the Snowmobile Capital of the World (Michael J. Yochim, extract from Historical Geography, Voil. 34, 2006, ©Geoscience Publications)
Visitor Reactions to the Recreational Fee Demonstration Program: Yellowstone and Grand Teton National Parks (Allen Lundgren, David W. Lime, Cynthia A. Warzecha, Michael S. Lewis and Jerrilyn L. Thompson, September 25, 1997)
Visitor Study: Summer 2011, Yellowstone National Park NPS Natural Resource Report NPS/NRSS/EQD/NRR—2012/539 (Colleen Kulesza, Jim Gramann, Yen Le and Steven J. Hollenhorst, June 2012)
Visitor Study: Winter 2012, Yellowstone National Park NPS Natural Resource Report NPS/NRSS/EQD/NRR—2012/611 (Colleen Kulesza, Yen Le and Steven J. Hollenhorst, December 2012)
Volcanic Stratigraphy of the Quaternary Rhyolite Plateau in Yellowstone National Park USGS Professional Paper 729—B (Robert L. Christiansen and Richard Blank, Jr., 1972)
Volcano and Earthquake Monitoring Plan for the Yellowstone Volcano Observatory, 2006-2015 USGS Scientific Investigations Report 2006-5276 (2006)
Wastewater movement near four treatment and disposal sites in Yellowstone National Park, Wyoming USGS Water-Resources Investigations Report 84-4356 (E.R. Cox, 1986)
Water-Chemistry and On-Site Sulfur-Speciation Data for Selected Springs in Yellowstone National Park, Wyoming, 1994-1995 USGS Open-File Report 98-574 (James W. Ball, D. Kirk Nordstrom, Kirk M. Cunningham, Martin A. Schoonen, Yong Xu and Jennifer M. DeMonge, 1998)
Water-Chemistry and On-Site Sulfur-Speciation Data for Selected Springs in Yellowstone National Park, Wyoming, 1996-1998 USGS Open-File Report 2001-49 (James W. Ball, Kirk D. Nordstrom, R. Blaine McCleskey, Martin A.A. Schoonen and Yong Xu, 2001)
Water-Chemistry Data for Selected Springs, Geysers, and Streams in Yellowstone National Park, Wyoming, 1999-2000 USGS Open-File Report 2002-382 (James W. Ball, R. Blaine McCleskey, D. Kirk Nordstrom, JoAnn M. Holloway, Philip L. Verplanck and Sabin A. Sturtevant, 2002)
Water-Chemistry Data for Selected Springs, Geysers, and Streams in Yellowstone National Park Wyoming, 2001-2002 USGS Open-File Report 2004-1316 (R. Blaine McCleskey, James W. Ball, D. Kirk Nordstrom, JoAnn M. Holloway and Howard E. Taylor, 2005)
Water Quality Impacts from Boat Discharges at Bridge Bay Marina in Yellowstone Lake, Yellowstone National Park NPS Technical Report NPS/NRWRD/NRTR-95/67 (Barry A. Long, September 1995)
Water Quality Summary for the Lamar River, Yellowstone River, and Madison River in Yellowstone National Park: Preliminary Analysis of 2014 Data NPS Natural Resource Report NPS/GRYN/NRR—2016/1235 (Mary Levandowski, Andrew Ray, Katie Kaylor, W. Adam Sigler and Jeff Arnold, June 2016)
Water Quality Summary for the Lamar River, Yellowstone River, and Madison River in Yellowstone National Park: Preliminary Analysis of 2015 Data NPS Natural Resource Report NPS/GRYN/NRR—2017/1389 (Mary Levandowski and Andrew Ray, February 2017)
Water resources of Teton County, Wyoming, exclusive of Yellowstone National Park USGS Water-Resources Investigations Report 95-4204 (B.T. Nolan and K.A. Miller, 1995)
Water resources of Yellowstone National Park, Wyoming, Montana, and Idaho USGS Open-File Report 73-53 (Edward Riley Cox, 1973)
West Entrance Recordation, Yellowstone National Park, Wyoming (Architects, April 2005)
Wetland Resources of Yellowstone National Park (Charles R. Elliott and Mary M. Hektner, 2000)
When Harry Got Taken: The Early Days of the Yellowstone Camps (Mark Barringer, extract from Annals of Wyoming, Vol. 69 No. 4, Fall 1997; ©Wyoming State Historical Society)
Whistle, a nearly dormant geyser in Upper Geyser Basin, Yellowstone National Park, Wyoming; the first geyser to be studied by research drilling USGS Bulletin 1967 (Donald Edward White, 1991)
Wildlife Conservation in Yellowstone National Park: Special Report (August 18, 1944)
Winter Air Quality in Yellowstone National Park
Winter Air Quality in Yellowstone National Park 2005-2006 NPS Air Resources Report NPS/ARD-2007/D-1207 (John D. Ray, January 2007)
Winter Air Quality in Yellowstone National Park: 2006-2007 NPS Natural Resource Technical Report NPS/NRPC/ARD/NRTR-2007/065 (John D. Ray, November 2007)
Winter Air Quality in Yellowstone National Park: 2007-2008 NPS Natural Resource Technical Report NPS/NRPC/ARD/NRTR-2008/139 (John D. Ray, November 2008)
Winter Air Quality in Yellowstone National Park: 2008-2009 NPS Natural Resource Technical Report NPS/NRPC/ARD/NRTR—2010/285 (John D. Ray, February 2010)
Winter Air Quality in Yellowstone National Park: 2009-2011 NPS Natural Resource Technical Report NPS/NRSS/ARD/NRTR—2012/551 (John D. Ray, February 2012)
Winter Acoustic Monitoring in Yellowstone National Park
Winter Acoustic Monitoring in Yellowstone National Park, December 2012-March 2013 (Shan Burson and GRTE Science and Resource Management, July 1, 2013)
Winter Acoustic Monitoring in Yellowstone National Park, December 2013-March 2014 (Shan Burson and GRTE Science and Resource Management, June 25, 2014)
Winter Acoustic Monitoring in Yellowstone National Park, December 2015-March 2016 (Shan Burson and GRTE Science and Resource Management, June 14, 2016)
Winter Acoustic Monitoring in Yellowstone National Park, December 2016-March 2017 (Shan Burson and GRTE Science and Resource Management, June ?, 2017)
Winter Acoustic Monitoring in Yellowstone National Park, December 2017-March 2018 (Shan Burson, 2018)
Winter Effects on Yellowstone's Wildlife (February 24, 1989)
Winter Use Plan Environmental Assessment, Yellowstone and Grand Teton National Parks, John D. Rockefeller, Jr. Memorial Parkway, Wyoming, Idaho, Montana (November 1990)
Winter Use Plan/Environmental Impact Statement, Yellowstone National Park (November 2011)
Winter Use Plans Environmental Assessment, Grand Teton/Yellowstone National Parks, John D. Rockefeller, Jr. Memorial Parkway, Wyoming, Montana, Idaho (November 2008)
Winter Use Survey, Yellowstone and Grand Teton National Parks, John D. Rockefeller, Jr. Memorial Parkway, Wyoming, Idaho, Montana Final (January 1990)
Wonder-Land Illustrated; or, Horseback Rides Through the Yellowstone National Park (Harry J. Norton, c1873)
Yellowstone (Date Unknown)
Yellowstone Annual Bear Management Program Reports: 2018 • 2019
Yellowstone Annual Bird Reports: 1999 • 2000 • 2001 • 2002 • 2003 • 2004 • 2005 • 2006 • 2008 • 2009 • 2010 • 2011 • 2012 • 2013 • 2014 • 2015 • 2016 • 2017 • 2018 • 2019
Yellowstone Annual Wolf Reports: 1995-1996 • 1997 • 1998 • 1999 • 2000 • 2001 • 2002 • 2003 • 2004 • 2005 • 2006 • 2007 • 2008 • 2009 • 2010 • 2011 • 2012 • 2013 • 2014 • 2015 • 2016 • 2017 • 2018 • 2019 • 2020
Yellowstone Bison: Background and Issues (May 1990)
Yellowstone Bison: Conserving an American Icon in Modern Society (P.J. White, Rick L. Wallen and David E. Hallac, eds., Yellowstone Association, 2015)
Yellowstone Center for Resources Annual Reports: 1997 • 1998 • 1999 • 2000 • 2001 • 2002 • 2003 • 2004 • 2005 • 2006 • 2007 • 2008 • 2009 • 2010
Yellowstone Fires 1988 A Special Supplement to Yellowstone Today (Nov. 1988)
Yellowstone Fisheries & Aquatic Sciences Annual Reports/Native Fish Conservation Program: 2002 • 2003 • 2004 • 2005 • 2006 • 2007 • 2008 • 2009-2010 • 2011 • 2012-2014
Yellowstone Grizzly Bear Investigations — Annual Reports of the Interagency Study Team: 1977 • 1982 • 1986 • 1987 • 1989 • 1990 • 1991 • 1992 • 1993 • 1994 • 1995 • 1996 • 1997 • 1998 • 1999 • 2000 • 2001 • 2002 • 2003 • 2004 • 2005 • 2006 • 2007 • 2008 • 2009 • 2010 • 2011 • 2012 • 2013 • 2014 • 2015 • 2016 • 2017 • 2018 • 2019
Yellowstone Grizzly Bears: Ecology and Conservation of an Icon of Wilderness (P.J. White, Kerry A. Gunther and Frank T. van Manen, eds., 2017)
Yellowstone History: 125 Years and More to Tell (extract from Yellowstone Science, Fall 1998)
Yellowstone Interpreters' Newsletter
Yellowstone in the Afterglow: Lessons from the Fires (Mary Ann Franke, 2000)
Yellowstone National Park Arnold Hague, extract from American Forestry, Vol. XIX No. 5, May 1913, ©American Forestry Association)
Yellowstone National Park (Edmund B. Rogers, extract from The Brand Book, Vol. 2 No. 1, January 1946; ©Denver Posse of Westerners, all rights reserved)
Yellowstone National Park (United States Railroad Administration, 1919)
Yellowstone National Park Arnold Hague, extract from American Forestry, Vol. XIX No. 5, May 1913, ©American Forestry Association)
Yellowstone National Park: A Bibliography (Hazel Hunt Voth and Carl P. Russell, 1940)
Yellowstone National Park: Its Exploration and Establishment (HTML edition) (Aubrey L. Haines, 1974)
Yellowstone Nature Notes: A Neglected Documentary Resource (Paul Schullery, extract from Yellowstone Science, Vol. 8 No. 1, Winter 2000)
Yellowstone Park (Northern Pacific Railway Company, 1904)
Yellowstone Plume Head: Postulated Tectonic Relations to the Vancouver Slab, Continental Boundaries, and Climate USGS Open-File Report 2000-498 (Kenneth L. Pierce, Lisa A. Morgan and Richard W. Saltus, 2000)
Yellowstone Resources and Issues Handbook: 2002 • 2005 • 2006 • 2008 • 2009 • 2010 • 2011 • 2012 • 2013 • 2014 • 2015 • 2016 • 2017 • 2018 • 2019 • 2020 • 2021 • 2022
Yellowstone Science (1992-2017)
Yellowstone Volcano Observatory Annual Reports: 2017 • 2018 • 2019 • 2020 (U.S. Geological Survey)
Yellowstone Wildlife (Bill Perry, 1972)
Yellowstone's Bannock Indian Trails Yellowstone Interpretive Series No. 6 (Wayne F. Replogle, 1956)
Yellowstone's Creation Myth (Lee Whittlesey and Paul Schullery, extract from The George Wright Forum, Vol. 15 No. 3, 1998)
Yellowstone's Fire Regime (Paul Schullery, undated)
Yellowstone's Northern Range: Complexity & Change In A Wildland Ecosystem (1997)
Handbooks ◆ Books

Videos
Fantastic Yellowstone (1997)
Four Seasons of Yellowstone (1970)
Island of Hope - Island of Tears (1992)
How Wolves Change Rivers (undated)
Yellowstone's Restless Giant (Duration: 5:55, 2006)